It's often that you might need a transparent picture so you can use it as the background without overbearing the text too much or you simply want a clean picture that can fit into any background naturally. So how could you do that easily with just a couple clicks? This article will explain to you how to make an image background transparent in Google Slides.
Part 1. How to Make a Picture Background Transparent in Google Slides
Occasionally you might need to make an image background transparent and here are a few scenarios:
1. A strong background could be distracting sometimes. When you want to use a picture as the background for slides or pages where you would put text, the colored backgrounds could distract the attention from the main message you want to deliver. In that case, you might want to make it transparent so the audience could read the text easily.
2. A clean background could look cleaner and more professional. Sometimes you don't need to put text upon the picture but you might need the picture to fit into a color or you want to put more elements to the picture. Therefore, a transparent background can be useful as it allows you to layer more elements and create a nice visual experience for your audience.
So without further ado, how to edit the background with a few clips and save you hours of cropping it out? Google Slides could be an easy tool. Google Slides has become one of the most effective ways to create picture presentations. This is because it's easy to use and reliable. And it could take a presentation to another level with its many features so users could present professional slides for any occasion. But many people don't know that they could also make a picture background transparent in Google Slides. To remove the background there are just a few steps:
Step 1Open Google Slides and insert your image. Choose Insert > Image > Upload from Computer > Choose the desired file. Or you could also choose a drive or URL.

Step 2Once it's uploaded, it will automatically appear and its border will turn blue. Then you could resize and set the dimensions of the picture as you need.
Step 3Then you could right-click on the image you are trying to adjust and then from the side-bar options, please click on the Format Options.
Step 4A drop-down menu will appear on the right where you have to choose Adjustments.
Step 5Move the slider of Opacity just by the right amount you think is appropriate for your slides. And you can keep following the same steps for other pictures you want to control the transparency of.
Step 6Then you can click File > Download and pick the format you want.
Part 2. Best Alternatives to Google Slides to Make the Background Transparent
However, using Google Slides like this can only help you make the whole picture transparent. If you want to just erase the background area and leave certain areas like the main object unadjusted, you might need some other tools to achieve that easily. Here are 2 different and convenient ways to make the change.
How to Use AVAide Background Eraser to Erase the Background?
You can access AVAide Background Eraser just on the website without downloading anything. It can help remove image backgrounds of multiple formats of pictures, including PNG, JPG, JPEG, etc. And most importantly it's a free online multi-functional picture editing tool. It can also help change image background with just a few clicks.
Step 1Enter the Background Eraser page.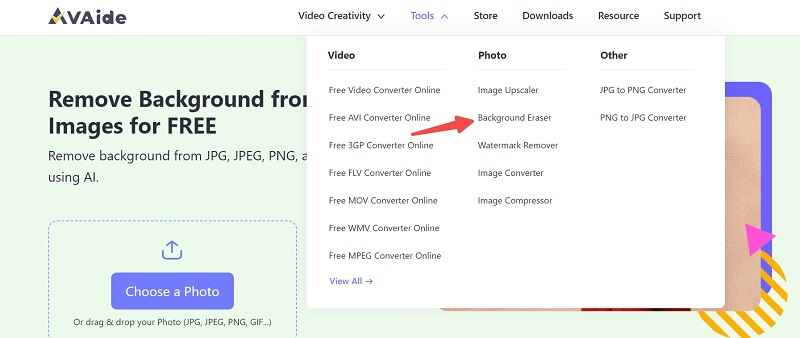 Step 2Choose the photo you need to adjust from the folder or just drag it here.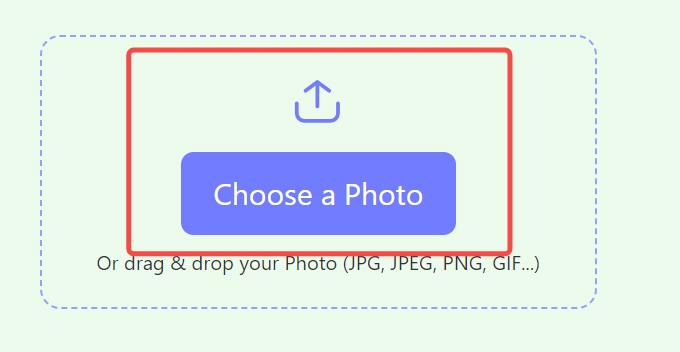 Step 3Then you can click Edge Refine to mark out the area you want to keep or erase to refine the photo.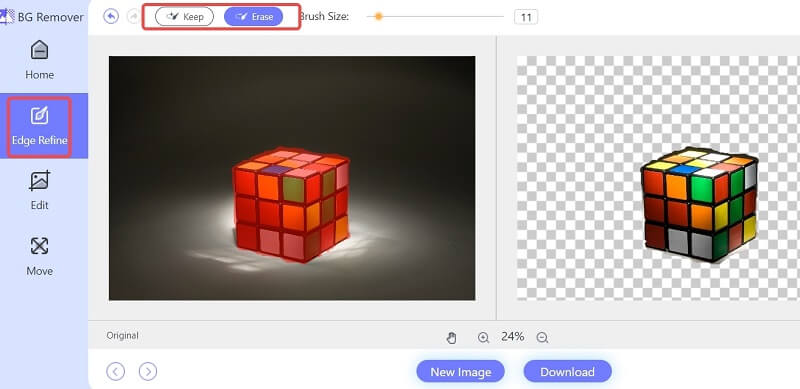 Step 4After you're done, click Download to save your new photo.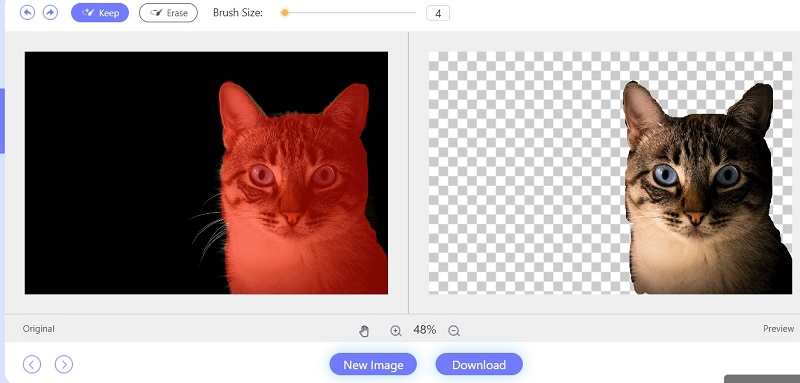 How to Use PowerPoint to Make the Background Transparent?
Microsoft PowerPoint could also be used to make the background transparent for any pictures. And it can achieve similar results as Google Slides.
Step 1Create a slide in PowerPoint and then insert the photo.
Step 2Go to Picture Tools Format and select Remove Background. Or go to Picture Format and choose Remove Background.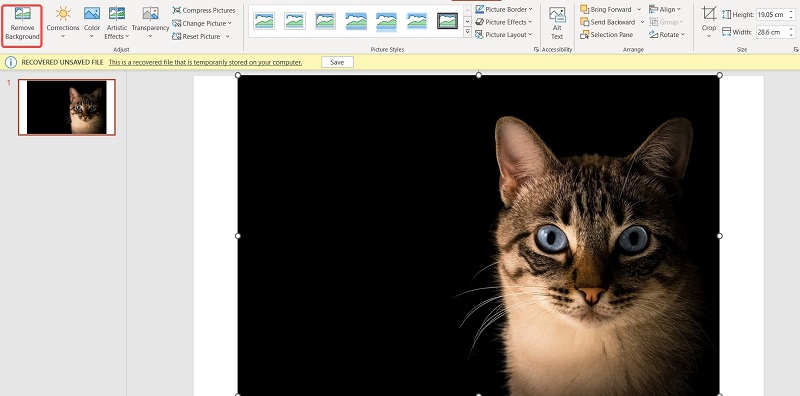 Step 3Then you could get the picture you want to be downloaded through File > Save as.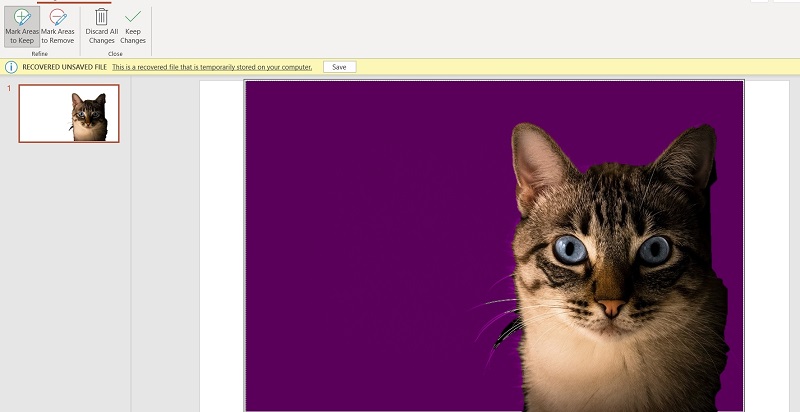 Part 3. FAQs about Making a Background Transparent
Will making the background transparent affect the formatting of the slides?
No, making a picture background transparent will not affect the formatting of your slide. The text and other elements will remain in their original places.
How do I change the background color of a picture?
Using AVAide you can click Edit in the Background Eraser page to add a color or in PowerPoint, you can click Solid Fill and then choose a new color as you like.
How do I make a shape transparent in Google Slides?
Select the shape you want to make transparent, then click on the Fill Color icon in the toolbar. From there, select Custom and adjust the transparency slider. You can also adjust the transparency of the outline by clicking on the Border Color icon and adjusting the transparency slider.
Conclusion
I hope you learned a great deal from this article and now know how to easily make the picture background transparent in Google Slides in the future. Google Slides is easy to use but has its limits and can only serve simple needs. If you want to achieve more professional results like erasing parts of the picture background, then AVAide might be a go-to tool friendly to starters. Thanks for staying till the end and good luck!
Uses AI and automated background removal technology to capture complex backgrounds from JPG, JPEG, PNG, and GIF.
TRY NOW