One of the best functions of smartphones and tablets nowadays is the screenshot. Taking screenshots has been very in demand, especially for those who need to pass a message or idea to others. One of the perfect examples of this is the need to transfer a message you just received. Wouldn't it be easier and more persuasive to send the screencap of the exact conversation instead of typing them one by one? Hence, if this is also the problem you want to solve by learning the proper way how to screenshot on Alcatel 7, then you just got into the right place.
This article has comprehensive tutorials on the proper way of capturing the screen for Alcatel users. On top of that, we have included the best technique using the best capturing tool that you shouldn't miss. You will learn all of these if you continue reading the entire content below.
Part 1. Tutorials on the Default Way of Taking Screenshots on Alcatel
Alcatel is one of the most popular mobile brands around the globe. Even though this brand was founded almost two decades ago, it still remains to be sought-after due to its affordable price.
As a matter of fact, it is not left behind when it comes to innovation. Furthermore, there are various Alcatel mobile devices, each of which has its own way of taking screenshots. For this part, we will introduce the default ways of taking a screenshot that is applicable to different models of Alcatel, such as the Alcatel 7, One Touch Evolve, and the One Touch Fierce 2. Since these models have been claimed to be the most used Alcatel devices up to these days, therefore, let's get started with the Alcatel 7.
How to Screenshot on Alcatel by Button Combinations
Step 1Launch the screen that you need to capture. Don't worry, because you have the liberty to launch anything that you want without restrictions.
Step 2Now, press the power button and the volume down buttons at the same time to take a quick screenshot. You will know that it was already captured by the time you hear the captured sound or your screen flashes.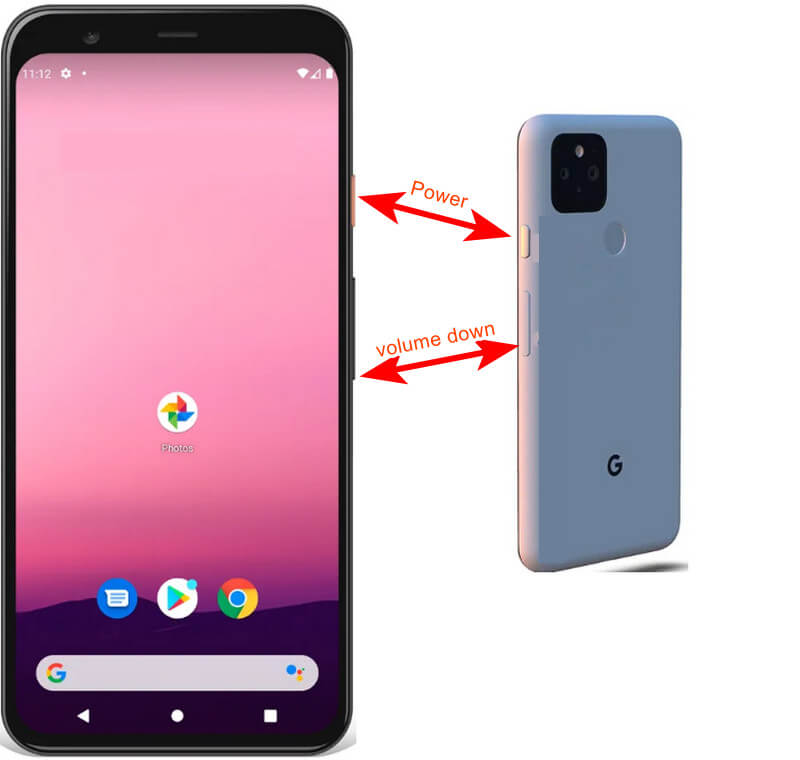 Step 3Then, check the captured screen from your Photo Gallery.
How to Capture Screen on Alcatel by Gesture
Another method for Alcatel 7 that you also need to know is using the gesture. However, to apply this method, you will need to set it first. Thus, if you want to know how to take a screenshot in Alcatel One Touch with this method, see the steps below.
Step 1Go to your Settings app and look for the Gestures and Motions selection.
Step 2After that, enable the Special Motion Technique selection. From there, create a gesture that you want to access screenshots easily.
Step 3Exit the Settings app, then follow the gesture that you just created. Again, the captured images are on the Photo Gallery app.
How to Capture the Screen on Alcatel Using the Built-in Tool
Of course, as mentioned previously, Alcatel mobiles also have a built-in tool for screen capturing. To access it is very simple. All you need to do is to follow the steps below.
Step 1Slide your finger downward on your screen to reach the quick control center of your Alcatel phone.
Step 2Tap the Screenshot icon from your control center. Then., check the captured image in your Photo Gallery.
Part 2. How to Take Screenshot on Alcatel in the Computer
If you wish to capture your Alcatel screen on your computer, you should not miss the powerful AVAide Screen Recorder. It is a full-packed screen recording software that you can acquire on Windows and Mac OS. Furthermore, it comes with many recording tools such as video, movies, games, audio, webcam, and even on the phone like Alcatel! With this being said, you can efficiently capture your Alcatel's screen without even the need to install it on your mobile device!
Thus, using the software's affiliated mirroring app, you can capture everything you wish from your mobile. Not to mention, its phone recorder works on all Android and iOS devices. Are you excited to see the best solution on how to screenshot on Alcatel Fierce 2 phone and other Alcatel models? Then, you should see the tutorial below.
How to Use AVAide Screen Recorder in Capturing Alcatel Screen
Step 1Download and install the best recording software on your desktop or laptop. Then, launch it to access its Phone recorder on its interface.

Step 2Next to that, you need to select a device type on the next window and click Android Recorder. Then, on the next page, follow the minimal instruction to connect your Alcatel phone to the software. Don't forget to select a way to cast your screen, and if your want the easiest one, go for the QR Code.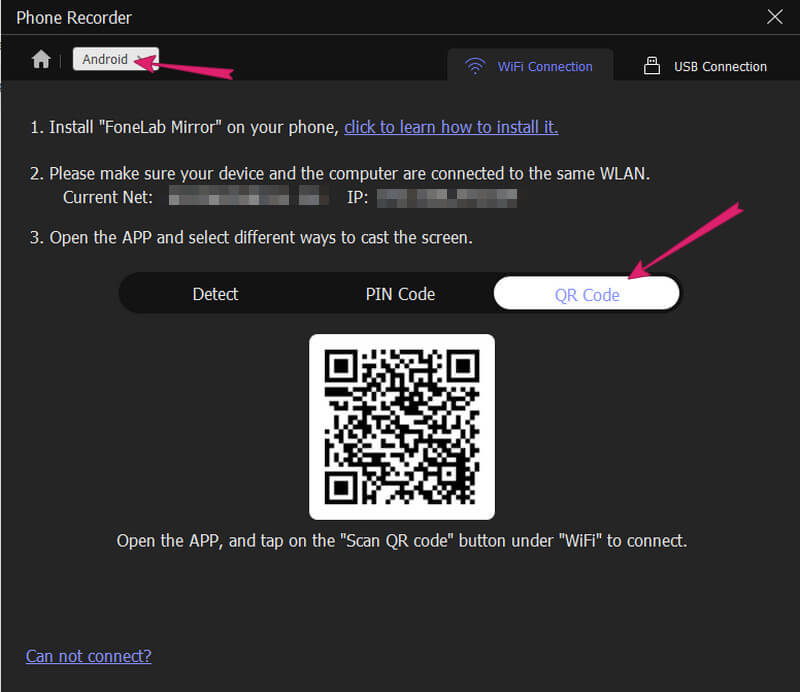 Step 3Once your phone is finally connected, you can already take screenshots by clicking the SnapShot tab. By the way, you can also set the Resolution and Output Resolution from the same window. Then, you can find your captured images in the Recording History.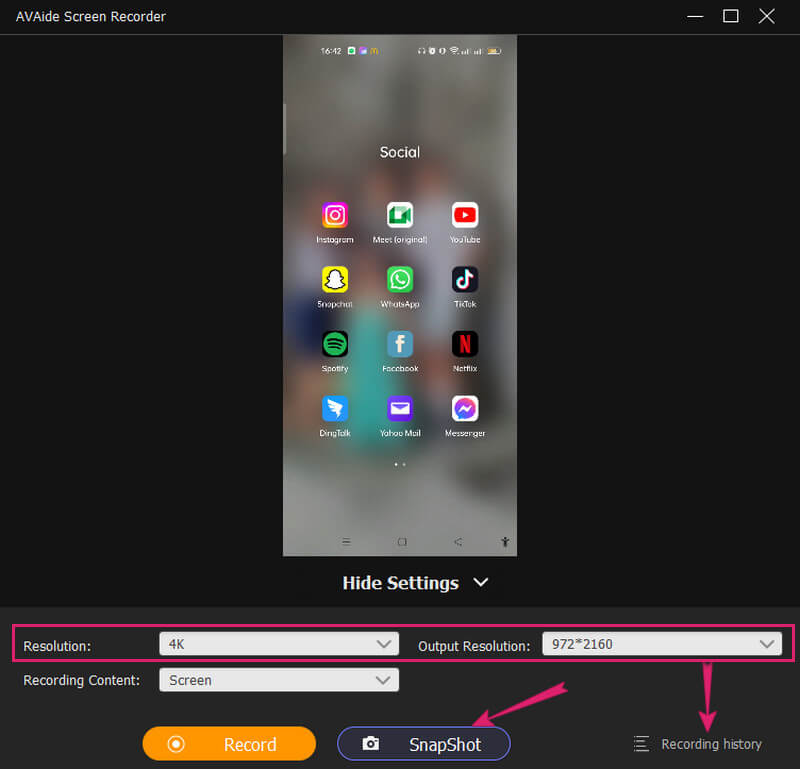 Note: You can always have this software on your computer for future recording purposes.
Part 3. FAQs about Alcatel and Taking Screenshots
How can I take screenshots on Alcatel One Touch Idol 3?
Alcatel One Touch Idol 3 screenshot can be done by simultaneously pressing the power plus volume down buttons.
Can I screenshot using my Alcatel keypad phone?
Unfortunately, keypad phones cannot take screenshots due to their specs.
Can I edit my screenshot on Alcatel 7?
Yes. You can edit captured images on Alcatel 7 since the built-in screenshot tool has primary editing selections. However, it cannot give you the editing tools like what the AVAide Screen Recorder provides you.
Record screen, audio, webcam, gameplay, online meetings, as well as iPhone/Android screen on your computer.