Everyone must be looking for a reliable screen recorder like the Loilo Screen Recorder. Indeed, this recorder has something to boast about regarding recording screens and games, as most o its users know it. However, if you are new to screen recording, you must get to know it more profoundly to understand its specifications for utilization.
Good thing you have landed on this post because it is an article that outlines and shares an in-depth review of the said game recorder. On the other hand, we will also promote the best alternative that you should check out to achieve a better, more reliable, and flexible screen recording experience. All of them you will learn by reading the entire content below.
Part 1. An Overview of Loilo Game Recorder
What is Loilo Game Recorder? Loilo Game Recorder is one of the best game recorders with versatile and commendable features. Tag along with its features are the excellent resolution, performance, and intuitive interface it provides. With this being said, Loilo Game Recorder is a superb solution to capture high-quality recordings while taking up little space on a device. Furthermore, part of its being intuitive is its easy-to-understand and use interface, which even a first-time user could navigate.
Also, this recording software lets you record on a widescreen mode, portrait, to capture footage while the game is at rest and present a preview of the captured images. Despite that, Loilo has excellent support for Windows OS, especially Windows 7 and 8. However, this opposes the support of macOS, which makes it one of its disadvantages.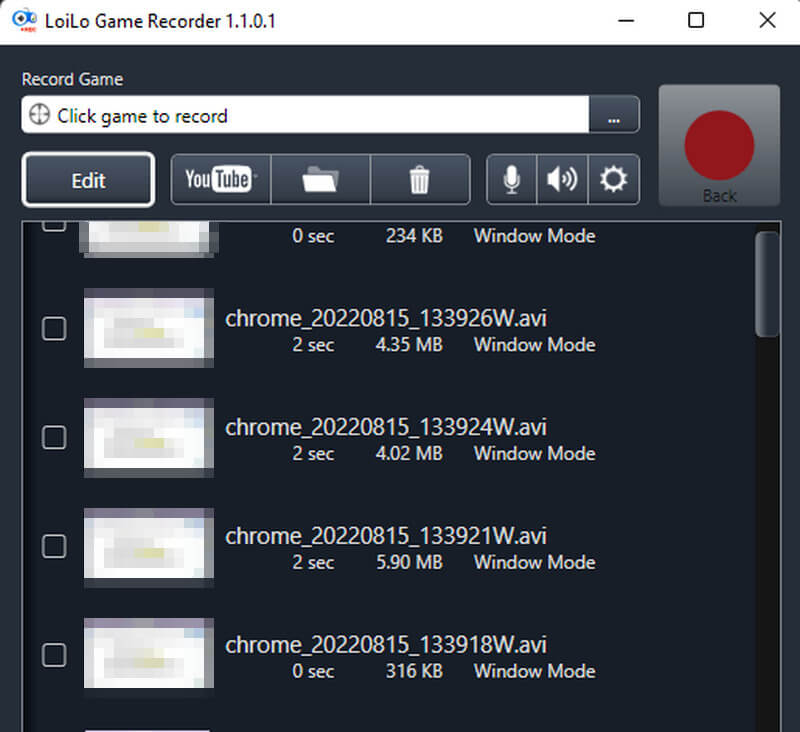 Best Features of Loilo Game Recorder
◆ Intuitive Interface - Loilo has an easy-to-use interface that even an elementary can navigate. It has minimal selections and only shows the essential choices such as the play, stop, setting, sound, mic, folder, delete, and edit features.
◆ Resolution - Loilo supports the motion-JPEG. For this reason, it produces HD recorded videos without taking up much storage space.
◆ Efficiency - When it comes to performance, Loilo has tested to have a minor performance loss among the other popular recording apps like Bandicam, Dxtory, Action, Fraps, and AmaRecCo. This is true with older Windows 7 32-bit that has GT240 graphics in 4GB memory.
Advantages and Disadvantages of Loilo Screen Recorder
Pros
Loilo is free to acquire.
It can record video as well as voice.
It records and produces videos into small files with HD quality.
It enables users to record unlimitedly.
It has no watermark.
Users are allowed to share videos on Youtube.
Cons
It doesn't have a pause button selection.
It is not entirely free software.
It doesn't have a software version for Mac.
It cannot capture the mouse in the screen recording.
It doesn't allow exclusive audio or sound recording.
It redirects you to an additional tool when you edit the recording.
Editing the recorded video will cause you to see ads.
Part 2. Best Alternative for Loilo Screen Recorder
Although Loilo seems to be a perfect game recorder, you should see the AVAide Screen Recorder. It is not just a game recorder but also a video, window, audio, webcam, and phone recorder in one. Intuitively wise, this AVAide Screen Recorder has a simple yet full-featured interface, where beginners can experience being a professional. In addition, it captures and produces recorded files in not only the highest but the lossless quality of output. You will be amazed that you will have a cinematic quality of image display and sound by the time you watch your recordings. Not to mention its built-in noise-canceling microphone, along with a hardware acceleration that helps a lot in accelerating its efficiency and performance. No wonder this fantastic game recording software is the best alternative to Loilo Game Recorder.
Meanwhile, AVAide Screen Recorder provides users with hotkeys, a screenshot tool, mouse settings, camera settings, and more. This way, users can customize to release videos according to their preferences. Despite that, it produces non-watermarked outputs that users can compile on the significant size of its library folder.
Part 3. Bonus: How to Record Game Using the Best Screen Recorder
AVAide Screen Recorder – The Phenomenal Game Recorder
Record your game unlimitedly without a limit of size.
Record game in a picture-in-picture mode to help your blog.
Produce a lossless game video with a seemingly high-quality sound.
Customize your recorded files using numerous editing tools.
Export your game recordings in various video formats.
Step 1Get the best alternative of Loilo Game Recorder on your desktop or Mac computer. Click the download buttons above to help you with this specific guideline quickly.
Step 2Launch the best screen recorder, and select either the Video Recorder or the Game Recorder to record your gameplay. On these guidelines, we will go for the Game Recorder option.

Step 3Next to that, you can now launch your game. Then, on the next window page of the game recorder, click the Arrow drop-down button beside the controller icon to pick the window of your game. Apply the selection by clicking the OK button afterward.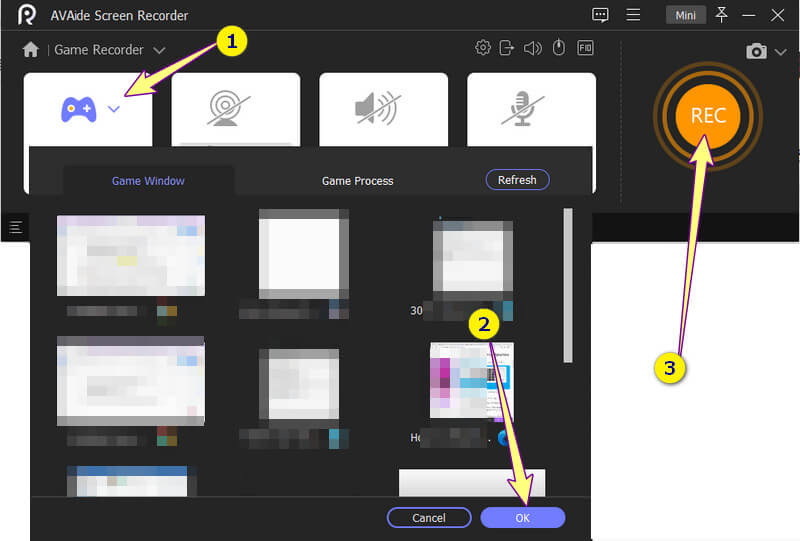 Step 4You can adjust the other settings in the webcam, sound, and mic if you want to. Otherwise, hit the REC button to begin recording your gameplay. When the recording is ongoing, a floating bar with playback buttons and other settings, including the snapshot button, navigate it according to your needs.
Step 5Once you end the recording, the recorder will direct you to the next window. On this window, you can edit the recorded file and export it.Once you end the recording, the recorder will direct you to the next window. On this window, you can edit the recorded file and export it.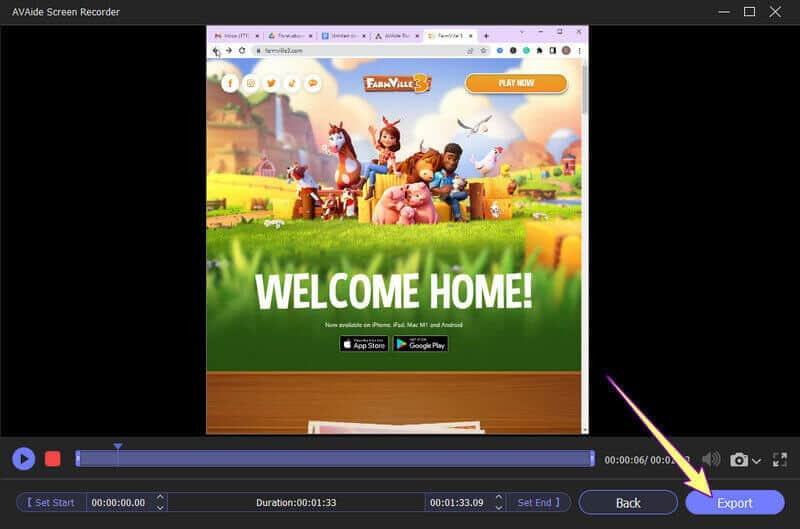 Note: After exporting the recorded file, you can make extra customization by labeling the file creation.

AVAide Screen Recorder
Record screen, audio, webcam, gameplay, online meetings, as well as iPhone/Android screen on your computer.
Part 4. FAQs about Loilo Game Recorder
Can I edit my recordings with Loilo Game Recorder?
Unfortunately, the game recorder of Loilo cannot edit the recorded gameplay unless you use the LoiloScope. LoiloScope is the pre-requisite software that you need to install after installing the game recorder.
Why does the Loilo recorder stop and get worst while in use?
This issue occurs because probably due to overuse. You can try to re-launch the software to fix this problem.
Is it safe for my desktop to install Loilo?
Yes. You don't need to worry about installing this software on your device because it is safe. Thus, use a software virus scanner to make an extra secure installation.
Conclusion
To conclude, Loilo Game Recorder is a freeware that comes with an elementary interface but requires technicalities to access its editing features. If you need a simple and efficient game recorder, Loilo is recommended. However, if you need a simple, efficient, and reliable desktop recorder with professional features, then you need to have the AVAide Screen Recorder instead.
Record screen, audio, webcam, gameplay, online meetings, as well as iPhone/Android screen on your computer.