Nowadays, DVDs are still one of the safest ways to save videos. Videos stored in DVDs can maintain the original high quality to a great extent. However, you will inevitably encounter the situation that you want to play the files on a DVD, but you don't have a DVD drive, and it is impractical to carry a DVD or DVD drive with you at any time. This is inconvenient and easy to cause irreparable physical damage to the DVD. Therefore, you'd better transfer DVD movies to SD card or other playback device anytime.
This article will offer a detailed guide to copying DVD files to an SD card and recommend a top DVD copy software to help you complete the process smoothly. Read on and explore with us!
Part 1. What Do You Need to Copy DVD Movies to SD Card
A Computer with a DVD Drive
If you want to burn a DVD to an SD card, it is necessary to read the DVD first. So you need to first equip your computer with a DVD drive to insert your DVD and show the files stored on the computer.
An SD Card Reader or A Device with Built-In Card Reader
In converting DVD files to SD cards, you need to connect your SD card to your computer. A card reader can serve your needs well. It can connect your SD card to your computer via a USB port to read the card details, view the stored files, or copy files.
Suppose your phone or other mobile device has a built-in card reader. In that case, you can connect your device directly to your computer via a USB cable and find the folder of your memory card on your computer, then perform the conversion between DVD and SD card.
If you have already prepared the equipment needed to burn the DVD to the SD card, you can proceed to the next step of the conversion.
Part 2. How to Transfer DVD to SD Card
Transfer with the Best DVD Ripper
When you need to copy DVD files to an SD card, we recommend using the best ripper, AVAide DVD Ripper. This software converts DVD movies to video and audio formats with lightning-fast speed. Different resolutions, including 4K, HD 1080p, HD 720p, and 480p, are supported by this powerful ripper. Before copying your DVD videos to an SD card, you can use AVAide DVD Ripper to trim, compress, crop, and merge your files smoothly. Besides, you can extract sound, background music, or audio tracks from DVDs without quality loss.
You can complete the conversion successfully with clear and concise pages and detailed step-by-step instructions.
Here we offer you the detailed steps to follow with.
Step 1Download and install AVAide DVD Ripper on your computer. Open it and choose Ripper on the interface.
Step 2Insert your DVD into the drive of your computer, and click Load DVD to import.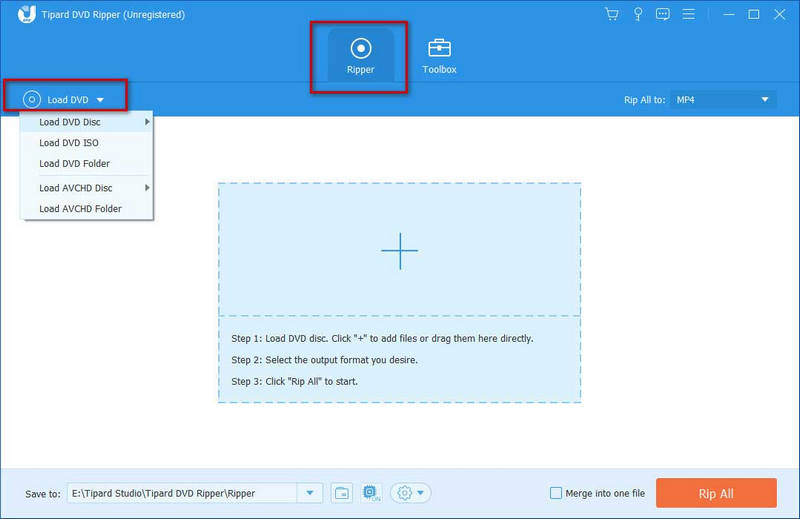 Step 3Drop down the menu by clicking Rip All to, and choose the output format for your movies.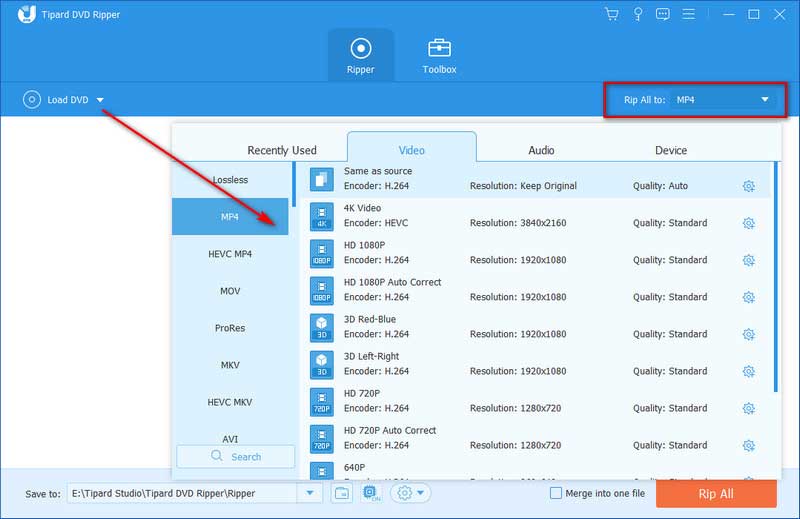 Step 4Connect your SD card to your computer via a card reader, or you can use a USB cable to connect the device containing your SD card to the computer. Open the folder of it.
Step 5Click Save to to select your SD card's folder as the output path. Press Rip All to start the process.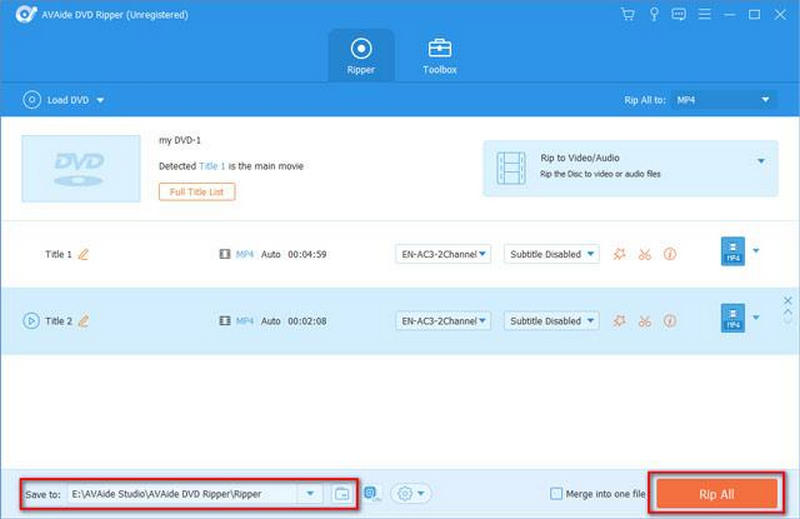 If you don't find it easy to find the target folder, you can also save the files to your computer and copy them to the SD card folder by copying and pasting.
After safely transferring movies from the DVD to the SD card, set up a secure eject, then pull out your SD card. Now, the whole process is done.
Notes on the Conversion Process
You need to focus on some details during the conversion process. First, ensure that the DVD is treated with care throughout the burning process, avoid touching its surface directly, and hold it gently to avoid unnecessary damage.
Secondly, when using the SD card, please follow the correct steps to insert and pull out. Especially before pulling out, remember to set the security to eject on the desktop before pulling out the device carrying the SD card. Otherwise, your data may be lost. This rule applies to copying DVD files to hard drives or other mobile devices.
Part 3. FAQs about Transfer DVDs to SD Card
Do SD cards expire?
Most SD cards will last up to five to ten years. They will retire for various reasons, such as when the storage is full or damaged. Therefore, you need to replace the SD card with a new one to prevent the files from being saved improperly. It is also advisable to back up the files stored on your SD card on your computer or other device to prevent data damage or loss.
What lasts longer, an SD card or a USB drive?
Both have no moving parts, so both have a longer shelf life. But because USB flash drives are generally protected by plastic, metal, or other material cases, they are less likely to be hurt. So in daily life, we generally think that USB flash drives may last longer.
Does copying DVD damage it?
Nowadays, DVD ripping may include circumventing DVD copy protection for accessing DVD content. But copying a DVD does not cause any external damage or data loss unless the drive you are using is faulty or you accidentally scratch it during the copying process. You can use some DVD rippers to back up your files in advance to prevent this from damaging your files.
How do you store DVDs long-term?
Since DVDs are more likely to receive scratches or other physical damage, it is best to store them properly. First, a dark, cool, and dry place is the best choice. You can use some storage containers to store your DVDs in different categories. When they need to be cleaned, use a soft cloth to wipe them gently. You can buy special cleaners or use alcohol as a substitute to clean the surface of DVDs.
Can a damaged SD card be recovered?
SD cards that have been corrupted cannot be repaired, but you can take steps to recover the data stored on them. If your SD card is damaged, please stop using it immediately to prevent losing more data, and turn to some professional repair tools to restore and export the files inside.
Conclusion
This article details the notes and steps to transfer DVD files to an SD card. In addition, we offer the best conversion tool applicable to different types of DVDs. Using an SD card to store videos is more suitable for portability and convenience. Besides, you can also make a backup of the exported files on another device, maximizing the protection of your video files when the original device is damaged.
Best tool for ripping and converting DVD Disc/Folder/ISO image file into over various formats.