Uploading videos to YouTube is a great way to share your content. However, if you have a DVD that you want to upload the DVD to YouTube, you'll need first to convert it into a compatible digital format. Converting a DVD for YouTube can be tricky if you're unfamiliar with the process, but it's easier than it might seem. This article will tell you how to convert a DVD to YouTube in a few simple steps so that you can share your video content with the world.
Part 1: The Requirements for YouTube Uploading
YouTube has specific requirements for video formats, resolutions, and other technical specifications. So you have to follow them when you want to convert DVDs to YouTube videos. Here are the most important ones:
Video Format: YouTube supports several formats, including MP4, AVI, WMV, MOV, MPEG, FLV, 3GP, and WebM. However, using MP4 as the most widely used and compatible video format is recommended.
Resolution: YouTube supports resolutions up to 4K for standard videos and 8K for high-resolution videos. Uploading videos in the highest possible resolution is recommended for optimal viewing experience.
Aspect Ratio: The aspect ratio of your DVD to YouTube video should be either 16:9 or 4:3. The video should be either widescreen or standard screen format.
Video Codec: YouTube recommends using the H.264 video codec, which provides high-quality video with smaller file sizes.
Bitrate: The recommended bitrate for uploading videos to YouTube is between 8Mbps to 15Mbps for 1080p video and 35Mbps to 68Mbps for 4K video.
Frame Rate: YouTube supports frame rates of up to 60fps. Using the same frame rate as the original footage is recommended for the best quality.
Audio Format: YouTube supports various audio formats, including AAC, MP3, and Vorbis. The recommended audio format is AAC with a bitrate of at least 128 kbps.
Video Length and Size: The maximum file size for videos uploaded to YouTube is 128GB, and the maximum video length is 12 hours. You must ensure the size and length are under the requirements when uploading DVDs to YouTube.
Part 2: Convert DVD to Compatible Video Formats for YouTube
As we all know that we cannot directly upload DVDs to YouTube, you must rip DVDs first. And you can use AVAide DVD Ripper. This software could contain the quality while ripping the DVD. So you can upload the original video while following the requirements of YouTube.
AVAide DVD Ripper
Compress video size and cut length for YouTube.
Output various video formats supported by YouTube.
Contain video quality while ripping the DVD out.
Adjust video with resolution, bitrate, and more.
Step 1Click the Load DVD Disc button to import the DVD to AVAide after you insert the DVD into your computer. You can also click the Load DVD ISO or Load DVD Folder buttons to upload different DVD types.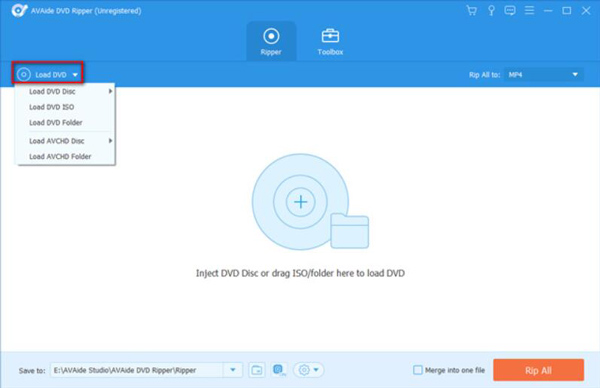 Step 2You can choose the YouTube-supported format by clicking the Format button. And you can click the Settings button with a gear icon to change the resolution, bitrate, video codec, and more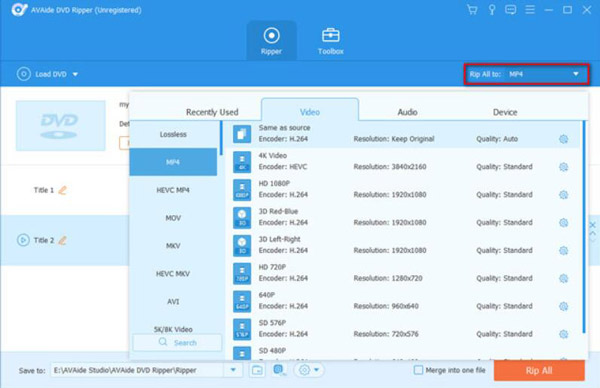 Step 3After all the settings, you can set the destination of your ripped video. And then, you can click the Rip All button to launch the process. Your files will be ready in minutes.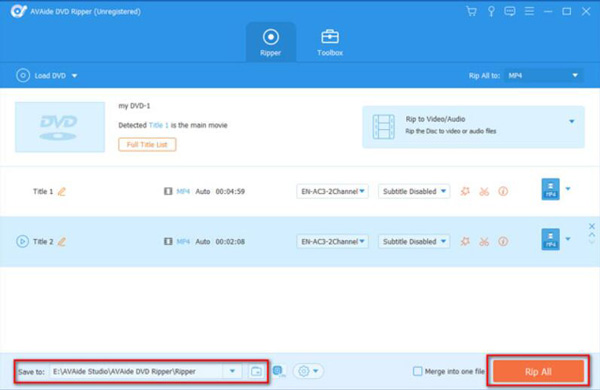 Part 3: How to Upload DVD Video to YouTube
After you convert DVDs to YouTube videos, you can now upload them. It's worth noting that uploading copyrighted content to YouTube without permission can violate YouTube's terms of service and may lead to your account being terminated. So make sure you have the legal right to upload the content before doing so. You can learn from the beyond part to upload them:
Step 1First, you should sign in to your YouTube account. And then, click the Upload video button from the Create button on the top of the website.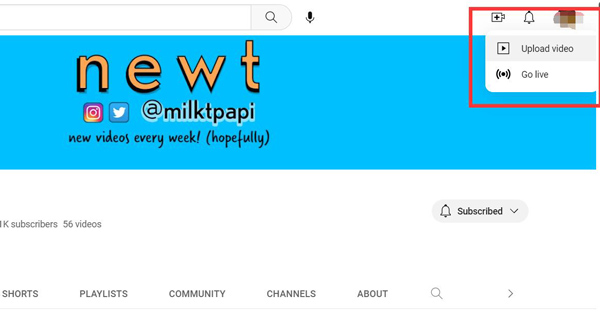 Step 2You can drag and drop the ripped video file into the upload window. Or you can click the Select button to select it from your computer's file explorer.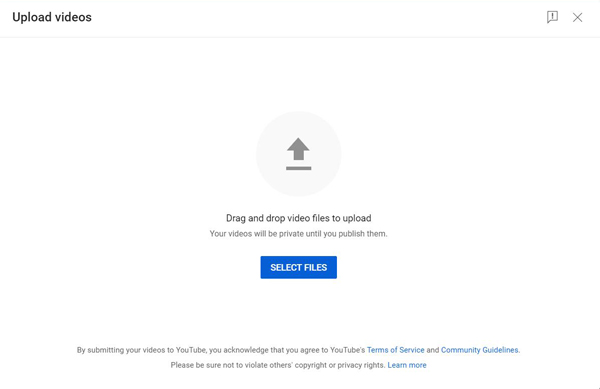 Step 3Add a title, description, and tags to the video. Choose the privacy settings for the video. Click the Publish button to upload to YouTube.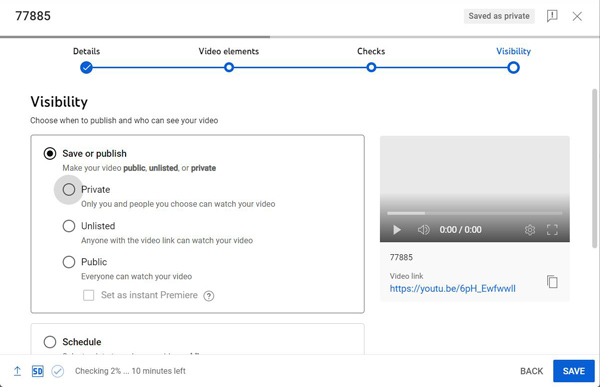 Part 4: FAQs about DVD to YouTube
What video format should I choose when ripping a DVD to YouTube?
MP4 is a widely supported video format that is compatible with YouTube. You should choose this format when ripping the DVD to ensure maximum compatibility with YouTube.
Can I upload a DVD to YouTube if it contains copyrighted content?
No. Uploading copyrighted content to YouTube without permission can violate YouTube's terms of service and may lead to your account being terminated. You should ensure that you have the legal right to upload the content before doing so.
Can I upload a DVD to YouTube without losing quality?
No. Uploading a DVD to YouTube will generally result in some loss of quality due to compression. However, you can minimize the loss of quality by choosing a high-quality video format when ripping the DVD. Or you can learn how to upscale DVDs and upload the video to YouTube in the highest resolution possible.
Conclusion
In conclusion, converting a DVD to YouTube is a straightforward process requiring patience and the right tools. Following the steps outlined in the article, you can easily extract the video content from your DVD and convert the DVD to a YouTube-compatible format with AVAide DVD Ripper as your best YouTube movie maker. And then, you can upload it to the platform for the world to see. Remember to follow the requirements for YouTube videos when you convert DVD with AVAide DVD Ripper. With these tips, you're well on your way to sharing your DVD to YouTube with a broader audience on YouTube.
The most comprehensive media converter to convert video & audio & DVD without quality loss.