"I have recently encountered a problem viewing DVDs on my PC, Windows Media Player won't play my DVD, how to resolve this problem?" Windows Media Player is the pre-installed media player and manager on PCs. Generally, it can play audio CDs, data CDs, and data DVDs that store music and video files. It supports video CDs and DVDs if you have a compatible DVD decoder. The troubleshooting tells you how to play DVDs on Windows Media Player properly.
Part 1: Why Windows Media Player Won't Play DVD
As the built-in media player, Windows Media Player is popular and many users listen to their favorite music and view movies with it. There are many reasons why Windows Media Player stops playing DVDs. According to our research, the main reasons include:
1. Lack of DVD decoder. As mentioned previously, Windows Media Player alone cannot play video DVDs. It also needs a compatible DVD decoder.
2. Outdated or corrupted DVD driver. It is a piece of software that helps hardware communicate with the operating system. If something is wrong with your DVD drive, WMP cannot open your DVD.
3. Registry Errors. It is difficult to explain what Windows registry is, but it can lead to DVD/CD-ROM drives to corrupt.
4. Your Windows Media Player is crashing, so it cannot play DVDs or any other videos.
5. Your DVD is encrypted and Windows Media Player cannot decrypt the content at all.
6. The DVD is damaged and has deep scratches.
7. The DVD playback has been removed from Windows Media Player on Windows 8.1 and later.
Part 2. How to Play DVD on Windows Media Player
After checking your DVD, input it into the internal or external DVD drive, but you still cannot play the movie since you need the media player software. When playing DVDs on Windows Media Player, it is a bit complicated since Microsoft has changed the pre-installed media player on Windows 8.1 and later. Therefore, we demonstrate how-to on Windows 7 and later respectively.
How to Play a DVD on Windows Media Player on Windows 7
Step 1Insert the DVD that you want to watch into the DVD drive associated with your PC.
Step 2By default, it should start playing automatically after your PC detects the movie DVD. If the playback does not initiate on its own, go to the Start menu at the bottom left corner, and open Windows Media Player.
Step 3Now, you may face two situations:
Situation 1: Select the DVD title on the left Library bar and choose the desired title or chapter. Then you will enter the Now Playing mode. The buttons at the bottom let you control the DVD playback on Windows Media Player quickly, such as Pause, Stop, etc.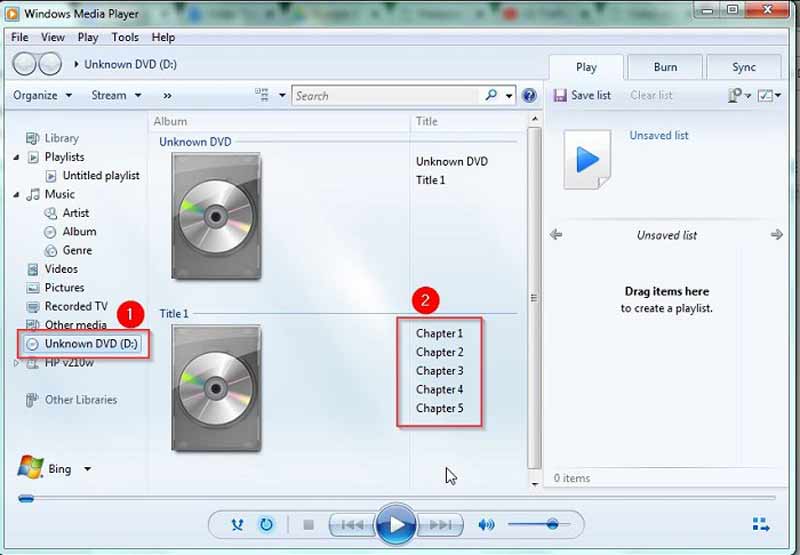 WMP also create a playlist of the titles on the disc automatically and display them on the right panel. You can switch to other titles here quickly.
Situation 2: Windows Media Player cannot play your DVD and you will see an error message. It means that your PC lacks a compatible decoder. Now, you have two choices. Click the Web Help button on the error message, and your PC will search for an appropriate codec package. All you need to do is follow the on-screen instructions and install the DVD decoder on your machine. Another choice is downloading a decoder online manually, such as a DVD Decoder pack, K-Lite Codec Pack, Media Player Codec Pack, and more. Next, play the DVD on Windows Media Player and it should decode your disc properly.

How to Play a DVD on Windows 8.1/10/11
Step 1First of all, input the desired DVD into your disc drive.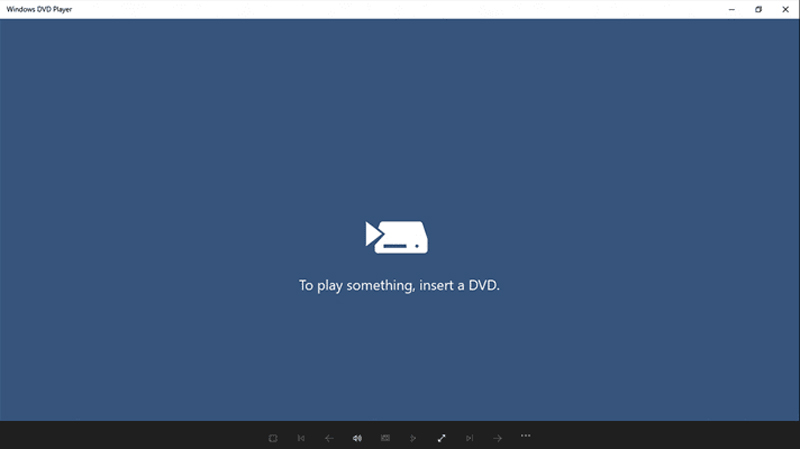 Step 2If your computer has a compatible DVD decoder, Windows Media Player will start playing it immediately.
If not, you have to try another player, such as Windows DVD Player. Microsoft has stripped off the DVD playback functionality. Windows DVD Player is not pre-installed on your PC anymore but is sold in the Microsoft Store. In other words, you have to pay $15 for the software.
After installing, click the Play button and the DVD playback should initiate. You can get the controls including Play, Pause, Stop, Fast Forward, Rewind, Control Volume, and Resize Screen.
Part 3: Alternative Way to Playing DVD on Windows Media Player
To play a DVD on Windows Media Player, you need to download extra codecs or purchase software from Microsoft Store. It sounds very tedious. More importantly, you might still not be able to play the DVD after all that. Why not just find an alternative? In fact, AVAide Blu-ray Player is an excellent option. It utilizes advanced technology to keep and optimize the video quality on your DVDs and Blu-ray discs. The user-friendly interface lets beginners find what they want easily.
Best Alternative to Windows Media Player
Play any DVDs, Blu-ray discs, ISO, and digital videos smoothly.
Support a wide range of multimedia formats.
Control DVD playback with advanced options.
Bypass a variety of encryptions and region codes.
How to Play DVD without Windows Media Player
Step 1Install the WMP alternative
Launch the best substitute for WMP after you install it on your PC. This is another version for Mac users.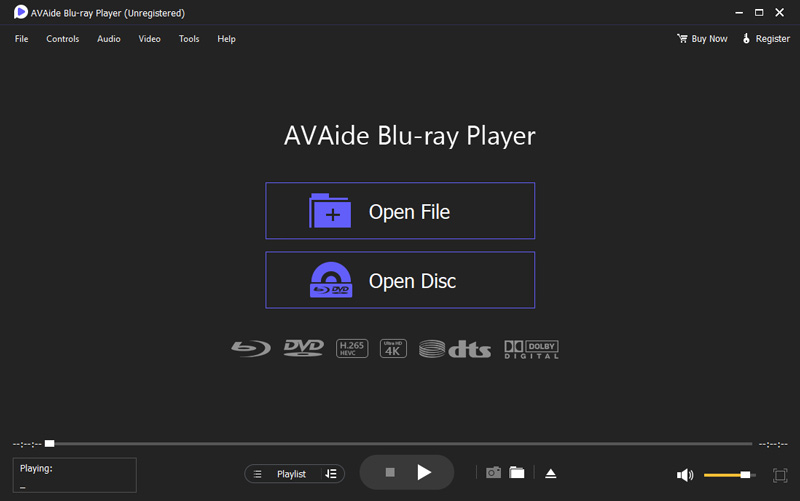 Step 2Open a DVD
To play a DVD with the Windows Media Player alternative, put the disc into your PC. Click the Open Disc button to load the movie files on the disc. Then select the file and hit OK.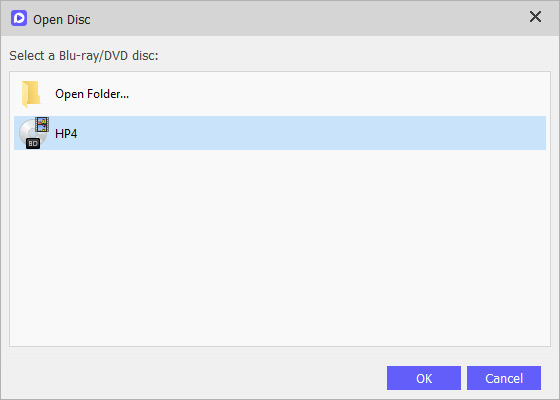 Step 3Control DVD playback
A few seconds later, the DVD playback will start. You can find the quick controls at the bottom, such as Pause, Stop, Play, Fast-forward, Rewind, Previous-title, and Next-title. To take a screenshot, press the Camera icon. If you wish to get advanced controls, such as video effects, correcting colors, and more, navigate to the top menu bar.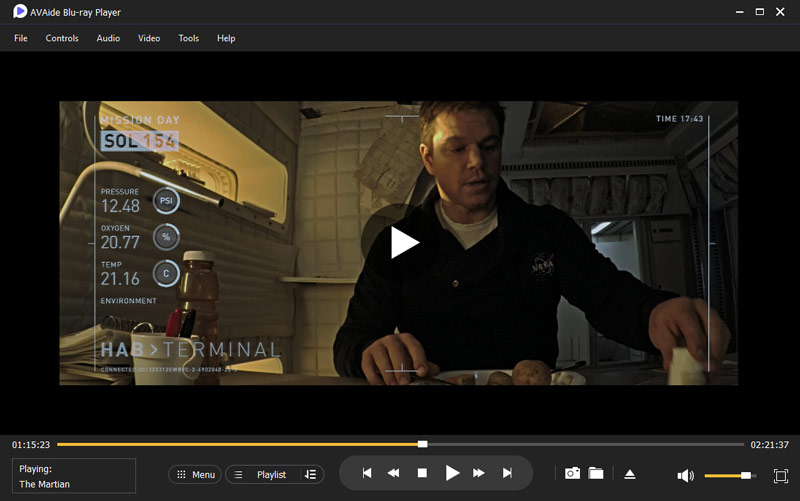 Part 4: FAQs about Windows Media Player Won't Play DVD
How do I get Windows 11 to recognize a DVD?
Firstly, update your DVD driver on the Device Manager dialog. You can open it by executing devmgmt.msc in the Run dialog. Then reset the DVD drive using the Registry Editor. If it still does not recognize your DVD, try another PC instead.
Can I update Windows Media Player?
Yes. You can either check for updates manually on the Microsoft website or configure Windows Media Player to check for updates automatically. Open WMP, click organize, choose options, and switch to the player tab. Select a period under Automatic updates.
When did Windows Media Player stop playing DVDs?
Since Windows 8 and 8.1 update, Microsoft had stopped the DVD playback capability in Windows Media Player. According to the report, that is for copyright protection.
Conclusion
Following this guide, you should understand how to play DVDs on Windows Media Player, why it cannot play your movie DVDs, and how to resolve this problem. Today, some people still have a collection of video DVDs. Apparently, Windows Media Player is not the best option to enjoy your favorite DVD movies. Alternatively, AVAide Blu-ray Player offers a better experience. If you have other problems, please feel free to contact us by leaving a message below this post.
Full-featured multimedia player to play Blu-rays, DVDs, 4K UHDs, and other video/audio files.