For downloading and watching live videos online, MP4s are one of the most popular formats. In addition to that, it can also have subtitles, still images and store audio in a compressed and versatile format. For that reason, this video format is also entitled to video editing that will make them more attractive to the viewers. That is why most content creators and professional video editors use reverse effects. Reverse video is a technique for emphasizing a video display by reversing the colors of the foreground and background on a computer display. This article will learn how to reverse MP4 video online and offline using the magnificent reverser tools on Windows and Mac.
Part 1. Efficiently Reverse MP4 Videos with the Unraveled Reverser Tool
The Leading MP4 Video Reverser: AVAide Video Converter [Windows and Mac]
You won't look for another desktop tool if you have the all-in-one AVAide Video Converter tool. This is not just your ordinary converter since it is loaded with full-packed features, such as Video Reverser, Media Metadata Editor, Video Compressor, Video Enhancer, Video Trimmer, Video Merger, Audio, Sync, Volume Booster, etc. Edit and customize your MP4 video clips before even converting them. Since it is a downloadable tool, you don't need a stable internet connection, import, edit, modify and convert the tip of your fingers without interruptions. Plus, it is empowered with acceleration technology, which means you can convert your files 30X faster without file size limitations. What are you waiting for? Try AVAide Video Converter now, and you will not regret it. Below is the ultimate guide on how to reverse mp4 video.
The Leading MP4 Video Reverser: AVAide Video Converter
Accelerate the conversion process by 30X faster.
Use the built-in video editor and video collage maker to create eye-catching content.
Offers GIF and 3D maker.
Converts quickly with unlimited file size.
Equipped with a Toolbox Kit.
Step 1Visit the official website
To start, open your web browser and go to the leading site of AVAide Video Converter. Otherwise, you can immediately download it using the download buttons above. When the tool is successfully installed, locate Toolbox on the main interface, then click Video Reverser.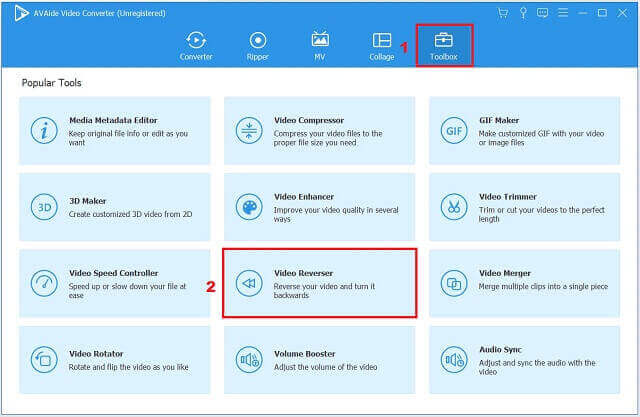 Step 2Import the video clip
Upload your video clip by hitting the Plus (+) button in the center of the interface.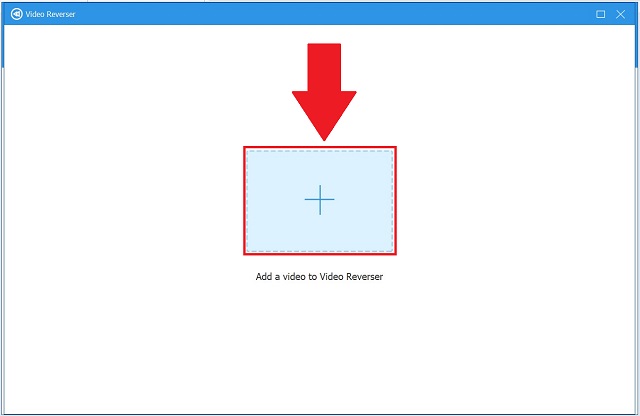 Step 3Reverse the MP3 file
On the main setting interface, choose whether to set a duration time where start or end the reverse. You can do it manually or by dragging the red panel into your preferred duration.
Note: Please keep in mind that audio reversing is not supported as of this moment. Thus, it is backed by its other enhancers and configurations.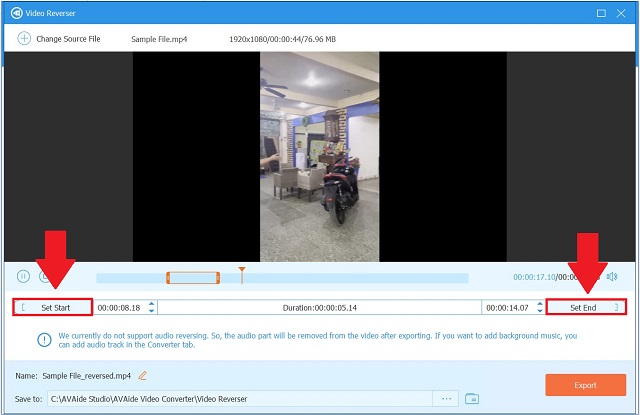 Step 4Export the file now
Before finally exporting the reverse clip, rename the clip by hitting the Pen button located at the lower part of the interface. Then, save your reverse file by choosing a file destination on Save to. Finally, hit the Export button to download the MP4 file.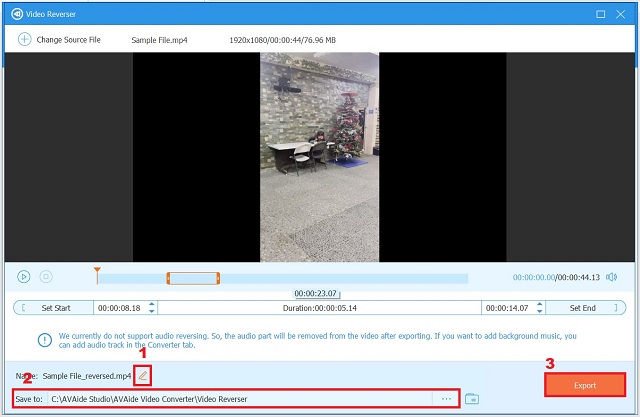 Step 5Preview the reverse video
Check your newly reversed file in the file destination when the process is finished.
Part 2. The Hassle-Free Techniques on How to Reverse MP4 Video Online
1. Reverse Your MP4 Video using EZgif
As the name suggests, this tool is primarily a GIF converter with additional features such as Reverse Video. Users can also use it to play a video in reverse on the internet. It can reverse, flip, change the size, trim, crop, and modify video speed in addition to being a converter. However, this tool has some drawbacks because it is an online solution. These include video sizes. You can import files up to 100 MB in length, and some advertisements appear when you use the tool. To learn how the software tool works, follow the steps stated below.
Step 1Browse the EZgif website. To open the video reverser, go to Video to GIF > Reverse.
Step 2To proceed, submit the target MP4 file from your desktop or enter the video link. Then, hit Upload video.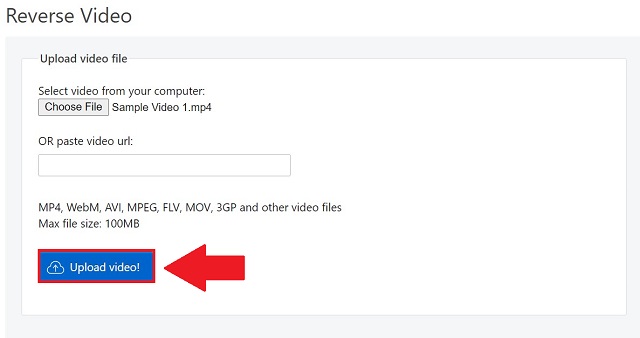 Step 3Verify the reverse or mute sound option on the Reverse Video page, depending on your needs. Then, select Reverse video and save the reverse video clip.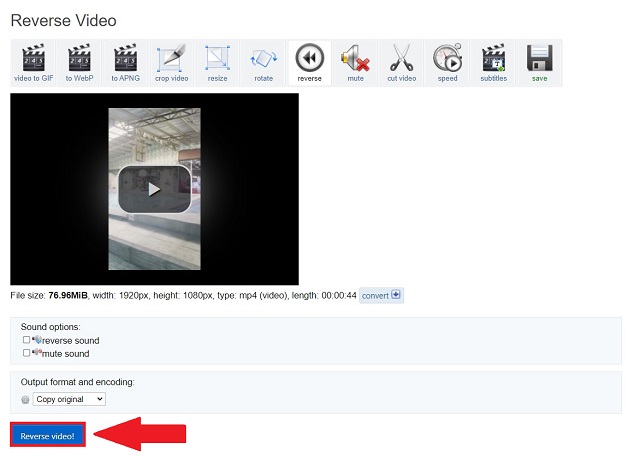 2. Play MP4 Backwards with Kapwing
Kapwing is another online tool for reversing MP4 files. It is both free and powerful. Without downloading any professional software, it shows the video backward and adds a playback effect. To begin, easily import the video footage from your desktop or paste the video URL. Because this online video reverser can retrieve the most popular video streaming site's URLs, it is a fantastic way to use the tool to reverse and watch videos straightforwardly. After uploading is finished, you can select a reverse speed of 0.5X, 1X, or 2X. Kapwing also has an audio editing function. So, if the clip has sound, you could choose to mute it or leave it alone. You must pay a flat amount if you need to save the reversed video and eliminate the watermark after reversing it. Check the guide below to reverse a video using this online tool successfully.
Step 1To use the tool, go to Kapwing's main site in a web browser and search for the Reverse Video Editor.
Step 2Then, select the Upload button from the homepage and choose the video to play backward.

Step 3While uploading, the video is now being reversed. Click Create and download the reversed video clip when the process is completed.
Note: Before downloading, you can modify the Reverse Speed and mute the video.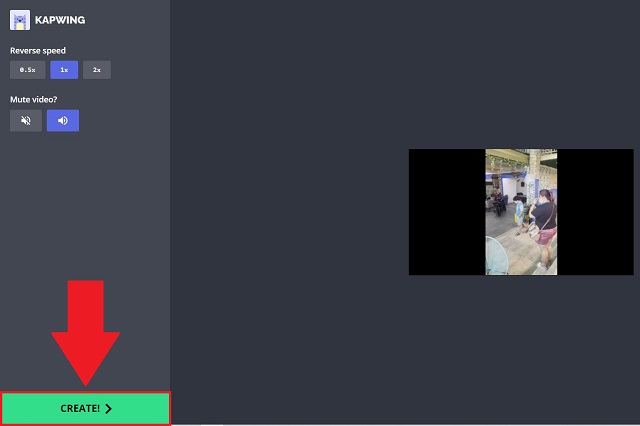 3. Reversely Play Your MP4 on Fastreel
Fastreel allows you to reverse video online without any need for application or extensions. Furthermore, this tool is an outstanding option for a free application because it will enable users to reverse videos in various formats such as MOV, MP4, AVI, and others. It has an easy-to-use interface that allows users to save any footage in reverse with a few clicks. Besides, users don't have to be concerned about the videos they upload because the application offers total security. However, the saved video will have a watermark if you use this free version. The following is a step-by-step guide for quickly reversing a video.
Step 1Navigate to the Fastreel Online Video Reverser using your internet browser.
Step 2Next, click the Add your File button to import the videos you wish to reverse. Otherwise, you can drag and drop your video clips on the main interface.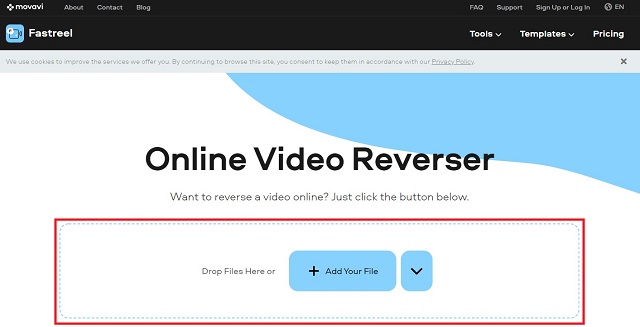 Step 3Once you successfully upload your files, the tool will instantly reverse your video and the audio. When the process is done, hot Download with Watermark to save the reversed clip.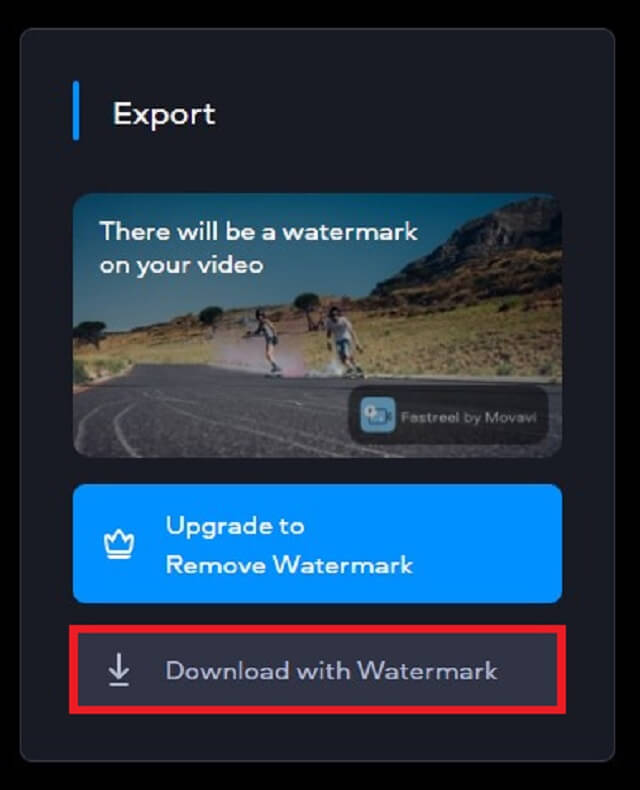 Part 3. FAQs on How to Reverse MP4
When was the reverse video developed?
For the first time, Louis Lumiere used the reverse effect in his 90-second film, Demolition of a Wall.
Can I reverse a video using my Android phone?
Yes. Yet, you need to use a third-party app since android phones don't have a built-in video reverser.
What's the problem with phone videos being in reverse?
Make sure the camera settings are correct. Correcting the mirrored image to processing and storage in-camera apps is possible.
Conclusion
To summarize, while online MP4 reversers are simple to use, they cannot reverse large MP4 files. If you want to perform large MP4 files backward, use video reverse software like AVAide Video Converter. It can also be used as an MP4 metadata editor. It can do more than that
Your complete video toolbox that supports 350+ formats for conversion in lossless quality.