Are you an inspiring filmmaker or content creator who wants to learn how to play video in reserve? In this post, we'll walk you through the steps of using these various highly qualified video reversers software on how to play your video in reverse.
There are multiple reasons why you might like to watch a video backward. Users can use a reverse video to turn ordinary video clips into amusing ones. It can give the viewers a sense of wonder by reversing videos. When you play a video backward, you can use it as a visual effect, such as allowing a character to go back through time or reverse a timeline to demonstrate what would have happened if the story had chosen a different course.
Brace yourself as we give you the five matchless reverser tools to utilize on how to play video in reverse.
Part 1. Make Video Play in Reverse with AVAide: The Best Video Reverser of All Times
AVAide Video Converter
The Best Video Reverser: AVAide Video Converter
Produces 1080p/4K/5K/8K video output without quality loss.
Boost conversion 30X faster with advanced acceleration technology.
Edit, trim, crop, split, enhance and rotate videos before converting.
Empowered with GIF and 3D maker.
Integrated movie and video collage maker.
Step 1Install the video reverser tool
To get started, download and launch AVAide Video Converter by hitting the download buttons above.
Step 2Load video you wish to reverse
From the menu bar, locate Toolbox and click Video Reverser. After that, you can now import your videos by hitting the Plus (+) button on the interface.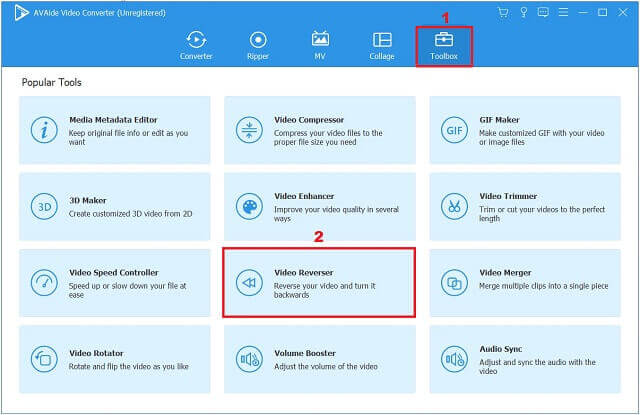 Step 3Modify the clip
On the main setting interface, choose where to set a duration to start or end. You can either do it a manual process or by pulling the red panel to the desired duration.
Tips:
Tap the

Play

button on the Preview screen to see a preview of the modifications you made.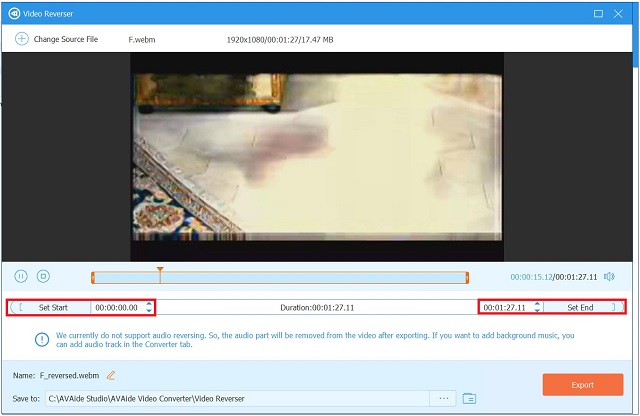 Step 4Export the reversed video
Select a file folder in which you want to save the reversed video by hitting Save To at the lower part of the interface. Then, tick the Export button to save the reversed video.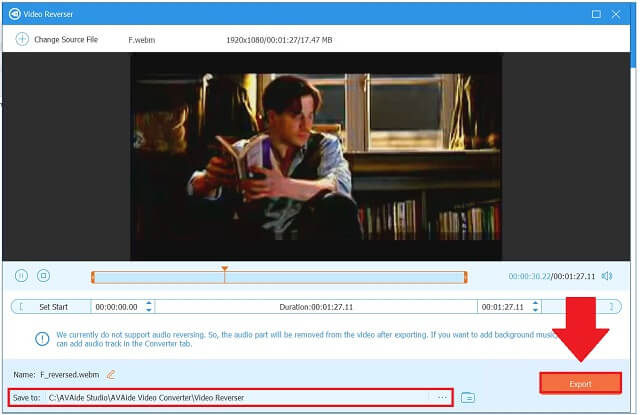 Step 5Preview the video output
Stand by for the export process to complete before checking your chosen file storage location.
Besides reversing videos, this powerful video converter is able to rotate videos 180 degrees and more.
Part 2. Play in reverse using Premiere Pro: The Top Video Editor for Professionals
Premiere Pro
Adobe Premiere Pro is a simple video reverser for rewinding all types of video files. It supports various video formats, including MP4, MOV, MPG, and several audio files.
See the steps below to make a video play in reverse on Premiere Pro on Windows or Mac.
Step 1Launch Adobe Premiere. To upload your video clip, go to File and click Import.
Step 2Next, right-click on the video and choose Speed/Duration from the menu bar. In the pop-up window, select the Reverse Speed option.
Step 3When you press the OK button, users will reverse the video quickly. After which, in the timeline, select the Play button to watch the reversed video.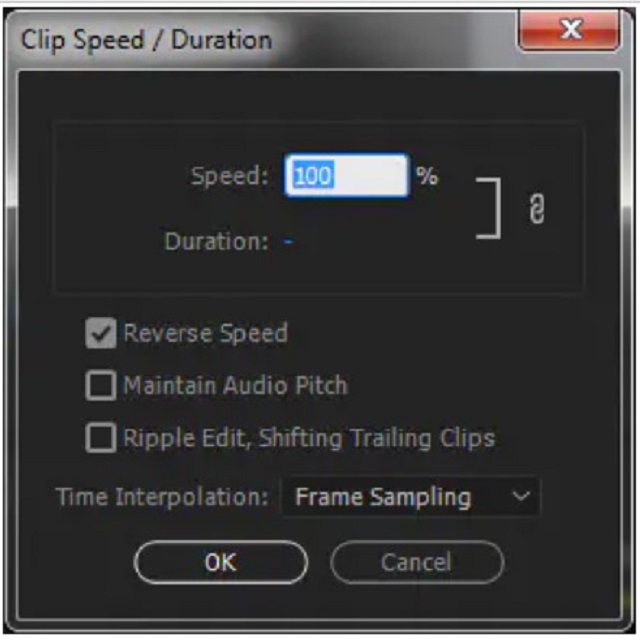 Part 3. Reverse Video in After Effects: Professional Editing Software
After Effects
Adobe After Effects is among the top choices for incorporating these video effects. Animation, editing, and composition in any media space, including 2D or 3D, are possible with the software's numerous built-in tools and third-party plugins. This software works with motion graphics and visual effects. Meanwhile, here are the steps to follow on how to play video in reverse in After Effects.
Step 1Drag and drop the video clip on the timeline of Adobe Video Effects.
Step 2In your timeline, right-click on your video layer. Locate time > Time Reverse Layer.
Shortcut key on Windows: Ctrl+Alt+R Shortcut key on Mac: Command+Option+R
Step 3Finally, you can see your video in reverse.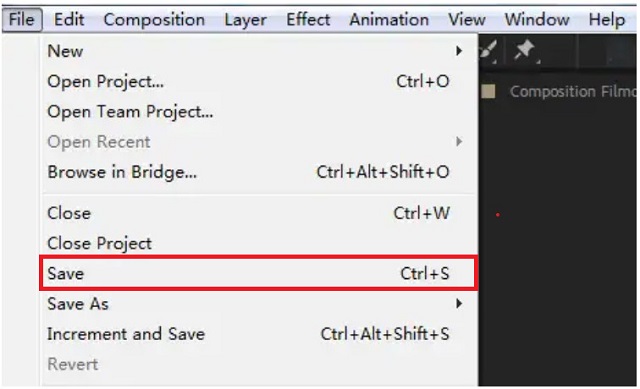 Part 4. Play Video Backward with iMovie: Video Reverser for Mac Users
iMovie
Do you want to reverse the video in the cinematic style? iMovie is the installed video editor for Mac devices related to Windows Movie Maker on a PC. It can assist you in reversing video and making it play backward on Mac. If you have a Mac, you can use iMovie to play video reverse. Here are the steps to follow on how to play video in reverse on iMovie.
Step 1To reverse a video file, launch iMovie on your Mac and select Import Media.
Step 2Next, double-click the Speed slider to choose a video clip in the timeline of the iMovie.
Step 3Lastly, view the Reverse box to reverse the video playback.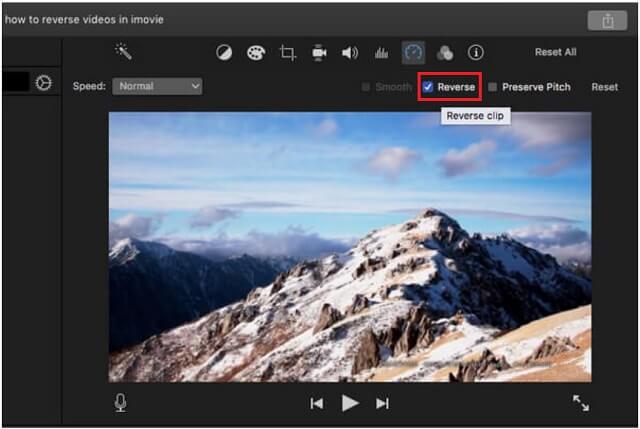 Part 5. Reverse a Video in TikTok: The Famous Mobile App [Android and iPhone]
TikTok
Android and iPhones do not have built-in video reversers when reversing a video on a mobile phone. Then again, we do have a recommendation for a third-party app called TikTok. It is a short video clip maker that can reverse videos using your mobile phone. The advanced editing features available to the user include stickers, filters, slow motion, and plenty of others. Follow the simple steps if you don't know how to use TikTok to reverse a video.
Step 1To start, choose a video you wish to reverse in your library.
Step 2Go over to the Effects tab, look for time effects, and then select reverse.
Step 3Lastly, hit Save to save the changes on your video.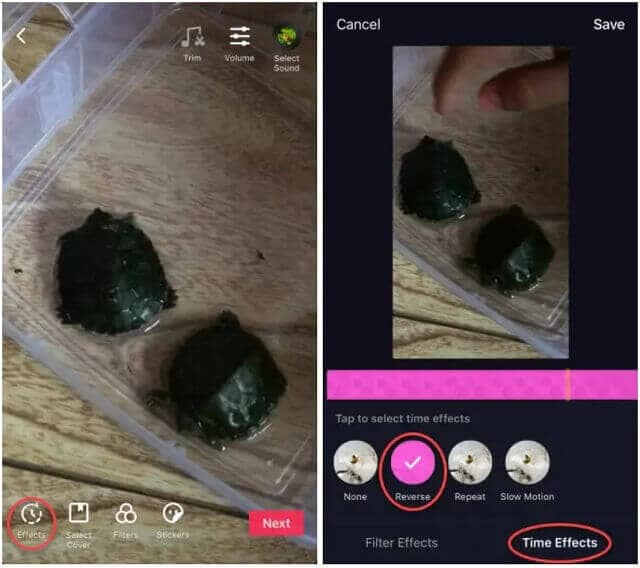 Part 6. FAQs on How to Play Video in Reverse
Can I reverse video using Snapchat?
You can only utilize the reverse filter effect on Snapchat videos that you've captured. You can't reverse video snaps from videos you've uploaded to Snapchat from your device.
What is the procedure for putting a reel in reverse on Instagram?
Select Start Reverse, after which Choose Movie. Choose the video clip from your library that you want to play backward. To reverse the video clip, hit the Start button.
How can I play video in reverse on an iPhone?
Although the iPhone cannot reverse video. Even so, you can reverse a video on your phone by installing a third-party app.
Conclusion
It is possible to play a video backward using any of the tools listed above. AVAide Video Converter is the best option if you're looking for a tool that can handle all of your editing needs. For example, it can also be used as an excellent video metadata editor. This application is simple, but it also has a wide range of useful video editing features. With just a few clicks, you can improve the quality of your video!
Your complete video toolbox that supports 350+ formats for conversion in lossless quality.