Cameras in this era, whether in smartphones or any gadgets, are essential to capture rare and daily memories with the loved ones we have. Especially with the use of camera phones due to their portability. Oftentimes, we do selfies everywhere we go. Selfies are indeed a great way to see how we look in the reflection of our desired output. However, there are videos that are recorded and saved with the mirrored effect. This ends up having an improper display. Likewise, a perfect video is all we need to achieve such an aesthetic. Is this also your problem with your own gadgets? Easy-peasy, worry no more, there are quick methods to change the display perspective of your video files. Applying a mirror front camera to them is an effortless job to do with the aid of different apps listed below.
Part 1. Simple Definition of Mirror Front Camera
Mirroring front camera is simply having a mirrored view or display perspective of your video or photos. What does this mean? The best way to describe it is as if your image appears in front of a mirror. This usually happens by using your gadget's front camera. For instance, if you have a mole on your right cheek when it's mirrored, it will appear on the left cheek in your output file. You can get the original or real perspective by simply editing them. Your mirror selfie camera video can easily be flipped with the help of various available apps. In this article, we've compiled the best tools you can use.
Part 2. Basic Steps to Mirror Front Camera on iPhone
Photo App – Best for iPhone Users
If you're an iOS mobile user, simply use the default gallery app. This excellent freeware can absolutely mirror or flip the videos, especially those which are shot through front cameras. Plus, you don't need spare space to accommodate it, it's built-in and all accessible. Not just that, you can also enhance them with its gallery settings. This includes adjustment of lighting, application of effects or filters, rotating options, and trimming your video clips. Try it on your own by following these convenient guidelines to mirror front camera on iPhone.
Step 1The first thing you need to do is basically go directly to your gallery app which is the Photo App. Choose the target file among your videos. Then, click the Edit tab to commence.
Step 2Afterwards, find the Flip button and click it. Through self-manipulation, you can change the viewing perspective or display to whichever you like it to be.
Step 3To finish everything, click the intended button for saving and check the final output on your iPhone's gallery.
[pros-cons-1 pros-1="Built-in gallery app." pros-2="Complete with basic editing needs." cons-1="The tool has no converting feature." /]
Part 3. How to Mirror Front Camera File Using an Android App
Efficient Ways to Utilize VideoFlip
However, these features are not just limited to iPhone users. You can also do ways to edit mirror front camera files using your Android devices. With the help of VideoFlip, you can act in basic ways with good outcomes. Plus, you don't need to be anxious about the memory space it can consume. This tool only needs a little of your device's. Start the seamless process of perfecting your video files! Here are quick steps to consider.
Step 1Firstly, you need to download the app and install it right away.
Step 2Once installed, on your own, select the right videos you want to change display perspective.
Step 3To complete, look for the Save button on the upper rightmost interface area.
[pros-cons-1 pros-1="Made with comprehensive buttons." pros-2="Less storage consumption." cons-1="Features only flipping and rotating adjustments." /]
Part 4. Excellently Mirror Recorded Selfie Camera Video
The Use of AVAide Video Converter
Aside from these mobile ways, you can also try editing your mirror front camera videos with the assistance of desktop tools. One among which can excel is the AVAide Video Converter. This amazing desktop software can turn your concerns upside down with its unlimited features to achieve your desired outputs. You have the freedom to flip your mirrored files. The tool also comes with innovative features such as rotation options, flip with a 90-degree setting, preview screen to monitor the applied changes. What is more, it's supported by different platforms like Mac, Linux, and Windows. Check-out the efficient procedure listed below.
Listed here are simplified step-by-step instructions to manipulate the software comfortably.
Step 1On your browser, visit the official webpage of AVAide Video Converter. All you need to do is to download the software and afterward install it on your desktop. Once completed, open and find the Video Rotator button and then click it.
Step 2Secondly, choose your target files from your storage or gallery. After that, import or drag the videos on the interface.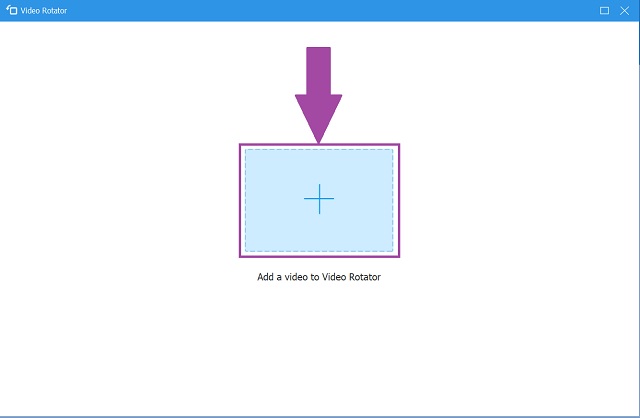 Step 3Simply flip the video by tapping the provided two (2) flipping buttons on the adjusting panel. Flip the video on left, right, and even up, and down is manageable. You can do rotations as well to perfectly accomplish the task.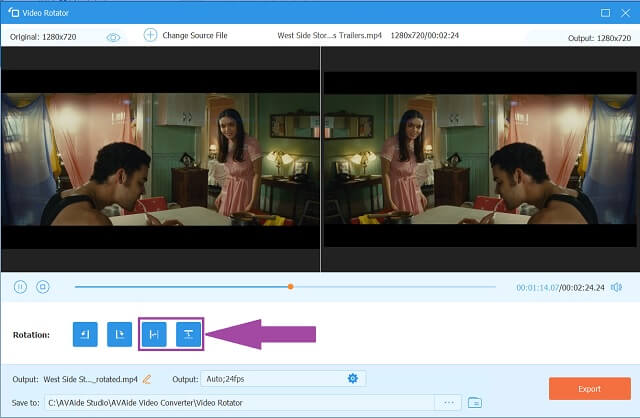 Step 4Once adjusted, look for the Export button, then click it right away. Your files are now saved with its new display perspective.
Step 5Check-out and examine your saved files on their file designation from your device's wall or desktop.
[pros-cons-1 pros-1="Supported by popular operating systems." pros-2="With preset settings." pros-3="Tons of enhancing choices." pros-4="Fast accelerating process." cons-1="Free trial has a limited time period." /]
Part 5. FAQs of Mirror Front Camera Video
Frequently Asked Questions About Mirror Front Camera Video.
What is the term "mirror" on phone cameras??
Flipping a video file is an editing process or adjustment to apply a mirror effect from the original video footage.
Can I use my computer to flip a video?
The term 'mirror' is used to describe your reflection when looking literally at a mirror. The image you see when capturing is in a total flipped perspective display.
Does mirroring negatively affect the original quality?
It depends upon the app being used. To ensure such concern, the AVAide Video Converter's feature of flipping or mirroring is the best software to use. Fast-speed yet rest assured quality products.
Conclusion
Who doesn't want a good selfie video? None of us. iPhone's Photo App and VideoFlip can suffice your mirror front camera video needs by utilizing your smartphones. AVAide Video Converter is what you need as a beginner or for your professional needs. You can enjoy its unique and limitless features through the convenient ways given above. This is the best app so far!
The most comprehensive media converter to convert video & audio & DVD without quality loss.