M3U8 files are like special codes for watching videos on the internet. They help people watch their favorite shows and movies online. However, ensuring smooth and uninterrupted playback while managing the technical intricacies of M3U8 files can sometimes be troublesome. With that, having an M3U8 Chrome Extension is vital. And, if you're looking for tools to help you play your M3U8 files in Chrome, continue reading this guidepost.
Part 1. What is M3U8 Chrome Extension?
You might be wondering what the M3U8 Chrome Extension is all about. Well, it is a helpful tool added to your Google Chrome web browser to play and enjoy videos in M3U8 format. With the help of the M3U8 Chrome extension, you can watch your best-loved TV shows and videos smoothly over the internet. These extensions provide additional features and functionalities to Chrome's native capabilities, allowing you to better interact with and play M3U8 streams directly within the browser.
Part 2. Best M3U8 Extensions to Play M3U8 in Chrome
This section introduces the top-notch M3U8 player Chrome extension. Get to know more about their features, pros, cons, and how to install the extension on your browser.
1. HLS Player - M3U8 Streaming Player
HLS Player - M3U8 Streaming Player is a Google Chrome extension designed to enable playback of HLS streams, which are often delivered through M3U8 playlists. The extension would provide a convenient way to watch M3U8 streaming content directly within the Chrome browser without needing external players or plugins.

Features:
◆ It offers basic playback controls such as play, pause, volume adjustment, etc.
◆ Ability to enter M3U8 URLs directly for playback.
◆ Allows users to choose different qualities.
Pros

Quickly scaled for delivery
It offers a simple and user-friendly interface
Adaptive bitrate streaming
Eliminate additional plugins for M3U8 content
Cons

Dependent on the extension's development
Compatibility issues
Limited advanced features
2. Reproductor M3U8 - HLS + DASH Player
Reproductor M3U8 - HLS + DASH Player is another Chrome extension allowing you to play HLS and DASH URLs. You can also watch streams or videos in M3U8 format. The extension aims to offer a seamless and integrated way to watch streaming content delivered through these protocols directly within the Chrome browser.

Features:
◆ Support playback support for both HLS and DASH streaming protocols.
◆ Selection of quality for adaptive streaming.
◆ Provides playback speed option for personalization.
Pros

Simple and easy to use
Play HLS and DASH URLs directly in the browser
Playback Controls/Speed Option
Cons

Limited compatibility
It doesn't work sometimes
Not showing Chromecast icon
3. Native HLS Playback
Native HLS Playback is a free Chrome extension to enable you to play M3u8 natively on your browser. In other words, you can play your videos without any additional plugins or software on your web. But note that this extension can only play the M3U8 links you click but not the M3U8 video yet. You can also watch the M3U8 link if you paste it in the search bar.

Features:
◆ Play embedded as a video HTML element by clicking the extension icon.
◆ Switch between native and zoom video size using the options.
◆ It supports subtitles.
Pros

No additional plugins
Streaming without ads
Seamless integration
Cons

Limited playback speed control
Some video formats do not work
Reported bugs and glitches
How to Install the Extension in Chrome
If you're looking for ways how to install the M3U8 or any extension in Chrome, follow the basic steps below:
Step 1To start, open the Chrome browser on your PC. Then, copy and paste this to https://chrome.google.com/webstore/category/extensions to the address bar.

Step 2Next, find the M3U8 or any extension you want to add in Chrome by searching it in the Search the store box.

Step 3Subsequently, click the name of the extension to see more details. Then, click the Add to Chrome button.

Step 4When the dialog box appears, click the Add extension option. Wait until the extension has been added successfully. And that's it!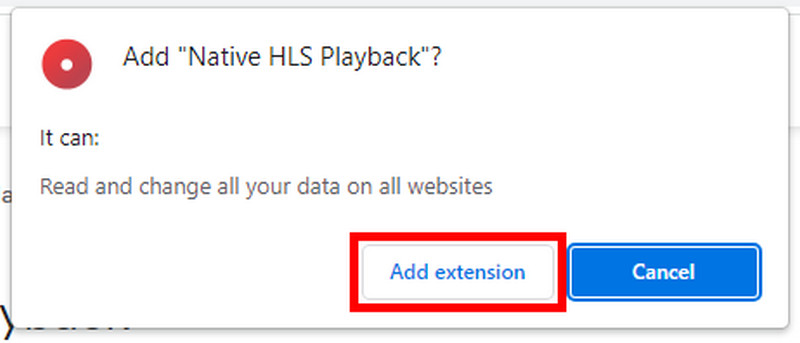 Part 3. Bonus Tip: How to Play Video Offline on a Computer
Want to enhance your offline video playback experience on your computer? We highly suggest using AVAide Blu-ray Player. It is designed with a straightforward interface and powerful features allowing you to enjoy high-quality Blu-ray movies and videos offline. Moreover, it supports a great variety of media formats, such as DVD, Blu-ray, MP4, MPG, 3GP, WMV, VOB, etc. AVAide Blu-ray Player ensures smooth playback of your favorite content from your computer's storage. On top of that, with its advanced decoding technology that sharpens visuals and immerses audio, you'll have a cinematic experience from the comfort of your home.
In addition to that, this tool also offers customizable settings to optimize your viewing experience. You can select preferred subtitles, adjust audio and video settings, and take a snapshot of the unforgettable part of the video. Without the need for an active internet connection, use AVAideBlu-ray Player to play your videos.
Step 1To begin with, download AVAide Blu-ray Player and install it on your computer. Then, open the player.
Step 2After which, choose the video file you want to watch from your computer by clicking Open File.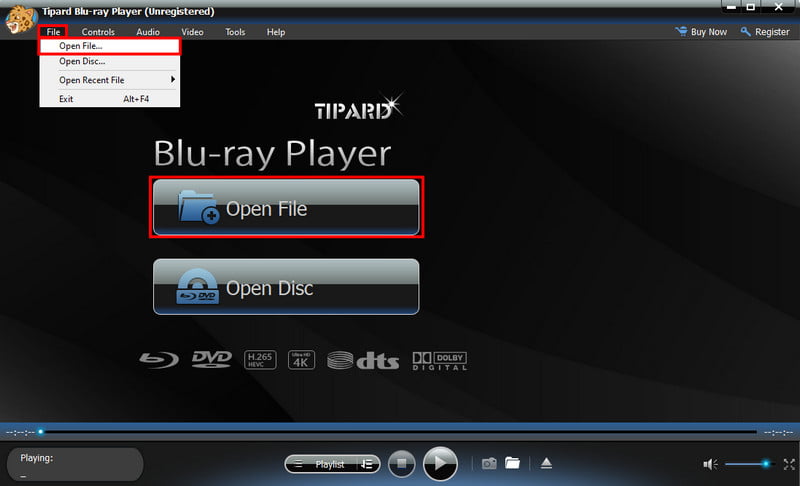 Step 3When the video file is successfully loaded, the program will play it automatically. To customize your watching experience, you can also use the playback control provided.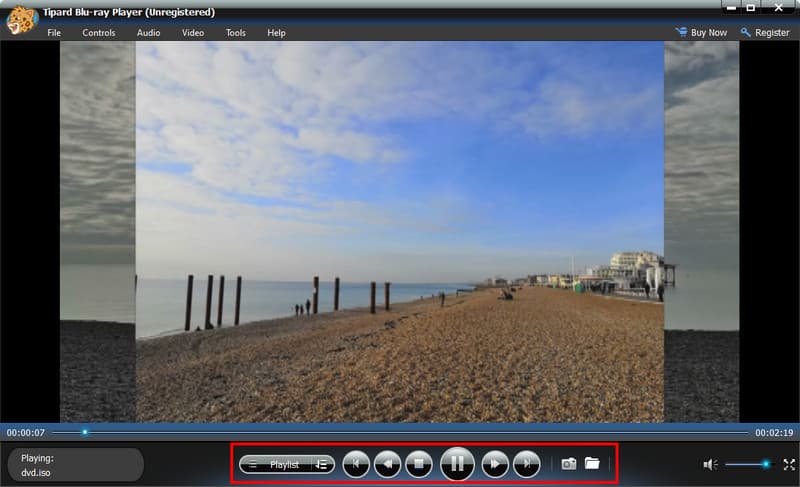 Part 4. FAQs About M3U8 Chrome Extension
Is M3U8 better than MP4?
MP4 and M3U8 serve different purposes. M3U8 is primarily used for adaptive streaming over the internet, while MP4 is commonly used for storing and playing back media files locally. However, if you need a universal format compatible with nearly all media players, MP4 is the one you can turn to.
Does Firefox support playing M3U8 videos?
Yes. Firefox does support playing M3U8 videos. But you still need an extension for Firefox to play M3U8 files.
What browsers support M3U8?
M3U8 streaming is primarily associated with HTTP Live Streaming (HLS), which is an adaptive streaming protocol developed by Apple. Many browsers, including Safari, Google Chrome, and Mozilla Firefox, support HLS.
Are M3U and M3U8 the same format?
M3U and M3U8 are playlist file formats that stream audio and video content. These two formats are most likely the same, yet, they differ in usability. Since M3U8 is used for streaming media content over the internet, while M3U can be used in general playlist media file format.
Conclusion
As can be seen, that's the 3 best extensions to watch M3U8 in Chrome. These helpful M3U8 Chrome extensions ensure you have the finest viewing experience for your M3U8 playlist file. Each alternative mentioned above has unique features; you just have to select the best fit for your needs. Similarly, if you need a player for any video file format without an internet connection, we recommend AVAide Blu-ray Player. It is one of the best video player software that provides reliable solutions for video playback on your computer offline. Whether you want to watch a classic movie, catch up on TV shows, or view random videos locally, you can rely on it!
Your complete video toolbox that supports 350+ formats for conversion in lossless quality.