Have you ever wondered why your MTS videos won't play on specific devices or platforms? The answer might lie in the format itself. MTS, a format commonly used in camcorders, may not be as versatile as MP4.
So, why do you need to convert MTS to MP4? The simple answer is compatibility. Your videos can be easily understood and played on various devices, from smartphones to computers. Let us dive into the MTS to MP4 conversion world and unlock your videos' potential!
Part 1. Convert MTS File to MP4 Without Losing Quality
Are you tired of struggling to convert your MTS video files to MP4 format while maintaining the highest quality? Look no further! AVAide MP4 Converter is the ultimate solution you have been searching for.
AVAide MP4 Converter is cutting-edge software designed to easily convert MTS files to MP4 format, all while ensuring that your video quality remains top-notch. It uses advanced encoding technology to preserve the original quality of your MTS videos. Do you need to convert multiple MTS files to MP4 at once? No problem! AVAide MP4 Converter supports batch conversion, saving you time and effort. Besides that, it provides essential editing functions to refine the look of your videos.
AVAide MP4 Converter
It is suitable for first-time and experienced users.
It is optimized for speed, allowing you to convert quickly and efficiently.
It supports batch conversion.
It tailor your output to your specific requirement, like resolution, frame rate, etc.
It offers essential editing tools like crop, rotate, effects, filter, watermark, etc.
It works on Mac and Windows OS.
Discover how to convert MTS to MP4 without losing quality with AVAide MP4 Converter:
Step 1First, you must visit the AVAide MP4 Converter's official website to download the program. Once downloaded, install the program on your computer to have complete access.
Step 2Launch the program to get started. Navigate to the Converter tab and click the (+) button to access your desktop folder. Then, upload the MTS file you wish to convert to MP4 using the program.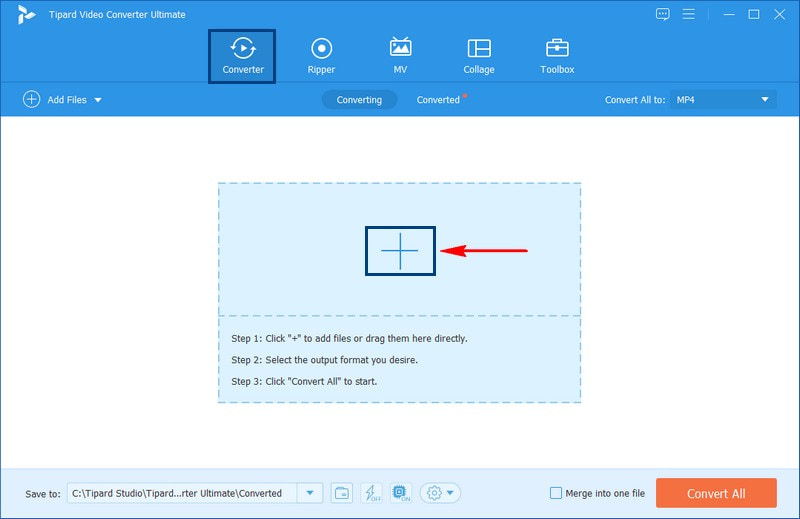 Step 3Head to the Profile drop-down menu beside your imported file. Under the Video tab, search or look for the MP4 format and select it.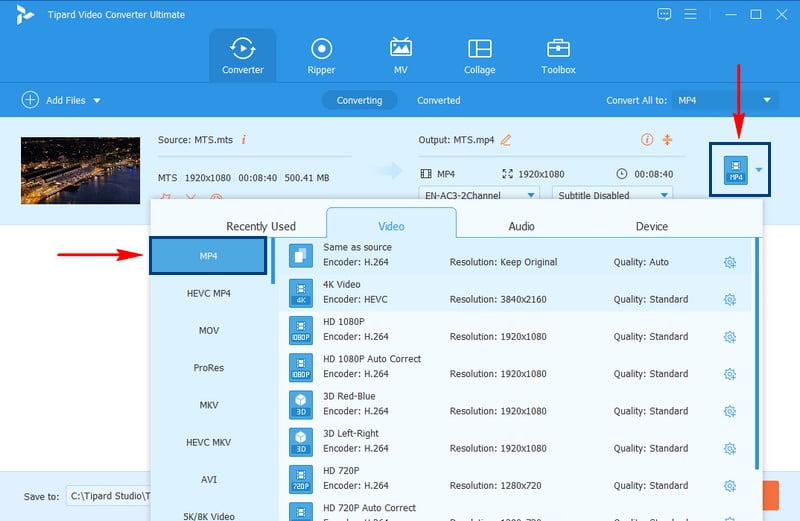 Step 4If you prefer to customize the output settings, click the Cogwheel button. You can change the Encoder, Frame Rate, Resolution, and Bitrate under Video settings. You can also change the Encoder, Sample Rate, Channel, and Bitrate under Audio settings. Once settled, hit the Create New button to apply the changes.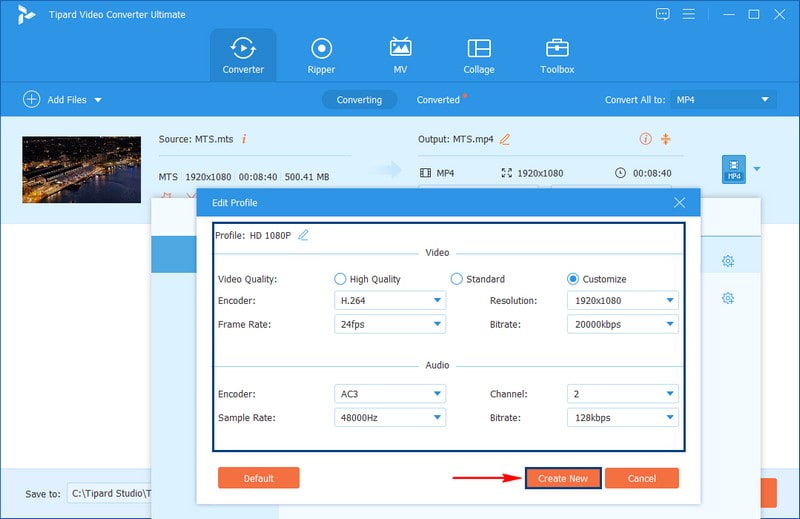 Step 5For instance, if you want to refine the look of your video before converting, press the Wand button. You can access the Rotate & Crop, Effect & Filter, Watermark, Audio, and Subtitle here.
Under Rotate & Crop, you can correct the video's orientation and remove unnecessary partitions. If you want to modify the basic effects and apply a specific filter, you can do that on Effect & Filter. You can add images or text under Watermark to embed your ownership to your video. On Audio, you can modify the volume and delay according to your preference.
Note: Remember to hit the OK button in each option to apply the edits you did.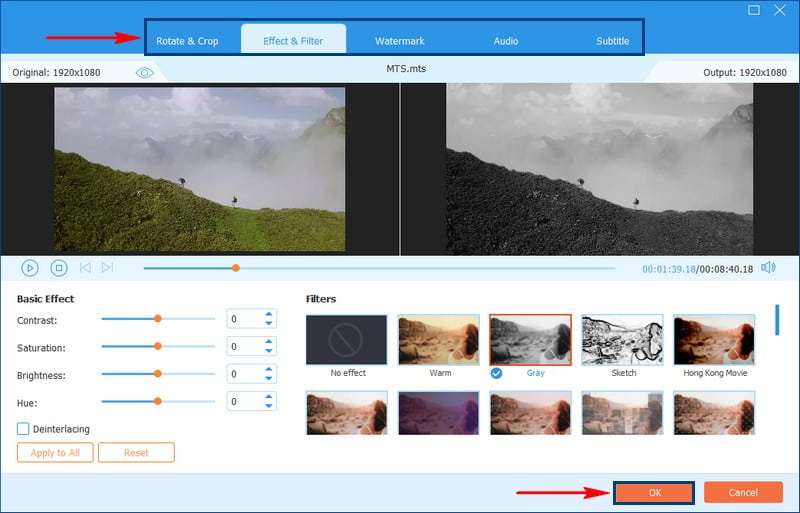 Step 6Once you are happy with the changes, press Convert All to start the conversion process. Afterward, your converted MP4 output will be saved in your desktop folder.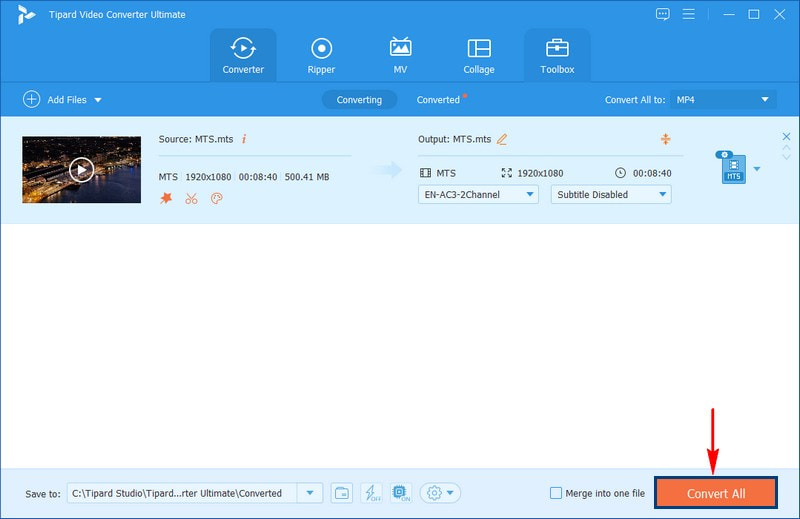 You have learned to convert MTS to MP4 without losing quality using AVaide MP4 Converter! Say goodbye to quality loss and hello to the convenience of Avaide MP4 Converter for all your conversion needs.
Part 2. Convert MTS File to MP4 With Free Software
1. VLC
VLC Media Player is a famous, free, open-source multimedia player that can perform various video-related tasks, including video conversion. VLC supports a vast range of video and audio formats, including MTS and MP4, making it a versatile choice for video conversion. It can maintain the quality of your videos during the conversion process. It is available for Windows, Mac, and Linux, so that you can use it regardless of your operating system. Learn how to convert MTS to MP4 using VLC:
Step 1Download, install, and run the program.
Step 2In the top left corner, click on Media, then choose Convert.
Step 3Click the Add button and pick the MTS file you want to change. Then, click the Convert/Save button.
Step 4Please set how you want your video to look. Then, select MP4 as the type of video you want.
Step 5Click Start to initiate video conversion.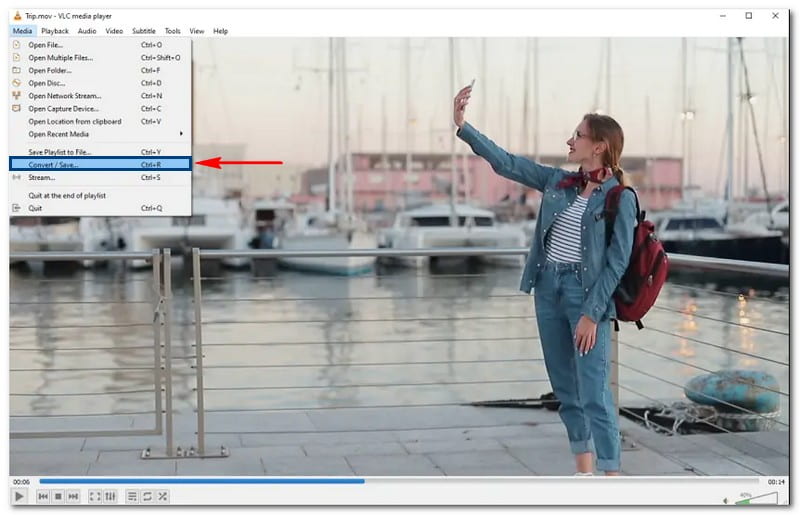 2. FFmpeg
If you have MTS video files that you want to change into MP4 format, FFmpeg is a powerful tool that can do the job. FFmpeg is a free, open-source software tool that helps you manipulate and convert multimedia files, including videos and audio. It is more technical than some other software but compelling and versatile. It is a command-line program that offers a lot of flexibility. FFmpeg is entirely free to use. You do not have to pay for any software licenses. In addition, it is known for maintaining video quality during conversion. Find out how FFmpeg MTS to MP4 conversion works:
Step 1Go to the official FFmpeg website. Pick the correct version for your computer. Download the FFmpeg zip file. Extract the files from the zip folder and put ffmpeg.exe in the same folder as your MTS files.
Step 2Type CMD in the address bar. Then, hit Enter in the folder with your MTS files and ffmpeg.exe. It opens the FFmpeg Command Window.
Step 3To convert one MTS file to MP4, use this command: ffmpeg -i input.mts -c copy output.mp4. Replace input.mts with your file's name and output.mp4 with what you want to call the new MP4 file.
For batch conversion, put in this command: for %A in ("*.mts") do ffmpeg -i "%~A" -map 0:v -map 0:a -c copy -f mp4 -movflags +faststart "%~nA.mp4"
Step 4FFmpeg will do the conversions. It will place the new MP4 files in the same folder as your original MTS files.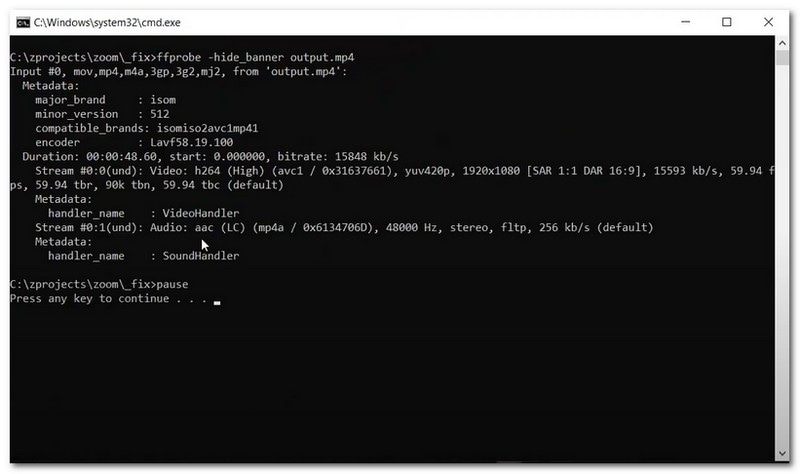 Part 3. Convert MTS to MP4 in Android
Are you looking for an easy way to convert your MTS videos into a more versatile MP4 format on your Android device? Let me introduce you to Video Converter - ConverterBlack, a handy application that makes MTS to MP4 conversion a breeze. It provides editing functionalities like cropping, trimming, rotating, flipping, etc. It is a handy tool for anyone who wants to enjoy videos in a more universal format without technical hassle.
Explore how to how to convert MTS to MP4 in Android using Video Converter:
Step 1Install Video Converter-ConverterBlack using your Android device. Once installed, run the application to get started.
Step 2Select Convert Video from the options presented on the interface. Then, click the Select Video to add your MTS video.
Step 3Press the Convert Video, and select MP4 from the list of formats presented on your screen.
Step 4Once done, click the Convert, then Start to initiate the conversion process.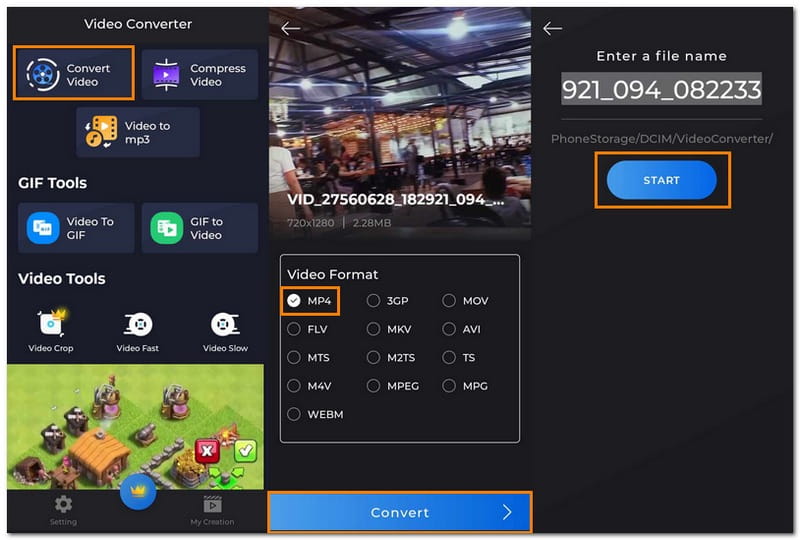 Part 4. Best Free Online MTS to MP4 Converter
Are you looking for a hassle-free way to convert MTS video files to the more widely supported MP4 format? AVAide Free Video Converter Online is here to make your life easier; it is an MTS to MP4 free online converter.
AVAide Free Video Converter Online is a user-friendly, web-based tool that can effortlessly transform your MTS video files into MP4 format. It is free to use and requires no downloads or installations. The interface is designed to be straightforward to understand. It does not just stop at MTS to MP4 conversion. It supports various input and output formats, making it versatile for all video conversion needs.
Step 1Visit AVaide Free Video Converter Online's official website to access it.
Step 2Press the Add Your Files button to import the MTS video file you desire to convert.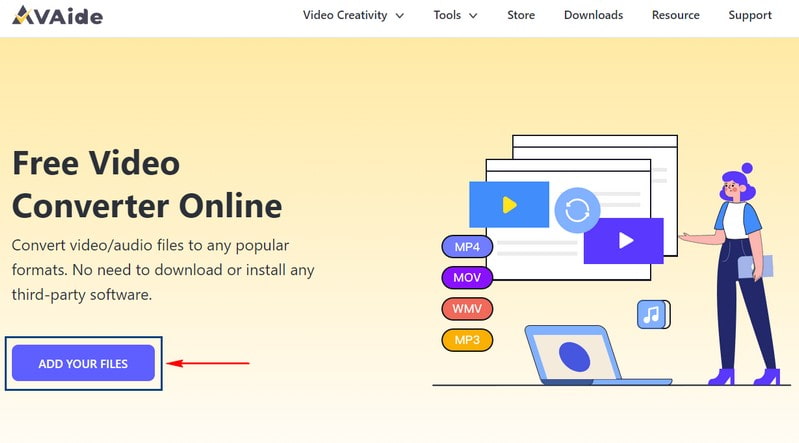 Step 3Please pick MP4 from the list of formats. Then, click the Cogwheel button to change Video and Audio settings based on your requirements.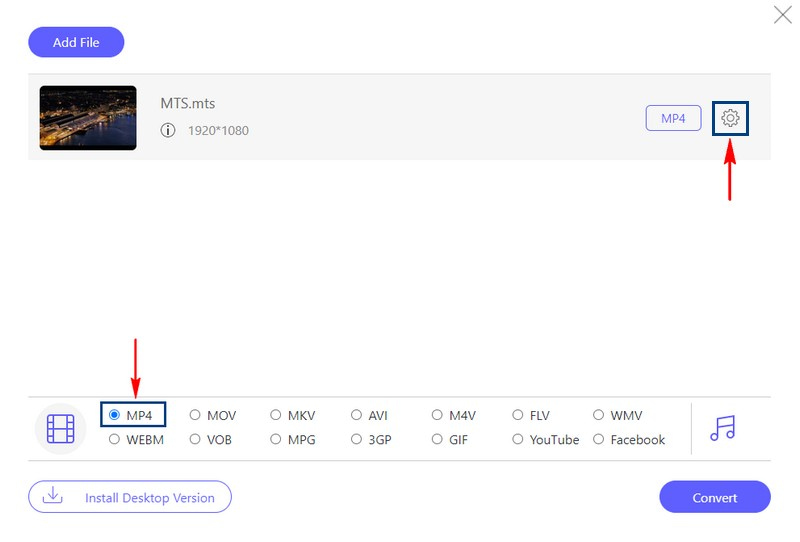 Step 4When settled, hit the Convert button to start the conversion process. Afterward, your converted MP4 will be saved in your local folder.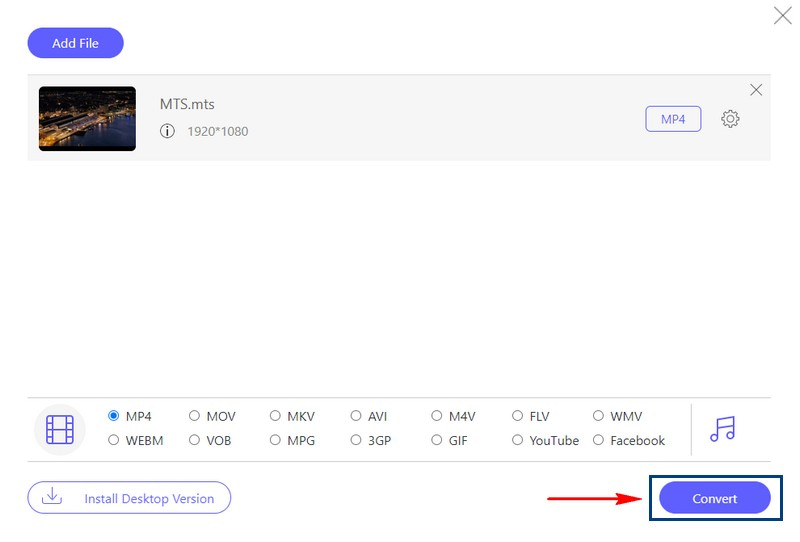 Part 5. MTS vs. MP4
MTS is often used for recording videos on cameras. It provides excellent quality but takes up more space. MP4, on the other hand, is a more versatile format for sharing and streaming videos. It provides a favorable compromise between file size and quality. When deciding which one to use, consider your specific needs and the devices or platforms you plan to use the videos on.
Part 6. FAQs about Converting MTS to MP4
Can I edit the converted MP4 file further?
Yes! AVAid MP4 Converter allows you to edit the converted MP4 file further. It offers editing tools like crop, trim, rotate, effects, filters, audio, etc.
Will the audio be preserved when converting MTS to MP4?
Yes, most conversion tools will preserve the audio and video when converting MTS to MP4.
What settings should I use when converting MTS to MP4?
The best settings for converting can change based on what you want. But usually, it is a good idea to start using H.264 or H.265, a moderate-quality setting. Ensure the picture size matches your original video.
Is there any loss in quality when converting from MTS to MP4?
The video quality you get after changing the format depends on how you set things up. You can make the video look more excellent by picking better-quality options with higher numbers.
Is it legal to convert MTS to MP4?
You can change MTS to MP4 for yourself or if you have permission to use the video. But if it is someone else's video and you don't have their permission, it is not okay to change it. That is against the rules.
Conclusion
In conclusion, converting MTS to MP4 is a wise choice to make your videos work on different devices. Just remember to use a good converter, like AVAide MP4 Converter, to keep your video quality looking great.
So, whether you want to share memories or watch your videos on different gadgets, converting MTS to MP4 is the way to go. Enjoy sharing and watching your videos with ease!
A multifunctional MP4 converter to convert any video format to MP4 with high output quality.