Planning to post your countless videos on the net? You might have stored them in large files, that fortunately may be transformed into a smaller file containing the same quality. With this being said, you might need an AVI to WEBM converter to do the job. Luckily, this article will lead you to the most powerful yet easiest ways to do your conversion duty.
Part 1. How to Convert AVI to WEBM Online for Free
AVAide Free Online AVI Converter
AVAide Free Online AVI Converter is the first on the list. This online tool has always been on top of doing conversion solutions. Furthermore, you will get to enjoy its lucidity webpage together with the amazing built-in features. On this note, it allows you to transform your video and audio files into their finest. This AVI to WEBM Converter is free of charge as long it exists, with no minimum file size and registration needed. Moreover, it gives its users 100 percent assurance that their files are secured. So without any further ado, see the simple steps below and experience a flash-like conversion process.
Step 1Get the Launcher at Once
Visit AVAide Free Online Video Converter, and click the ADD YOUR FILES button. Hit the Download button, then Open.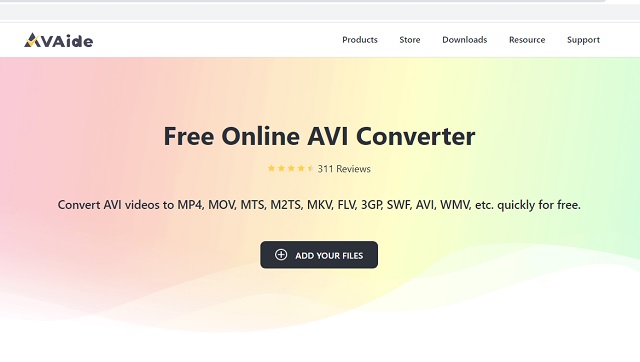 Step 2Upload Your Files
Hit the ADD YOUR FILES button again to add your initial file. To add more files just click the Add File blue button on the top left part of the interface.
Step 3Preset Your Output Then Convert
To convert AVI to WEBM, choose the WEBM format from the choices at the bottom. Then hit the Convert button on the bottom right part of the interface.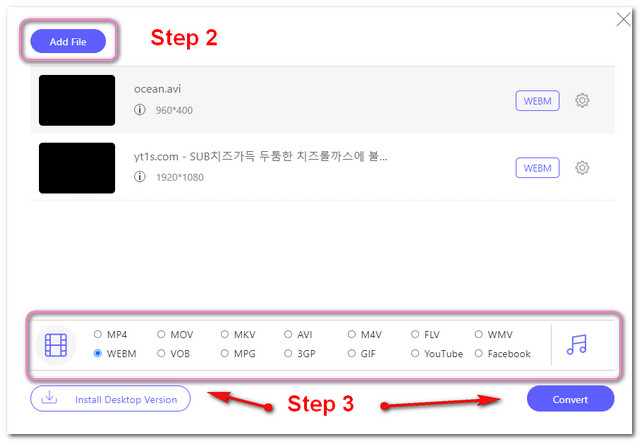 Step 4Choose The Files Destination
After clicking the Convert button, you will be directed to your PC storage where you will choose your preferred folder to save the converted files.
Step 5Wait to Finish
This is a rapid process, so it will just take seconds for it to be completed. Therefore, upon completion check your chosen folder otherwise, click the Folder Image to see the location.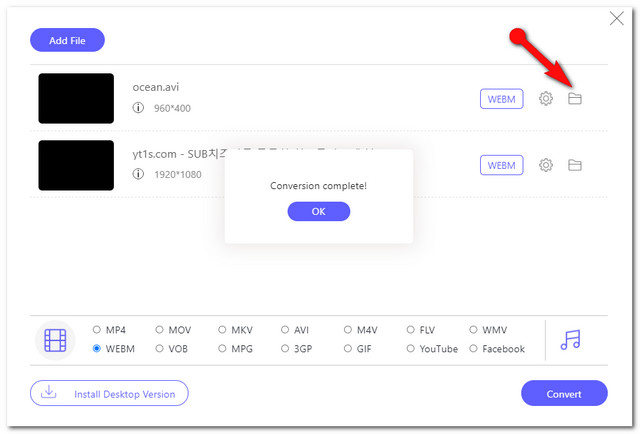 PROS:
With built-in settings.
Super fast conversion process.
Unlimited file size to convert.
No watermark and ADS.
CONS:
Unlike its downloadable version, it has lesser features.
VLC Media Player
VLC is another tool that will allow you to convert AVI to WEBM totally free. As it's well known to be a media player, this tool has also been very flexible in doing conversion solutions. Since it is commonly used for playing back files, its conversion process might give you a little confusion at first. Below are the simplified steps for you to follow to convert AVI to WEBM.
Step 1Launch your VLC player. Under Media choose Convert / Save, click the Add button to upload your AVI file, then click Convert / Save again.
Step 2Next to Profile choose WEBM, then click the Browse button to select your destination file.
Step 3Click the Start button to begin the conversion. Wait for the conversion process to finish, then check the chosen storage.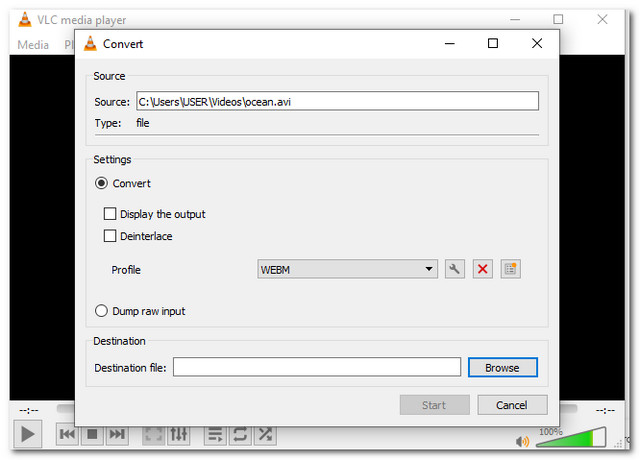 CONS:
The conversion interface is confusing.
With multiple buttons to familiarize.
Part 2. Professional Way to Convert AVI to WEBM
AVAide Video Converter, the software version of the top 1 online tool, is the most professional AVI to WEBM converter to download. This amazing software offers 300+ formats to choose from. Furthermore, it has multiple features where you can compress and enhance your video files. In addition, its Toolbox, Make Movies, Create Video Collage, and Convert DVD features also give spice to the software. Produce gorgeous output in the smoothest way and experience a 30x faster conversion process with this award-winning software. Give it a shot by following the steps below.
Step 1Must Download and Install
Install the software to your Windows or MAC-based PC. Click the download button below.
Step 2Upload Your Files
Click the Add Files button located at the top left part of the interface, to convert AVI to WEBM import an AVI file. You may also just drag your files directly on the interface to do so.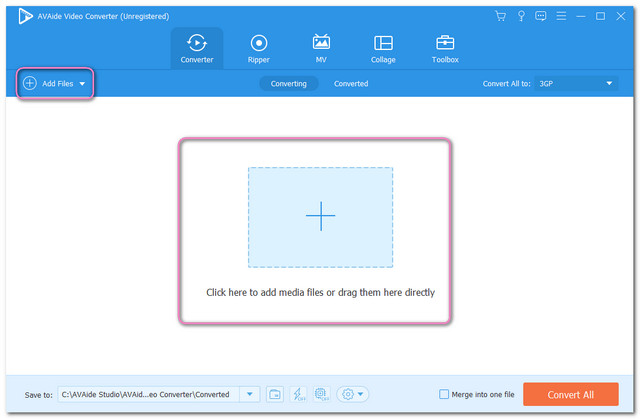 Step 3Setup The Output
Preset your files to WEBM by clicking the Convert All to button on the upper right part. Otherwise, if you prefer individual settings for each file, click the Arrow button on the tail of the file instead.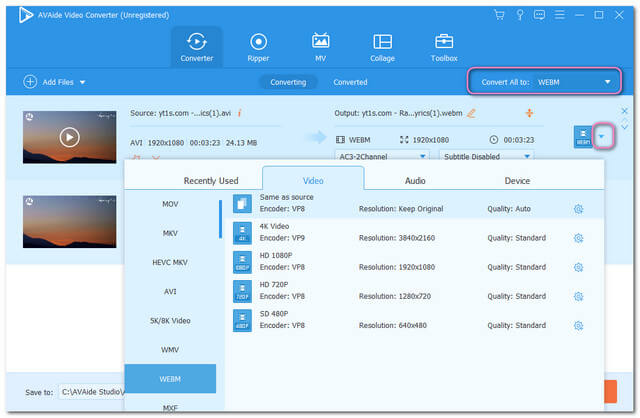 Step 4Start The Conversion
When all the files are already equipped, hit the Convert All button located on the bottom right part of the interface.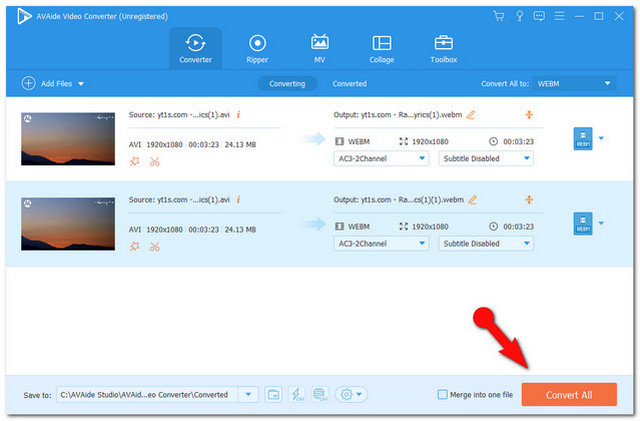 Step 5Check the Completed Files
To see the completed files, look at the Converted portion. To locate them on your PC, you may click the Folder Image.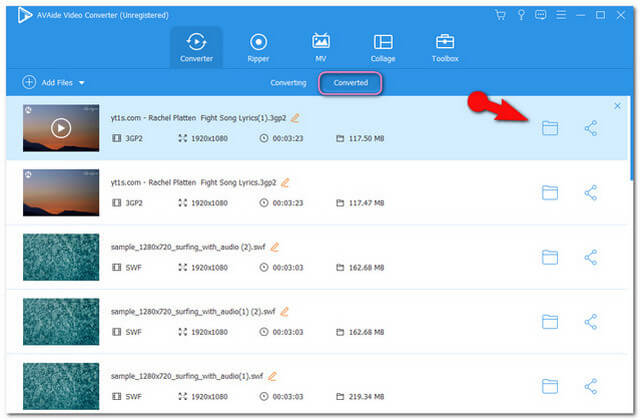 Part 3. AVI VS. WEBM
What is AVI?
Audio Video Interleave also known as AVI is a multimedia file container. It is labeled as one of the most popular formats next to MP4, due to containing high quality yet compressed video and audio files. However, some devices don't support AVI, particularly Apple products. Therefore, for you to playback an AVI file on your iPhone, you must have it converted first.
What is WebM?
Web Media Format or WebM is also a video and audio file container that is highly recommended for video streaming. This file format is supported by HTML5 streaming sites such as YouTube. Moreover, it's an open format that also contains excellent video quality.
Below is a brief comparison table of AVI and WeBm to give you additional information.
Initial Release

Developer

Filename Extension

File Size

Container For

Video Quality
| | |
| --- | --- |
| AVI | WebM |
| November 1992 | May 2010 |
| Microsoft | Before: Xiph, On2,Matroska Now: Google |
| .avi | .webm |
| Depending on the file | Smaller |
| Video, Audio(DivX, XviD) | Video: AV1, VP8, VP9 Audio: Vorbis and/or Opus |
| High | High |
Part 4. FAQs About AVI and WEBM
Can I Convert WebM to MP4?
Yes, you can WebM to MP4 or to other formats you aim for with this AVAide Video Converter. Use this converter to attain a secured, smooth and rapid conversion solution.
Can I playback an AVI file on my Samsung TV?
No, You couldn't playback an AVI file directly on Samsung TV. However, using AVAide Video Converter, you can convert an AVI file into a format that will suit your TV. This software tool is not only good for Samsung TV, but it is also good with LG, Sonny, and Panasonic.
Is WeBM smaller than MP4?
Both MP4 and WeBM have small sizes containing high-quality videos. However, the WebM file contains a bit smaller size than MP4.
Conclusion
Having a reliable companion to do your conversion task is a necessity. Therefore, this article has given you a few choices to fill your needs. All you have to do is to select the best tool that could satisfy your requirement. To sum up, AVAide Video Converter had given us a very remarkable service while doing the trial. We hope to share with you the good vibe as well, so have it downloaded and experience its dominance.
Your complete video toolbox that supports 350+ formats for conversion in lossless quality.