Do you need to become more familiar with the M2TS format? Compared to other popular formats, this format is relatively not well known, and the support range for this format is narrower. Therefore, you may need some help when you want to play files in M2TS format.
This article will list the five top M2TS players for different devices, including Windows, Mac, Android, and iPhone. Also, we will provide you with a one-stop guide for the entire playback process. Read this article, and you won't have to worry about not being able to play your M2TS videos properly.
Part 1. M2TS File Player for Windows and Mac
AVAide Blu-Ray Player
To help you play files smoothly on your device, we recommend the best M2TS player for you. As a fully featured and powerful tool, AVAide Blu-ray Player supports DVDs and all media formats, including M2TS, MP4, VOB, WMV, MP3, etc. And you can apply it for playing Blu-ray discs and ISO files with menus and original resolution. In addition to playing videos, this tool also ensures you perform advanced operations on your video, like personalizing playlists and video effects. With this software's help, you can enjoy smooth playback of your M2TS files.
Step 1Download and install AVAide Blu-ray Player on your computer.
Step 2Then choose Open File to play your M2TS files.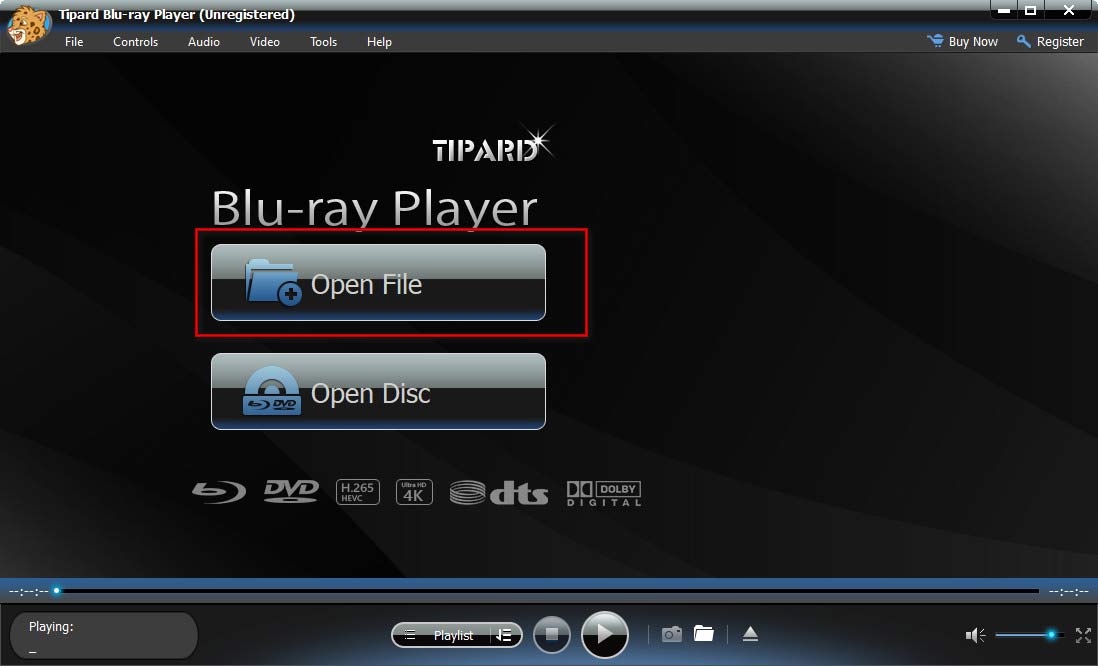 Now your videos can be played back fluently. You can click Controls, Audio, Video, and Tools to adjust the playback speed, frame size, audio track, etc., and brighten your videos.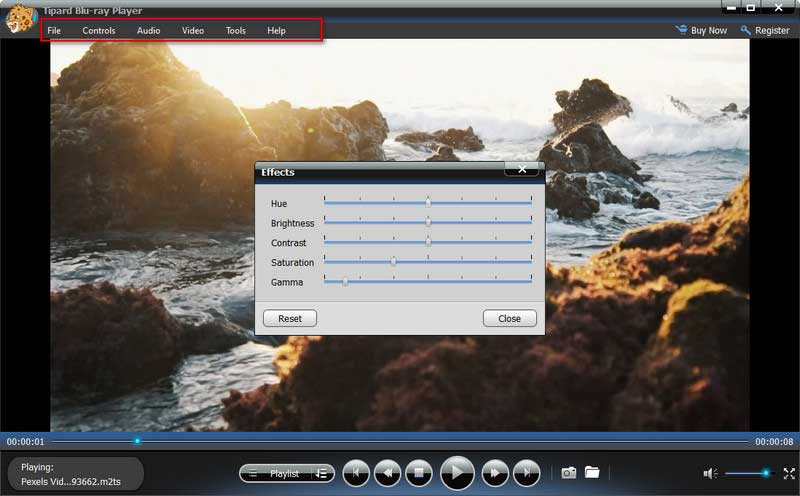 Windows Media Player
As the video player that comes with Windows, Windows Media Player not only supports playing videos in many formats but can also be used to edit and convert video formats. You can use this tool as an M2TS player for Windows 10 or other Windows systems to open your files without downloading additional plug-ins.
Here are the detailed step-by-step instructions.
Step 1Right-click on your file on your computer's desktop, and choose Open with the menu.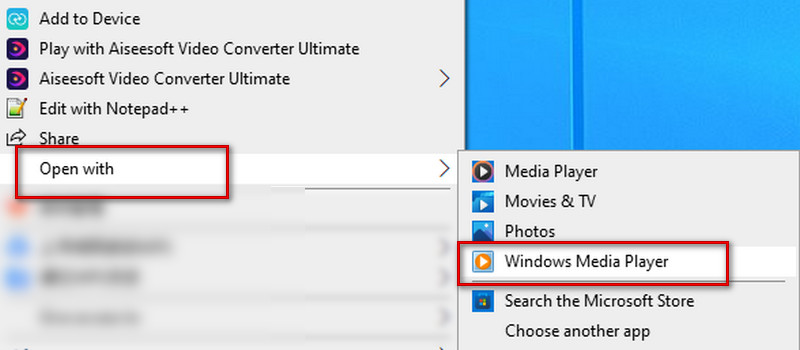 You can set start or stop playback in the menu below the playback screen, fast-forward, or previous. And the volume level can be adjusted as you need.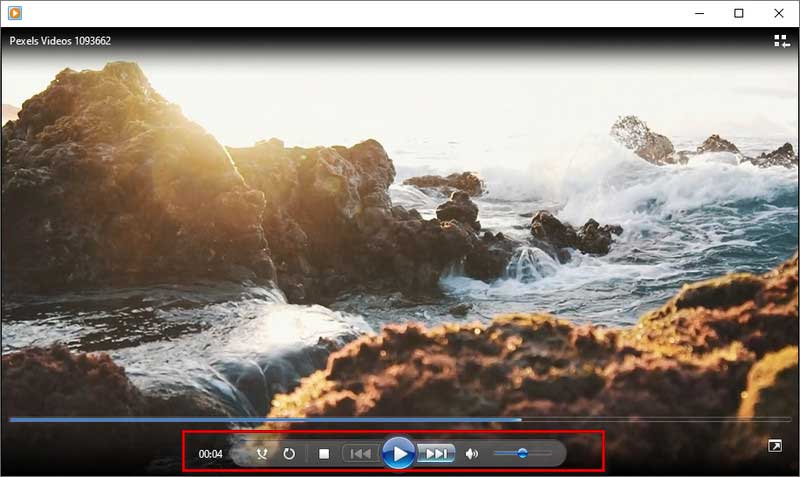 VLC Player
VLC Player is also a very useful tool for video playback. You can see it in a lot of content related to video playback and editing. This M2TS player can be used on both Windows and Mac. Likewise, it can play videos in almost all popular formats and perform some video conversions.
Here are the detailed steps to use it to play M2TS videos.
Step 1Download and install VLC Player on your computer.
Step 2Click Media on the top left corner, then choose Open File to find your target video.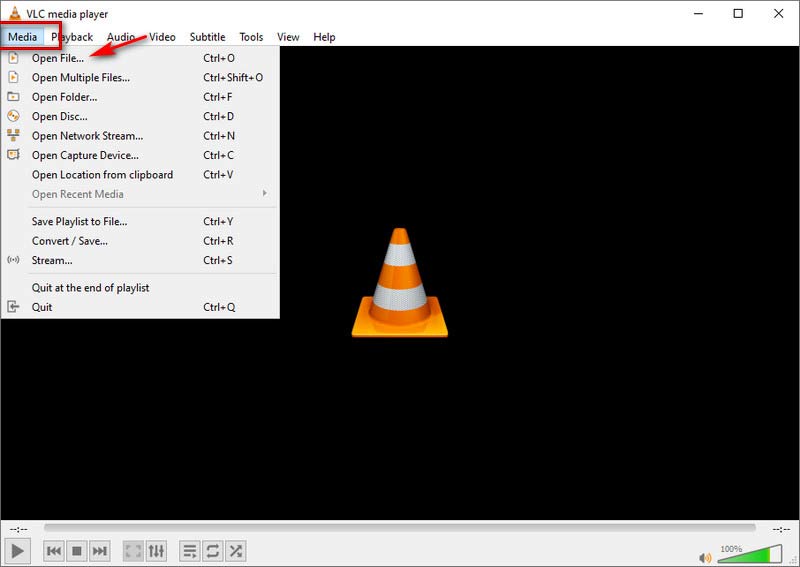 Then your video will start playing automatically.
If you want to do some simple playback settings, please click the button in the menu above. You can use Playback for setting the playback speed, Audio for the audio track, Video for screen size, Subtitle for subtitles, Tools for contrast and brightness, etc.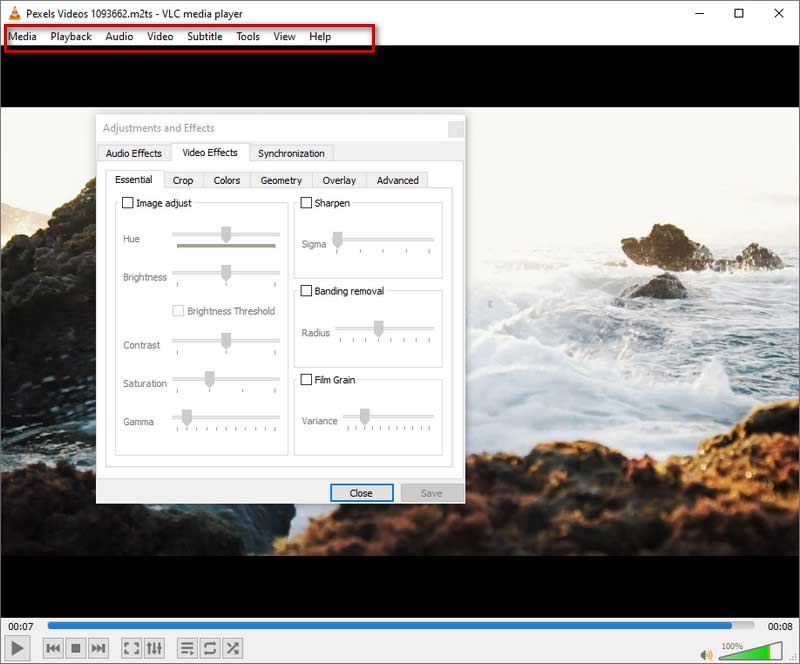 Part 2. M2TS File Player for Android and iPhone
VLC Player
In addition to the computer version, you can also use VLC Player as your free M2TS player on your Android device or iPhone. It is quite easy to operate.
Step 1Download and install VLC Player App on your phone.
Step 2Select the video you want to play in the Files Manager and choose Send or Share, depending on your device type.
Step 3Choose Play with VLC, and your videos will be played automatically.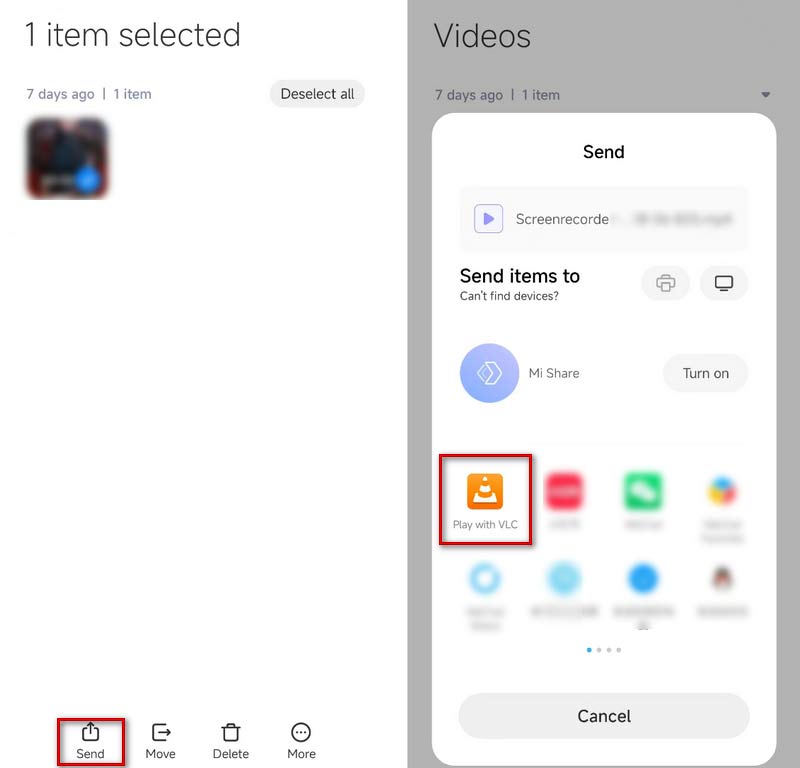 KMPlayer
KMPlayer is another free M2TS player that works on Android and iPhone phones. It has a user-friendly interface without any advertisements to bother you. It supports the playback of almost all formats of files. Also, KMPlayer offers various features, including a bookmark, cloud function, speed control, quick button, mirror mode, audio equalizer, rewards, etc.
Here are the steps to play the video.
Step 1Download and install KMPlayer on your phone, and open it.
Step 2Your phone videos will be shown directly in the Recently Added Videos menu. Tap the one you want to play. Or you can find your videos in the Internal list.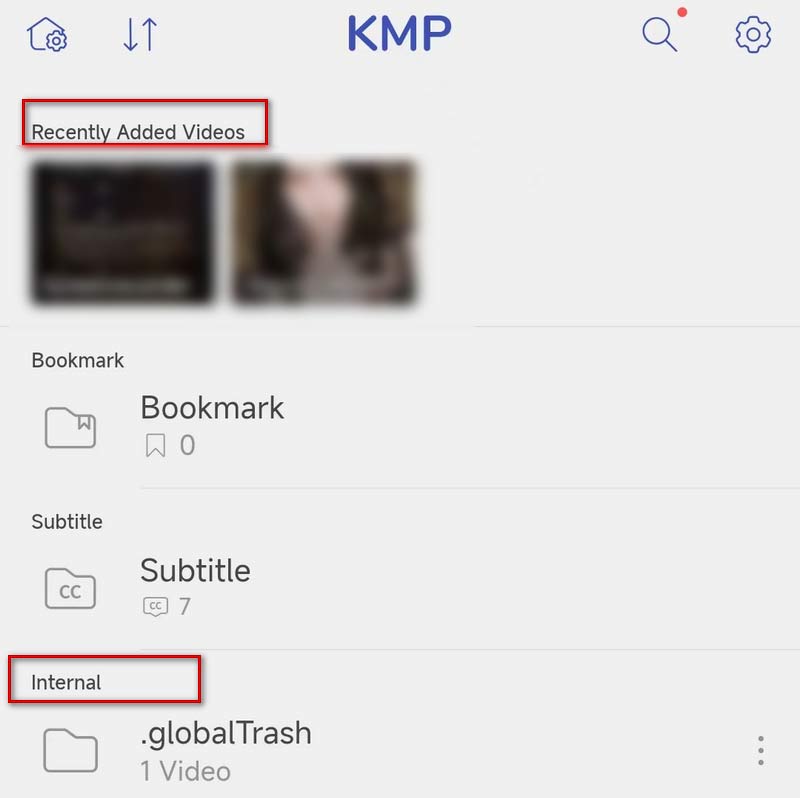 Then your video will be played automatically.
Playit-All in One Video Player
Playit is a versatile video player for Android phones and iPhones. It will automatically identify your local videos so you can use them to play M2TS videos. Besides playing videos, it can also be used as an M2TS to MP3 converter to extract audios from videos. To make it easier to use, you can set some shortcut gestures.
Step 1Download and install Playit on your phone.
Step 2Open it, and your videos will be shown under the Video mode, or you can find your files through the Folder mode.
Step 3Tap your target video, and your video will begin to play.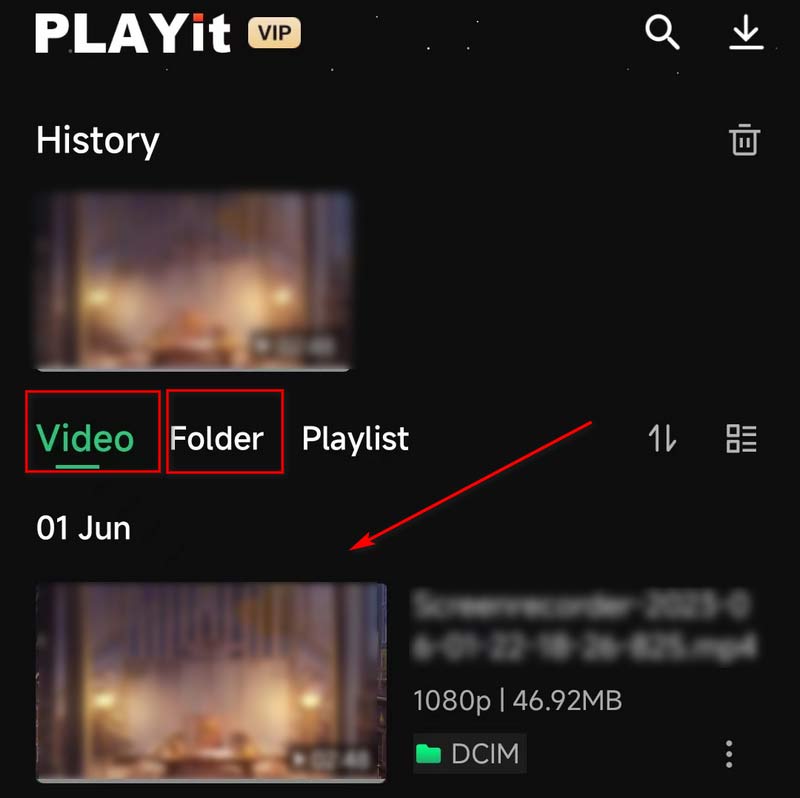 Part 3. Make M2TS More Compatible - Convert M2TS to MP4 or MOV
If none of these methods solve your problem, or if you want to play M2TS files on devices that do not support the M2TS format, then we recommend that you use the best tool, AVAide Video Converter, to help you convert the video to a more popular video format for easier playback. AVAide Video Converter is the most comprehensive video converter that supports 300+ file formats. With a simple and elegant user interface, you can convert between different formats efficiently without losing quality.
Here are the steps you can follow with.
Step 1Download and install AVAide Video Converter on your computer. Choose Converter on the interface.
Step 2Choose Add Files to upload your video, or drag and drop your file directly.
Step 3Click Convert All to to choose your target format in the drop-down list.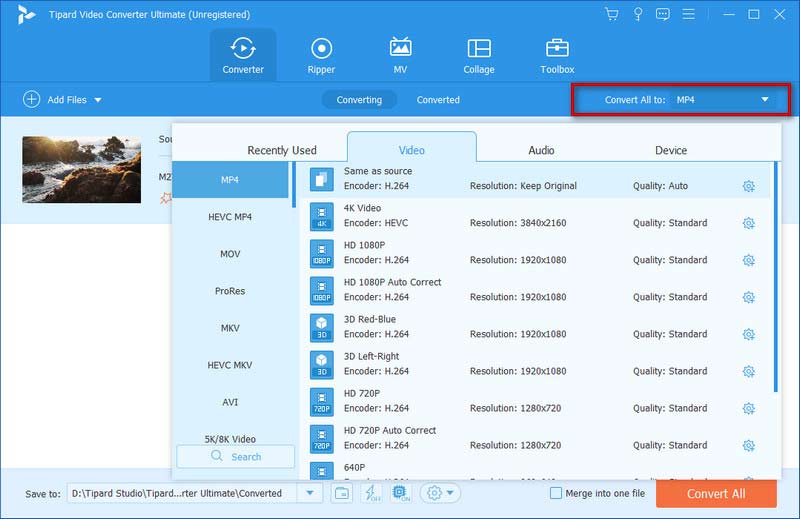 Step 4Click Save to to choose a folder to save your converted files. Then choose Convert All to start the process of conversion.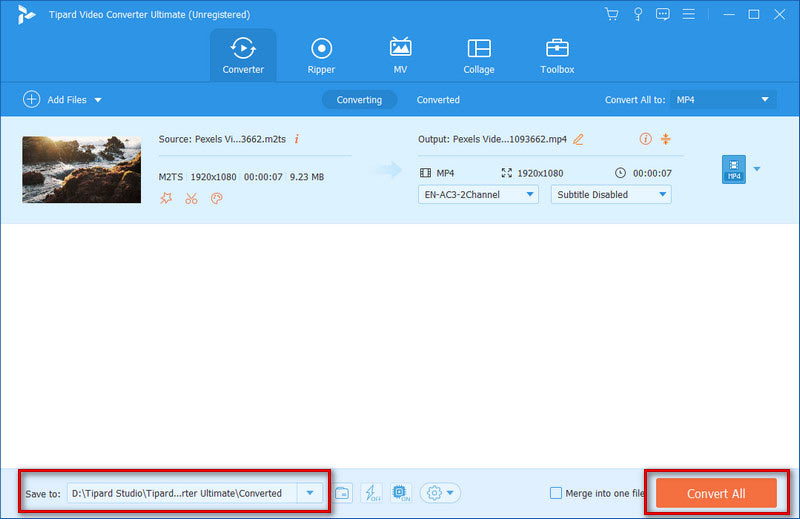 Part 4. FAQs of M2TS Player
What is the resolution of M2TS?
Generally speaking, the M2TS format supports a definition range of 720p to 1080i. This format is based on MPEG-2 and mainly contains high-definition videos on Blu-ray discs and AVCHD, Hard-drives, and other devices.
Is M2TS better quality than MP4?
M2TS is based on MPEG-2, while MP4 applies the standard of MPEG-4. The file size of the M2TS format is quite large because it stores more memory and higher-quality video. So compared to MP4, M2TS has higher video quality but also takes up more storage space.
What is the difference between m2t and M2TS?
There is no functional difference between MTS and M2TS, and M2TS can be seen as a variant derived from MTS. MTS and M2TS files are high-definition files associated with the AVCHD video format. When you record a video, your file will be saved in the MTS format. But if you move your file to a computer or a CD, it will change its format to M2TS.
How do I play M2TS files on my TV?
If you want to play M2TS video on your TV, you can copy it to a USB drive and then insert the USB drive into the port on the TV side. You can find your files in the USB drive folder when you turn on the TV. Or you can convert the file format to DVD or other popular formats and play it on your TV.
Can I Upload MTS/M2TS files to YouTube?
YouTube does not support M2TS and MTS formats. So you can only upload M2TS videos to YouTube indirectly. You can use AVAide Video Converter to convert your files to other YouTube-supported video formats and then upload them. YouTube now supports formats like MOV, MPEG-1, MPEG-2, MPEG-4, MP4, MPG, AVI, WMV, MPEG-PS, FLV, 3GPP, WebM, DNxHR, ProRes, CineForm, and HEVC (h265).
Conclusion
Five best M2TS players are detailed in this article, each paired with a detailed step-by-step guide to prevent you from experiencing playback difficulties. Whether you are using a computer or a cell phone, you can find a way that works for you.
In addition, if you want to convert M2TS to other formats with higher compatibility, we have also recommended a top converter to help you. We hope our content has helped you solve your problem. Leave your comments if you have other ideas.
Full-featured multimedia player to play Blu-rays, DVDs, 4K UHDs, and other video/audio files.