DVDs have been popular for storing movies, TV shows, and other multimedia content. Sometimes, you need to rip audio tracks from DVDs. For instance, you want to create a digital music library, back up audio content, remix, and sample. This article will guide you through ripping audio tracks from DVDs, including those with multiple audio tracks and subtitles. With a few simple steps, you can extract audio tracks from your DVDs and enjoy them in a format of your choice.
Part 1. What Are the Best Audio and Video Formats to Rip DVDs to
When ripping DVDs, the choice of video and audio formats depends on your preferences and needs. Here are some popular formats that are commonly used for ripping DVDs.
Best Audio Formats to Rip DVDs to
MP3 is a widely-supported audio format known for its high compression ratio while maintaining satisfactory audio quality. It supports most devices and media players.
AAC is a popular audio format commonly used for iTunes and Apple devices. It offers better sound quality compared to MP3 at lower bit rates.
OGG is an open-source audio format that balances audio quality and file size well. It is commonly used for streaming and supports multiple audio channels.
FLAC is a popular lossless audio format with the highest quality audio compression. It is favored by audiophiles who desire the utmost audio fidelity but result in larger file sizes.
Best Video Formats to Rip DVDs to
MP4 is a widely supported video format that offers good image quality with a smaller file size. It is compatible with almost all devices and media players, making it versatile.
MKV is an open-source container format that can store multiple video, audio, and subtitle tracks. It is known for its ability to retain high-quality video and audio.
MOV is the default video format for Apple's QuickTime framework. It is commonly used for Mac systems and is widely supported by Apple devices.
AVI is one of the oldest video formats but is still popular due to its compatibility with many devices and media players. However, it tends to produce larger file sizes than more modern formats.
When ripping DVDs, it is crucial to consider the compatibility of the formats with the devices you intend to use for playback. Additionally, space limitations and personal audio and video quality preferences should be considered.
Part 2. Best Software to Rip Audio Tracks from Your DVD
Many software options are available for ripping DVDs with multiple audio tracks and subtitles. Some popular ones are AVAide DVD Ripper, MakeMKV, HandBrake, and WinX DVD Ripper. You can use them to rip your DVDs and extract audio tracks in a preferred format.
AVAide DVD Ripper can convert any DVD disc, folder, or ISO file to over 300 video and audio formats at a super fast ripping speed. Compared to other software, it gives an easier way to rip your DVDs with multiple audio tracks and subtitles. Moreover, it has an inbuilt editor to edit your DVD based on your need.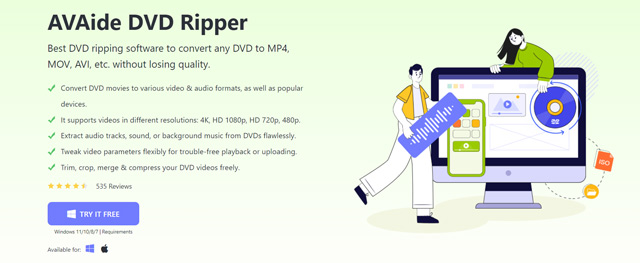 Part 3. How to Rip DVDs with Multiple Audio Tracks and Subtitles
Go to the official AVAide DVD Ripper website and free install it on your computer. It lets you rip audio tracks from DVDs on Windows and Mac computers. Follow the steps below to rip a DVD with multiple audio tracks and subtitles using AVAide DVD Ripper.
Step 1Launch AVAide DVD Ripper and insert the DVD into your computer's DVD drive. Click on the Load DVD button to import the DVD content. It will scan and display all the available titles on the DVD.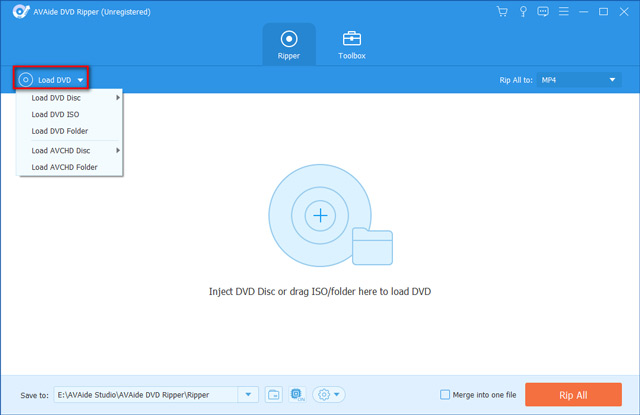 Step 2From the list of titles, choose the one that contains the main content of your DVD. It might be the longest title or the title with the highest resolution. Select it by checking the box next to it.
Under the Audio section, you will see a list of available audio tracks. Check the box next to the audio tracks you want to keep in the ripped file. AVAide DVD Ripper allows you to select multiple audio tracks if the DVD has them.
Step 3In the Subtitles section, select the subtitles you want to include in the ripped file. It supports various subtitle formats, so choose the format compatible with your media player.
Step 4AVAide DVD Ripper provides a wide range of video and audio options, including popular formats like MP4, AVI, MKV, MP3, AAC, and more. Choose the one that suits your needs. Then specify the destination where you want to save the ripped file.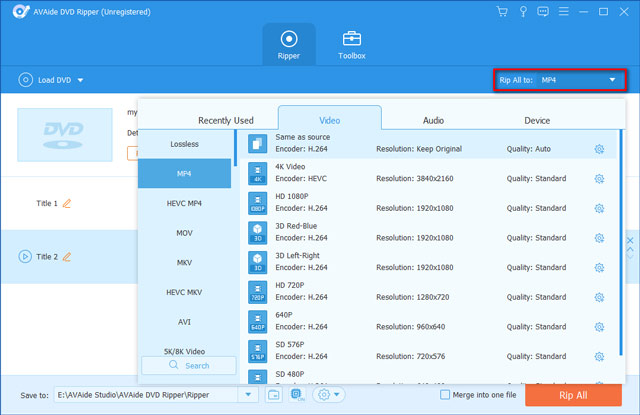 Step 5Before starting the ripping process, you can make additional settings or adjustments, such as video quality, resolution, trimming, or cropping. Once you are satisfied with it, click the Rip All button to begin the ripping process.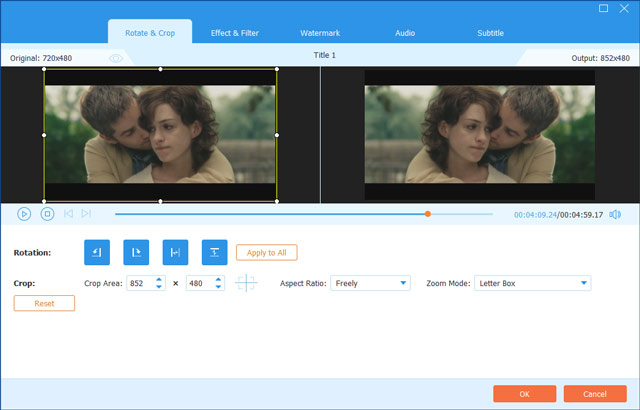 Once the DVD ripping process is finished, you can locate the ripped file in the specified destination folder. The file will contain multiple audio tracks and subtitles that you selected earlier.
Part 4. FAQs of How to Rip Audio Track from DVD
Can VLC rip an audio track from a DVD?
Yes. VLC lets you extract an audio track from your DVD. Insert your DVD, open VLC, click the Media menu, then select the Convert/Save option. Click the Disc tab and hit the Browse button to add your DVD. Select your desired audio format from Profile and click the Start button. VLC will now start ripping the audio track from your DVD and saving it as a file on your computer.
Can I rip my DVD with multiple audio tracks with Windows Media Player?
No. Windows Media Player doesn't carry DVD ripping options. It can't help you rip a DVD with multiple audio tracks and subtitles. But it can rip CDs to MP3 files.
Can you extract audio tracks from DVDs using MakeMKV?
No. MakeMKV only allows you to rip your DVD to an MKV file with multiple audio tracks and subtitles. It offers no audio output options to rip your DVD to audio.
Conclusion
Ripping audio tracks from DVDs can be a straightforward process when armed with the right tool. You can use the recommended DVD Ripper to rip DVDs with your chosen audio track and subtitles. Always abide by legal and ethical considerations when ripping content from DVDs.
Best tool for ripping and converting DVD Disc/Folder/ISO image file into over various formats.