Xbox One is a popular gaming console that can play games and do other things. It can be connected to a TV and used to watch movies and TV shows. As the successor of Xbox 360, Xbox One has an optical drive to read not only DVDs but also Blu-rays. Furthermore, Xbox One S and Xbox One X support 4K UHD Blu-rays and 4K videos with HDR10. How to play a DVD on Xbox One?
This post tells how to watch a DVD on Xbox One. You can learn to install the DVD Player for Xbox One, play DVDs on it, and convert DVDs to digital videos for Xbox playback.
Part 1. Install the DVD Player App for Xbox One
Playing DVDs on an Xbox One is relatively simple. It is designed to be your home entertainment system and lets you easily watch TV shows and movies, including DVDs. However, many users complained that Xbox One did not read their DVDs when they inserted a disc into its optical drive. Why won't Xbox One play DVDs?
You need to install a separate DVD player app for Xbox One to watch your DVDs. Luckily, an official Blu-ray and DVD player app is available for the Xbox One game console, and it's easy to install.
Step 1First, you must navigate to the Microsoft Store on your Xbox One by pressing the Xbox button on your controller, scrolling over to the Store tab, then selecting it.
Step 2Once you are in the Microsoft Store, search for the DVD player app by typing DVD player. The DVD player for Xbox One will appear in the search results. Select the app to go to its detail page. Hit the Install button to download and install it to your Xbox One. This process may take a few minutes, depending on your internet connection.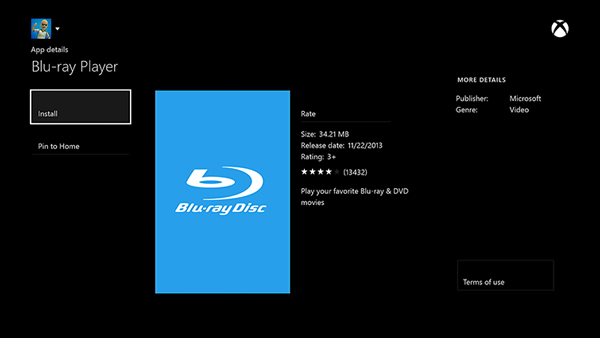 Once the DVD player app is installed, you can launch it from your Xbox One's home screen, then open it to play your DVD with ease. When the app launches, there is a prompt telling you to insert a DVD into your Xbox One.
Part 2. How to Play DVDs on Xbox One
When you insert a DVD into your game console, Microsoft Store will automatically prompt you to download the related DVD player app. You can install it with ease as the instructions say. Also, you can handily install the DVD player app with the method above.
Insert your DVD into the Xbox One's disc drive. The disc tray should automatically close, and the disc should start to spin. Wait for the Xbox One to recognize the disc and launch the DVD player app. If it doesn't, you can manually launch the DVD player app by pressing the Xbox button on your controller and then selecting the app.
The DVD player for Xbox One offers all standard playback controls, including play, pause, fast forward, and rewind. When watching a DVD on Xbox One, you can choose the play option and use the controller to pause, rewind, and fast-forward through the DVD. You can also access the app's settings to adjust subtitle options and display settings.
Part 3. How to Convert DVDs to 4K Videos for Xbox One Playback
As mentioned above, Xbox One supports 4K digital videos. So you can rip your DVDs to videos and then play them on your game console. You can rely on the easy-to-use AVAide DVD Ripper to convert DVDs to higher-quality videos, even up to 4K, 5K, and 8K. It gives you a simple way to turn your DVD into an Xbox-supported video file.
Step 1Download and run this DVD ripper on your computer. Insert your DVD into the computer's disc drive. Then click Load DVD to add your DVD files.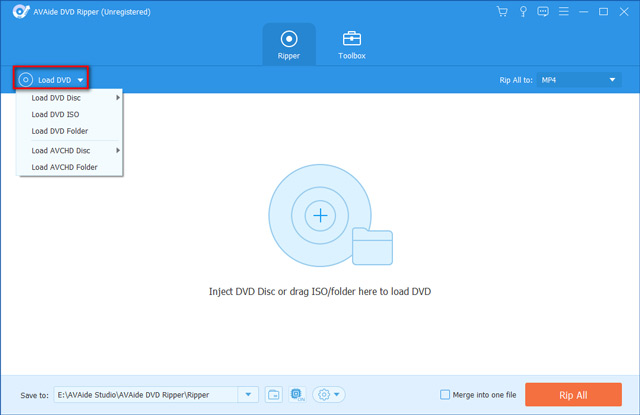 Step 2Select the main DVD content you want to convert, then choose a Xbox-supported format from the Convert All to dropdown. After that, please click the Convert All button to begin the DVD conversion.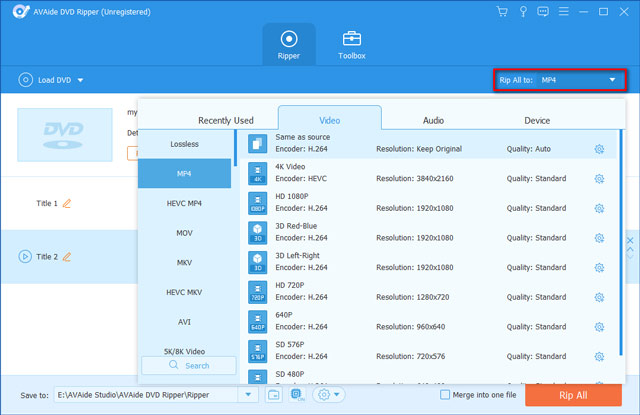 Step 3Transfer the ripped DVD file to a USB drive and plug the flash drive into your Xbox One, then use the inbuilt media player to watch it. To play a 4K digital video on your Xbox One, you need to ensure that your Xbox One is connected to a 4K-capable TV or monitor.
Part 4. FAQs of DVD Player for Xbox One
Why my Xbox One won't play DVDs?
Xbox One needs a DVD player app to play DVDs. If you don't install the app, you can't watch DVDs on your Xbox game console. Sometimes, Xbox One won't play a DVD due to the region code.
What to do when Xbox One can't play a DVD?
If you are experiencing any issues playing a DVD on your Xbox One, you should ensure it is connected to a stable internet, its system is up-to-date, and your DVD is clean and free of scratches.
How do you watch Netflix movies on Xbox One?
You should press the Xbox button on your controller first and go to the My games & apps tab to find and open the Netflix app. Then you can sign in to your account and watch your favorite movies. If you don't see the streaming app, you can go to the Microsoft Store to install it.
Conclusion
Watching DVDs on Xbox One is a great way to enjoy your entertainment setup. It's a simple process to install the DVD player for Xbox One app. You can follow the guide above to play DVDs on your Xbox game console.
Best tool for ripping and converting DVD Disc/Folder/ISO image file into over various formats.