BDMV and BDAV are two commonly used formats in the realm of digital media storage and playback. Both formats let you store high-definition video and audio content. But they differ in their structure and compatibility with various devices. This post will delve into the main differences between BDAV and BDMV, exploring their unique features and benefits.
Part 1. What Is BDMV
BDMV is a format primarily used for creating Blu-ray movie discs. It stands for Blu-ray Disc Movie and is designed to deliver the best possible video and audio quality. BDMV discs often contain interactive menus, multiple audio tracks, subtitles, and bonus features. The BDMV format is commonly used for commercial movie releases, high-definition video recording, and creating Blu-ray backups.
BDMV discs follow a specific file and folder structure. The primary file is the index.bdmv, which holds information about the disc's content. BDMV utilizes the BDAV MPEG-2 Transport Stream (M2TS) or BDAV AVC/MVC file format for video, resulting in superb video quality on compatible Blu-ray players. It also supports lossless audio formats like Dolby TrueHD and DTS-HD Master Audio, ensuring an immersive audio experience.
Part 2. What Is BDAV
BDAV is another Blu-ray format focusing more on audio and visual content than interactive menus and bonus features. It is commonly used for recording high-definition videos and storing them on Blu-ray discs. BDAV offers a straightforward and easy-to-use format for video playback, making it suitable for personal recordings and home videos.
BDAV follows a simple directory structure with the primary video stream stored as an M2TS (MPEG-2 Transport Stream) file. This format provides good video quality while maintaining a smaller file size than BDMV. BDAV also supports audio formats like Dolby Digital (AC3) and Linear PCM, ensuring compatibility with various devices.
Part 3. BDMV vs. BDAV
BDMV discs can be played on dedicated Blu-ray players, gaming consoles like Sony PlayStation and Microsoft Xbox, and some computers with compatible Blu-ray drives. However, playback compatibility may vary depending on the player's region, firmware version, and supported codecs. It is worth noting that BDMV discs are not supported by regular DVD players.
BDAV discs can be played on most Blu-ray players and computers with Blu-ray drives. They are also compatible with some DVD players that support AVCHD playback. However, BDAV discs do not offer the same level of interactivity as BDMV, lacking features like menus, subtitles, and multiple audio tracks. Consequently, their usage is primarily limited to personal video recordings and non-commercial applications.
When deciding between BDMV and BDAV, it is essential to consider your specific requirements and intended usage. If you are creating commercial movie releases, want interactive menus, and require the highest possible video and audio quality, BDMV is preferable. If you primarily record personal videos or home movies and value simplicity and smaller file sizes, BDAV would be more appropriate.
Part 4. How to Play BDMV and BDAV
To play BDMV and BDAV files, you can rely on the all-featured AVAide Blu-ray Player. It supports nearly all video and audio formats, including BDMV and BDAV. It can play your BDMV and BDAV files smoothly on your computer with high visual and sound quality.
AVAide Blu-ray Player - Plays BDAV and BDMV
Play BDAV, BDMV, and other video and audio files with high quality.
Support the smooth playback of DVD and Blu-ray discs, folders, and ISO files.
Freely adjust brightness, contrast, hue, saturation, and more while the playback.
Offer various selections, including playlists, video effects, chapters, and deinterlace.
Step 1Download AVAide Blu-ray Player and launch it. Click the Open File button to browse and select the folder that contains your BDMV or BDAV files. Add your BDMV or BDAV file to it. Besides BDAV and BDMV, this recommended media player support all commonly-used video and audio formats. As you can see, it also lets you play Blu-ray and DVD discs.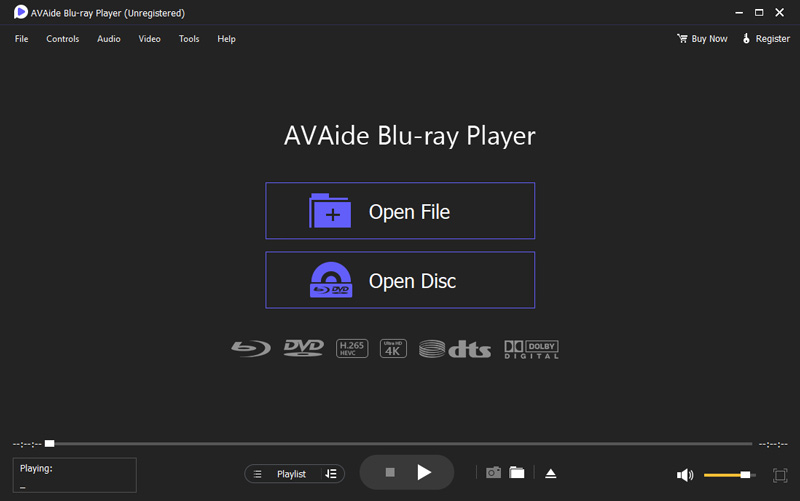 Step 2AVAide Blu-ray Player will start playing your BDMV or BDAV file. You get various options to control the BDMV/BDAV playback, customize the playing effects, and select the correct audio track and subtitle.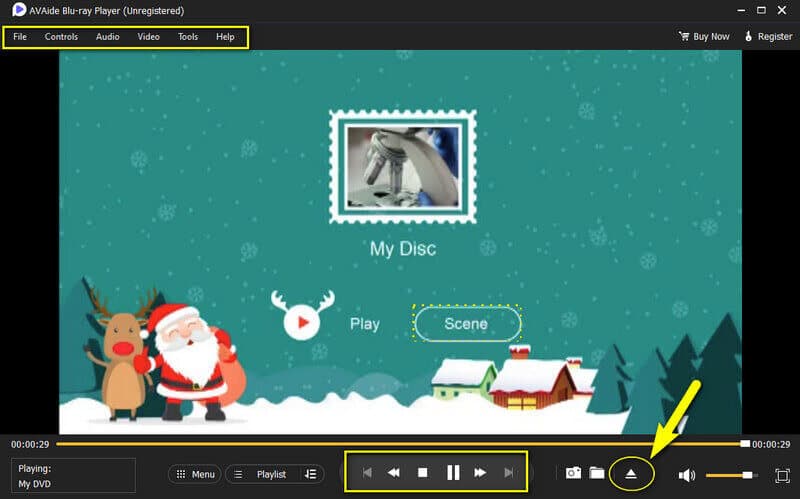 Keep in mind that BDMV and BDAV files are typically associated with Blu-ray disc structures. Thus, you may come across additional files within the folder structure, such as video files, audio files, and subtitles. AVAide Blu-ray Player can handle these files without any issues.
Part 5. FAQs of the Difference Between BDAV and BDMV
Do BDAV and BDMV playbacks require a network connection?
No. You don't need an internet connection to play your BDAV and BDMV files. But sometimes, you need a network to download associated files or use advanced features.
Can VLC play BDMV files?
Yes. VLC Media Player supports all popular video and audio formats and Blu-ray and DVD movies. You can open VLC, click the Media menu, and choose Open Folder to locate the folder that contains your BDMV files. Load the specific BDMV file and play it.
Can you play Dolby Atmos with an HDMI cable?
Yes. You can connect your TV and play files with Dolby Atmos using an HDMI cable. But you should know that the eARC setups require HDMI 2.1.
Conclusion
BDMV and BDAV are two distinct Blu-ray formats, each serving different purposes. BDMV is commonly used for commercial movie releases and high-quality video backups, while BDAV is more suitable for personal video recordings and non-commercial content. Understanding the differences between these formats enables you to choose the one that best fits your needs, ensuring optimal playback compatibility and overall satisfaction.
Full-featured multimedia player to play Blu-rays, DVDs, 4K UHDs, and other video/audio files.