MPEG, one of the major media formats, has many different versions. Each version has different features and applications. If you haven't looked into the subject matter before, it cannot be easy to understand what these formats do and how they relate. MPEG-2 and MPEG-4 are often compared as two versions of MPEG used in a wide range of applications, and people often struggle to decide which one to choose.
In order to answer your questions and choose the format that suits you better, we will analyze MPEG-2 VS. MPEG-4 in detail. We will also prepare a tool for you to convert between MPEG-2 and MPEG-4 smoothly. Read on to learn more!
Part 1. What is MPEG-2?
MPEG-2 is a file format developed by Mitsubishi Electric, Sony, and Thomson in 1994. This format generally applies to digital television broadcasts, DVDs, VCD, etc. It was originally designed to compensate for MPEG-1's shortcomings. MPEG-2 files usually have extensions, including .mpeg, .mpg, .m2v, .mp2, or sometimes .mp3. This format applies lossless compression techniques for multi-media files to reduce their size.
Part 2. What is MPEG-4?
MPEG-4 is a group of video and audio compression standards developed by the Moving Picture Experts Group in 1998. This format mainly distributes multimedia files on mobile devices and the Internet. MPEG-4 aims to compress the file size smaller while ensuring that the quality of the file is not compromised. It is also currently used in a fairly wide range of applications, supporting not only 2D content but also 3D. MPEG-4 files always have the extension of .mp4, .m4a, .m4b, .m4r, .m4v, etc.
Part 3. MPEG-2 VS MPEG-4
After briefly introducing the concepts of MPEG-2 and MPEG-4, we will analyze the differences between the two in four aspects: compression rate, file size, video quality, and application scenarios. Hopefully, after reading this part, you can more precisely locate the format you need.
Compression Rate
In terms of compression rate, MPEG-4 is higher than MPEG-2 because it enjoys an advanced compression algorithm compared with MPEG-2. MPEG-2 applies lossy video and audio data compression methods.
File Size
MPEG-2 files are generally larger than MPEG-4 format files for different compression methods and other reasons. This makes MPEG-4 files relatively more suitable for distribution over the Internet.
Video Quality
MPEG-2 file format aims to produce lossless quality and is not specially designed for online streaming. So MPEG-2 files always enjoy a higher video and audio quality. Accordingly, they will be larger. But the quality of MPEG-4 files is also quite good, with some inevitable loss of quality for ease of distribution.
To help you visualize their different characteristics, we will simply use a table to present the above.
Application
While MPEG-2 and MPEG-4 specialize in their areas, MPEG-4 is generally more widely applicable than MPEG-2. MPEG-2 is more suitable for broadcast television and DVDs, while MPEG-4 files are more suitable for mobile devices and Internet streaming. Particularly prominent among these is the MP4. which can be played on almost any platform. So if you want higher adaptability, you can convert MPEG to MP4.
| | MPEG-2 | MPEG-4 |
| --- | --- | --- |
| Compression Rate | Lossy data compression methods | Enjoys an advanced compression algorithm |
| File Size | Larger | Relatively small, more suitable for distribution |
| Video Quality | Enjoy a higher video and audio quality | The inevitable loss of quality for ease of distribution |
| Application | More suitable for broadcast television and DVDs | More widely applicable; suitable for mobile devices and Internet streaming |
Part 4. How to Convert MPEG-2 to MPEG-4?
After learning about the characteristics of these two formats and the comparison of MPEG-2 VS. MPEG-4, you may have made a choice and decided to store your files in one of them. If you need to convert between MPEG-2 and MPEG-4, we recommend you try one of the most useful conversion tools, AVAide Video Converter. This tool can freely convert video, audio, and multimedia files between 300+ formats such as MPEG, MP4, WMV, VOB, MOV, 3GP, MKV, MP3, FLAC, and AAC. It provides 1080p/4K/5K/8K quality video output and does not cause any damage to the quality of the video during the conversion process. With acceleration technology, it can increase the conversion speed up to 30× faster. Besides converting formats, it provides a full video editing tool set. You can edit, rotate, crop, trim, split, merge, enhance, and compress your videos with it. Furthermore, you can even create 3D videos with its help. There are many more features for you to discover, and you can click the link below to download it to your computer and start trying it out!
Here are the detailed steps to convert between MPEG-2 and MPEG-4.
Step 1Download and install AVAide Video Converter on your computer, then open it.
Step 2Choose Converter on the interface, then click Add Files to upload the MPEG files you need to convert, or you can drag files to the central space directly.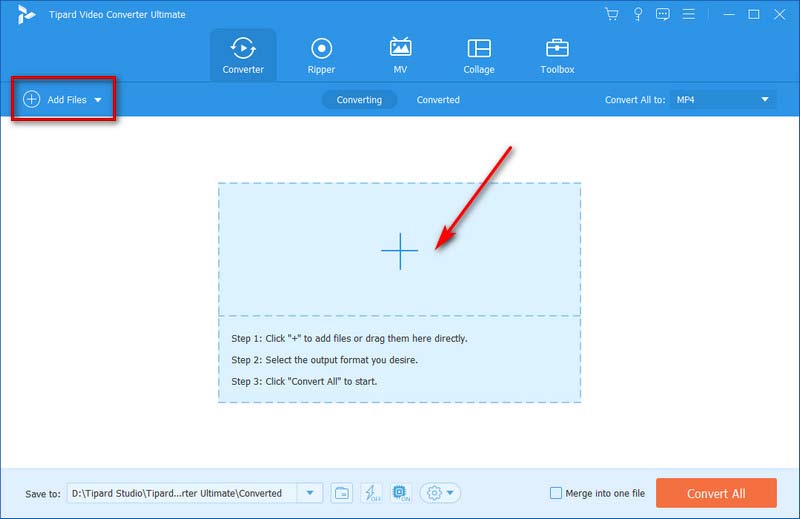 If you want to modify your video before starting the conversion, click Edit, Cut, or Enhance Video on the page. These features will help you edit, rotate, crop, trim, split, merge, and enhance your video.
Step 3Click Convert All to to select the format you want to convert to. You can choose the resolution you want in the list.
Step 4After selecting the format, drop the list next to Save to to choose a folder to save your converted files. Then press Convert All to start the process.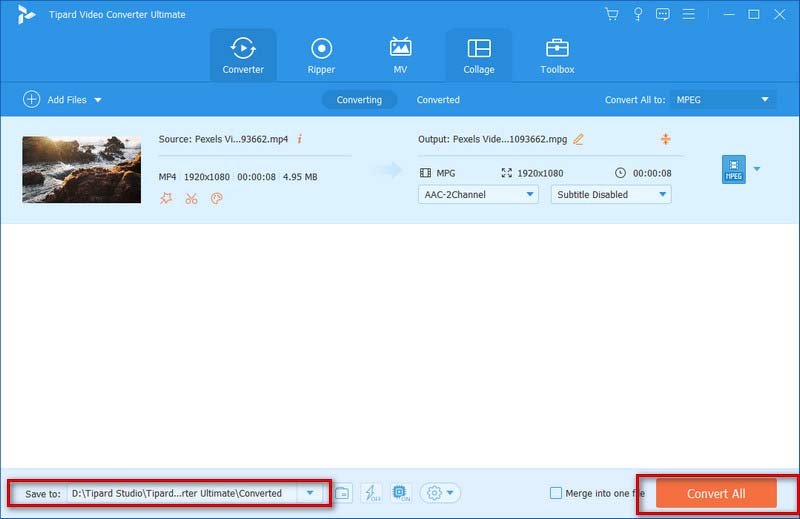 Part 5 FAQs about MPEG-2 VS MPEG-4
Is MPEG-2 outdated?
Although more advanced versions of MPEG have been developed, MPEG-2 is currently quite widely used. It is still used in over-the-air digital television broadcasting and the DVD-Video standard. It still enjoys wide compatibility with most existing software and hardware. Thus MPEG-2 is not yet outdated.
Is an MPEG-4 the same as MP4?
The full name of MP4 is MPEG-4 Part 14. MP4 is not exactly equivalent to MPEG-4. MP4 is the video container format that holds the data, while MPEG-4 is the standard for encoding video content within files. In general, the data in an MP4 file is encoded according to the MPEG-4 standard.
What is the difference between MPEG and MP3?
The biggest difference is that MPEG can be used for video and audio files, whereas MP3 is limited to audio files only. MP3 is a version of MPEG that is used exclusively for audio and is known as MPEG-1 Audio Layer 3, which is more commonly used for distributing and compressing audio files. Sometimes one will need to convert MPEG to MP3 in order to avoid incompatibility.
Which MPEG is the best?
The best and most widespread of the current MPEG versions is MPEG-4, which enables the storage of high-quality video and is highly compatible. MPEG-4 files are not too large, and this feature makes it possible to be played and distributed on almost all major platforms. It is also currently one of the most usable of all video formats.
Is it legal to convert MPEG files on DVDs?
If you're burning the file for saving or viewing personally, there's no problem. But you should never use the burned CDs or saved videos for commercial purposes because copyright regulations may protect these file classes and can only be used for other purposes with the author's permission.
Conclusion
In this article, we introduce you to the details of MPEG-2 VS MPEG-4 formats by comparing their similarities and differences from several perspectives, aiming to help you comprehensively understand the two formats' characteristics. After reading these contents, you can choose the more suitable version according to your needs. If you need to convert MPEG-2 to MPEG-4, we also provide a useful format conversion tool and detailed steps. Hope our content is helpful to you. Welcome to leave a message to communicate with us.
The most comprehensive media converter to convert video & audio & DVD without quality loss.