Users can identify video files in many formats. One of them is TRP, which demands a particular application to access from a desktop. It can create multiple digital video and audio streams to integrate the output seamlessly. To view TRP videos, users must discover a multimedia player that supports the format. In this case, you may need to convert your TRP file into a more universal standard video format such as MOV. This article will help you convert TRP to MOV video file on your computer along with the prominent converter tools to utilize on your desktop.
Part 1. Brief Overview of TRP and MOV Video Format
What is TRP?
TRP is an audio and video container extension. The TRP file's audio is A3C encrypted, but the video is MPEG-2. The video is loaded into the TRP main container to telecast audio-visual information over long distances. It's worth noting that TRP provides DVD-quality images and sound. Certain TV boxes and recorders use TRP files for DVD streams .trp files are saved and played with video players. Other digital video converters and editors can create, open, edit, and convert TRP files.
What is MOV?
A MOV file is inside the QuickTime File Format (QTFF), a container file format for media content. Plus, MOV was developed by Apple for use with Apple QuickTime Player. MOV videos, like MP4 files, are encoded using the MPEG-4 codec. It contains one or even more tracks that include various mainstream press data types, including video, audio, and text (subtitles). MOV files are frequently used to store movies and other types of video.
Part 2. The Best Way on How to Convert TRP to MOV Offline
AVAide Video Converter
AVAide Video Converter is the most efficient way to convert TRP to MOV files while you are on the go. Its conversion is aided by acceleration technology, which makes it 30 times faster than the standard converter in terms of speed. Regardless of how long or extensive the audio file is, you will be able to download the converted file in no time. Furthermore, you can convert many files simultaneously without experiencing any difficulties, and you can convert the files in a relatively short period. Moreover, there are several related features that you will undoubtedly find valuable. Using the application's built-in video editor, you can change videos that you have already recorded. You can convert TRP to MOV by following the steps outlined in the following section.
The Leading AVAide Video Converter
built-in movie maker & video collage maker.
30x faster conversion empowered with acceleration technology.
edit ID3 info, make GIFs, and create 3D movies.
works without an internet connection.
Step 1Visit the official page of the offline tool
First and above all else, go to the AVAide Video Converter page. Configure and run the program on your computer. Click on the button above for a quick download.
Step 2Upload the TRP video file
Then, click the Plus (+) button to upload your file in the center of the interface.
Tips:
By hitting the button

Add Folder

, you can import the entire folder.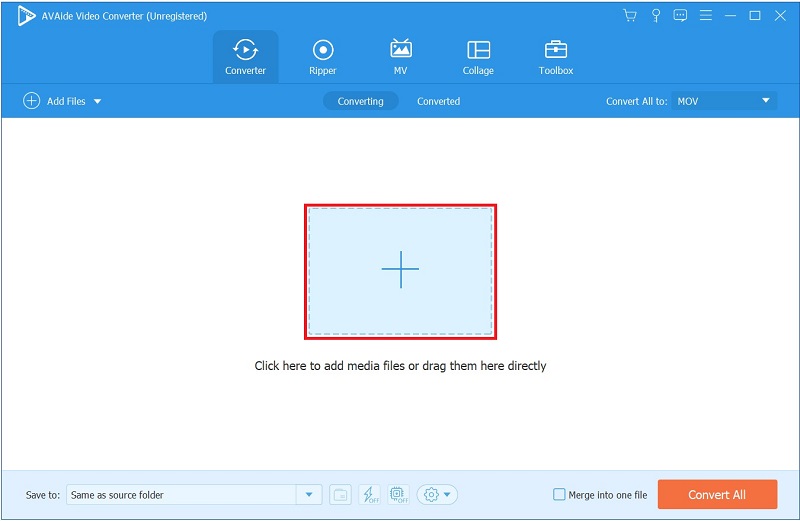 Step 3Select MOV as the output format
Hit the Convert All to button > Video > MOV in selecting the video output format.
Note: To modify the output setting, hit the Custom Profile. Change the frame rate, bitrate, resolution, video quality, and audio setting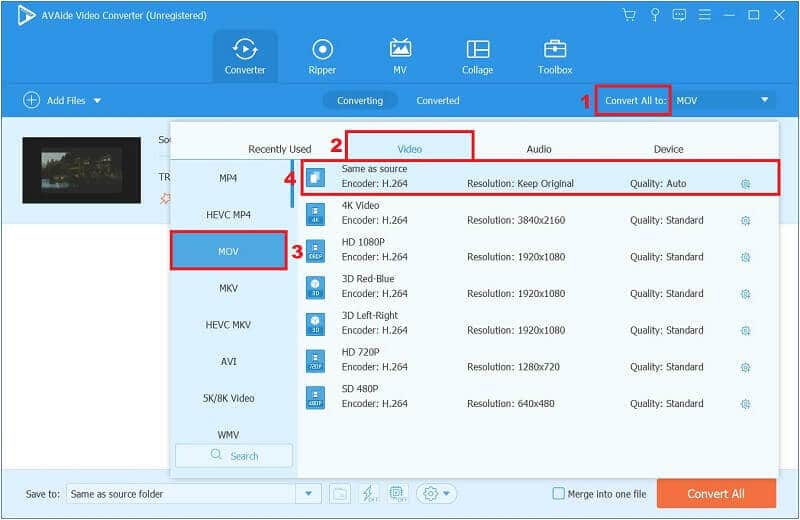 Step 4Make modifications to the audio track and subtitles
You will be brought back to the top menu upon altering the video output settings. By clicking the drop-down buttons beneath the Output box, you can adjust the original audio and insert subtitles.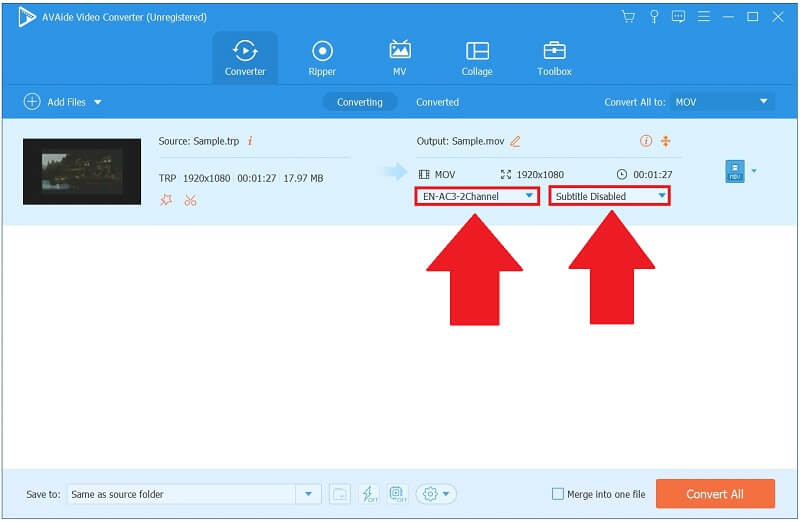 Step 5Directly convert TRP to MOV
Finally, when all is set, press the Convert All button in the lower right corner of the interface and wait for the conversion to be achieved.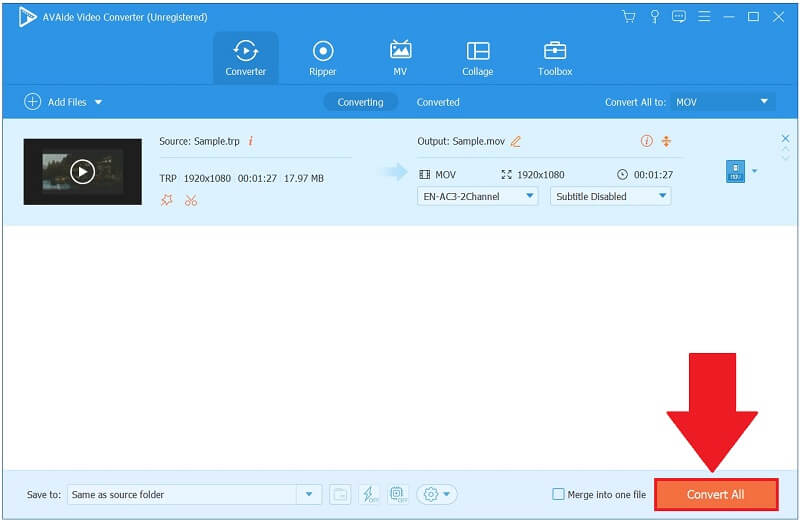 Step 6View the MOV file now
Hit the Converted tab and the Folder icon to play your recently converted file.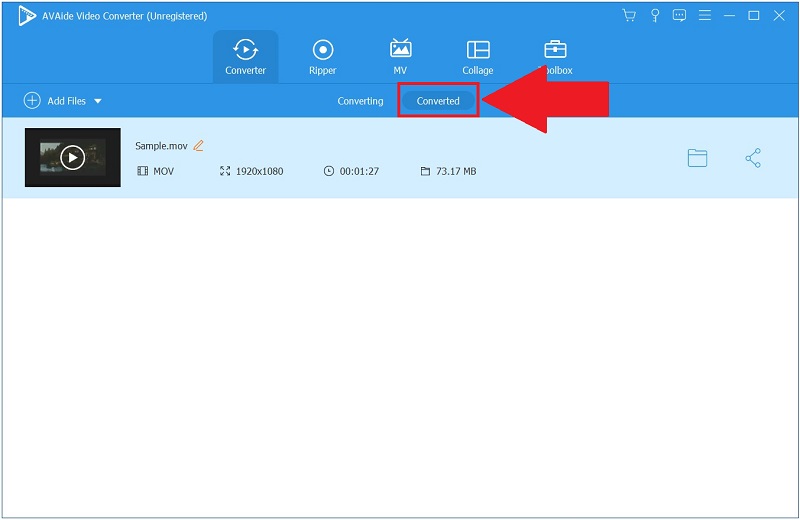 Part 3. The Free Way to Convert TRP to MOV Online
AVAide Free MOV Converter Online
AVAide Free MOV Converter Online is one of the best free TRP to MOV converter tools available, offering outstanding convenience without the need for installation or membership. Additionally, with unlimited conversions, it is undoubtedly appealing to online users. This tool is straightforward to use. It means that no technical knowledge is required to use this app. Once you've accessed the web application, you'll be able to use it without requiring assistance from others. In case you're curious, this tool can also convert video to audio. You are ready to go as long as you have access to the internet and a browser. Below are the simple steps to use on how to convert TRP to MOV.
Step 1Run the launcher
Click the ADD YOUR FILES button to begin downloading the launcher all at once. Click the Download button.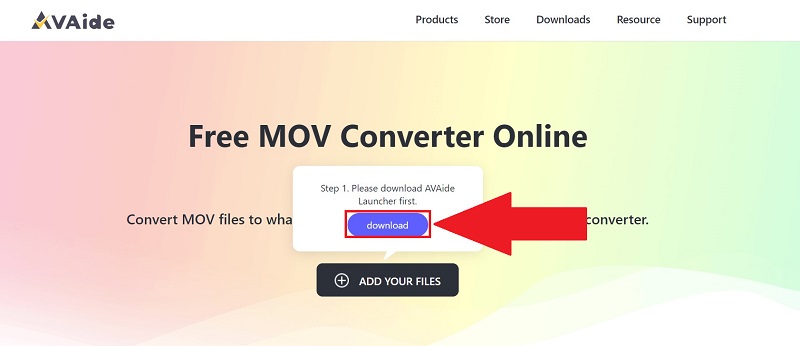 Step 2Unload your TRP file
Import your TRP files after you've obtained the launcher. To add your first file, click the ADD YOUR FILES button again, then hit the Add File button on the user interface to add more files.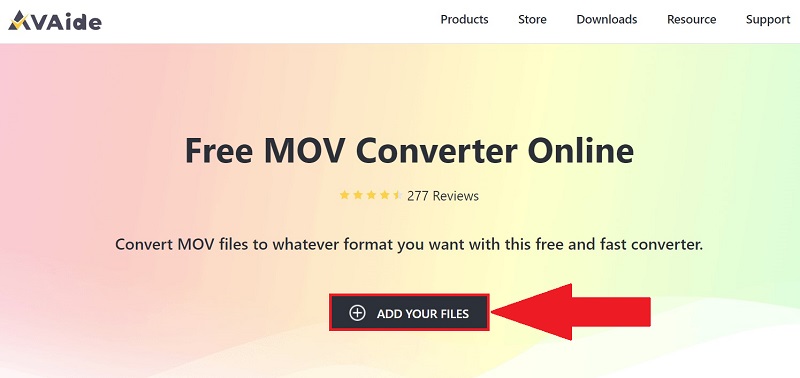 Step 3Set up your video output format
Locate the Video button. Hit the MOV video file as your preferred video output from the list of video formats.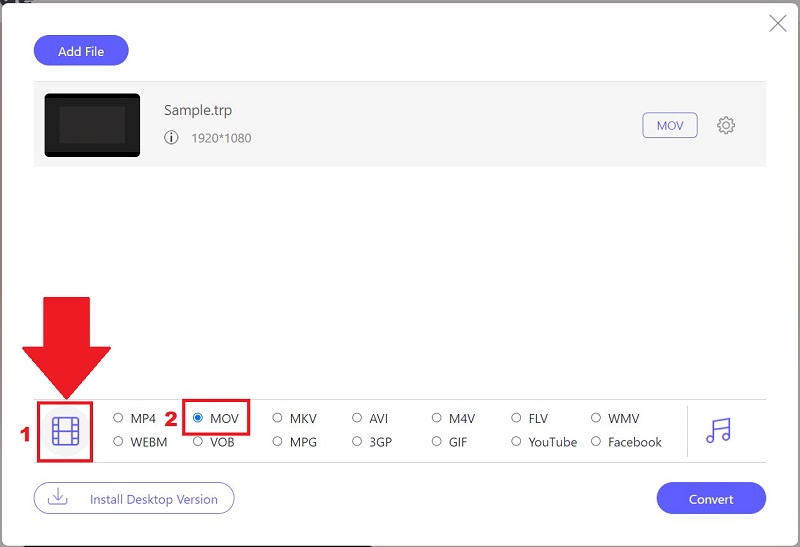 Step 4Convert TRP to MOV now
Initiate the conversion by hitting the Convert button.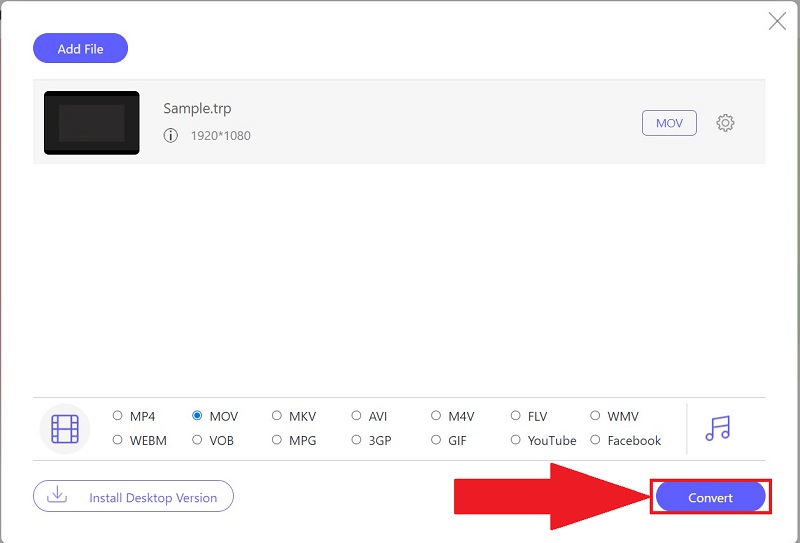 Step 5Wait for the conversion to complete
It will take over a single moment to finalize. The tool will notify you as soon as the TRP file is converted to MOV.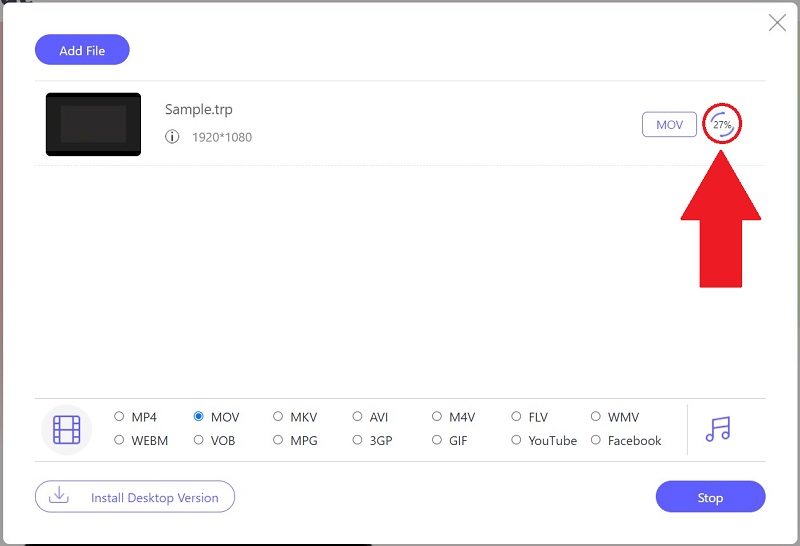 Part 4. FAQs on TRP and MOV Video Formats
Why am I unable to open TRP files?
In addition to a compatibility issue, your TRP file may have been ruined or contaminated with potentially harmful malware.
Is a MOV file the same as an MP4 file?
The most significant distinction between these two container formats is that MOV is an Apple-proprietary file format for QuickTime, whereas MP4 is a global standard. Files in MP4 format are typically more compressed and smaller, whereas files in MOV format are customarily higher in quality but larger in file size.
Is MOV a suitable file format?
MOV has a significantly greater file format for storing and managing digital data. MOV files are typically high quality and more prominent in size than other multimedia content.
Conclusion
To summarize this article, we have many conversion options available to convert TRP to MOV, making it essential to choose a dependable tool that converts quickly and easily. While AVAide Free MOV Converter Online is handy if you have a reliable internet connection. AVAide Video Converter is much more advantageous since it can be used without connecting to the internet.
Your complete video toolbox that supports 350+ formats for conversion in lossless quality.