Video flipping is necessary to adjust and achieve the best viewing angle and direction of your video file. This is defined as the creation of a mirror reflection of the raw or original footage. Disorientation might not be good for you, especially when there are words and captions captured. Or it can be, you need to clearly distinguish what is left from the right direction because your content is directional and instructional in function. These are just a few reasons on how we encounter such trouble.
With our exposure in the digital community, there are tons of helpful ways on how to convert flip video. You can convert your flipped videos right away. Below are featured tools you can use to solve your media problem. Plus, these tools are made comprehensive for both common and professional users.
Part 1. How to Easily Convert Flip Video on Mac and Windows
1. Use AVAide Video Converter on Windows PC
You can maximize the use of your Windows PC by accessing top-rated tools like the AVAide Video Converter. Discover the distinctive features of this program. By easily accessing your web browser followed by installing it on your Windows platforms. This solution can seamlessly guide you on how to change flip video format with its simplest procedures. It provides its users four (4) buttons to correct the disorientation of your video. Rotation and flipping options are given. The freedom for flipping and rotating video are accompanied with choosing your output format. This greatly helps you lessen your time consumption. Experience hitting two birds using a single stone. Instead of using different tools, let this software do the work! Consider it done by simply following the instructions given below.
The Featured Services of AVAide Video Converter
Fast-speed software without quality loss.
Additional media toolbox for enhancing .
Compatibility to different operating systems.
Made with double-screened display for previewing.
90-degrees clockwise and counterclockwise features.
Use these simple guidelines to check-out the simplicity of this tool when it comes to flipping and choosing the output format of your video files.
Step 1Install the application
First and foremost, before you can install the software on your device, you need to first visit the official website of AVAide Video Converter. Then, download it. Open and click the Video Rotator button.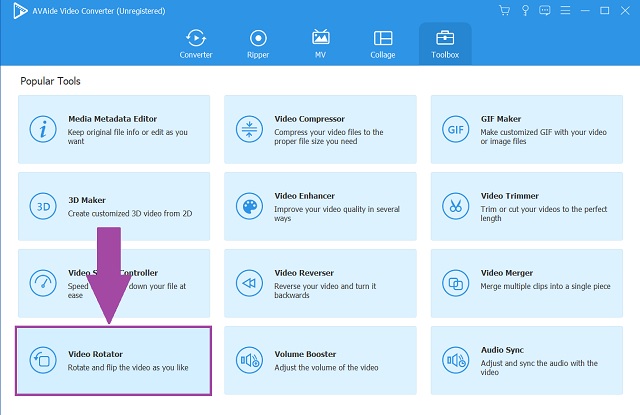 Step 2Select a file
Next to that is to simply add or drag your video on the interface.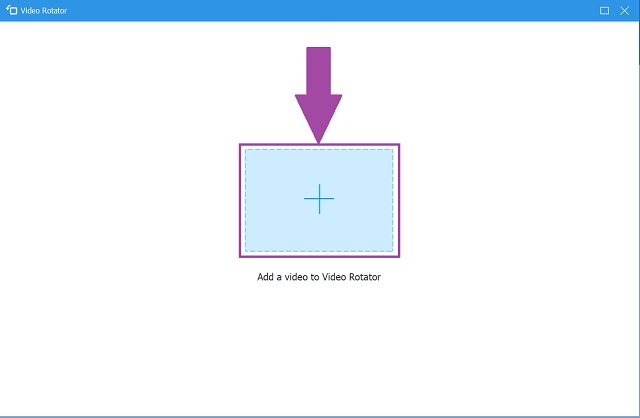 Step 3Flip the video
You can now flip the video by hitting the two flip icons on the rotation panel. With the horizontal and vertical flipping options. You can flexibly arrange and adjust the angle and direction of your video file.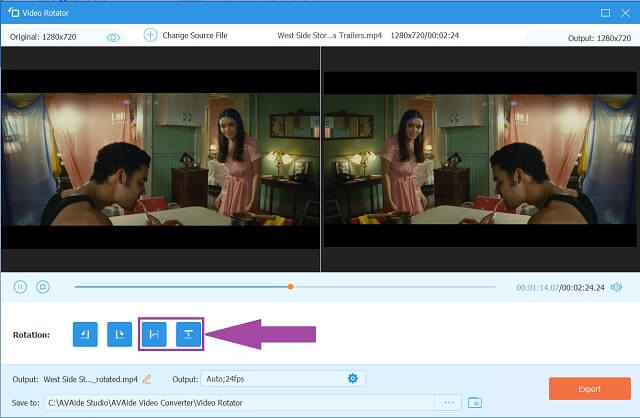 Step 4Choose the output format
Then, click the Output to choose among the file containers available on the video settings.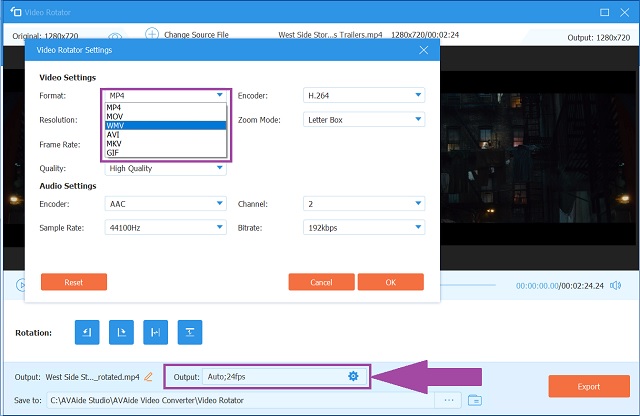 Step 5Complete the process
Finally, click the Done button to finish the process and save the file.
PROS:
Toolbox contains popular tools that can be utilized for multimedia enhancement.
Choose from a wide list of audio and video format containers.
With built-in presets for video filter application.
Made with advanced acceleration technology.
Supported by Linux, Mac, and Windows operating systems.
Audio and video converting feature.
CONS:
Trial version is limited for free use.
2. Make Use QuickTime for Mac Devices
QuickTime Player is the default player for Mac, iPhone, and iPad. Along with its ability to play different recorded files, it can also edit and enhance your existing files. It has numerous video editing features including rotating and flipping options. If you're a Mac user, then, this is the tool that best suits you. Whatever the case and concern, you can easily turn, flip, and rotate video files. Consider using this tool on how to convert flip video and see for yourself better results.
Step 1On your Mac device, in the QuickTime player on your Mac, open the movie.
Step 2Afterwards, on the menu bar, click the Show Clips button, then choose a clip or video you want to upload. Notice that the selected is outlined in yellow.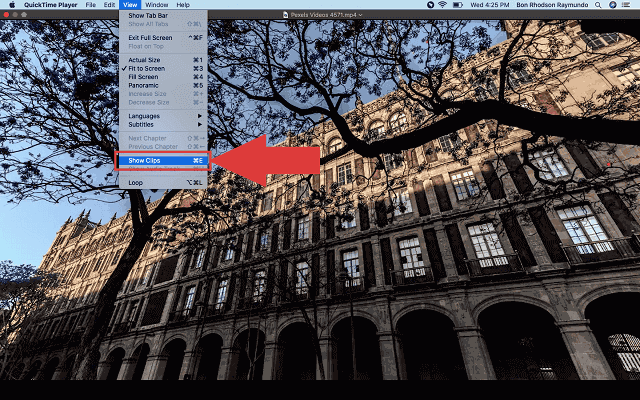 Step 3From the Edit menu, choose to Flip Horizontal or Flip Vertical buttons depending on your choice.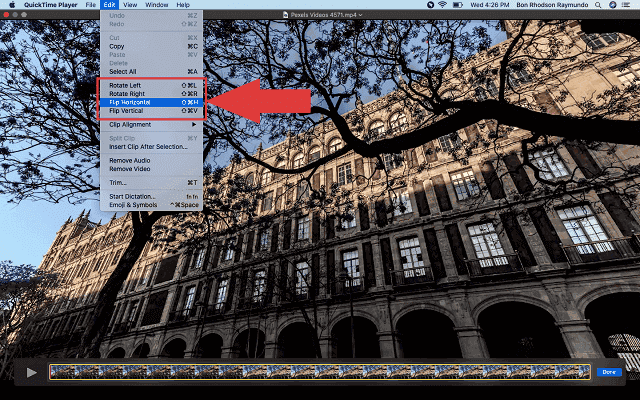 Step 4Once everything is done, you can easily click the Done button to save your video files.
PROS:
Built-in Mac application.
Media player and editor with high-resolution outputs.
CONS:
Restricted compatibility to operating systems.
Part 2. How to Play Flip Video Files on Mac
Familiarize Playing your Videos on iMovie
And if you want to play your flip files right away, you can do it with the help of iMovie. This is also a native tool for Mac users. When you're creating a movie, you may add some cool effects to your masterpiece. O perhaps you need to make various adjustments for it to appear correctly. Know how to convert flip videos on iMovie and use them to play them immediately by simply undertaking the steps written below.
Step 1First off, select your clip in the Timeline at the bottom.
Step 2Afterwards, click the Clip filter and audio effect button in the toolbar located above the Viewer.
Step 3Finally, when the Choose Clip Filter panel opens, click the Flipped button.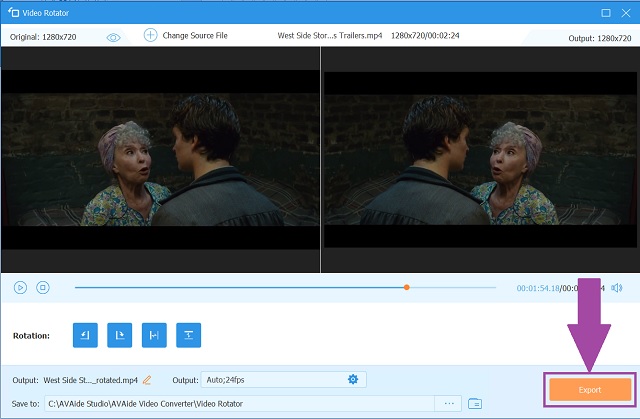 PROS:
Freeware for iOS and macOS devices.
Files can be edited and enhanced.
CONS:
Limited video formats.
Confusing and incomprehensive especially for first-timers.
Part 3. FAQs about Flipping Video
How do I flip a video without charge?
There are many tools that don't require you to pay any fee. These are online solutions that can be accessed on your internet. One among which is the AVAide Free Video Converter. This is an all-around tool that features many uses.
Can I flip my video using an iPhone?
The best way to flip your video on iPhone is to use its default gallery which is the Photo App. You can utilize it by doing quick steps.
How can I use my Android to flip video?
It is possible to convert flip videos using your Android device. For instance, you can enjoy using the Clideo app by simply downloading and installing it on an android phone.
Conclusion
To sum up this post, AVAide Video Converter, QuickTime, and iMovie are powerful tools to visit and access to. These programs can give you simplified and clear knowledge on how to convert flip videos on Mac and Windows platforms. Undeniably, one is better than the rest, AVAide Video Converter is an ideal tool for all occasions. It can be accessed and installed in different devices and operating systems such as Mac and Windows. Plus, it features tons of media menus that you can navigate without prior skills.
Your complete video toolbox that supports 350+ formats for conversion in lossless quality.