A DVD menu is a user interface on the screen when you insert a DVD into a computer's DVD player or drive. It provides an interface that allows you to access various features and content on the DVD. The DVD menu typically includes play, scene selection, special features, language selection, and more. With its help, viewers can more quickly locate the part they want to watch without waiting for a progress bar.
Making a custom DVD menu is necessary if you also want your DVDs to be more organized and framed. Numerous software developers have now launched their DVD menu makers. How should one choose between them? To answer your question, we will review 4 highly useful software programs, and you can decide which tool to use after reading the article.
Tool 1. Best Tool for Making Custom DVD Menu - Tipard DVD Creator
First of all, we recommend the best tool, Tipard DVD Creator. It's quite a versatile and powerful tool. It allows you to make DVD and Blu-ray discs with your favorite videos. You can also use it to customize the DVD menu, frame, button, text, background music, picture, etc. With this tool in hand, you can make the best DVD. Suppose you're not satisfied with the length of your current video or need to adjust some of the content. In that case, you can edit video files by trimming, cropping, adding watermarks, adjusting effects, and adding filters through it as well.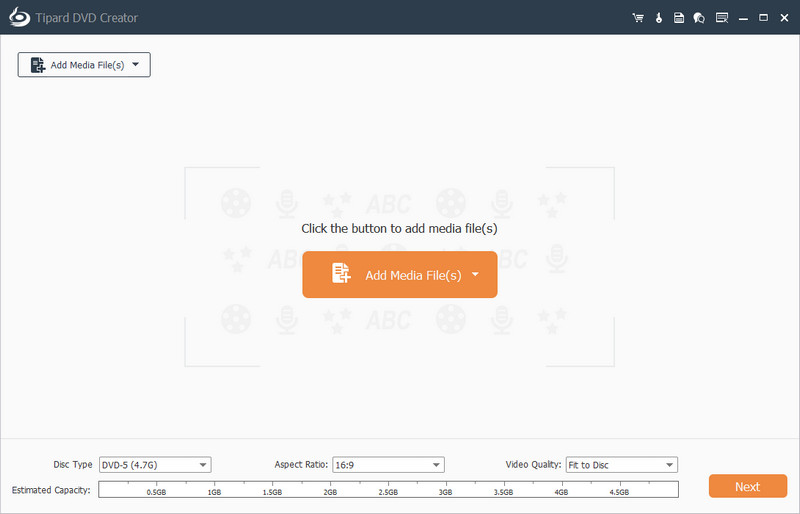 Key Features:
Create DVD/Blu-ray with video in various formats, including AVI, MP4, FLV, MKV, MPEG, TS, MTS, M2TS, MOV, WMV, etc.
Freely customize the DVD menu, frame, button, text, background music, and picture.
Select and add subtitles and audio tracks to their DVD projects.
Customize the menu template and split one video or chapter into several chapters.
Pros

Offer a user-friendly interface and very easy to use.
Wide range of applications, suitable for almost all models of equipment.
Allowing users to convert and burn videos from various sources.
Cons

The features of the free version are limited.
Tool 2. Wondershare DVD Creator
Wondershare DVD Creator is an easy-to-use tool. It helps many users create DVDs and supports almost all input formats. It lets you personalize the DVD menu with text, background pictures, music, etc. With an additional toolbox, you can burn data discs, make photo slideshow, copy DVD to DVD, convert DVD formats to other video formats, and edit your videos.
Main features
◆ Enables users to create DVDs from various video formats.
◆ Offers a wide range of built-in DVD menu templates.
◆ Edit videos before burning to DVD, such as trimming, cropping, adding watermarks, and applying special effects.
◆ Create photo slideshows with music, transitions, and customizable settings.
◆ Supports burning videos or photo slideshows to DVDs, ISO files, or DVD folders.
Pros

Has an intuitive interface, making it easy for users of all levels.
Offers various tools for enhancing videos to achieve the desired results.
Cons

Lack of some advanced features and customization options.
Do not support Blu-ray disc burning.
Tool 3. WinX DVD Author
WinX DVD Author is a software that is worth trying. It supports burning videos of various formats to DVD, including MKV, AVI, MP4, MPEG, MOV, MOD, WMV, FLV, 3GP, etc. As an advanced program, WinX DVD Author supports users to create various DVD menus with customized DVD menu background pictures, music, and text.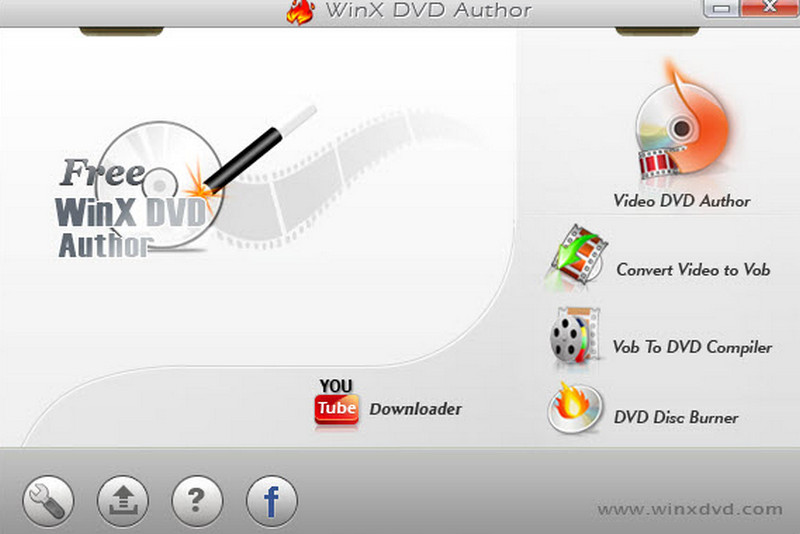 Main features
◆ Create DVDs from various video formats and camcorder, webcam, YouTube, etc.
◆ Create chapters within DVDs, making navigating and accessing specific sections easier.
◆ Ensures high-quality output with options to adjust bitrate, resolution, and other settings.
Pros

Utilizes advanced DVD-burning technology, enabling fast and efficient DVD creation.
Supports various formats for converting and burning to various disc types.
Cons

May lack some advanced options to edit the video.
The selection of built-in templates may be limited.
FAQs About Making Custom DVD Menu
How to play DVDs on the computer?
If you want to play your DVD files on your computer, prepare the DVD drive. Otherwise, your device will not recognize the files stored in the DVD. In addition, you can also choose some special tools to burn the files in the DVD and convert them to other formats for easy playback on more platforms.
Can I make a custom DVD menu in iMovie?
Sure you can. iMovie supports the feature of making a custom DVD menu. You just need to open your iMovie on the computer and choose File > Import > Movies to upload your video clip. Click Edit on the top menu to modify your file. Then click Share > iDVD to open your movie. Choose Themes > Files > Burn DVD to create a DVD.
Can I make custom DVDs with my favorite videos?
Many tools can help you do this. We recommend you use one of the most useful tools, Tipard DVD Creator. In addition to the basic burning functions, it offers a wide range of personalization tools for you to choose from. All you need to do is prepare the videos you need and import them into your discs.
Is it legal to rip your DVD?
You won't break any rules if you just rip your DVD to videos for better preservation and playback on some devices. But if you rip other people's DVDs without permission or even use them for distribution and selling them for profit, you are breaking the law and may be penalized accordingly.
What are the weaknesses of a DVD?
Although DVD has greatly facilitated the playback and distribution of videos, it has some unavoidable drawbacks. For example, it requires a specialized DVD player or drive. It is also susceptible to external damage to its surface, which may damage the data stored on it. So you need to store them carefully.
Conclusion
You may make a custom DVD menu to make your DVDs look more professional and well-organized. In this process, you may need the help of some professional tools. In this article, we provide you with reviews of four top DVD menu makers. We also list their advantages and disadvantages to help you make a better choice. We hope our content is helpful, and if you have better recommendations or want to share your experience, please feel free to leave your comments and share with us.
Best tool for ripping and converting DVD Disc/Folder/ISO image file into over various formats.