You have chosen the right post if you are about to install AirShou but still have hesitations and doubts. In this write-up, you will learn how this screen recorder functions and its unique features that could possibly help you on your future task. In addition, it will also bring out advantages and disadvantages, that will answer all the questions in your mind. Perhaps you are desperate enough to acquire a screen recorder, because who doesn't, right? Due to this pandemic, almost all meetings and gatherings are happening online with this global crisis. For this reason, the only resort for you to retain special talks is to capture them via screen recording, besides taking notes. Therefore, let's commence to meet the AirShou Screen Recorder and achieve the target now.
Part 1. An Overview of AirShou Screen Recorder
This screen recorder has been very popular due to its simplicity and potency. Furthermore, it can capture a screen to full HD or of a maximum of 1080P videos. It is also a flexible application that supports any mobile and desktop device except for the latest iOS update and for those Android with below 5.0 version. Despite that, it offers users good features without spending a dime. With AirShou Screen Recorder, you can capture online streaming, meetings, and videos without any ads interrupting. However, even in its simplicity comes its struggling procedure prior to its acquisition. It is true that, unlike the other screen recording Apps, you will need to acquire a third-party tool first before you can get it successfully. For this reason, a lot of people are hesitant to obtain it.
Recursos:
◆ It has an adjustable display.
◆ It has an adjustable frame rate.
◆ It can capture facial expressions easily.
Prós

It's free from a watermark.
Livre de anúncios.
Livre para usar.
Contras

Difícil de instalar.
It's not always acquiring HD quality.
Poor security.
Poor compatibility.
Playback issues.
Errors during installation.
How to Use AirShou Screen Recording On iPhone
Passo 1Acquire the App on iPhone
Unlike on Android devices, you will need to use Safari to search and download the Emu4ios Store (Beta). Once you have it, access the iemulatorr.com/airshou to get the screen recorder app.
Passo 2Personalize as predefinições
Launch the app once you have successfully acquired it. Initially, create an account by signing up, then proceed to its main interface and hit the icon next to Comece a gravar. You may start customizing the presets to your preference from the next window.
etapa 3Record the Screen Now
Now, hit the red circle to begin the screen recording. You will know that the recording is ongoing with AirShou when you notice that the top banner of your phone has turned red. You may stop the recording anytime when you re-access the app.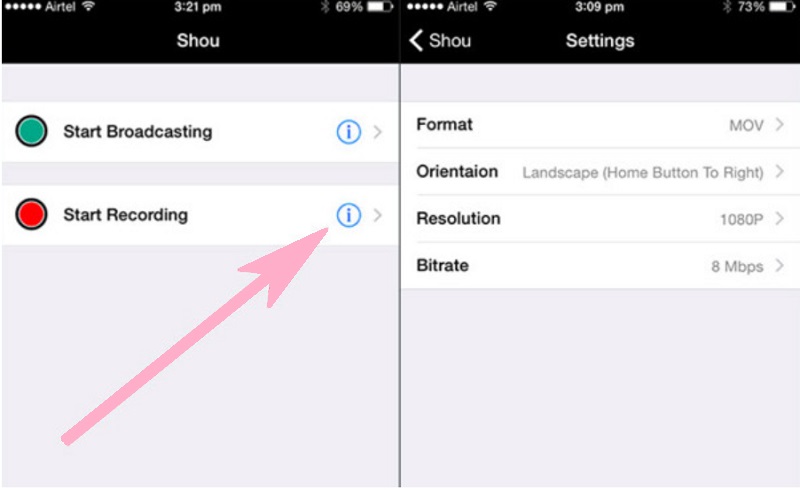 Part 2. The Best Option Besides AirShou Screen Recorder
If you opt to use your desktop in screen recording and couldn't acquire the AirShou due to your errors, it is best to lean on its best alternative, the Gravador de tela AVAide. This ultimate screen recorder has everything you need more than the other screen recorders offer. Furthermore, it has the most fascinating yet most straightforward interface that enables users to capture an entire video in just a few clicks on the mouse. In addition, unlike the AirShou Screen Recorder, there is no limit on any desktop and Mac versions while retaining the potency of its features and tools.
Every user who experienced this tool has become a fan afterward. Well, we can't oppose that, because they just have the most incredible screen recorder around the globe. A tool that captures meetings, games, calls, movies, and more, in a full HD quality. Despite that, it can capture the audio, music, and voiceovers losslessly!
Prós

Fácil de usar.
Fácil de baixar e instalar.
Sem marca d'água.
No Ads.
With a task scheduler.
Contras

The free trial has a limit.
How to Use the Best Alternative of AirShou Screen Recorder
Passo 1Download and Install the Screen Recorder
Acquire this best screen recorder to your computer device. Install it by clicking the download buttons above.
Passo 2Control on the Video Recorder
Open the screen recorder and go directly on its Gravador de video tool. But prior to that, you may want to explore the other functions of this software by checking up on the Mais option located in the last container.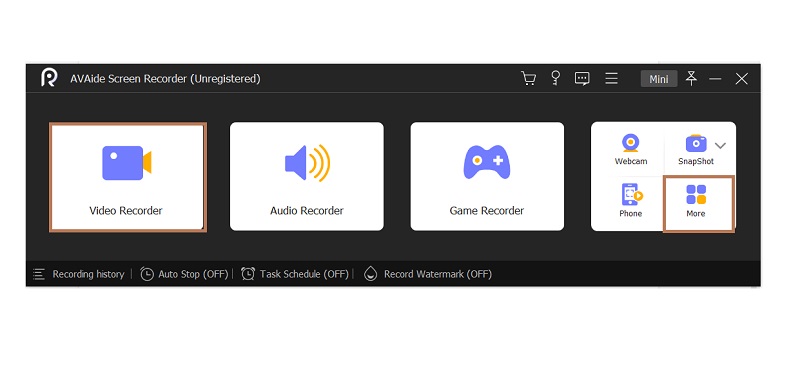 etapa 3Adjust the Display
Like the AirShou, you will be given a chance to customize the display when you hit the Personalizado option. Otherwise, if you want to capture the whole screen, hit the Cheio aba.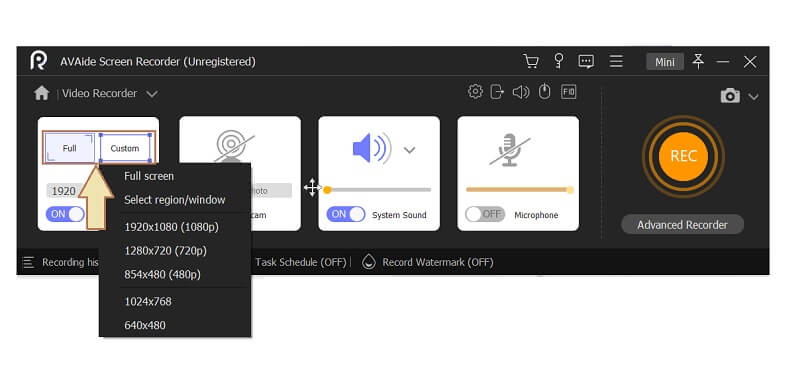 Passo 4Navigate the Advanced Recorder (Optional)
This optional step will let you know that you can capture the screen in many ways. Go to the Advanced Recorder tab under the GRAVANDO button, and choose among the options you want. If you want to emphasize particular parts of the video you want to record, choose the Around Mouse opção.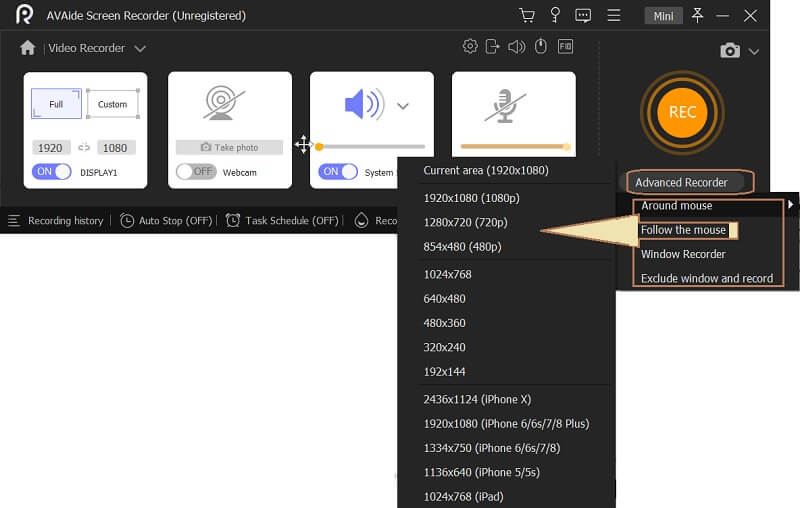 Etapa 5Comece a gravar
To start the recording, hit the GRAVANDO button of this AirShou alternative. A floating bar will pop up as a sign that the screen is already being recorded. Also, important presets and controls are available in that floating bar, such as the stop button, pause button, audio settings, etc.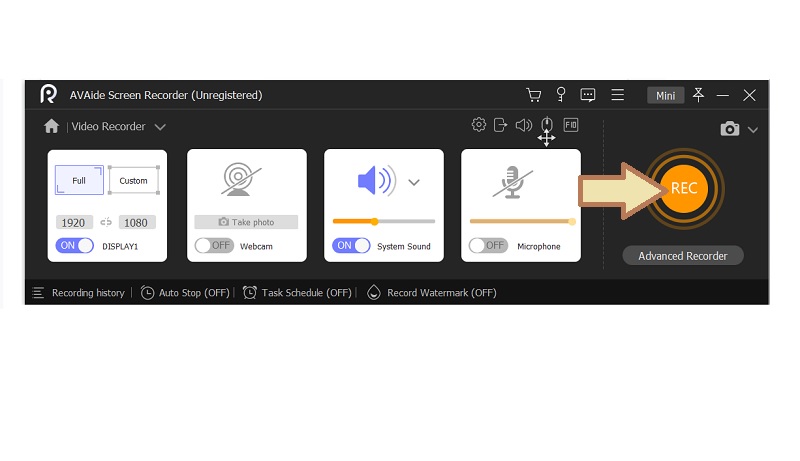 Etapa 6Personalize Your Recording
Once you stop the recording, you will redirect to the surface where you still trim your recorded video. Upon clicking the Exportar button, you will proceed to the next window, where you can label your creation. When all are good, click the Completo botão.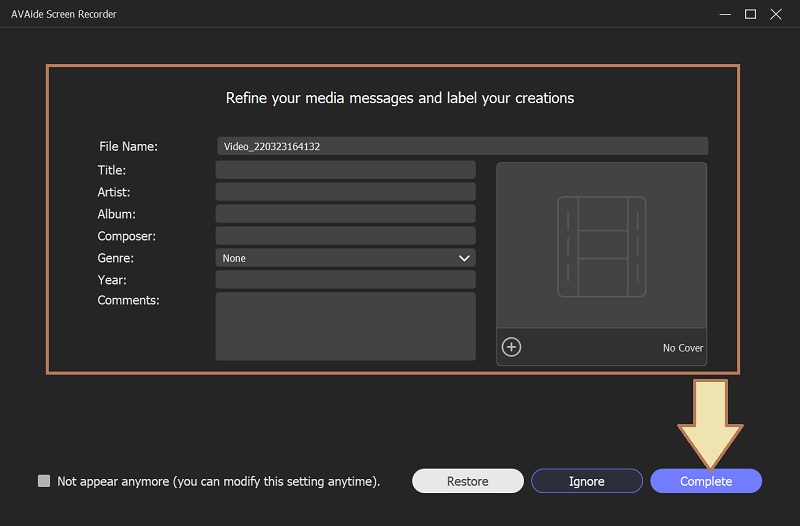 Part 3. FAQs about AirShou and Screen Recording
Why can't I download the AirShou Screen Recorder on my desktop?
It is because downloading it to your desktop would require you an emulator. This emulator is a third-party tool that will help you download and install the screen recorder.
Can I use the AirShou with my Android?
Yes. This screen recorder is flexible and accessible on desktop, iOS, and Android devices. However, as this App's procedure in its acquisition, acquiring it on Android is also hectic.
Why can't I download AirShou with my iPhone 5, even with an emulator?
AirShou only works for those iOS with ten and above updates.
Conclusão
You can now decide whether to get this AirShou Screen Recorder or not. Indeed, acquiring it is cumbersome, but it doesn't disqualify its perfect attributes, especially on its mobile version. However, if you only need a screen recorder for your computer, we recommend using the Gravador de tela AVAide.