If you are exploring other ways until you acquire the best call recorder app for Android, then indeed, you will cease the search after reading this article. We know the importance of recording a conversation via phone call nowadays. You may need to record the convo for security purposes, but you want to do it most conveniently. Yes, you may cling to your Android's built-in call recording app, but note that this app only produces an AWB audio format. So, if you need to keep your call recording in a different format, instead of getting a separate audio converting app, why not directly get a phone recording app? Therefore, check out our list with a review of the five best call recorders for Android.
| Apps | Tamanho | System Requirement | Supported formats |
| --- | --- | --- | --- |
| Call Recorder – ACR | 8.3 MB | 5.0 and up. | MP3, OGG, WAV, AMR, M4A, FLAC, MP4,3GP. |
| RMC Android Call Recorder | 6.3 MB | 4.1 and up | MP3, AMR, WAV, and 3GP. |
| Voice Recorder Pro | 5.3 MB | 4.4 and up. | WAV, AAC, MP3, and AMR |
| Auto Call Recorder | 4.1 MB | 4.1 and up | MP3 |
| All Call Recorder | 2.5 MB | 6.0 and up | 3GP |
Ver todos os programas
Part 1. Ultimate Way to Record Calls on Android [Recommended]
Gravador de tela AVAide is not an app you can acquire on your Android. Still, it is the most recommended way, for it can record your calls on Android and even your screen, games, audio, voice, and even videos from your social media account without taking up space on your phone.
Furthermore, desktop software doesn't require a high system requirement from your device. With this being said, you won't feel its existence if you are concerned with your storage space. Another reason why we highly recommend it is its full-packed features that you can barely see on other screen recording programs. Imagine this AVAide Screen Recorder lets users screenshot, record without a watermark, schedule the recording and adjust the recording length without much effort.
What else? This best call recorder for Android gives numerous setting options on recording, output, sound, camera, mouse, hotkeys, and more. Therefore, if you want to record your calls from your Android most safely and excitingly, then use AVAide Screen Recorder. Click on the download buttons below to start your incredible experience in call recording.
AVAide Screen Recorder - The Brilliant Way to Record Calls on Android!
Let you smoothly record different types of calls on your Android.
Powerful tools and features that will captivate you.
It will give you high audio quality in various formats.
With a noise-canceling mic that will assist you in recording your Android calls.
Light and virus-free program.
How to Record Phone Calls on Android Using AVAide Screen Recorder
Passo 1Launch the software on your desktop or Mac, and hit directly to its Telefone recorder. On the next window, select the Gravador Android.

Passo 2After that, a new window will appear, teaching you how to connect your Android with the tool. Follow the instructions carefully and proceed to the next step below to start the recording.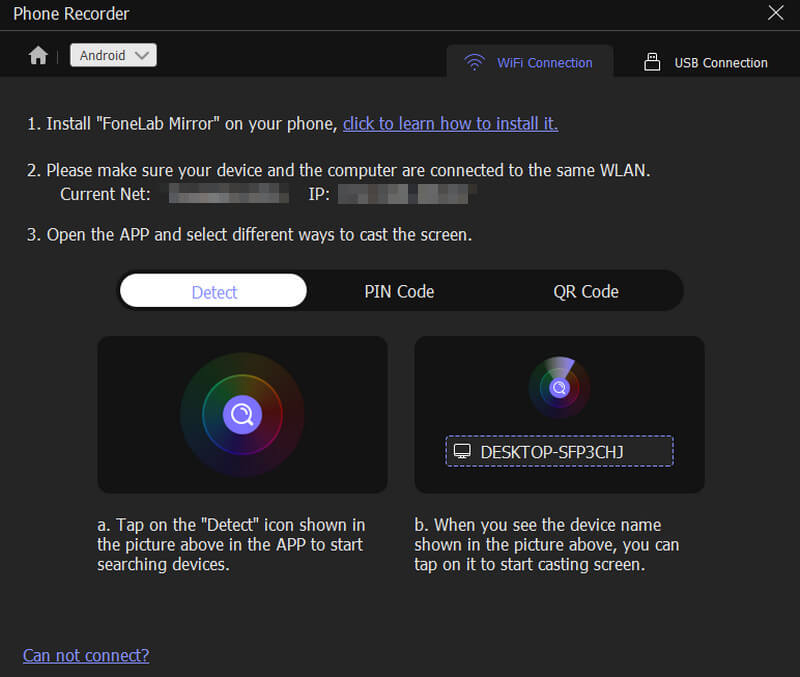 etapa 3On the recording window, click the Gravando conteúdo. From there, decide if you want to record with the screen or not. If you want only an audio output, then untick the Screen, and tick only the Phone Microphone seleção.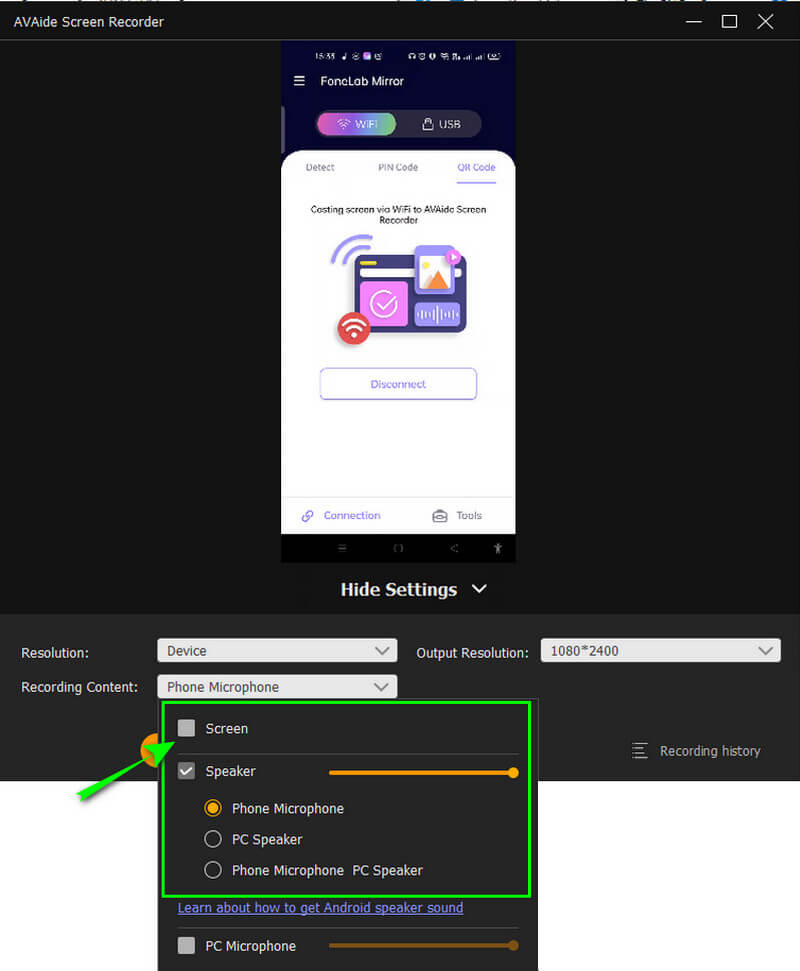 Passo 4After that, you can hit the Registro tab and start calling on your Android. When the call has ended, click the Pare button of this software and export the file.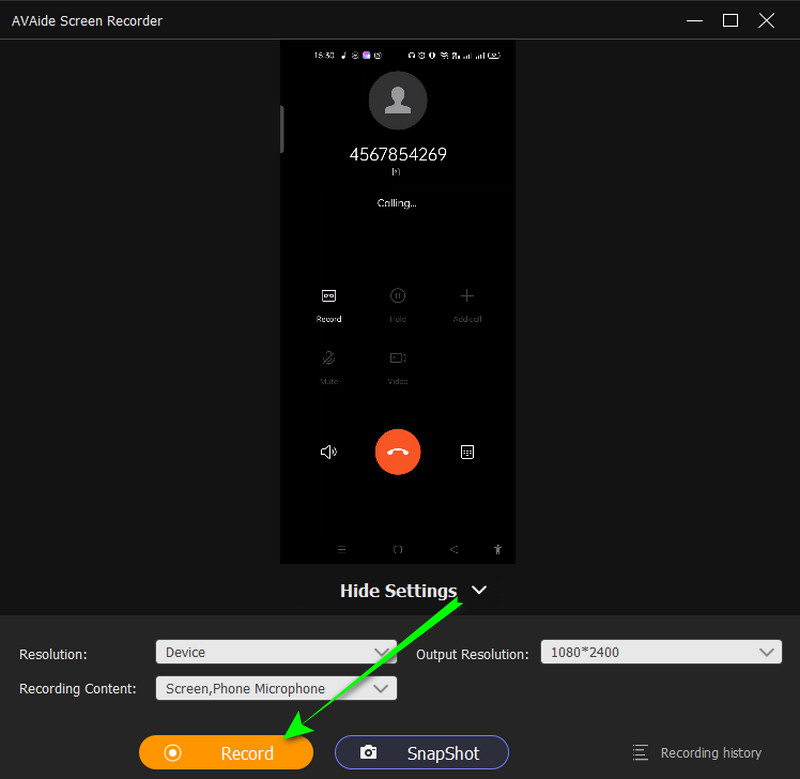 Part 2. Top 5 Call Recorder Apps on Android
Call Recorder - ACR
Call Recorder - ACR is an app that allows you to use its other features besides call recording. Furthermore, it has advanced tools to let you transcribe your calls and add notes to the recording. Amazingly, this app collabs with cloud storage services that will provide you with data backups.
Prós

Support various audio formats for your recording.
É fácil de usar.
Secure the call recording with a password.
Contras

De vez em quando trava.
RMC Android Call Recorder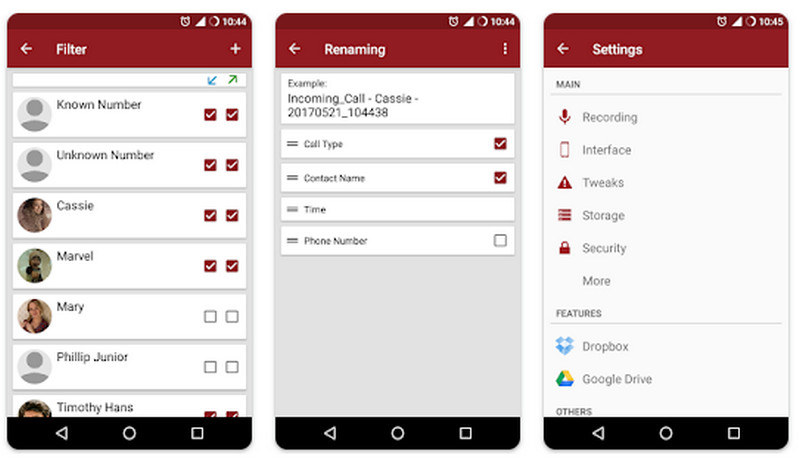 RMC Android Call Recorder is the following recording app that lets you quickly save the call recorded files on your mobile storage. Furthermore, it provides you with both automatic and manual options in the recording. If you are seeking an app with comprehensive support on various formats, RMC Android Call Recorder is one of the best choices, for it supports 3GP, MP4, MP3, and AMR.
Prós

It has an automatic and manual mode in a recording.
With a wide range of popular audio formats.
It has a simple and easy-to-understand interface.
Contras

It requires users to turn on the phone speaker in recording.
Voice Recorder Pro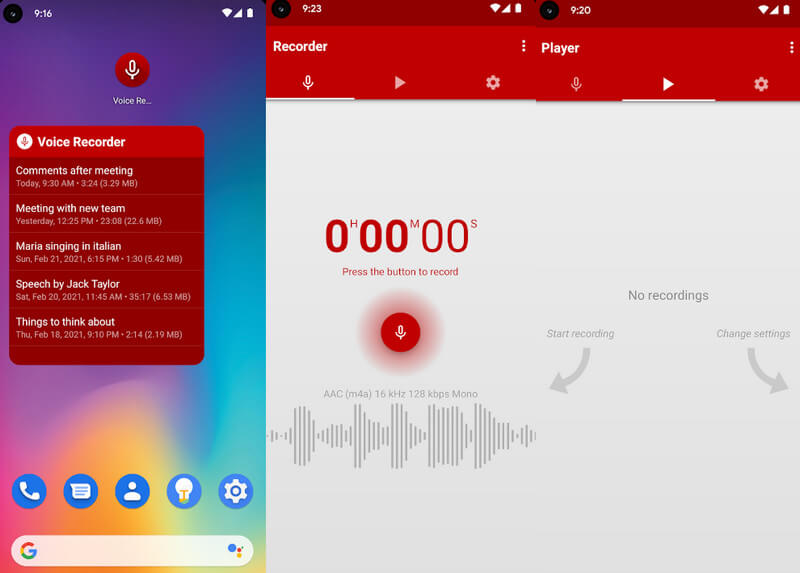 Next on the list is this Voice Recorder Pro. It is a voice recorder that lets you record lengthy phone calls and memos. Furthermore, this app won't need your external storage, for it completely works fine without it.
Prós

It produces recording files in AAC, AMR, WAV, and MP3.
With mono and stereo recording option.
It has a built-in media player.
Editing tool to customize sample rate.
Contras

It occasionally fails to record minimal sounds.
Auto Call Recorder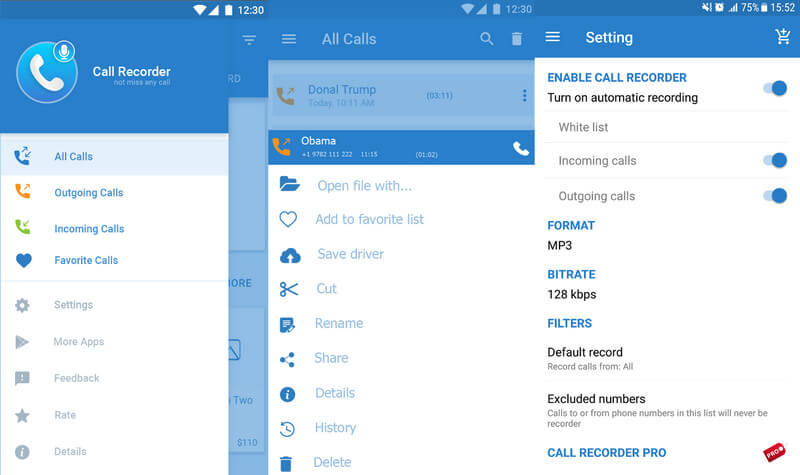 Auto Call Recorder lets you record your phone call automatically, as its name suggests. After recording, this app will save your recorded file in MP3 format and keeps it in SD card storage or directly in your phone's internal storage.
Prós

Provide a search bar to search for your recording file easily.
It comes with diverse formats in the recording.
It is infused with valuable options to tweak the recording.
Contras

It occasionally fails to catch up with the clarity of the conversation.
All Call Recorder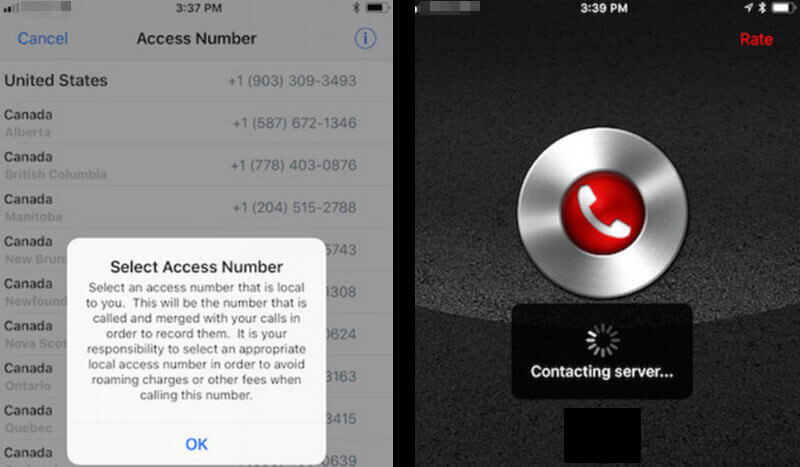 All Call Recorder is the call recording app that allows users to capture single and group calls. This is a nice feature because it can be essential for teleconferences and records detailed conversations.
Prós

It comes with a lite version.
É fácil de navegar.
It allows you to toggle off the call recording tool.
Contras

It comes with many ads.

Gravador de tela AVAide
Gravar tela, áudio, webcam, jogabilidade, reuniões online, bem como tela do iPhone/Android no seu computador.
Part 3. FAQs about Call Recording Apps on Android
Where are the recorded files from the built-in recorder of Android?
Your built-in app's recorded call files are directly saved on the music app.
How can I record phone calls with my Android?
To record your phone calls with your Android, tap the Record button from your call control key on your dial screen.
Can I transcribe calls with the Android call recorder?
No. The built-in phone call recorder of Android cannot transcribe the call. The best call recording app for Android you can use for this matter is the Call Recorder - ACR, which has a feature for the task.
Conclusão
We now hope you cease seeking a call recording app for your Android. By reviewing the article content, you can have the time to pick the right app that captures your interest. Nevertheless, consider choosing the AVAide Screen Recorder because it is one of the melhor software de gravação de áudio for Android call recording. Meanwhile, it can be used to record calls on iPhone.
Gravar tela, áudio, webcam, jogabilidade, reuniões online, bem como tela do iPhone/Android no seu computador.