VLC is a popular media player, and it has millions of users in the world. It is a cross-platform player available for both computers and phones. However, despite its popularity, you might want to look for a VLC alternative for different reasons. This post introduces you to the seven best alternatives to VLC.
Part 1. VLC Alternatives for Mac and Windows PC
VLC Media Player supports macOS, Windows 11/10/8/7, and Linux. This part lists the 5 best alternatives to VLC that you can use on your computer.
AVAide Blu-ray Player - VLC alternative for Mac and Windows
AVAide Blu-ray Player is an all-featured VLC alternative that can play Blu-rays, DVDs, 4K, 1080p/720p HD, SD videos, and lossy/lossless audio files. It supports frequently-used video and audio formats, including MP4, FLV, AVI, MOV, MKV, MP3, FLAC, AAC, M4A, and more.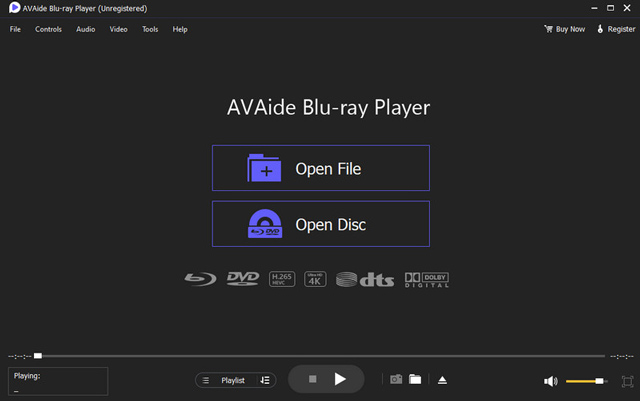 This alternative to VLC Media Player utilizes hardware decoding and applies advanced technology to ensure smooth and stable playback. Moreover, it can automatically enable Dolby Digital or DTS to play audio with high sound quality. This VLC alternative lets you play 3D movies on a Windows PC or Mac.
AVAide Blu-ray Player - Best VLC Alternative
Best VLC alternative to play media files in over 500 formats.
Play Blu-rays, DVDs, folders, and ISO image files smoothly.
Hardware acceleration technology powered by NVIDIA, AMD, and Intel.
Offer flexible playback controls and high-quality playback.
PotPlayer - VLC alternative for Windows
PotPlayer is a free media player available for 32-and 64-bit Windows operating systems. This VLC alternative supports various file formats and codecs, including MP4, MOV, AVI, MKV, FLV, MPEG, MTS, ASF, MP3, MOD, WAV, FLAC, AAC, and OGG. It is lightweight and has many customizable functions, including skins, visualizations, and shortcuts.
Better than VLC Media Player, PotPlayer can play 360-degree and 3D videos with vivid visual effects. Moreover, it supports OpenCodec to add any necessary codec to optimize your viewing experience. One significant drawback of PotPlayer is that it does not have a Mac version and can't play Blu-ray movies.
GOM Player - VLC alternative for PC and mobile
GOM Player is a popular media player that supports various file formats and codecs. This alternative to VLC is compatible with Windows, macOS, iOS, and Android. It has a Subtitle Library to automatically find and sync subtitles for your loaded movies. Also, GOM Player gives you various playback options, such as gapless playback and video capture.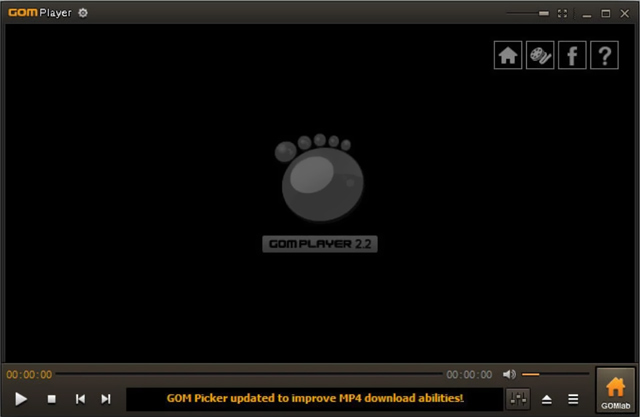 Compared with VLC, GOM Player can offer a better visual experience. It enables you to watch 360-degree VR videos and 4K movies. With its concise interface, you can handily enjoy your media files. It lets you freely customize the interface with various skins.
5KPlayer - VLC alternative for Mac and Windows
5KPlayer is a popular media player that can play 4K UHD and 3D movies, DVDs, IPTV, and audio. As a player alternative to VLC, it lets you wirelessly stream various media files through AirPlay and DLNA without losing quality. You can easily screencast them to a larger screen like your smart TV or laptop.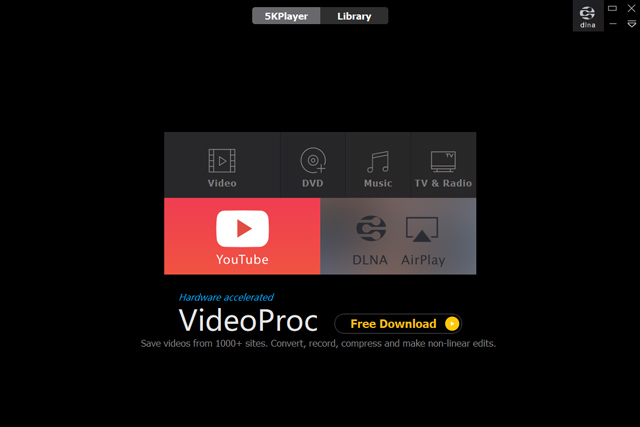 5KPlayer adopts NVIDIA CUDA, Intel, and AMD hardware acceleration to ensure you can play high-definition videos smoothly with minimal consumption of CPU and GPU. It is designed to light to guarantee no lag or delay when streaming videos. In addition, 5KPlayer has a built-in radio player to enjoy various radio stations, such as BBC, ABC, Gold, LBC, WNYC, and more.
IINA - VLC alternative for Mac
IINA is a modern and open-source media player designed specifically for macOS. If you are searching for a good VLC alternative to use on your Mac, you can try it. IINA supports various file formats and codecs. It is equipped with advanced playback features, such as picture-in-picture, Force Touch, Touch Bar, and customizable subtitles.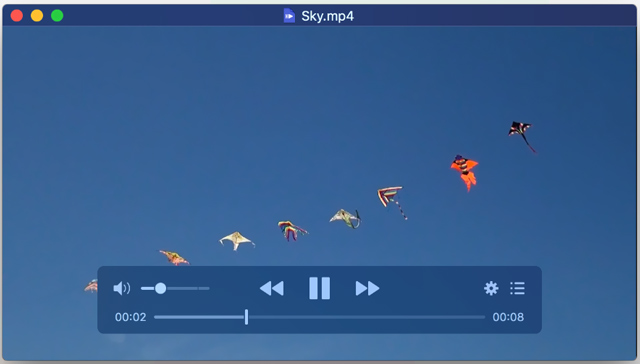 IINA uses the post-Yosemite design language of macOS and has a clean and user-friendly interface with a dark mode option. The VLC alternative for Mac is powered by the open-source media player MPV. You can download various browser extensions to enjoy almost all media files.
Part 2. VLC Alternatives for Android and iPhone
VLC offers mobile apps for Android and iOS users. However, VLC for Android and VLC for iPhone lacks many useful functions in its desktop versions. To explore alternative media players offering more features or a different user experience, check the VLC alternative apps below.
Kodi - VLC alternative for Android
Kodi is a media player that allows users to play videos, music, podcasts, and other digital media files for free. It supports many devices and operating systems, such as Windows, Linux, Android, macOS, and iOS. But you must jailbreak your iPhone to use the Kodi app. We don't recommend doing that. So, you'd better take it as a VLC alternative for your Android phone.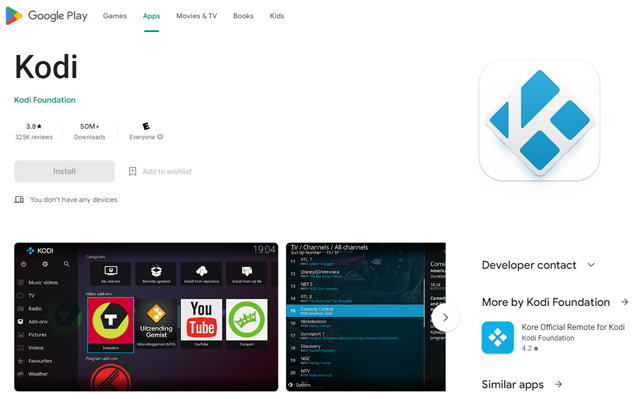 Kodi supports almost all file formats and codecs. Moreover, it offers add-ons to enhance your user experience. It has a customizable interface to freely change skins. This VLC alternative for Android also lets you stream videos, songs, podcasts, and pictures from your Android device, local network, and the internet. You can free install Kodi from Google Play Store.
KMPlayer - VLC alternative for Android and iOS
KMPlayer is a great VLC alternative for both Android and iOS users. It supports various media formats. Moreover, KMPlayer has a built-in codec pack, equalizer, subtitle editor, and features like 3D playback, screen capture, and video effects. It gives many options to control the playback, such as a quick button, bookmark, subtitle, and playback speed settings. This alternative to VLC lets you select parts of a video as your favorites, do A-B repeats, choose your favorite skins, and more.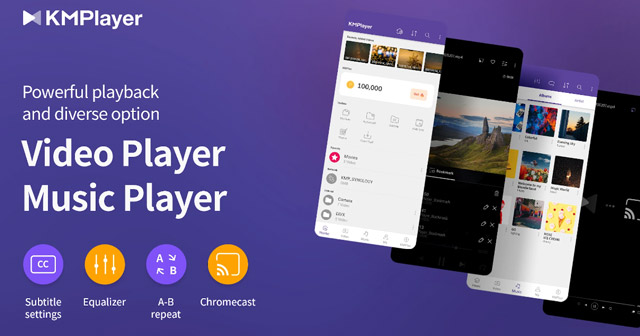 KMPlayer enables you to watch high-resolution videos on your smart TV through Chromecast. Also, you can stream any videos by entering URLs. It is compatible with various networks, including UPnP, SMB, FTP, and WebDAV. In addition, this VLC alternative app supports Google Drive, OneDrive, and Dropbox. You can download KMPlayer from Google Play Store and App Store.
Part 3. FAQs of VLC Alternative
Why do you need a VLC alternative?
You need an alternative to VLC for several reasons, such as compatibility issues, performance issues, or a need for additional features. For instance, you may find that VLC crashes too often on your device or does not support certain file formats. Sometimes, you may prefer a media player that includes advanced functions.
What features should a VLC alternative have?
When you search for an alternative to replace VLC, it should support more video and audio formats. A VLC alternative should have screencast, 3D playback, and other functions that VLC lacks. Also, it should give you a good user experience and work stably.
Can QuickTime be a good VLC alternative for Mac?
QuickTime Player is an official media player bundled into the macOS. You can use it to play many media files on a Mac. But VLC Media Player can support more file formats and codecs. It also carries more functions than QuickTime. So, there are better options than QuickTime to replace VLC, even for Mac users.
Conclusion
These are seven of the best alternatives to VLC Media Player that you can use on Windows, Mac, iPhone, iPad, and Android devices. They offer varying degrees of features and customization options. You can pick your desired one that best suits your needs.
Full-featured multimedia player to play Blu-rays, DVDs, 4K UHDs, and other video/audio files.