Blu-ray player is the best tool to play your Blu-ray movies. And the remote of the Blu-ray player can help you control the playback conveniently. But when you open your Blu-ray player, you find that your Blu-ray remote is lost or not working properly. It is a challenge for you to watch Blu-ray discs without a remote control.
However, there are alternative ways available to solve the remote problem. This article will explore 3 effective ways to play Blu-ray discs without a remote. Whether you've lost your Sony, Samsung, or LG Blu-ray Player remote, you'll find a solution to play your Blu-ray discs.
Part 1. How to Watch Blu-ray Without Remote
Way 1. Play Blu-ray Discs Using Buttons
Most Blu-ray players are equipped with buttons on the device itself. So, you can still control some basic functions even if you lose the remote. Utilizing these built-in buttons allows you to navigate through menus, select options, and play your Blu-ray discs manually.
For most Blu-ray players, there are common buttons on the front or top panel. These universal buttons include Power, Eject, Play, Pause, Skip, Stop, Audio, Menu, and more.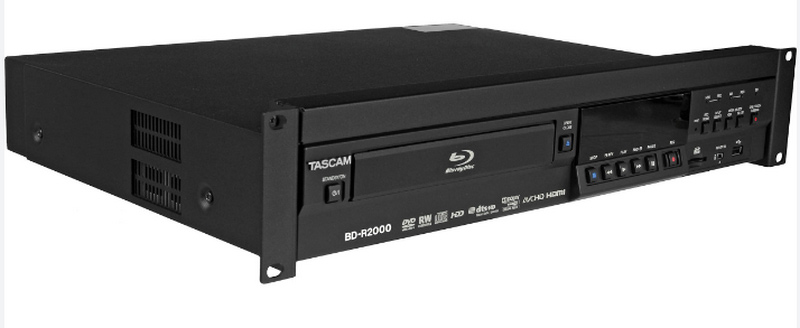 Although this method lacks a remote's convenience, it is a reliable way to play Blu-ray directly.
Note: If you are unclear about the buttons, read the Blu-ray player manual first. Then, you can get detailed button information.
Way 2. Play Blu-ray with Universal Remote App on Smartphone
If your Blu-ray player doesn't have the physical buttons, another way is to download a universal remote app on your smartphone. You can download the app for your iPhone or Android. And then, the app can help you to turn your phone into a virtual remote control. After downloading, you must confirm that your smartphone is connected to the same Wi-Fi as your Blu-ray player. After the configuration, you can control the Blu-ray player through the app's interface.
There are popular universal remote apps for controlling the Blu-ray player in the market. For example, you can download AnyMote, Peel Smart Remote, SURE Universal Remote, ASmart Remote IR, etc. These apps are usually compatible with well-known Blu-ray player brands like Sony, LG, Samsung, Panasonic, Philips, etc.
Besides, some Blu-ray players have built-in remote apps. Take Sony, for example. You can use a remote-control app for Sony Blu-ray player. Here are the steps for you.
How to use a Sony Blu-ray player without remote
Step 1Download the Sony Universal Remote Control app from Google Play Store. Open it on your Android phone.
Step 2Tap Sony BluRayPlayers to connect your Blu-ray player. Please confirm your Blu-ray player must be turned on and connected to the same Wi-Fi with this phone.
Step 3After connecting, you can navigate through the menus and select playback options. Afterwards, you can enjoy your movies without the Sony Blu-ray player remote.
Note: Please note that not all smartphones have an infrared (IR) blaster. But most universal remote apps require an IR blaster to control the Blu-ray player. Before using a universal remote app, check if your smartphone has an IR blaster. If your device does not have it, look for other methods the app supports. For instance, you can try Wi-Fi or Bluetooth.
Way 3. Play Blu-ray Movies with Avaide Blu-ray Player
Pressing buttons on Blu-ray without a remote or downloading a remote app on your phone is a little complex. But you love watching Blu-ray movies, so what is a better way to play them than with Blu-ray Player?
It is a great idea to watch a Blu-ray disc on your computer. It can help you eliminate the restriction of the physical Blu-ray player or remote control. You can download software for playing your favorite Blu-ray movie, such as AVAide Blu-ray Player. With this powerful software, you can enjoy Blu-ray videos up to 4K quality. Meanwhile, you can control the playback functions directly with the keyboard or mouse. Moreover, you can use the player to play your DVDs, ISO files, and digital videos.
Here are the steps to play a Blu-ray disc without remote
Step 1Download the Blu-ray player software on your desktop. Insert a Blu-ray disc into your computer's disc drive. Then, click Open Disc on the main interface to enter the new window.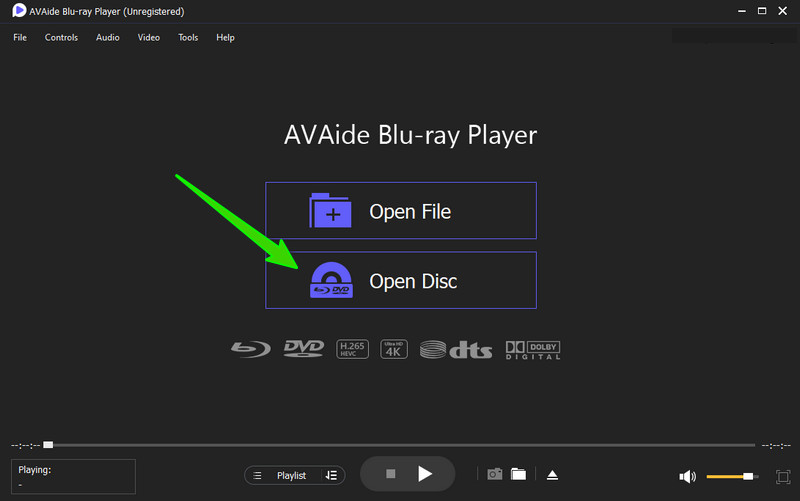 Step 2Select the Blu-ray disc you just loaded. After that, click OK to proceed to load the disc.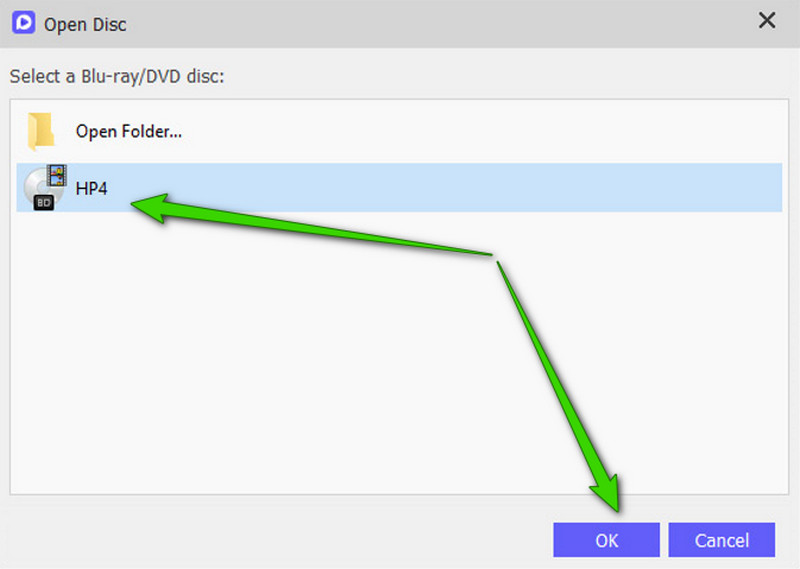 Step 3Now, the software will play your Blu-ray movie automatically without a remote. And you can view its playback control window. From there, you can navigate the buttons such as Next, Pause, Stop, Eject, and more.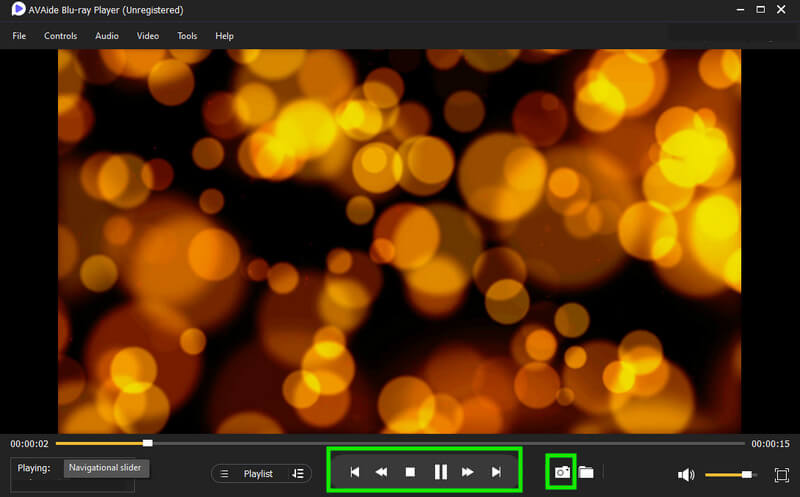 When you click the Stop button, it will exit the playback window. And if you click the Eject button directly, it will eject your Blu-ray disc automatically. All in all, if you lost you remote, you can still find the alternative way to play your favorite Blu-ray movies.
Tips: If you want to free software to play your high-quality Blu-ray movies on a Windows computer, you can get some free Blu-ray players for Windows here.
Part 2. FAQs of Using Blu-ray Without Remote
Can VLC play Blu-ray discs?
No. VLC media player does not support playing Blu-ray discs. Blu-ray disc playback requires specific licensing and decryption capabilities. But these are not included in VLC by default. However, you can use VLC to play Blu-ray ISO files or folders on your computer. Besides, you can also burn DVD with VLC.
Can I program Sony Blu-ray remote to TV?
Yes. It is also possible to program a Sony Blu-ray remote control to operate your TV. Many Sony Blu-ray remotes come with universal or multi-brand control features. It allows the remote to be programmed to control other devices, such as TVs.
How to get a universal remote code for Sony Blu-ray player?
You can find it in the user manual or instruction guide accompanying your universal remote control. You may also find it on the manufacturer's website.
Can I use my Samsung Blu-ray player without a remote?
Yes. A Samsung Blu-ray player remote control app can help you if you lost the remote. But you should confirm the app's compatibility with your Samsung Blu-ray player.
Conclusion
Losing the remote of the Blu-ray player doesn't mean the end of your movie night. You can overcome the absence of a remote by using the Blu-ray player buttons, downloading a universal remote app, or employing AVAide Blu-ray Player. And then, you can continue enjoying your Blu-ray collections.

Please try these methods according to the brand and model of your Blu-ray player. Then, you will find the solution and start your Blu-ray watching. If you have other questions about the Blu-ray player, comment below.
Full-featured multimedia player to play Blu-rays, DVDs, 4K UHDs, and other video/audio files.