Are you a video game enthusiast who also loves watching movies? Well, you might be one of those users who asked yourself, "Can I watch a DVD movie on my Wii?" as well. To give you an answer, it's a no. It is because there is no direct way to play a DVD on a video game console like Wii. But fortunately, there are plenty of proven effective methods you can try to satisfy your needs. In this post, learn more information about playing a DVD on Wii.
Part 1. Tip: Wii Supported Formats & Device Connection
The Wii game console supports only a few formats and several connected devices. As for the formats, Wii supports DIVX, MP4, MOV, and AVI.
While you can connect the following devices with Wii:
◆ Television (TV) with composite cables (yellow, red, white) and component cables (red, green, blue, red, white)
◆ Computer monitors using a VGA or DVI
◆ SD card
◆ Projector
◆ USB storage devices
◆ USB keyboard
◆ USB microphone (for some games and applications that support voice input and interaction)
Part 2. How to Play a DVD on Wii
Since it is not easy and Wii does not support DVD playback, you can turn Wii into a DVD player instead. How do you do that? It is through the help of HomeBrew Channel. It is a self-updating homebrew application that allows you to play and run unofficial games and applications on your Wii. It also ensures that you can play your DVD on Wii.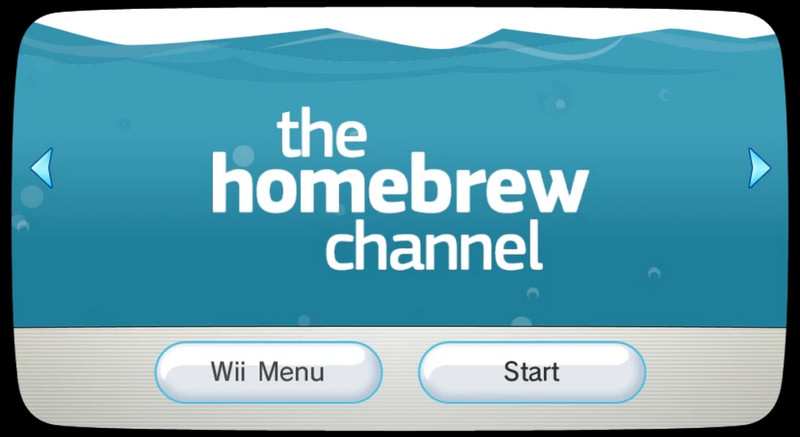 But before proceeding to that, you need to know what you should prepare first.
◆ The Wii running system version is 3.2 or earlier
◆ An internet connection to download necessary files
◆ A FAT/FAT32 formatted SD card (2GB or smaller is recommended)
◆ An SD card reader/writer
◆ The Homebrew Channel installer
◆ A Twilight Hack
◆ The Legend of Zelda: Twilight Princess
◆ A media player that is compatible with playing DVDs
◆ A DVDx application that allows Wii to read the inserted DVD
Steps on How to play DVD on Wii with Homebrew Channel:
Step 1Install the Homebrew Channel app.
1. Insert the SD card into your PC. Afterward, copy the private directory of the Twilight Hack to your card. Then, copy the Homebrew Channel boot. dol file.
2. Next, eject the SD card from your computer and insert it into your Wii console. Then, delete the Zelda file in Wii File Manager.
3. Now, there are two Zelda versions available. These are the RVL-RZDE-0A-0 and RVL-RZDE-0A-2. Make sure to select and apply the right version with your Twilight Hack.
4. Then, insert the Zelda game disc, start the game, and save it. After the Homebrew Channel Installer starts, HBC will also be installed. Then, you can access the app like any other Wii program.
Step 2Install DVD Playback program.
1. Safely eject your SD card from your Wii and insert it back into your computer. Delete the copied files from the first step and create a folder named apps. Then, Copy the apps folder from the extracted DVDx installer to the root directory of your SD card.
2. Now, remove your SD card and connect it back to your Wii. Turn on Wii and launch the Homebrew Channel.
3. Finally, run the DVDx installer app. When it starts, choose Normal Installation and wait until it is finished.
Step 3Play the DVD on Wii
1. Insert a video DVD on Wii, then return to the Homebrew Channel. Then, start the DVD player.
2. Select DVD-Video from the MPlayer menu to play your DVD, and then press the Start button. Wait for a few seconds, and finally, play your desired DVD.
Please note that using homebrew software like the Homebrew Channel can have risks, and your Wii might become brick. Although it enables you to watch DVD movies as you wish, ensure you use trustworthy sources and follow the instructions carefully. Click here to find answers to the question of whether Wii can play Blu-ray.
Part 3. Rip DVD and Let Wii Play DVD
If you find the methods mentioned above to play Wii on DVD too complicated and confusing, you can use AVAide DVD Ripper.
AVAide DVD Ripper is a powerful DVD-ripping tool for extracting and converting DVD content into various formats, such as MP4, MOV, AVI, and more. Besides ripping DVDs into different formats, it offers a broad range of supported devices, including gaming consoles like Wii, smart TVs, tablets, mobile devices, etc. One notable feature of this program is that it allows you to rip multiple DVD contents simultaneously.
Here's how to play a DVD on Wii by ripping it first using AVAide DVD Ripper.
Step 1Get started by clicking the download button below to obtain AVAide DVD Ripper. Install and launch it on your computer. Before proceeding to the next step, ensure the DVD is inserted into your computer disc drive.
Step 2Now, click the Load DVD or Plus button to add the DVD you want to rip.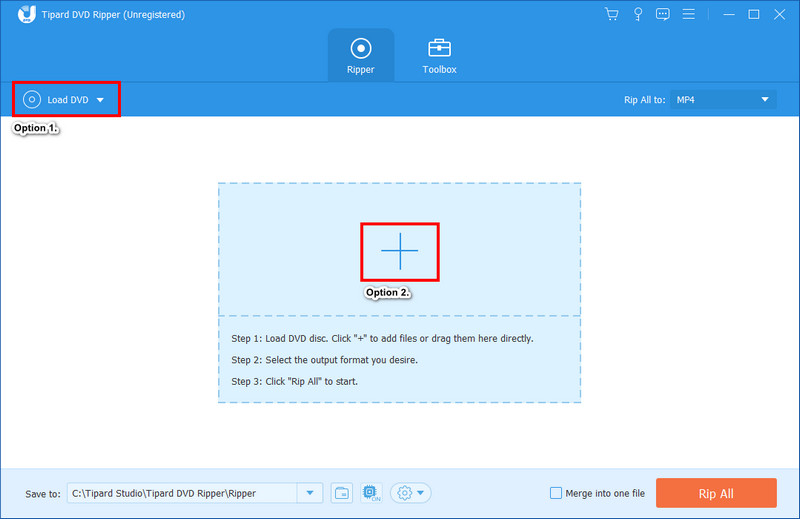 Step 3Navigate to Rip All to drop-down menu and head to the Device section. Then, select the Games option and locate the Wii.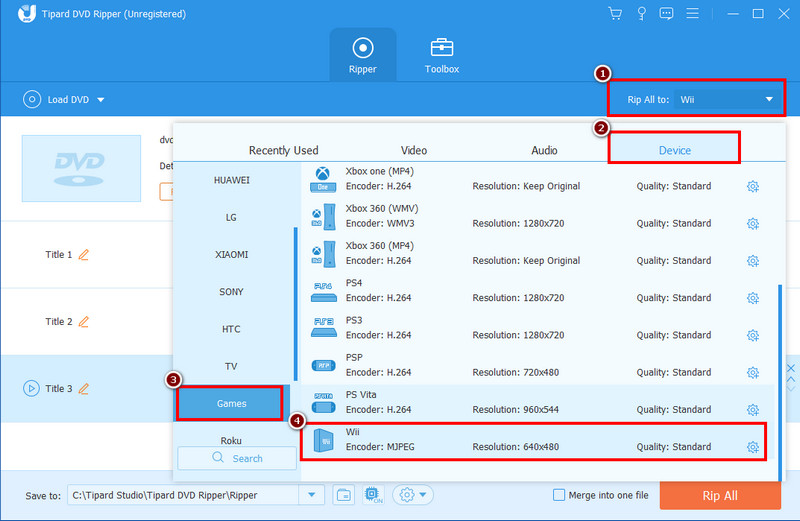 Step 4Once done, click the Rip All button to execute the DVD ripping procedure.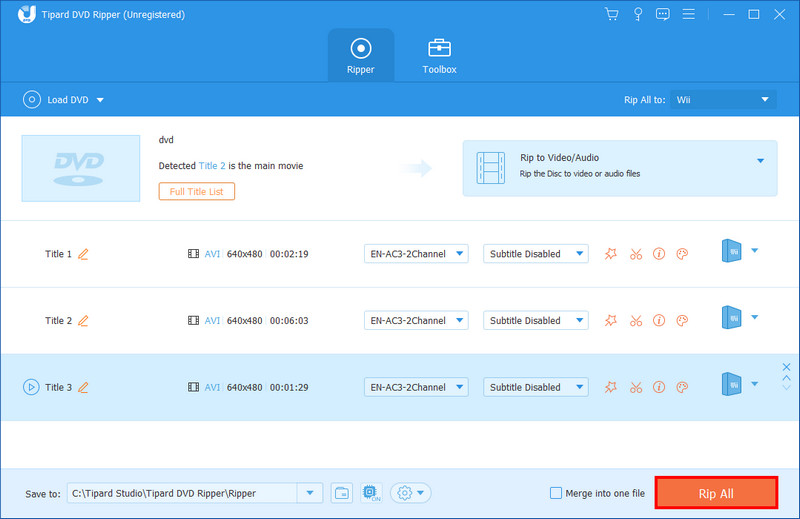 Step 5After ripping the DVD successfully, copy the content into an external drive. Next, insert the external drive containing the ripped Wii content and start playing it!
Part 4. FAQs About Can I Play a DVD on Wii
Can I connect a Wii to a DVD player?
Unfortunately, no. Wii cannot connect to a DVD player natively. The main purpose of the Wii is to play Wii and GameCube games. Additionally, it is used to access several multimedia and online features.
Does the Wii play DVD or CD?
No. As mentioned, you cannot play CDs or DVDs on Wii directly. If you wish to play a DVD on Wii, it would be best to rip it into a compatible format supported by your gaming console. Use AVAide DVD Ripper to get the job done quickly and follow the above steps.
Is Wii region-locked?
Yes. Wii is region-locked. That means you can only play games and content from the same region where you bought the console. On the other hand, if you wish to play a region-coded DVD, use AVAide DVD Ripper. This software can rip DVDs from various regions into a compatible format and device.
Can Wii play the encrypted DVD?
No. Wii is not designed to play DVDs, encrypted or otherwise. It doesn't have the necessary hardware to enable DVD playback.
Conclusion
In summary, you have learned the devices and formats supported by Wii and can a Nintendo Wii play DVD movies. Although you cannot play DVDs on a Wii directly, there's still a way to do it, as mentioned above. Likewise, if you want a hassle-free way to let your Wii play your favorite DVD movie, we recommend AVAide DVD Ripper. With it, you can rip all the DVDs you want to watch to any format compatible with popular devices, including gaming consoles like Wii.
Best tool for ripping and converting DVD Disc/Folder/ISO image file into over various formats.