Have you ever found yourself in a situation where your audio or FLAC files need more accurate information tags or need to have any? If you want to keep your music collection organized and upgrade your listening experience, here are some amazing tools to edit tags and organizing your files into categories. Let's look into popular FLAC editors online or on a desktop, and with these fantastic tools, enjoy your music experience to its fullest.
Part 1. Top 4 FLAC Tag Editors
1. All-in-One Editing Software: AVAide Video Converter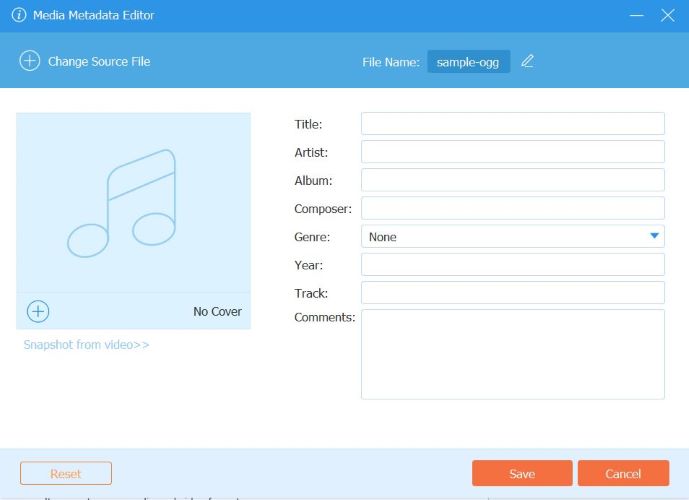 You can edit your media file metadata in no time with AVAide Video Converter. It's an all-in-one video editing and converter software with a rich array of advanced features and one of Mac and Windows's best FLAC metadata editors. AVAide Video Converter provides a robust video and audio editing solution with tools, such as video enhancer, audio compressor, video reverser, noise remover, and many more.
Pros

Advanced tools and functions to make your video and audio editing experience a breeze.
Provides swift tag editing process.
Edit and convert your files without quality loss.
It allows you to add a snapshot from a video as an album cover.
Easy to navigate and modern user interface.
It supports many audio and video formats.
Available on both Mac and Windows.
Cons

You need to download and install the software.
Not available on mobile.
2. TidyTag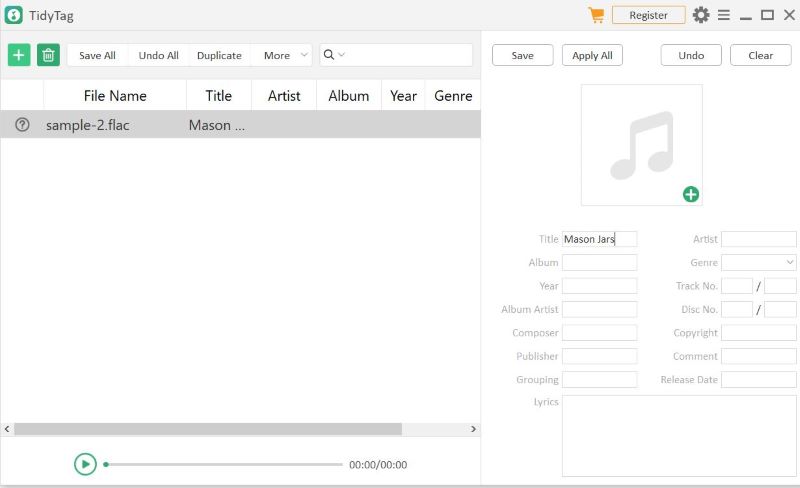 TidyTag provides a straightforward approach to tag editing with its intuitive interface. It is built with simple functions that allow you to edit your file's metadata from title, album, year, lyrics, and many more. So, if you want a simplistic approach to your metadata editing, TidyTag is an excellent choice as a FLAC Tag editor on Windows and Mac.
Pros

Allows you to remove duplicate tags.
Add, edit, and remove tags with just a few clicks.
Manage your files by tag.
Easy to download and compatible with both Windows and Mac.
Edit your metadata files offline or online.
Cons

You can only use it to edit the tags or metadata.
If unregistered, it only allows you to edit metadata for a maximum of 20 music files for free.
3. TAGMP3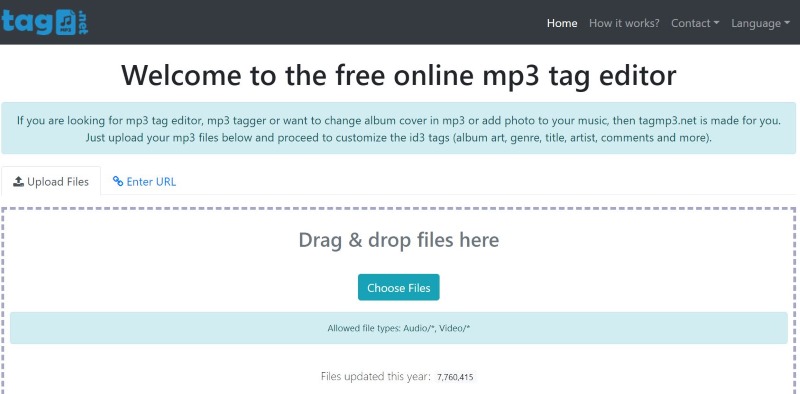 If you need an online FLAC ID3 editor, TAGMP3 is a preferred choice for many users. It is an online metadata editing platform that allows users to edit their ID3 tags with comprehensive guidelines and tutorials within their page; you're guaranteed a smooth ID3 editing experience.
Pros

It supports almost all formats for audio and video editing.
It supports batch editing.
Available on all platforms.
Provides a comprehensive guide on how to use their platform.
Automatically identifies id3v1 and id3v2 versions and automatically converts an outdated id3v1 file to id3v2 during uploading.
Your files are secured, as it automatically deletes them after 15 minutes.
Cons

It has a few Ads
An Internet connection is required to use and access it.
Your previously edited files cannot be viewed or downloaded again.
It does not allow adding lyrics.
4. TagTuner

If you want to edit your media metadata tags but need more information, TagTuner suits your editing needs. It's an ID3 editing software that allows you to edit your audio file's metadata. What's great about this program is that it helps you find album information with its built-in feature to make your metadata editing process quick and easy.
Pros

Easier album information search.
Full-featured tag editing environment.
It supports various audio formats.
It has a built-in media player.
Cons

Only available on Windows.
You need to download the software.
Requires internet connection to access some features.
It has an outdated user interface design.
Part 2. How to Edit FLAC Tag Using AVAide Video Converter?
Now, let's delve into how to edit your FLAC file's metadata, whether to update song titles, artists, and albums, add details to organize your music files, or achieve your desired aesthetic. With these quick and easy steps, learn how to use AVAide Video Converter to edit and modify FLAC tags.
Step 1Acquire AVAide Video Converter
Download the installer, then run it to install the software.
Step 2Use the media metadata editor tool
Run the file. Go to Toolbox and click Media Metadata Editor. Then, upload the file you wish to edit.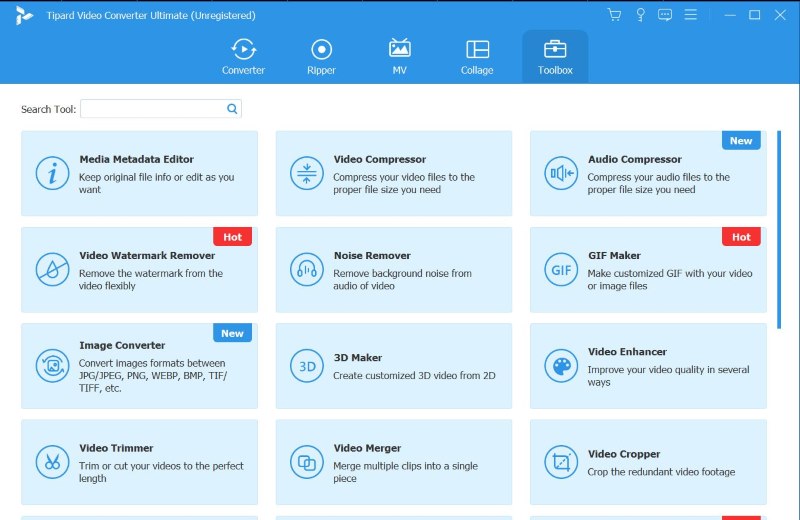 Step 3Edit Tags
Then, you will have access to the editor for metadata. Now, you can add, edit, and modify the tags as you prefer.
Step 4Save your changes
Click Save, and the AVAide Video Converter will automatically update your file's metadata.
Part 3. FAQS about Editing FLAC Tags
What are FLAC Tags?
FLAC tags are information within a FLAC (Free Lossless Audio Coded) audio file. It includes title, artist, album, genre, composer, and more details. FLAC tags help organize and identify audio contents and files.
Can I edit other audio format's metadata using the tools above?
Yes, you can edit other audio format tags using the tools. While we only focus on FLAC metadata editing, the various tools mentioned supports a wide array of audio and video format.
Can I trim FLAC files?
Indeed, you can trim FLAC fies. With editing tools like AVAide Video Converter, you can trim your FLAC files and edit their metadata with just a few clicks.
Does editing FLAC tags affect the file quality?
No, when editing a media's metadata or tags, you only modify their information, not the file itself. Thus, editing FLAC tags doesn't affect its quality.
What's the difference between ID3, Metadata, and Tags?
ID3 refers to a specific metadata type that stores audio file contents. On the other hand, metadata refers to various types of information about a file. In contrast, tags are a general term for labels used to identify a file. Tags often refer to metadata elements like ID3 tags that store information about the audio content.
Conclusion
Whether you want to add or edit metadata for your FLAC files or modify ID3 tags of your media files, these versatile FLAC ID3 editors for Windows, Mac, and online are well-equipped to handle the job. With these tools, you can accomplish this task quickly and effortlessly based on your preferences and specific needs. These tools offer flexibility and ease of use to suit your media management and editing requirements, so choose what suits you best.
Your complete video toolbox that supports 350+ formats for conversion in lossless quality.