Xvid is a widely recognized video codec known for its efficient file size reduction without compromising video quality. This article covers what the Xvid video codec is, its features, functionalities, and compatibility. You can compare its performance with the commonly used H.264 codec. Also, you can learn several simple ways to open Xvid videos on your computers and mobile phones.
Part 1. What Is Xvid Video Codec
Xvid is an open-source video codec based on the MPEG-4 video coding standard. It utilizes video compression techniques like motion compensation and entropy coding to deliver high-quality video output while minimizing the file size. It is known for achieving significant compression ratios, making it ideal for various applications like online streaming, digital distribution, and video archiving.
Features and Functionalities
Xvid excels in compressing video files without sacrificing visual quality. It utilizes advanced algorithms to eliminate redundant information, resulting in smaller file sizes. This is particularly valuable for streaming platforms where bandwidth and storage are crucial factors.
Xvid offers excellent video quality even at lower bit rates. It optimizes the visual representation of the video by intelligently handling pixels, colors, and motion.
The codec provides flexible options for bitrate control, allowing users to adjust the encoding parameters as their specific requirements. The feature ensures compatibility with different hardware and bandwidth constraints.
Xvid is highly compatible with various platforms, including Windows, macOS, and Linux. It offers cross-platform functionality, enabling users to encode and decode Xvid videos seamlessly across different devices.
Xvid Compatibility
Xvid has gained popularity among users due to its broad compatibility with multimedia players and devices. It supports several popular containers, including AVI, MKV, and MP4, ensuring widespread usage across different platforms. Additionally, Xvid-encoded videos can be played on various media players and devices, including smartphones, tablets, and smart TVs.
Download Xvid Video Codec
You can download the Xvid video codec from various websites. One popular source is its official Xvid website, where you can find the latest codec version for free. You can also try finding Xvid video codec from trusted software download platforms like CNET, Softonic, or FileHippo.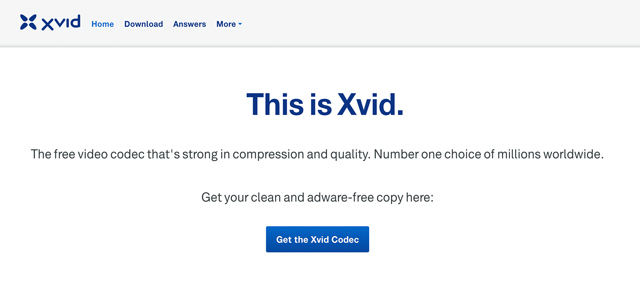 Xvid vs. H.264 Codec
H.264, or Advanced Video Coding (AVC), is a popular video codec widely used in video compression applications. Let's compare Xvid and H.264 based on key parameters:
Both codecs excel in compressing video files efficiently. While Xvid provides excellent compression ratios, H.264 offers better compression efficiency due to its advanced encoding techniques.
Xvid and H.264 codecs can deliver high-quality output, with H.264 having a slight advantage in terms of perceived video quality at lower bit rates. However, Xvid still maintains a respectable level of visual integrity.
They offer broad compatibility across numerous devices and platforms. H.264 has gained more widespread adoption, making it a more common choice for video streaming platforms and video playback software.
Xvid generally offers faster encoding speeds compared to H.264. This makes it useful when encoding videos in real-time scenarios or on systems with limited processing power.
The Xvid video codec offers a range of features and functionalities that make it a competitive choice among video compression technologies. Its efficient compression, high-quality output, flexible bitrate control, and platform compatibility make it suitable for numerous applications. While H.264 provides superior compression efficiency and broader adoption, Xvid still holds its ground and remains a viable choice for users seeking a reliable and feature-rich video codec.
Part 2. How to Open Xvid Videos on Windows PC and Mac
You may encounter difficulties when attempting to open Xvid videos on a Windows PC or Mac. This part will guide you through two easy ways to open Xvid videos on your computer.
Open Xvid Videos Using a Player
Download a media player that supports Xvid. Some popular options include AVAide Blu-ray Player, VLC Media Player, Media Player Classic, and DivX Player.

Best Xvid Video Player
Play Blu-ray and DVD discs and all media formats, including MP4, AVI, FLV, Xvid, VOB, WMV, MP3, FLAC, etc.
Once a compatible media player is installed, right-click on the Xvid video file and select Open With. Choose the media player you installed from the list of available software. The Xvid video should now open and play in the selected media player.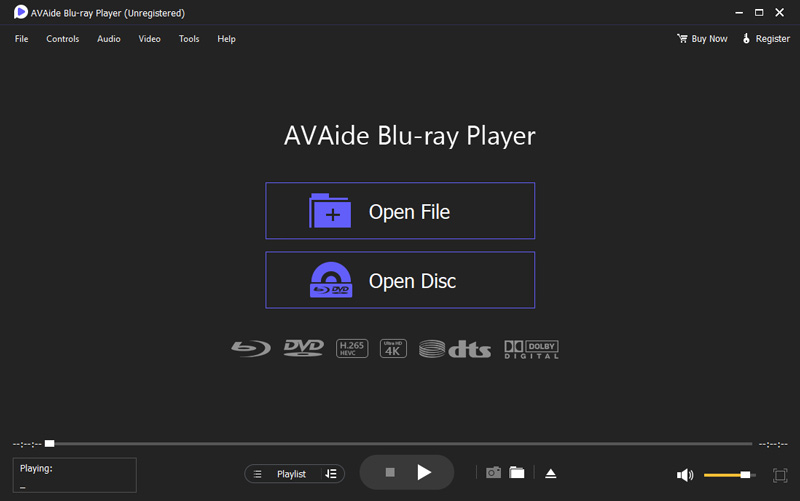 Convert Xvid Videos for Playing
Besides the method above, you can convert Xvid videos for playing on your computer. First, you should select an Xvid video converter. Some popular options include AVAide Video Converter, Handbrake, Freemake Video Converter, and Any Video Converter.
Install and launch the chosen Xvid video converter on your computer. Click the Add File or similar button and select the Xvid videos you want to convert.
Look for the Output Format or Profile option and choose a suitable format to which you want to convert your Xvid videos. Commonly used formats are MP4, FLV, or AVI. Configure the output settings like video codec, audio codec, resolution, and bitrate according to your preferences, or you can leave the default settings.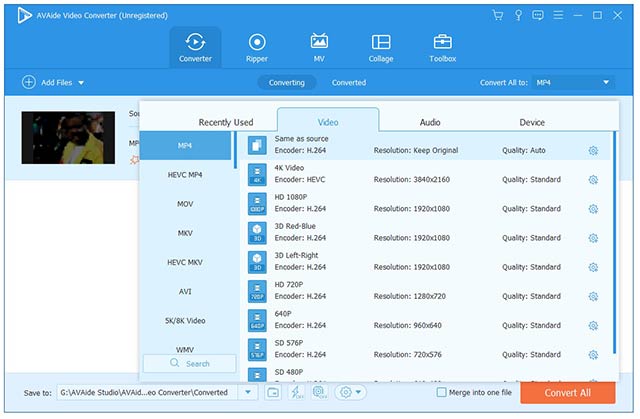 Click the Convert button to turn your Xvid video into a more compatible file. Then you can use the default player on your computer to open the converted Xvid video.
Part 3. How to Watch Xvid Videos on Your Android Phone and iPhone
Playing Xvid videos on mobile devices like Android phones and iPhones can be a bit challenging due to compatibility issues. This part will guide you on how to watch Xvid videos on your phone using two media players, KMPlayer and XMPlayer. These players offer seamless Xvid video playback and a user-friendly interface.
Watch Xvid Videos on Android Phones with KMPlayer
KMPlayer is a feature-rich media player that supports various video formats, including Xvid. You can find it in Google Play Store and install it on your device. Open the KMPlayer app on your Android phone and tap Add to import the Xvid video you like to watch. Once the video is added, KMPlayer will automatically decode and play the Xvid video seamlessly.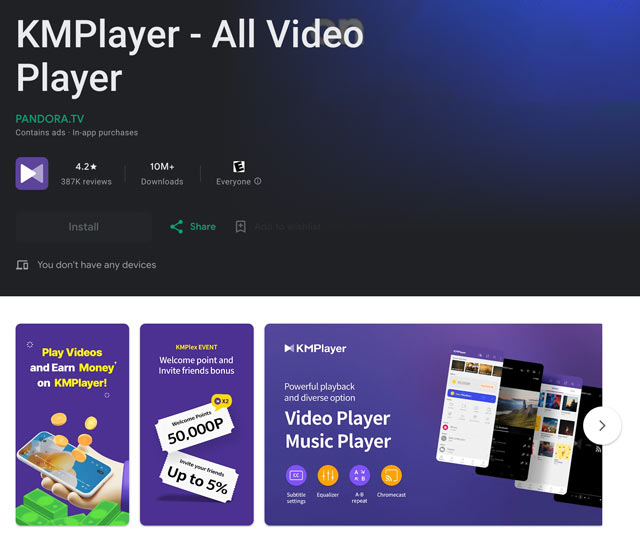 Enjoy Xvid Videos on iPhone Using XM Player
XM Player is a popular media player for iPhone that supports Xvid video playback. Search for XM Player in the App Store on your iPhone, and install the app. Open XM Player by tapping its icon. Tap the Import button to browse and choose the Xvid video you want to watch. Once the Xvid file is imported, XM Player will smoothly play it on your iPhone screen.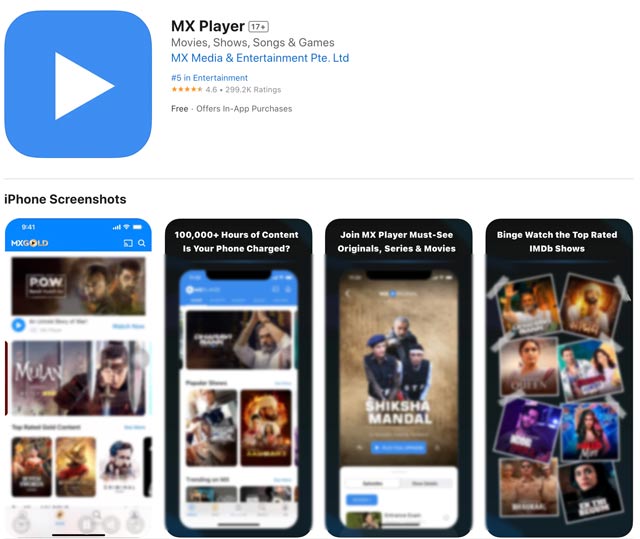 Xvid videos can be large in size, so ensure you have enough storage space on your iPhone or Android phone to avoid playback issues. Regularly update the Xvid player app to benefit from the latest bug fixes and improvements for seamless Xvid video playback.
Part 4. FAQs of Xvid Video Codec
Question 1. Is Xvid better than MP4?
Both Xvid and MP4 are codecs commonly used for video compression. Xvid is an older codec that has been around for a while, while MP4 is a container that can store video and audio encoded by various codecs, including Xvid.
It is difficult to say which is better, as it can depend on various factors, such as the settings used during encoding, the source material, and personal preferences. However, MP4 is generally considered more versatile and is widely compatible with different devices and platforms.
Question 2. How can I check the video codec?
To check the video codec of a file, you can use various methods depending on your operating system. On a Windows computer, right-click the file, select Properties, and then go to Details. Look for the Video Codec or Codec field to check information about the codec used. For Mac users, you can right-click the video, choose Get Info, then go to the More Info section. Then find the codec information from the Video Codec or Codec field.
Question 3. Is Xvid still being used?
Yes, Xvid is still being used today. Xvid is a video codec commonly used to compress and store digital video files. It has been around for many years and is still used by many people and organizations for various purposes.
Conclusion
This post tells some basic information about the Xvid video codec. Moreover, you can learn several simple ways to open Xvid videos on your Mac, Windows PC, or mobile phone.
Full-featured multimedia player to play Blu-rays, DVDs, 4K UHDs, and other video/audio files.