As the name implies, Freemake Video Converter is a video editing and conversion tool developed by Freemake. At first, if you don't have any experience using a converter tool, it will be challenging to utilize software like the Freemake Video Converter. You might also think if the tool is safe to download and use on your computer. But do not worry. We will discuss the information you need in this Freemake Video Converter review. Not only that, but you can also learn some troubleshooting tips when you encounter issues while using it.
Part 1. Is Freemake Video Converter Safe? - Unbiased Review
We cannot deny that we can find many video converters in today's digital age. It has become an essential tool for users who want to edit and convert their videos. And Freemake Video Converter is one of the most commonly used converters because of its capabilities. Yet, being an effective and adaptable video converter, some users still wonder if Freemake Video Converter is safe. Well, generally, this tool is considered safe to use. But there are a few things to consider before downloading and installing. To make an informed decision, let's explore its features, price, pros and cons, and many more.
Key Features
◆ The tool can edit and convert videos.
◆ It converts videos and movies (including with Subtitles) between 500+ formats.
◆ It can cut, rotate, and join clips.
Freemake Video Converter Pricing
◆ $0.95 - 1 Week Trial.
◆ $39.95 - Per Month
◆ $59.95 - Lifetime
Encryption
Freemake Video Converter doesn't exactly mention encryption features. While it may not offer advanced encryption options, it's recommended to be cautious when handling sensitive or private videos.
Supported Formats
◆ Video Formats - MKV, MOV, MP4, WMV, SWF, FLV, AVI, MPG, M4V, and more.
◆ Audio Formats - AAC, MP3, WAV, WMA, MPEG3, FLAC, AIF, M4R, OOG, etc.
◆ Image Formats - ANM, BMP, DPX, GIF, JPG, PAM, PBM, PCX, PGM, PNG, PPM, RAS, SGI, SR, TGA, TIF, TXD.
Pros

User-friendly interface. It will be easier to navigate for beginners.
Supports a broad array of video formats for conversion.
Allows simple video editing and basic effects.
It merges video files.
Cons

The free version may include watermarks on the output videos.
It does not update regularly.
Conversion speed can sometimes be slower, especially with larger files.
Limited advanced editing features compared to dedicated video editing software.
How to Use Freemake Video Converter
If you plan to use Freemake Video Converter, here are a few basic steps you can follow:
Step 1Firstly, download and install Freemake Video Converter from its official website.
Step 2Launch the tool and import the media file by clicking the File button.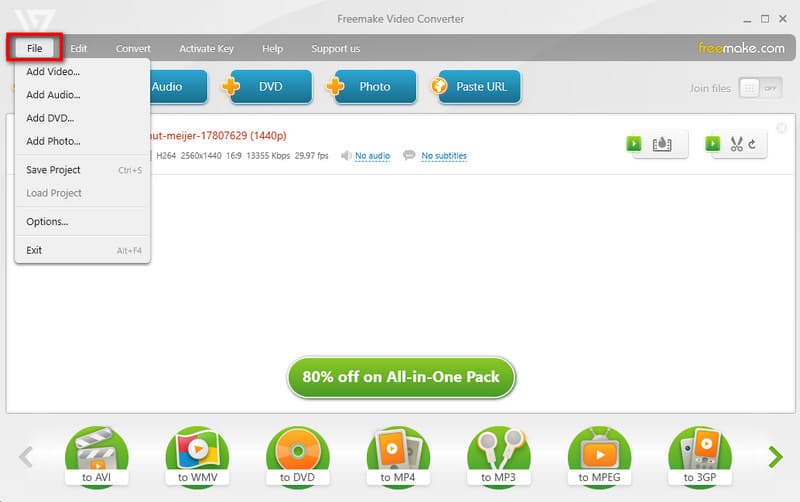 Step 3Then, click the Convert button on the upper menu and select a file format or a device.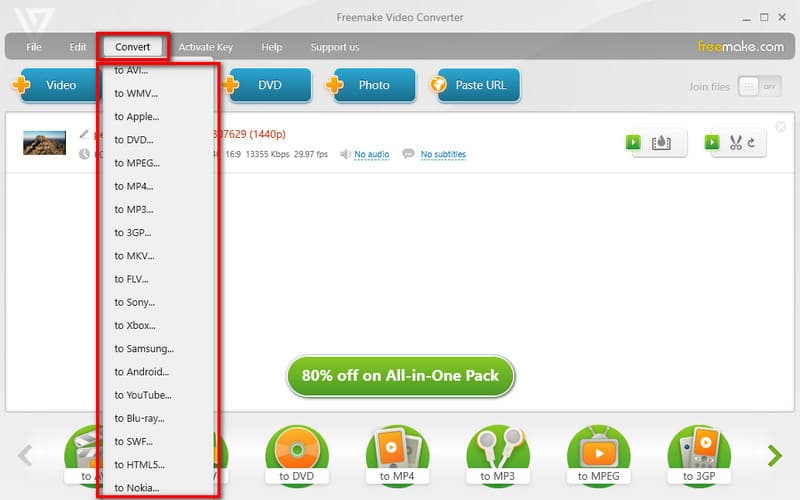 Step 4Now, select the Browse beside the Save to option to select where the converted file will be saved. Lastly, click the Convert button.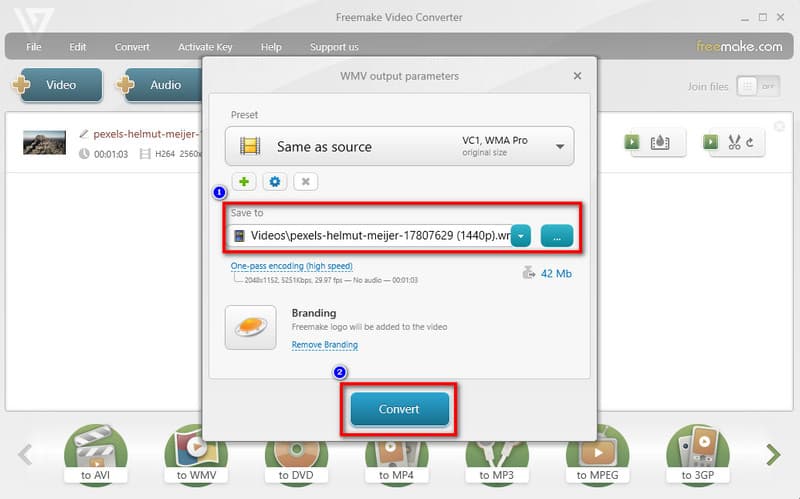 Part 2. Troubleshooting Freemake Conversion Issues
Have you received an error message containing "Failed to obtain video info" while using Freemake Video Converter? This is one of the common issues reported by many users. If you're looking for solutions to this issue, we've listed some methods you can try.
Fix 1. Check Internet Connection
Freemake Video Converter requires an active internet connection to fetch video information from online sources. Assure your internet connection is stable and not blocking Freemake's access to online resources.
Fix 2. Check Video Source
If you're trying to convert a video file, ensure the source video file is not corrupted. Try to play the video using a media player to confirm its integrity.
Fix 3. Update Freemake
Ensure that you use the latest version of Freemake Video Converter. Developers often release updates to fix bugs and improve software performance. Visit the official Freemake website to download and install the latest version.
Fix 4. Check System Requirements
Ensure your computer meets the software's minimum system requirements. Sometimes, conversion issues can arise from inadequate hardware or software configurations.
Fix 5. Reinstall Freemake Video Converter
You can try uninstalling and then reinstalling Freemake Video Converter as a last resort. This might help if a corrupted installation is causing the issue.
Part 3. Best Alternative to Freemake Video Converter
Despite being the most popular converter tool, some users still look for a Freemake Video Converter alternative for various reasons. Some find the Freemake crashes out of the blue during the process, and others are looking for an easier-to-use tool. If you're one of those, we suggest you use AVAide Video Converter. It is considered one of the most extensive media tools to convert your audio, video, and DVD losslessly and effortlessly. Supporting various audio and video formats, such as MP4, MOV, WMV, MP3, AAC, FLAC, and many more.
Moreover, it can provide 8K, 5K, 4K, and 1080p video output with a conversion speed 30× faster than other converters. It also offers a built-in movie and collage maker, including different editing options. An all-in-one tool for your everyday video and audio needs. Lastly, its interface is easy to navigate and suitable for professional or personal use.
To learn how to use the best alternative to Freemake Video Converter, please follow the steps below:
Step 1To begin with, download AVAide Video Converter on your Windows or Mac. Then, launch it.
Step 2On its main interface, click the Add Files or the Plus button to add the video you wish to convert.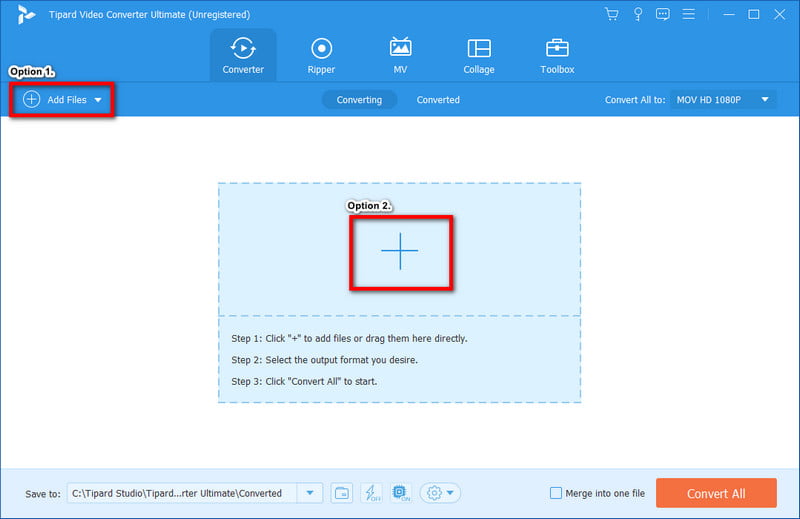 Step 3Optionally, before converting, you can customize your video by using the tool's Edit, Cut, and Enhance Video functions.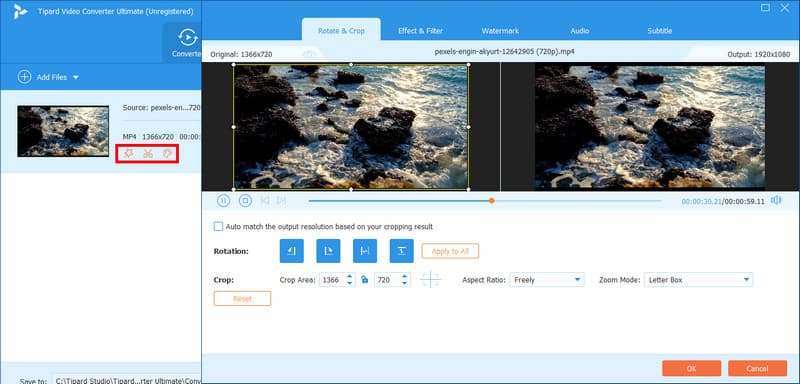 Step 4Afterward, click the Convert All button to choose an output from the drop-down menu.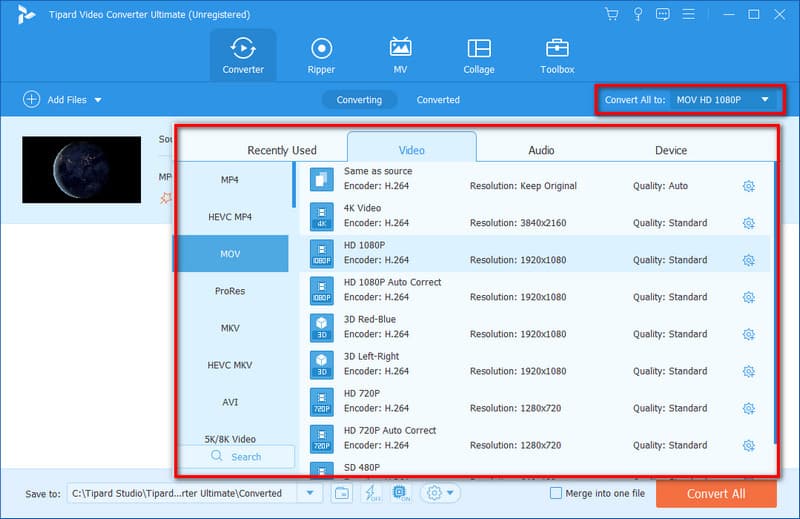 Step 5Now, pick a folder where you want to save the converted video by clicking the Save option. Lastly, click the Convert All button. And that's it!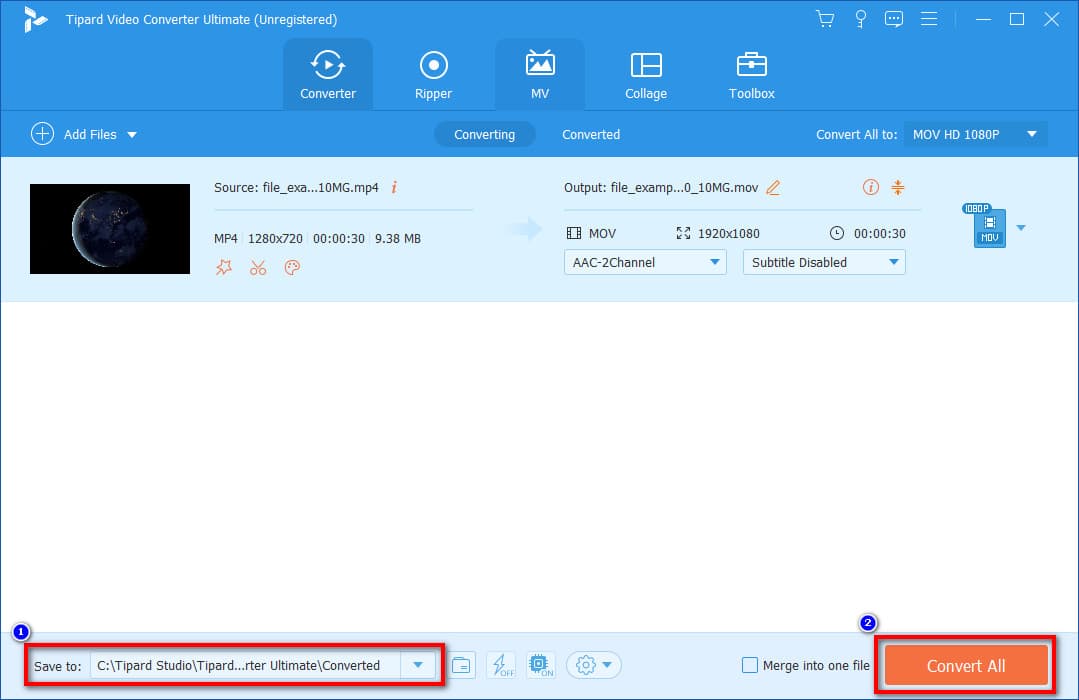 Part 4. FAQs About Freemake Video Converter Review
Is Freemake.com legitimate?
Definitely, yes. The software is legit and an intellectual property of Freemake. It has been a trusted tool by many users and is safe to use. But it is important to be cautious as well.
Which video converter is better: Handbrake or Freemake?
Actually, it depends on the user's needs. In terms of the interface and functionalities, HandBrake is more suitable for complex conversion. On the other hand, Freemake Video Converter is simpler to use.
Does Freemake Video Converter lose quality?
No. Freemake Video Converter does not lose quality when you use it to convert your file. However, it consumes a lot of space since it stays as a large file.
Can Freemake Video Converter rip Blu-rays?
Absolutely, yes. Freemake Video Converter added a new feature to rip and burn Blu-ray. It can also convert MTS files from Blu-ray discs.
Does Freemake offer a refund?
Yes. Freemake offers refund requests when the software malfunctions within 14 days of activating the key.
Conclusion
Given these points, you were able to learn the features, price, pros, cons, and more about the Freemake Video Converter. In addition, this post provided the ultimate solutions you might encounter when using the tool. In most cases, Freemake crashes and usually takes time to convert media files. If you're looking for the best alternative for it, you can use AVAide Video Converter. Aside from providing you with customizable features, within a few seconds, you will have your output ready!
Your complete video toolbox that supports 350+ formats for conversion in lossless quality.