Imagine this: You have a fantastic video on your computer that you would love to share with your friends, but there is a problem. The video is in the XviD format, which is not always compatible with their devices. But do not worry! There is a simple solution to this problem. You can convert that XviD video into the widely accepted MP4 format. This way, you can share your video without any compatibility issues.
You might be thinking, how do I convert XviD to MP4? So, how do you do it? Let us explore the easy steps to convert XviD to MP4 and ensure your videos are accessible to everyone.
Part 1. What is XviD
XviD is a video codec, a technology used to compress and decompress video files. It helps make video files smaller while still maintaining decent video quality. It can help save storage space on your desktop. Think of it as a tool that makes videos more accessible to handle and share without sacrificing picture quality.
Part 2. Convert XviD to MP4 on Desktop
1. AVAide MP4 Converter
When you have videos in XviD, but your computer, phone, or tablet does not support it, you can turn to AVAide MP4 Converter. It is a clever program for your desktop that can transform your XviD videos into MP4, a format that is super friendly to your devices.
With AVAide MP4 Converter, you can make your videos work anywhere without any tech headaches. Its excellent conversion feature allows you to change one type of video into another. It supports batch conversion, saving you time and effort if you prefer to convert multiple files at once. In addition, it offers basic editing functionalities, like crop, rotate, effects, filters, and more, to refine your output looks. Amazing, right?
Here is how to convert XviD files to MP4 format using AVAide MP4 Converter:
Step 1Download and Install AVAide MP4 Converter on your computer from the official website. Once done, launch the program to get started.
Step 2Go to the Converter tab. Then, click the (+) button to import the XviD video files you desire to convert.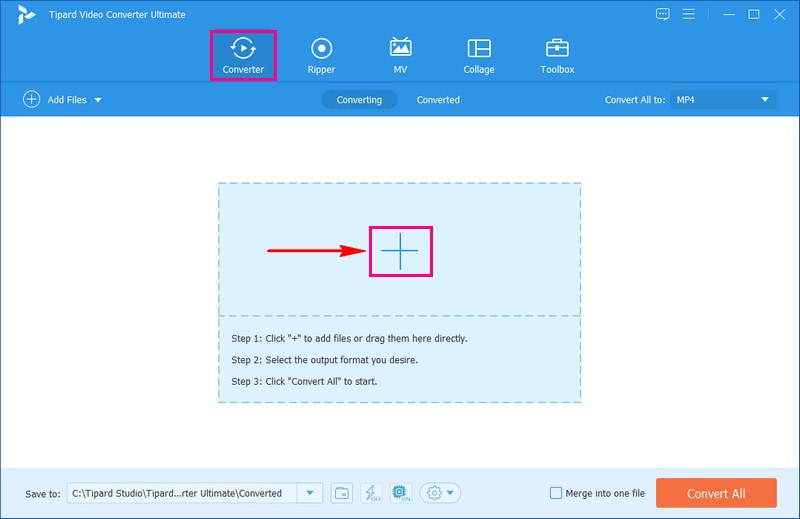 Step 3Click the Profile drop-down menu to access the video formats. Under the Video option, select MP4 in the list of formats.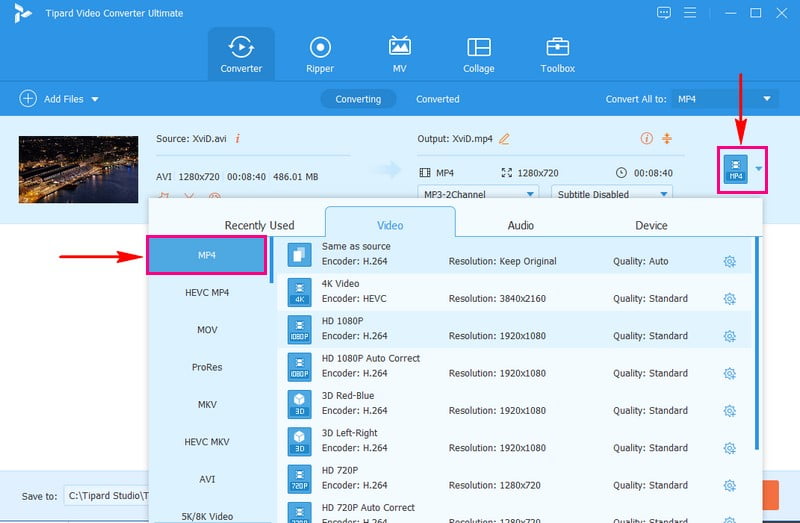 Step 4To customize the output settings, head to the Cogwheel button. You can modify the Video and Audio options based on your preference. Once changed, click the Create New button to apply the changes.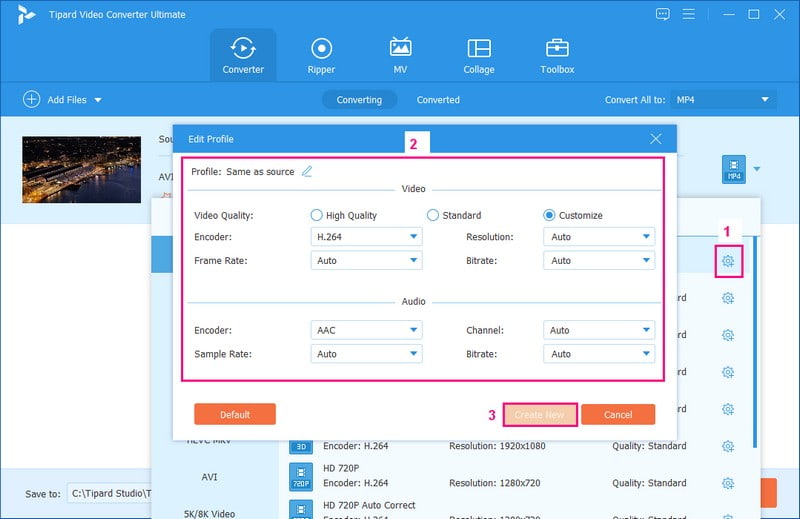 Step 5Optionally, you can edit your video by clicking the Wand button, which represents Edit. Once satisfied, hit the Convert All button to begin the conversion process. Then, your converted output will be saved on your local drive.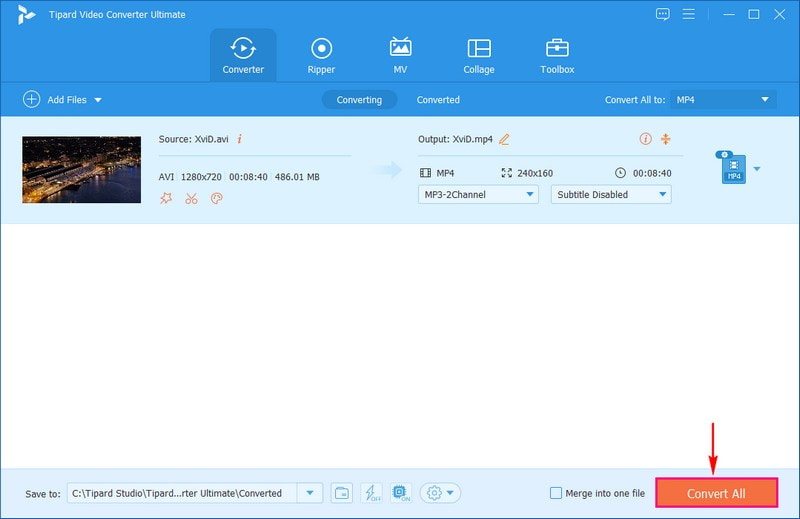 2. VLC
Do you have a bunch of those old XviD videos that would not play on your modern devices? Converting them into MP4 format is easy, so they work everywhere. And it is all thanks to a handy tool called VLC. This program is not just a regular video player; it can also do other tricks. It can convert one type of video into another, like turning an old video into a new one. In addition, it is entirely free, so you can use it without paying anything.
Below are the steps on how to convert XviD to MP4 using VLC Media Player:
Step 1Download and Install VLC for free from the internet.
Step 2Launch VLC on your computer. Click Media at the top. Pick Convert/Save from the drop-down. Click Add and choose your XviD video.
Step 3Below, click the Convert/Save button. Pick Video - H.264 + MP3 (MP4) from the Profile menu. Click Browse to select where the MP4 file will be saved.
Step 4Click Start to convert XviD to MP4. The time depends on your video's length and your computer's needs.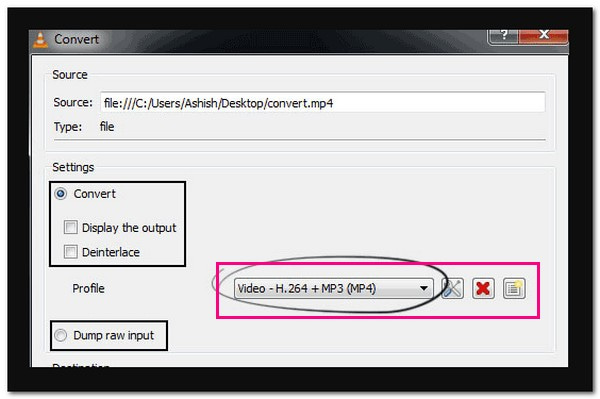 3. HandBrake
HandBrake is a super helpful tool for your videos. It can change your videos from one type to another. So, if you have a video that does not play on your device, Handbrake can turn it into a version that works. The impressive part is that it can change one video file type, like XviD, into another type, like MP4. It is beneficial if you have videos that would not play on some devices and need to make them work everywhere.
Below are the steps on how to convert XviD to MP4 using HandBrake:
Step 1Get HandBrake for free from their website and install it on your computer.
Step 2Start the HandBrake program. Click Open Source and pick the XviD video you want to convert.
Step 3Select MP4 to change the video to MP4 format in the Presets section on the right. Under Source, choose where to save the converted MP4 file by clicking Browse.
Step 4Click Start to begin the conversion. It might take some time, depending on your video's size. Your new MP4 will be in your selected location when it is done.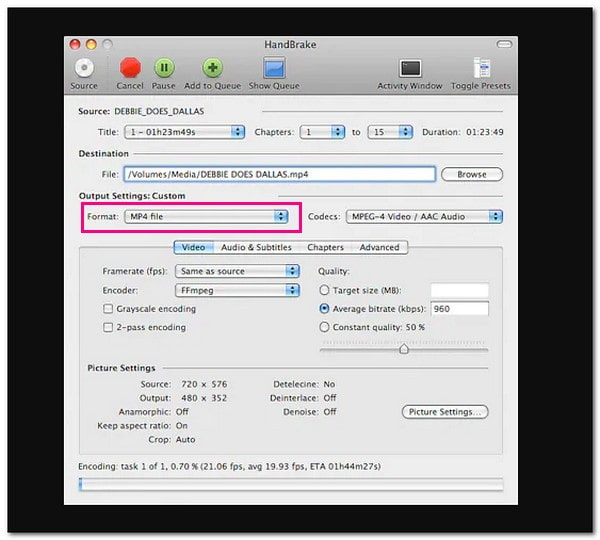 4. AVAide Free Video Converter Online
Did you ever want to change a video from XviD to MP4 without downloading software? If so, AVAide Free Video Converter Online is here to help! It is like a magic wand for your videos on the internet. You can use it in your web browser without installing anything. Just upload your XviD video, and it will transform it into an MP4. It is fast, free, and super convenient. Give it a try, and watch your videos in the format you want!
Here is how to convert XviD to MP4 online using AVaide Free Video Converter Online:
Step 1Visit AVAide Free Video Converter Online's official website.
Step 2Click the Add Your Files button to upload the XviD files you wish to convert.

Step 3Select MP4 from the list of formats on the bottom part of the screen.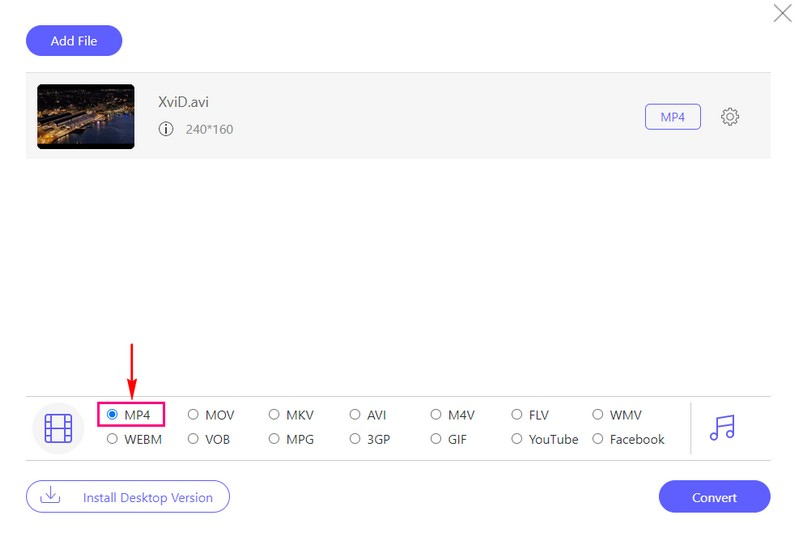 Step 4Click the Cogwheel button beside your video file to change the Video and Audio settings according to your requirements.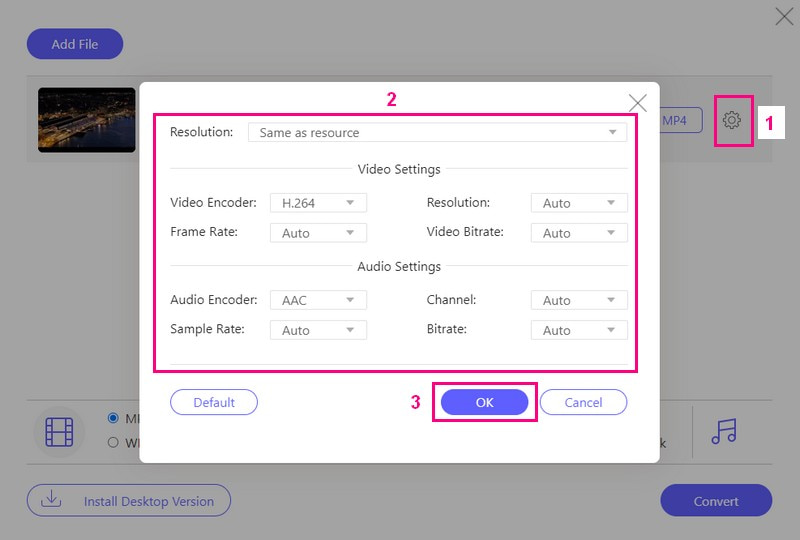 Step 5Once settled, hit the Convert button to start the conversion process. Afterward, your converted MP4 will be saved on your local drive.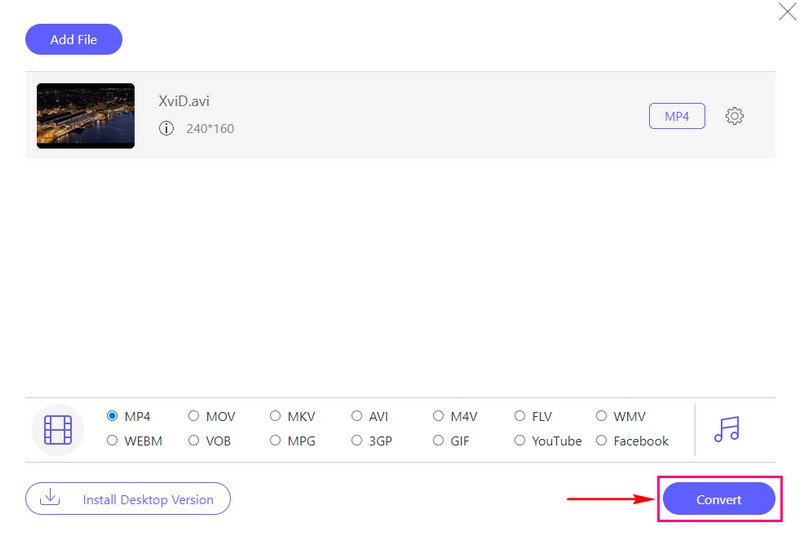 Part 3. Convert XviD to MP4 on Android
Have you ever wished you could turn your XviD videos into the widely compatible MP4 format from your Android device? Well, your wish is about to come true! Imagine having a powerful video transformation tool right at your fingertips. Video Converter, an XviD to MP4 converter for Android, is like a video wizard in your pocket. You can effortlessly change your XviD videos to MP4 and much more. This application is designed to be user-friendly, making video conversions easy and accessible.
Step 1Download Video Converter from the Google Play Store. Launch the application after installation.
Step 2Select your XviD video by tapping the (+) button.
Step 3Look for the output format and pick MP4.
Step 4Press Start to begin the process. The application will change your video to MP4.
Step 5After it is done, locate the MP4 version in the application or your Android's designated output folder.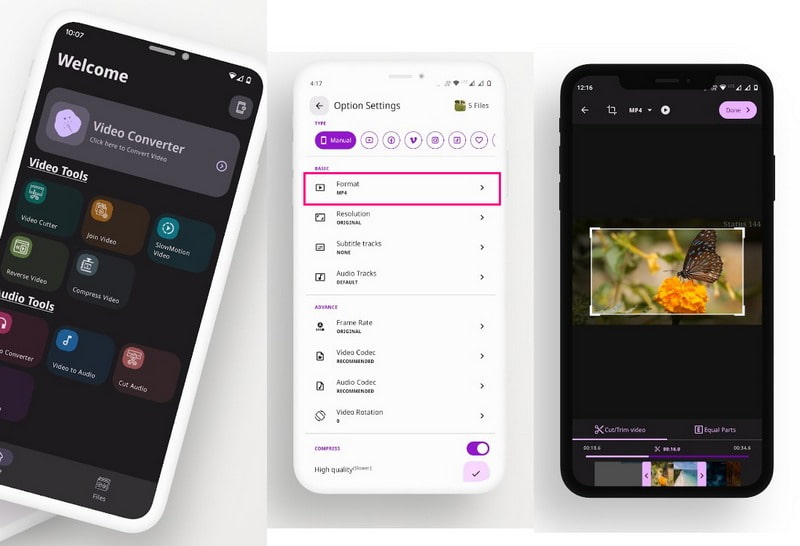 Part 4. FAQs about Converting XviD to MP4
How does FFmpeg XviD to MP4 conversion work?
First, download and install FFmpeg on your computer or device. Open your command prompt or terminal. Type a command like this: ffmpeg -i inputfile.avi outputfile.mp4. Then, replace inputfile.avi with the name of your XviD file and outputfile.mp4 with the name you want for the MP4 file. Hit "Enter," and FFmpeg will convert your XviD video to MP4.
Can I convert multiple XviD videos to MP4 at once?
Yes! You can use the AVAide MP4 Converter to convert multiple XviD videos to MP4 simultaneously without experiencing errors.
What settings should I choose when converting XviD to MP4 to maintain good quality?
Select Settings that match your preferences. Generally, H.264 codec and high bitrate are good choices for maintaining quality.
How long does it take to convert XviD to MP4?
The time it takes to change a video into a different format depends on how big and complicated the file is. Small videos can finish quickly in just a few minutes, but larger ones might need more time.
Will the quality of my video be affected during the conversion?
Usually, you would not lose much quality if you picked the correct options when changing the video. However, choosing the correct settings is essential to keep the video looking good.
Conclusion
In conclusion, learning how to convert XviD to MP4 helps ensure compatibility and better video playback across various devices. To make this conversion task even more accessible and efficient, you might consider using the AVAide MP4 Converter. This user-friendly program offers a convenient and reliable solution to transform your XviD videos into MP4 format. It makes it easier to enjoy your videos without worrying about compatibility issues.
A multifunctional MP4 converter to convert any video format to MP4 with high output quality.