You have found a stash of your old DV tapes with cherished family memories. You are eager to share those moments with loved ones or enjoy them on your modern devices like phones and tablets. But here is the thing: these DV tapes are in a format incompatible with your current tech. That is where the idea of converting them to MP4 comes in. This write-up will guide you on how to convert DV to MP4 online and offline. Let us explore the options to help you choose the best approach for your precious memories.
Part 1. What is DV
Digital Video, or DV, is a format for recording and playing videos on electronic devices like cameras and computers. Digital video is a way of storing moving images and sounds in a digital format.
Part 2. Convert DV to MP4 With AVAide MP4 Converter
AVAide MP4 Converter is a handy program that helps you convert your DV videos into MP4 format. This can be useful for various purposes, like sharing videos online or playing them on different devices. This program has a high-speed conversion, so you do not have to wait long. It is like making your video transformation lightning-quick. If you have many videos to convert, you do not have to do them one by one. This program can convert several files at once without experiencing problems. In addition, the AVAide MP4 Converter offers basic editing functionalities to level up your video.
Below are the steps on how to convert DV files to MP4 with AVAide MP4 Converter:
Step 1First, download and install the program on your computer for complete access.
Step 2Navigate to the Converter tab. Hit the (+) button to add the DV file you want to convert.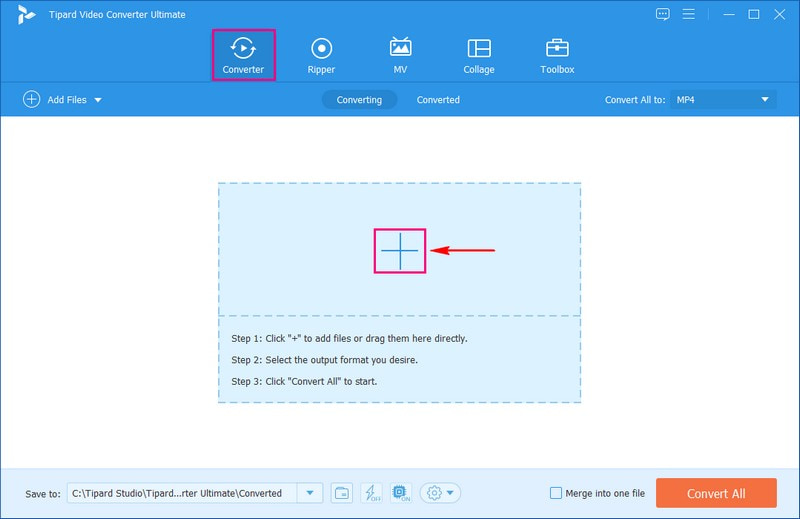 Step 3Head to the Profile drop-down menu. You can see video, audio, and ready-made device presets here. Under the Video option, select MP4, which you can see on the top.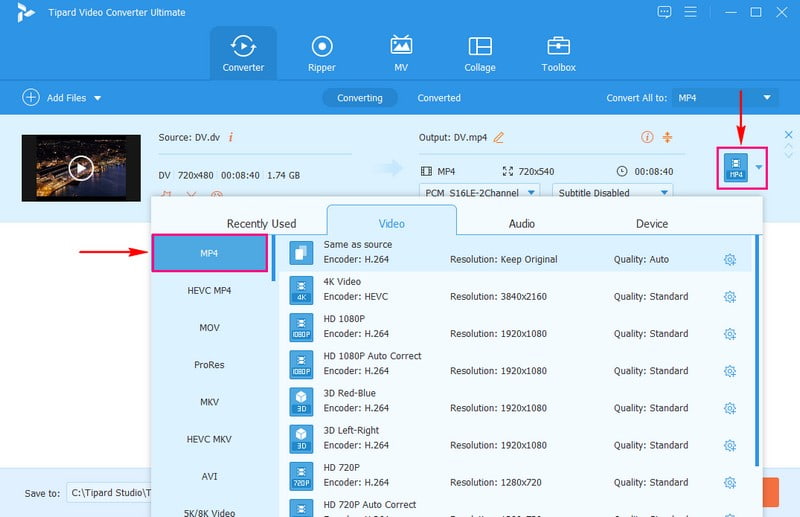 Step 4If you desire to customize the output of your video, hit the Cogwheel button. You can personalize the Video and Audio options based on your requirements. Once changed, press the Create New button to apply them.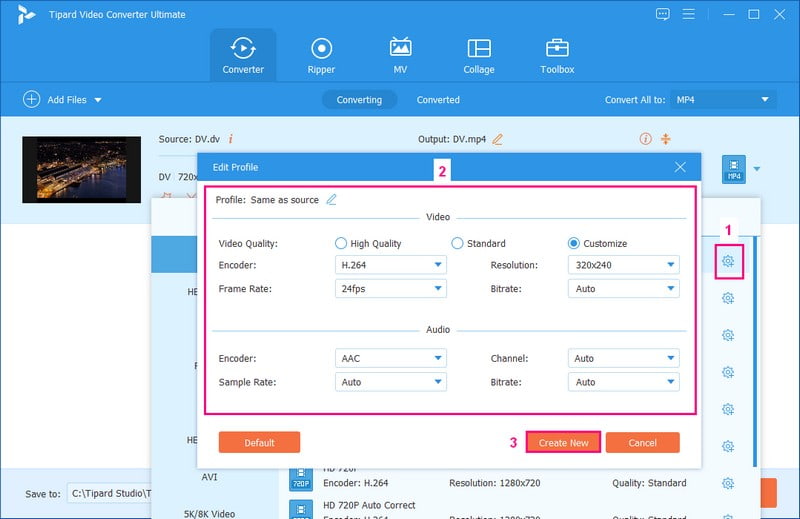 Step 5Before diving into converting, you can make some edits to your video by clicking the Wand button. You can access Rotate & Crop, Effect & Filter, Watermark, Audio, and Subtitle here. Remember to press the OK button to apply the changes you make.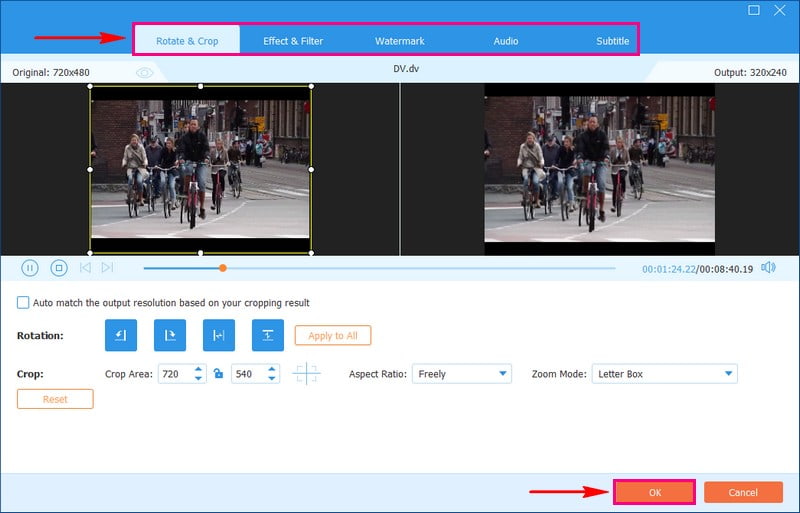 Step 6Once settled, hit the Convert All button to convert the DV file to MP4 format. Afterward, your converted MP4 will be saved in your local folder.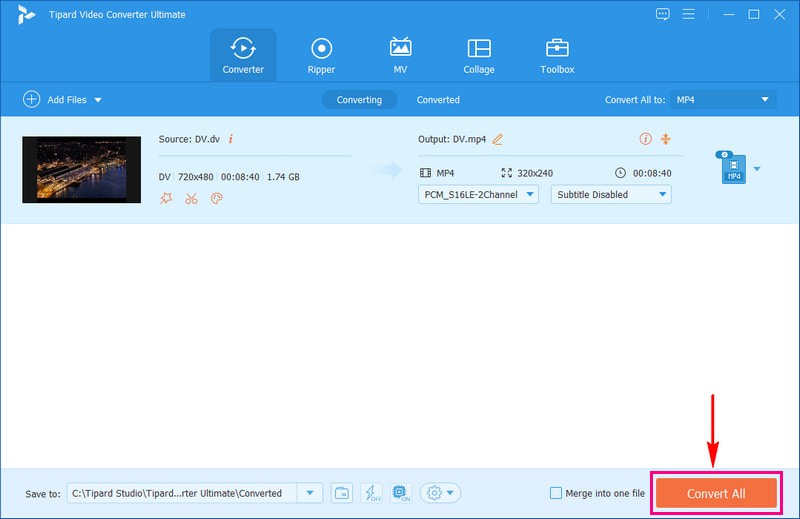 Part 3. Convert DV to MP4 With HandBrake
Have you ever needed to turn your DV videos into a format compatible with modern devices or easily share with others? That is where HandBrake comes to the rescue! This program is designed to be simple to understand. It is a free and easy-to-use tool that helps you change the format of your DV videos into MP4 format. It is like having a magic wand for your videos, making them work on today's gadgets or ready for online sharing. In addition, it supports batch conversion, which saves you time and effort.
Below are the steps on how to convert DV to MP4 in HandBrake:
Step 1Start HandBrake, and you will see a window appear.
Step 2Click on File on the left side. This is where you pick the DV video you want to work with. Besides that, you can drag and drop your DV video into the window.
Step 3In the Presets drop-down menu, you can choose your video's look. Head to the Summary tab and pick MP4 as the format for your video.
Step 4At the bottom, you can select where your converted video should be saved.
Step 5When you are all set and ready, click the Start Encode button. HandBrake will now begin changing your DV video into an MP4 format.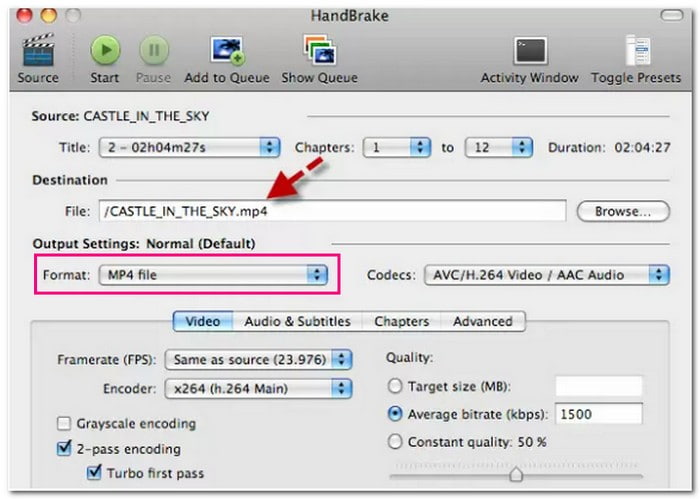 Part 4. Convert DV to MP4 Online
Convertio is a free online platform that lets you change the format of your DV videos into MP4. It is like a helpful website that can transform your videos to work on today's smartphones, tablets, and computers. You do not need to download any software; it is accessible through your web browser. It ensures your videos can be played on different gadgets. The process is straightforward, making it perfect for people who want a hassle-free solution.
Below are the steps on how to convert DV to MP4 online with Convertio:
Step 1First and foremost, visit Convertio's official website for complete access.
Step 2Click the Choose Files button to access your desktop folder. Please import the DV videos you desire to convert into MP4 format.
Step 3Head to Convert to and click the Format drop-down menu, and please select MP4 from the list.
Step 4Click the Cogwheel button to modify the Video and Audio settings according to your preference. Then, tick the OK button to apply the changes you make.
Step 5Press the Convert button to convert your DV video to MP4 format when set.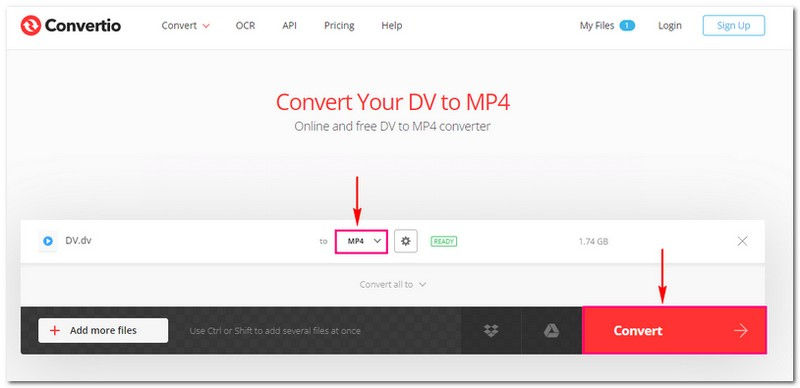 Part 5. FAQs about Converting DV to MP4
How do you convert DV to MP4 on Mac?
AVAide MP4 Converter works on Mac and Windows operating systems. Therefore, you can convert DV to MP4 on a Mac using it. Just download and install the program, and you are good to start.
How does FFmpeg DV to MP4 conversion work?
Open your command prompt or terminal. Navigate to the folder where your DV video is located using the cd command. Use the following FFmpeg command to convert the DV video to MP4: ffmpeg -i input.dv -c:v libx264 -preset slow -crf 22 -c:a aac -strict experimental output.mp4.
Replace input.dv with the name of your DV video file. Afterward, press Enter to run the command. FFmpeg will start the conversion process and create an MP4 video in the same folder.
Which is better, DV or MP4?
MP4 is better because it Is more versatile, works on various devices, and has smaller file sizes. DV is usually better for professional video editing and preserving high quality, but it Is less user-friendly for general use.
What settings should I use for the best quality?
The choices you make about how to set up your video depend on what you like and how you plan to use it. Still, picking H.264 for the video and AAC for the sound is an excellent way to begin. It helps ensure your video works well on different devices and looks and sounds good.
How long does it take to convert DV to MP4?
How quickly your DV video turns into an MP4 video relies on how big the original DV file is. It will take longer if your DV file is big and your computer is slow.
Conclusion
Discovering how to convert your DV movies to MP4 can help you easily enjoy your videos on various devices and platforms. It makes the videos smaller and compatible with smartphones, tablets, and computers. For a quick and efficient conversion, consider using AVAide MP4 Converter. AVAide MP4 Converter is user-friendly and works well for beginners and experienced users.
A multifunctional MP4 converter to convert any video format to MP4 with high output quality.