If you have a camcorder, a digital compact camera, or a hard disk-based camcorder, you probably have lots of AVCH video files. This file format was developed by Panasonic and Sony to record HD videos in a range of resolutions like 1080p, 1080i, or 720p. However, playing AVCHD is a big problem. The built-in media player on either Windows or Mac does not support AVCHD. Therefore, this guide talks about how to burn AVCHD to DVD properly.
Part 1. Why Convert AVCHD to DVD
As mentioned previously, most media players do not support AVCHD. However, it is compatible with the customer portable devices, like DVD players, Sony PlayStation, and more. Instead of streaming AVCHD videos, it would be a nice choice to write them onto a DVD for playing in your home theater.
Part 2. How to Burn AVCHD to DVD
Today, most PCs and laptops come with a DVD drive that has the capability to burn optical discs. In other words, you just need an AVCHD to DVD converter when writing your recorded videos to DVDs. From this point, we recommend Tipard DVD Creator. The user-friendly design lets beginners find what they need quickly. Advanced users can utilize the bonus features to produce the desired effect.
Best AVCHD to DVD Converter
◆ Write AVCHD video files on a DVD easily.
◆ Keep the original video quality when burning DVDs.
◆ Support a wide range of video formats.
◆ Add a DVD menu to your DVD.
Here are the steps to burn AVCHD to DVD:
Step 1Open AVCHD files
Launch the best AVCHD to DVD converter after installing it on your computer. Click the Add Media Files button to open the AVCHD files from your hard drive. Then insert a blank DVD into your computer, and set the options at the bottom according to your disc.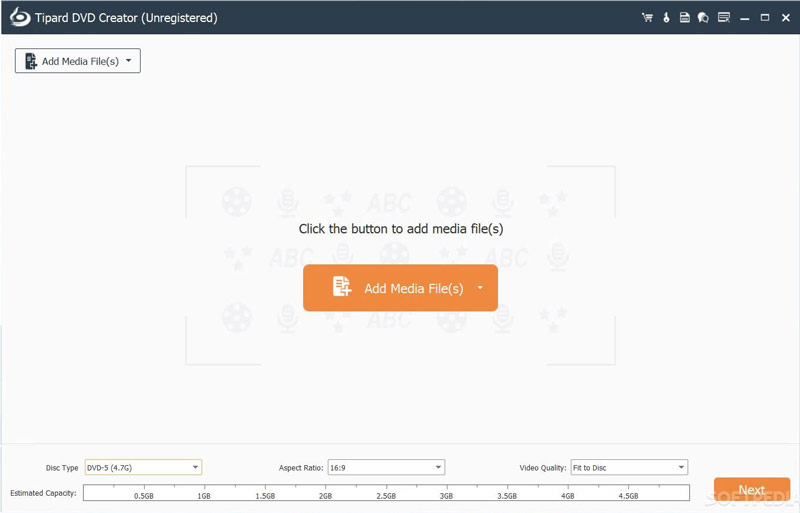 Tips:
If you want to edit the video file, click the Video Edit icon in the Video Tools panel.
Step 2Set a DVD menu
Click the Next button to enter the DVD menu window. Here you can select a menu from the Menu Template tab and customize it according to your preference. Or make a DVD menu manually with your picture. If you do not want to use a DVD menu, check the box next to No Menu.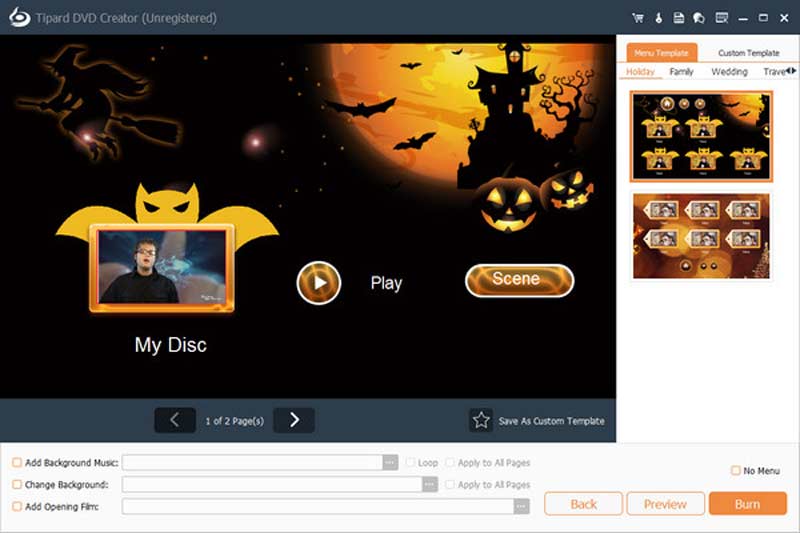 Step 3Convert AVCHD to DVD
Once you are done with settings, click on the Burn button. Setting the options, and click the Start button to begin burning AVCHD to DVD immediately. Since the software integrates the hardware acceleration, it only takes a very short time to complete the process.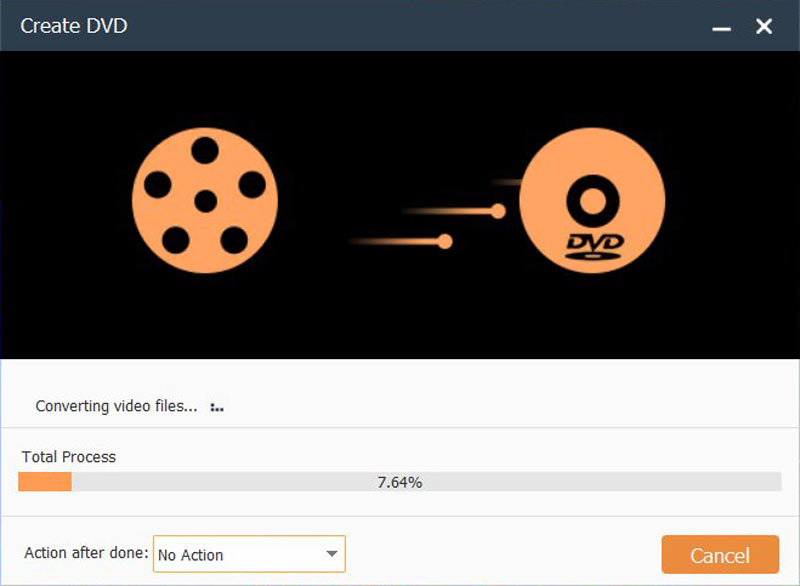 Part 3. Make AVCHD Videos More Playable
For people who do not wish to burn AVCHD to DVD, converting the video files to a more playable format is an alternative solution. AVAide Video Converter is an excellent AVCHD converter. It won't downscale video quality when converting AVCHD thanks to the built-in AI technology. The built-in presets allow beginners to get the desired effect without technical skills.
How to Convert AVCHD to Playable Videos
Step 1Load AVCHD
Install the best AVCHD converter software on your computer, and open it when you want to watch the video files on a digital device. Click the Add Files menu, and open the AVCHD files on your hard disk following the instructions.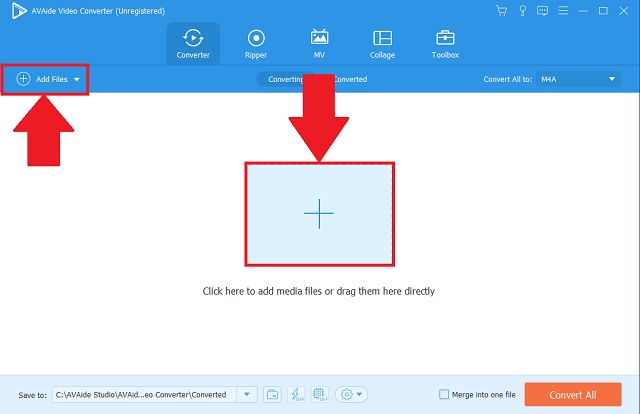 Step 2Set the output format
After the AVCHD file load, you will see the thumbnails in the main interface. If you intend to edit a video, click the Edit icon on the title and you will be presented with the video editor.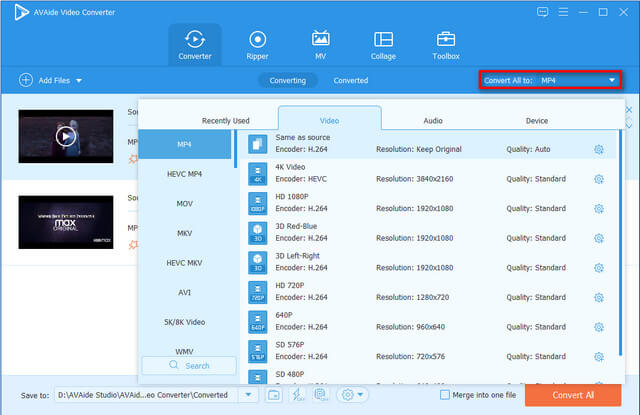 To convert AVCHD files to playable video formats, click the Convert All to menu to open the profile dialog. Go to the Video tab, choose an appropriate video format, such as MP4, and pick a preset. If you want to adjust the resolution, quality, or frame rate, click the Gear icon. To play the AVCHD files on your mobile phone, go to the Device tab, and select your device model.
Step 3Convert AVCHD
Navigate to the main interface after you set the output format. Locate the bottom area, click the Folder button, and select a specific folder to save the results. At last, click on the Convert All button to initiate converting AVCHD video files. According to our research, it only takes a few seconds to handle an AVCHD file.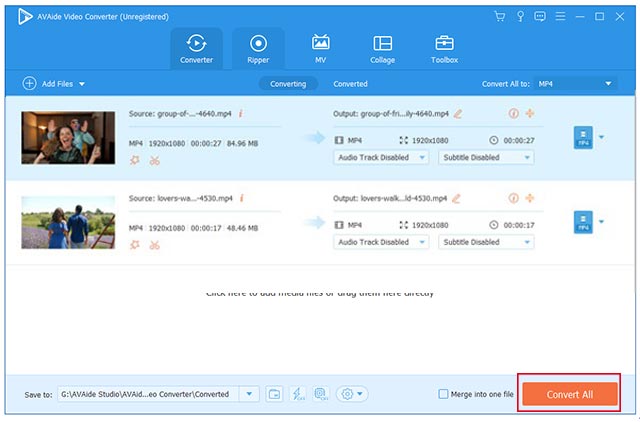 Part 4: FAQs about AVCHD to DVD
What is AVCHD?
AVCHD is a recording video format developed by Panasonic and Sony for recording high-definition video to media such as recordable DVD media, hard disk drives, and memory cards. Due to the higher quality of AVCHD, the video file size is usually larger. Therefore, you'd better write AVCHD to DVDs or convert it to popular video formats.
Is AVCHD the same as MTS?
AVCHD is short for Advanced Video Coding High Definition. It is the video format to produce the best codec for recording videos. When AVCHD videos are recorded in a camcorder its file extension is MTS. After they are captured or imported into a computer, the file extension changes to M2TS.
Why AVCHD videos are better in video quality?
When it comes to video quality, AVCHD beats MP4. The latter can capture 60 frames per second, but AVCHD is good for recording videos. Plus, the former provides minute details.
Conclusion
Now, you should understand why you should convert AVCHD to DVD and how to get the job done quickly. With a good DVD creator, you can write your video recordings to optical discs and produce playable DVDs effortlessly. AVAide Video Converter is the best option to convert AVCHD files to more playable video formats. If you have other questions about this topic, please write them down below this post and we will reply to them quickly.
Your complete video toolbox that supports 350+ formats for conversion in lossless quality.