TikTok has been a worldwide trend nowadays. By recording your singing and dancing talent and other unique content on TikTok, there's a big chance that it will go viral, which we know how essential it is for the influencer aspirants. On the other hand, if you are just a fan of many TikTok content creators, also known as TikTokerists, and want to keep your idols' videos, try screen recording them. Yes, TikTok may enable you to download the video content, but most famous TikTokerists have turned on the download restriction, which hinders you from saving and keeping their content.
Therefore, we wrote this article to help people like you to provide the best solutions and guidelines on how to screen records on TikTok. Rest assured that after reading the entire content of this post, you already know how to do the task even without looking.
Part 1. The Best Way to Screen Record on TikTok on Windows and Mac
If you want to record using your desktop or Mac, there is nothing you can use besides Gravador de tela AVAide. This is because this software has proven a lot when recording videos, screens, sounds, games, and more. Furthermore, its screen recorder lets you capture your screen's whole or customized display and provides you with a high quality even with the audio of your video. As a matter of fact, it even enables you to record while doing a voiceover using its noise-canceling mic. In addition, it comes with multiple directory settings, including the frame rate, codec, format, quality, and key frame interval of your video output.
What else, this software lets you custom the length of your recording and gives you enough time to record more on TikTok. On top of that, as part of its powerful recorders, it can record your phone, enabling you to screen record on your TikTok mobile app. So, to help with your screen recording and how to record original sound on TikTok, here are the step-by-step tutorial using AVAide Screen Recorder.
AVAide Screen Recorder – Ultimate Software to Record on TikTok
Record on your desktop or mobile TikTok app.
With a snapshot that will capture the best moments in high quality.
Create a voiceover recording vlog with mic enhancement and noise-canceling features.
With wide support with the popular video and audio formats.
How to Screen Record with AVAide Screen Recorder
Passo 1Aquisição de software
Acquire the software via free download and install it successfully to your desktop or Mac. You may click the download buttons presented above to facilitate the downloading process easily.
Passo 2Recorder Selection
In recording on TikTok, you can use two types of recording depending on what device you will use to open your TikTok. If you launch the app on your desktop, you can use the Gravador de video e escolha o Telefone recorder if you want to use your phone to open the app.

etapa 3Proper Setup
In this tutorial, we chose to open the TikTok desktop app. So after selecting the proper recorder for it, you will need to set up the display range to fit in the TikTok video. To do so, click the Personalizado selection on display, and adjust the blue ratio bar on the screen.

Passo 4Execute the Recording
Execute the recording by clicking the GRAVANDO button. See that while recording, a floating bar will appear. From that bar, you will get to pause, stop, take a snapshot, set recording length, and edit the recording to your preferences.

Etapa 5Exportar a Gravação
After you click the Pare button, the tool will bring you to its exportation window. From there, you are free to make some applicable adjustments. Otherwise, hit the Exportar button to finalize saving the recording.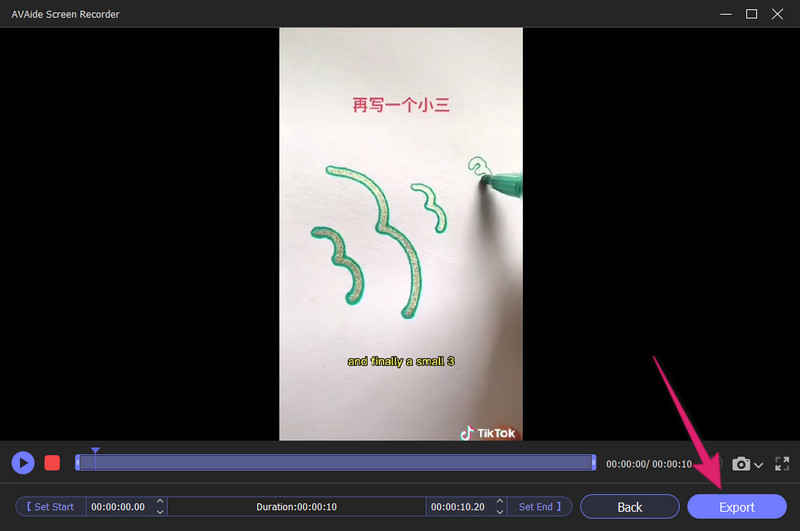 Part 2. How to Screen Record on TikTok Using iPhone
This time, if you don't have a computer as your means of screen recording, then this part and the succeeding one will be helpful for you. Let's use the iPhone on the task. iPhones, especially the ones with iOS 11 and later updates, have their exclusive Screen Recording app. This is a built-in tool, so you won't need the apple store to acquire it. Hence, here are the comprehensive guidelines you can follow in recording on your TikTok without a third-party app on your iPhone.
Passo 1Activate the built-in recording app on your phone. How? Go to your Configurações app, and select the Centro de Controle option. Then, scroll down to you find the Gravação de tela app, and click the green plus icon to add it.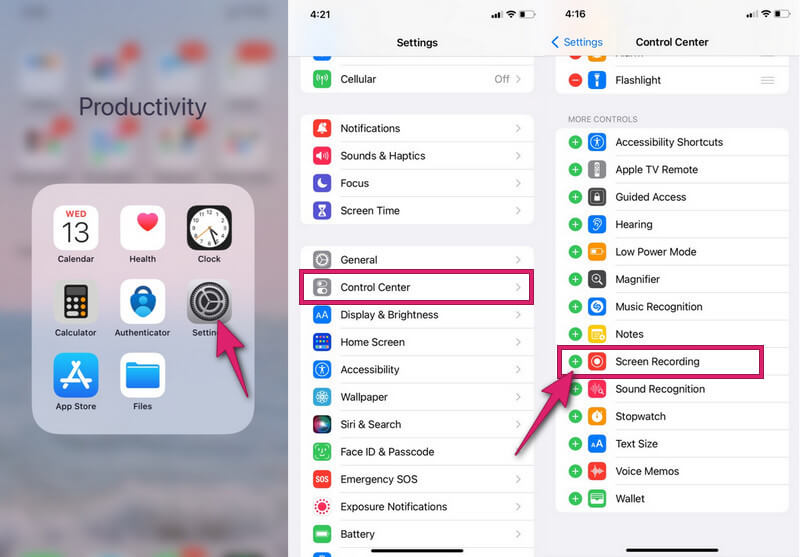 Passo 2Now swipe down your screen to see the Centro de Controle. From there, you have to tap the circular icon indicating to Registro. Then, when it turns red, it means the recording has started. You can now launch your TikTok to capture.
etapa 3If you wish to end the recording, tap your screen's shaded red clock. A small window will appear, then tap Pare.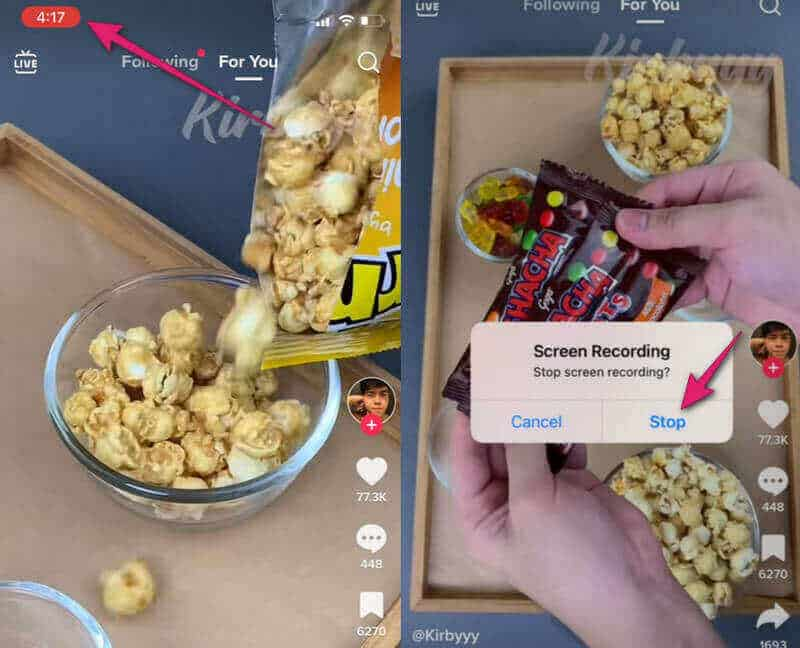 Part 3. How to Screen Record on TikTok Using Android
Similar to iPhone, Android phones also have a built-in screen recorder as part of their convenience tools. This tool will enable you to record the system sound as well as the microphone sound. Additionally, it also allows you to record using your front camera when facilitating the screen recording, tags along with the other presets such as video coding format, frame rate, and resolution. If you have your Android phone with you, try the following steps on how to record your screen.
Passo 1Swipe down your screen to access the Quick Setting. From there, look for the Gravação de tela tool and open it.
Passo 2Then, on the floating bar shown, tap the Vermelho circle to start the recording.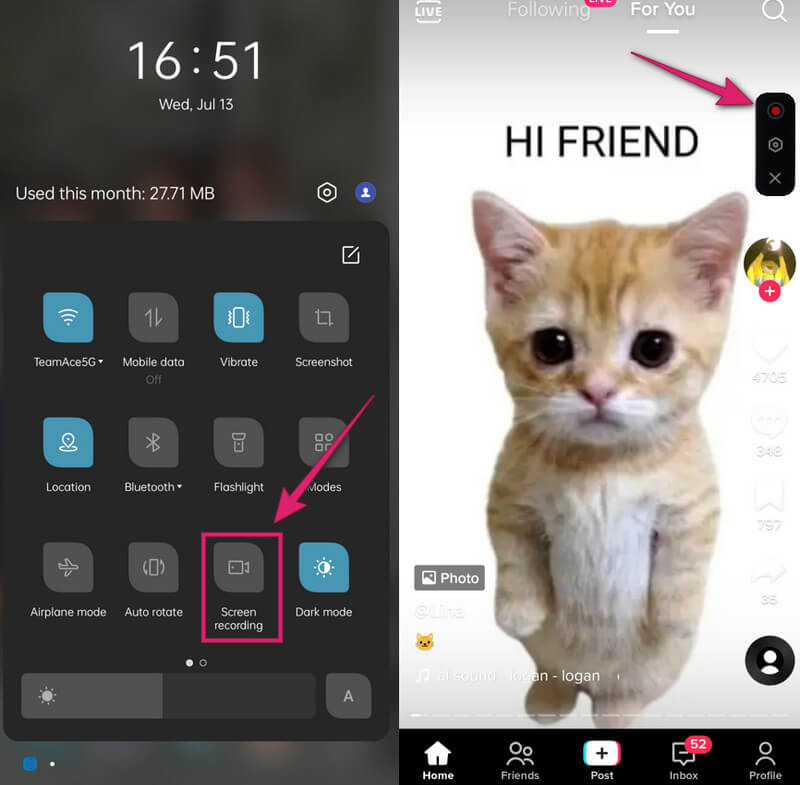 etapa 3If you want to finish the recording, then tap the same red icon. Then, check your recorded TikTok in your photo gallery.

Gravador de tela AVAide
Gravar tela, áudio, webcam, jogabilidade, reuniões online, bem como tela do iPhone/Android no seu computador.
Part 4. FAQs on Screen Recording on TikTok
Does TikTok notify the screen recording?
No. TikTok won't notify its users when facilitating a screen recording. Same when someone is recording your TikTok videos, it won't notify you either.
In what video format does the screen record video taken from iPhone?
Your video taken after screen recording will be in MOV format, for it is the default video format of the iPhone.
What format does Android produce in screen recording?
It depends on your Android, but for the latest Android, they produce MP4 videos.
Conclusão
To conclude, you will be able to successfully record your screen on your mobile phone without using a third-party app. However, Gravador de tela AVAide must be your companion for your computer device.
Gravar tela, áudio, webcam, jogabilidade, reuniões online, bem como tela do iPhone/Android no seu computador.