With the increasing popularity of high-resolution videos, one such format that has gained popularity in recent years is H.265, also known as High Efficiency Video Coding (HEVC). This video compression format delivers excellent visual quality while maintaining smaller file sizes. To fully leverage the benefits of this new video codec, it is crucial to have a reliable and feature-rich player. This post will explore seven top H.265 players available for Windows, Mac, and Android platforms.
Part 1. Best H.265 Players for Windows 11/10/8/7 PC and Mac
Regarding H.265 playback on computers, several players stand out from the crowd. These media players offer comprehensive features, efficient decoding, and exceptional performance. Here are the five best H.265 players for Windows PC and Mac.
AVAide Blu-ray Player
AVAide Blu-ray Player is an all-featured media player that supports 300+ video and audio formats. Moreover, it lets you play Blu-ray and DVD movies with high visual and sound quality. This H.265 player gives you flexible playback controls. It offers advanced options to adjust playlists and video effects, select audio tracks and subtitles, and more.
AVAide Blu-ray Player adopts hardware decoding and accelerated technologies like AMD, Intel, and NVIDIA to ensure you enjoy high-definition video quality smoothly.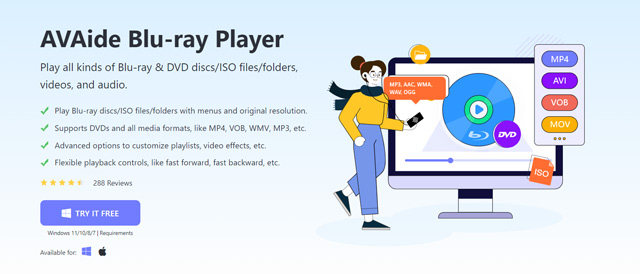 Free download this recommended H.265 player on your Windows PC or Mac when you like to play HEVC videos. Click the Open File button to add the H.265 file and start playing it. The H.265 player supports Dolby Digital and DTS audio with superior sound quality.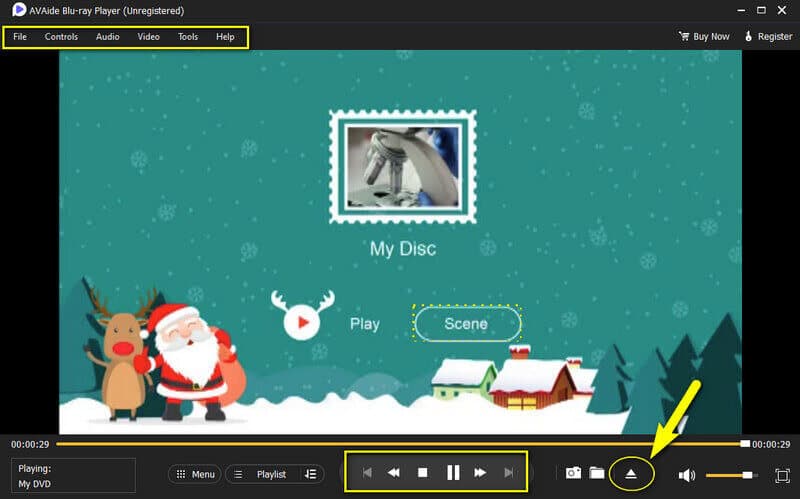 VLC Media Player - Open-source H.265 Player
VLC Media Player is a versatile and widely-used player that can play many video formats, including H.265. It is available for all major platforms, including Windows, macOS, and Linux, making it a popular choice among users. With its user-friendly interface and robust playback capabilities, VLC Media Player is often considered one of the best options for playing H.265 HEVC videos.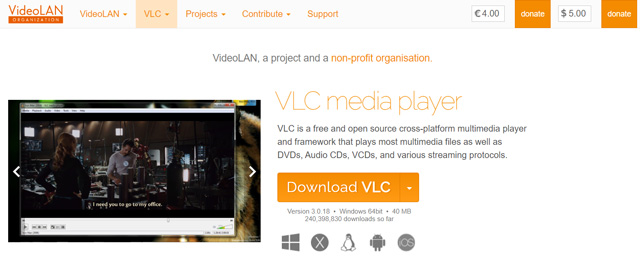 PotPlayer - H.265 Player for Windows
PotPlayer is a powerful media player designed specifically for Windows. It boasts a simple yet customizable interface with extensive features and settings for optimal video playback. PotPlayer supports H.265 videos and provides smooth playback, making it an excellent choice for Windows users.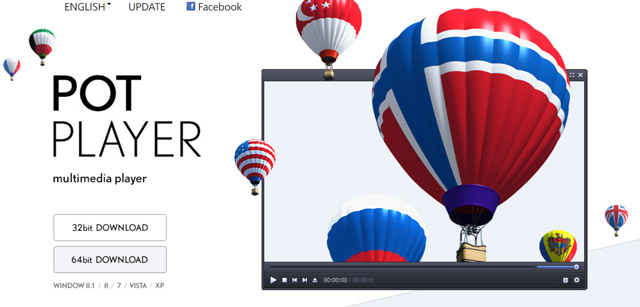 IINA - H.265 Player for Mac
IINA is a top-notch media player that supports H.265 videos for Mac users. It offers a sleek, modern interface, built-in subtitle support, and advanced playback features. With its native integration with macOS, IINA ensures a seamless and enjoyable H.265 playing experience.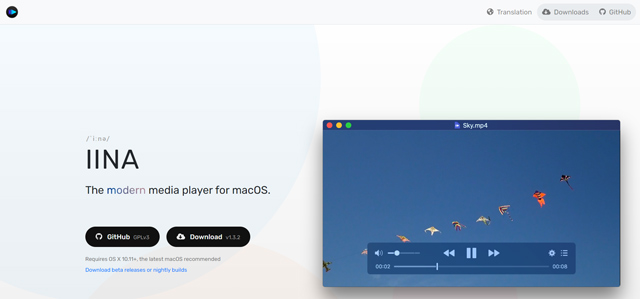 5KPlayer - H.265/HEVC Player for Mac and Windows
5KPlayer is a robust media player for Windows and Mac that supports many video formats, including H.265. It provides a concise and user-friendly interface that allows smooth, high-quality playback. This H.265 player fully supports any videos with H.265 codec. It can play your H.265 video in MKV, MP4, or AVI format. Click here to learn how to get H.265 videos from DVD.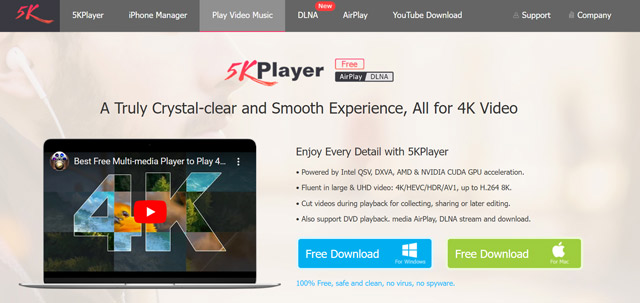 Part 2. Best H.265 Player Apps for Android
Android offers a plethora of H.265 players as the most widely adopted mobile operating system. Android users looking for the best H.265 player can enjoy excellent options designed specifically for their platform. Here we present two exceptional choices for Android users.
MX Player
MX Player is a highly recommended H.265 player for Android. It supports hardware acceleration, allowing efficient decoding and smooth playback of H.265 videos. MX Player offers gesture controls, making it easy to adjust volume, brightness, and seek through the video. This H.265 player app also supports various subtitle formats and offers advanced features like multi-core decoding, screen locking, and audio boost. MX Player is designed with an intuitive interface and extensive feature set, making it a top choice for H.265 playback on Android devices.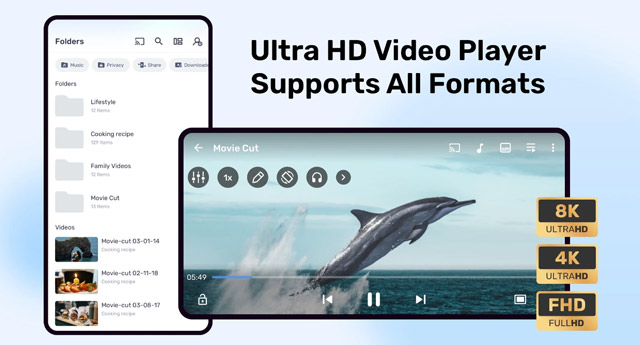 XPlayer
XPlayer is a powerful video player that supports H.265 playback with excellent performance. The H.265 player boasts a clean and intuitive user interface, providing a seamless viewing experience. With hardware acceleration and multi-core decoding, XPlayer ensures smooth playback of H.265 videos, even on low-spec devices. It also offers a range of features, including background playback, floating window, and picture-in-picture mode. XPlayer supports subtitles, audio track selection, and video streaming from various sources, making it a comprehensive H.265 player for Android.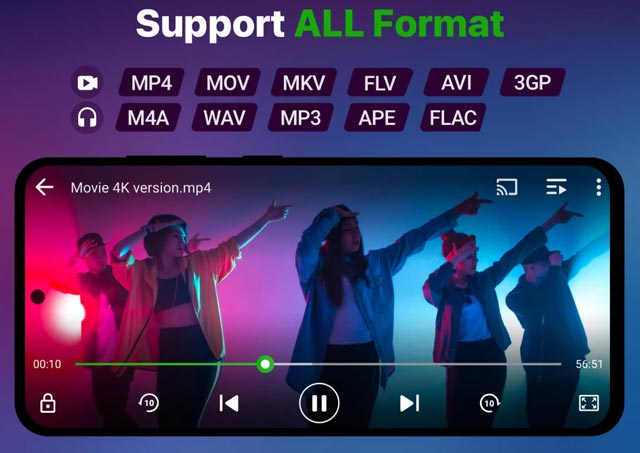 Besides these two H.265 player apps for Android, you can easily find others from Google Play Store. Whether you want a simple interface or advanced customization options, these apps have you covered for playing H.265 videos on your Android device.
Part 3. FAQs of the Best H.265 HEVC Player
What is the best H.265 player for Windows 10?
When you want to play H.265 files on your Windows 10 computer, you can rely on the recommended AVAide Blu-ray Player, VLC, or PotPlayer.
Can Windows Media Player support H.265 HEVC?
No. Windows Media Player does not natively support H.265 HEVC files. The new Media Player app in Windows 11 also can't play H.265 videos. You need a third-player media player to get the H.265 playback.
Does QuickTime play H.265 files on a Mac?
If your Mac is upgraded to macOS High Sierra or later, you can view and edit HEIF or HEVC files directly. But QuickTime still supports H.265 files. When you want to play H.265 video on your Mac using QuickTime Player, you should convert it to a QuickTime-supported format.
Conclusion
Choosing the best H.265 player for Windows, Mac, or Android is important to fully enjoy the benefits of this advanced video codec. This post shares seven great H.265 HEVC players for you to choose from. These players offer exceptional H.265 playback capabilities, ensuring a seamless and high-quality viewing experience across diverse platforms and devices.
Full-featured multimedia player to play Blu-rays, DVDs, 4K UHDs, and other video/audio files.