With the increasing popularity of streaming media, users are constantly seeking ways to enhance their media viewing experience. AirPlay, a technology developed by Apple, allows you to wirelessly stream content from your Mac, iPhone, or iPad to other compatible devices, such as Apple TV and Samsung TV. This post will guide you through the process of using VLC AirPlay. You can learn AirPlay VLC content from your Mac to a smart TV with a seamless multimedia experience.
Part 1. Understanding AirPlay in VLC
AirPlay is a wireless streaming technology typically associated with Apple's ecosystem. But it is also possible to utilize AirPlay functionalities with VLC Media Player. AirPlay lets users stream video, audio, and other media files from a Mac, iPhone, or iPad to compatible devices, such as Apple TV and Samsung TV.
VLC Media Player, renowned for its wide range of supported file formats and cross-platform compatibility, has expanded its capabilities to AirPlay for enhanced media streaming. The integration allows users to wirelessly transmit audio and video content from VLC to AirPlay-enabled devices.
Part 2. How to AirPlay VLC from Mac to Apple TV
To begin streaming VLC from your Mac to Apple TV, you need to ensure that AirPlay is enabled on your Mac and the smart TV. Also, you should connect them to the same Wi-Fi network. This is crucial for AirPlay to work seamlessly.
Step 1If you don't already have VLC Media Player installed on your Mac, you need to download and install it first. Launch VLC and open the video file that you want to AirPlay to your Apple TV. Click Media from the menu bar and choose Open File or Open Network Stream.
Step 2Click the Playback menu in VLC and select Renderer from the drop-down menu. Select your Apple TV from the list of available devices. This operation will establish a connection between your Mac and the Apple TV.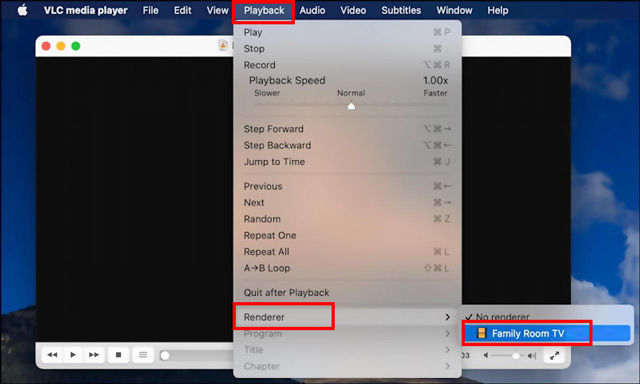 Step 3Once you have selected your Apple TV as the renderer, click the AirPlay button in the controller bar at the bottom of the VLC window. That will initiate the AirPlay process. Your Mac screen will be mirrored on your Apple TV, and the video playing in VLC will be shown on the smart TV's screen. You can control playback using the VLC media player controls on your Mac or your Apple TV's remote.
Step 4To disconnect AirPlay VLC from Mac to Apple TV, click the AirPlay button in the controller bar again and choose Turn off AirPlay. This will end the streaming session and return your Mac display to normal.
Part 3. How to AirPlay VLC from Mac to Samsung Apple TV
In recent years, Samsung has embraced the integration of AirPlay. You can easily mirror and stream content from your Mac to a Samsung TV without additional hardware. Most modern Samsung TV series generally support AirPlay, such as Samsung QLED TVs, Samsung Crystal UHD TVs, Samsung The Frame TVs, Samsung Premium UHD TVs, and Samsung UHD TVs.
To activate AirPlay on your Samsung TV, you need to connect your Mac and smart TV to the same Wi-Fi network. On your Mac, open the video or media content you want to stream and look for the AirPlay button in the menu bar or Control Center. Click the AirPlay button, choose your Samsung TV from the devices list, then stream your VLC content directly on the big screen.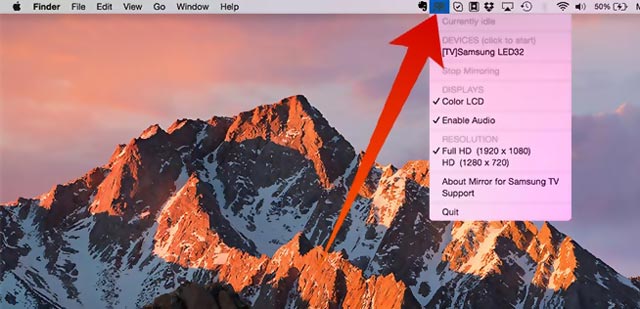 It's important to note that while AirPlay support is available on many Samsung TV models, it's always advisable to check the specifications of your specific model to confirm compatibility. Additionally, ensure your Samsung TV runs the latest system for a smooth AirPlay experience.
Part 4. FAQs of VLC AirPlay
How do you mirror your Mac to a smart TV?
Click the Apple menu on your Mac, choose System Preferences, then go to Displays. Navigate to the AirPlay Display dropdown menu in the Displays window and choose the smart TV from the device list. Ensure that your Mac and the target device are on the same network. If prompted, enter the AirPlay passcode displayed on your smart TV.
What is the difference between screen mirroring and screencasting?
Screen mirroring and screencasting are both methods of displaying a device's screen onto another, but there are some differences between them.
Screen mirroring typically refers to displaying the exact replica of one device's screen onto another in real time. It is commonly used for sharing presentations, videos, or other content from one device to another.
Screencasting usually involves broadcasting or streaming one device's screen to another, often wirelessly. It is not necessarily a replica of the device's screen. Screencasting is mainly used for video streaming, gaming, or sharing specific media content.
How can I AirPlay my iPhone to Samsung TV?
When you want to mirror your iPhone screen to a Samsung TV through AirPlay, you can open the Control Center, tap the Screen Mirroring button, then choose your Samsung TV to start the mirroring process.
Conclusion
VLC AirPlay provides a seamless and versatile solution for those seeking wireless media streaming. It gives new possibilities for enjoying your favorite media content on Apple TV and Samsung TV. Follow the steps outlined in this post, and you can stream your VLC media seamlessly from your Mac to a smart TV.
Full-featured multimedia player to play Blu-rays, DVDs, 4K UHDs, and other video/audio files.