There are many reasons to flip our video files. The major reason is that we don't want a mirrored effect from our captured output. The original footage can be flipped into your desired display orientation. Flipping a video can be done easily with the assistance of the right tools. The listed apps flip videos sideways and can even turn them upside down. Try these provided tools to work the flipping needs all on your own.
Part 1. 6 Top-Rated Flip Video Apps to Flip Video Files
1. AVAide Video Converter (Windows & Mac)
First on our list among the best video rotator and flipper apps is the AVAide Video Converter. This tool fits right to your needs with its comprehensive functions and panels. This gives you only a few seconds to process your videos. Plus, it has a flexible setting to easily achieve the appropriate one. Aside from that, it has an amazing media toolbox that you can easily access for the completion of your file. AVAide Video Converter is a worthy option to consider. This software has reached beyond a normally known app.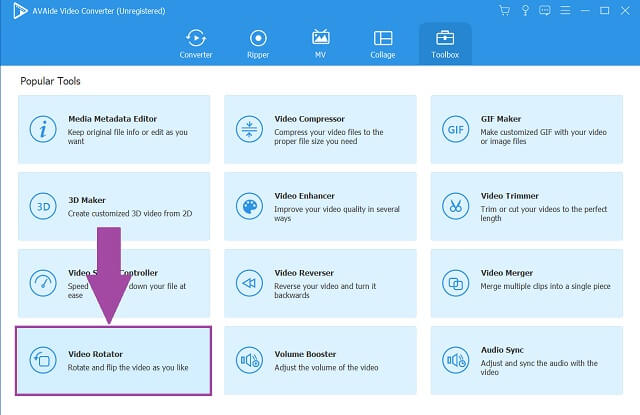 [pros-cons-1 pros-1="Diverse settings like trimming, rotating, and flipping." pros-2="Has a preview screen for rechecking changes." cons-1="Limited features for free trial access." /]
2. VLC (Windows & Mac)
Another software that is supported by both Windows and Mac is the VLC Media Player. This tool is immensely known for its video and music player features. But aside from its said popularity, this free software to flip video has a simplified method. You can choose whether to flip them vertically or horizontally. Also, a rotating feature is supported and you can flip videos at a single time.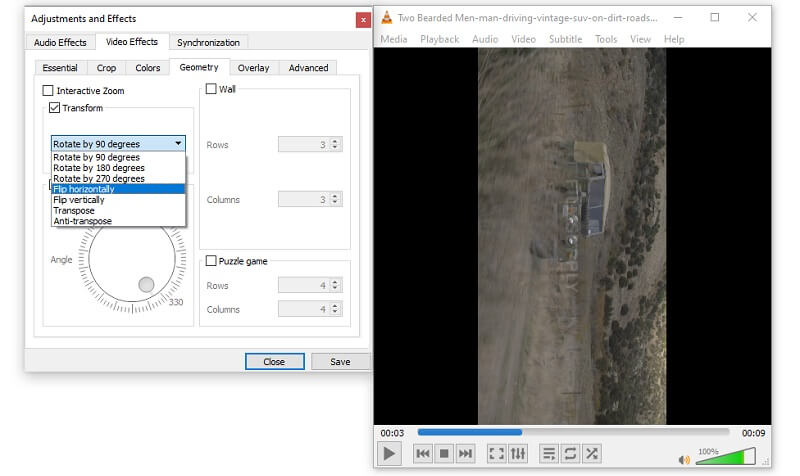 [pros-cons-1 pros-1="Can attach multiple files to the process." pros-2="Numerous angle options." pros-3="Has available format converter tool." cons-1="Glitches are present with 1080p files." /]
3. iMovie (Mac)
But if you're looking for built-in software exclusively for Mac devices, the suitable program for you is iMovie. This amazing freeware is not limited by its movie editing capacity. It can also be a flip video app. It can help you flip with its convenient setup. The program allows you to flip and rotate videos from 90 to 180 degrees. Additionally, both clockwise and counterclockwise. It has a comprehensive and modern interface.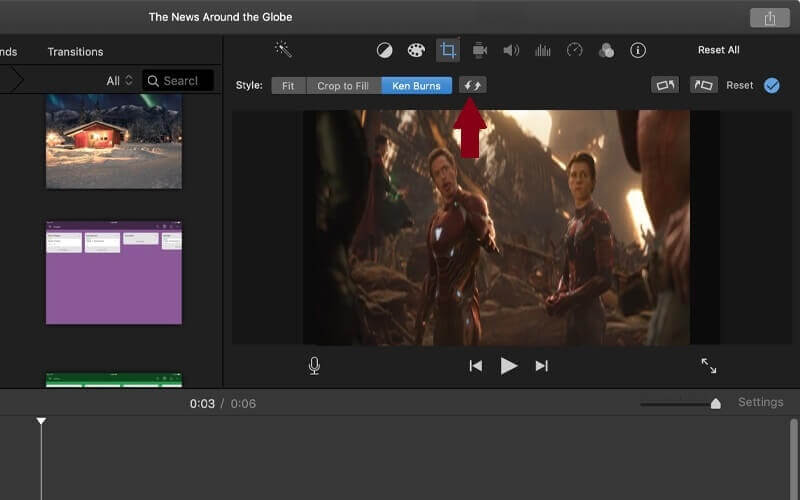 [pros-cons-1 pros-1="Available and works on Apple devices." pros-2="Aesthetic effects are ready to use for enhancement." pros-3="Never compromise the original quality once edits are applied." cons-1="Not supported by other devices, only Apple." /]
4. RFV (Android and iOS)
If you're comfortable using your smartphone rather than your desktop devices or laptop, RFV is the compatible tool for you. This mobile program can be downloaded and installed on Android and iOS devices. Plus, it doesn't consume a large space on your phone storage. What is more, rotation is achieved seamlessly and so flipping your videos. Use this flip video app through its best features.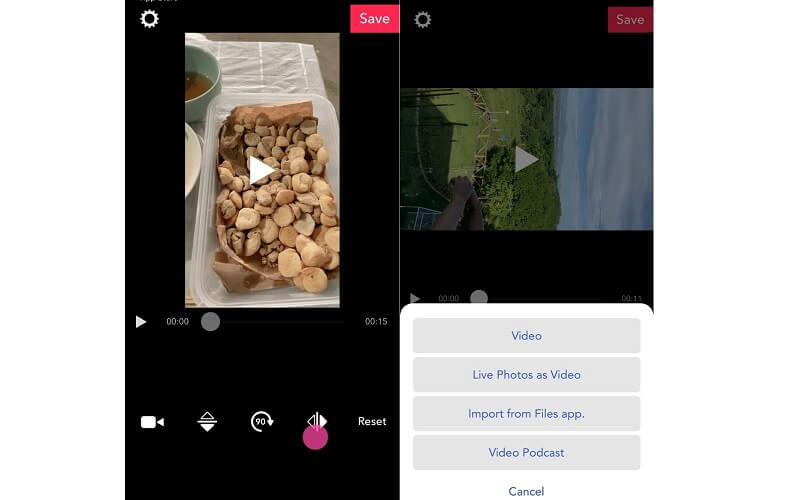 [pros-cons-1 pros-1="iPhone and Android users can use the app." pros-2="No popup advertisements on the interface." pros-3="Has dark mode that can freely switch." cons-1="Loading hard when exporting output" /]
5. Video rotate + flip
Another considered mobile app to flip video sideways, either in the horizontal or vertical display, is the Video rotate + flip. This can change how you view your videos based on your personal output criteria. What is more, you can effortlessly flip your files straight from your gallery or file manager.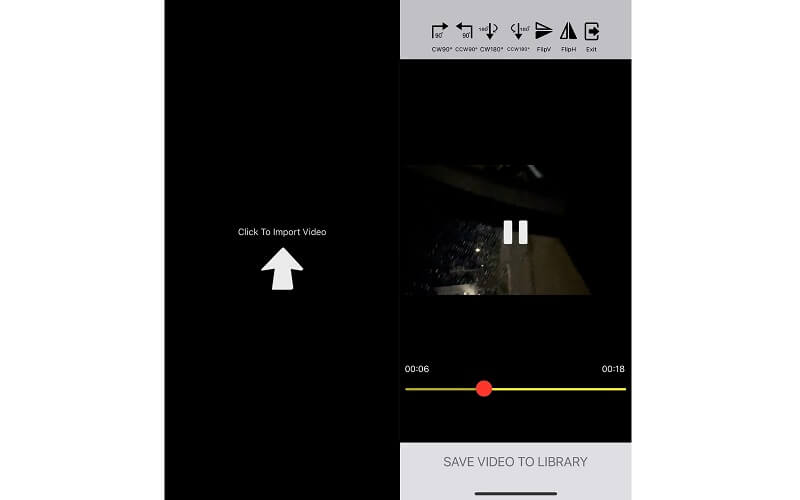 [pros-cons-1 pros-1="No watermarks added from the output." pros-2="Free flow without time restriction." cons-1="Advertisements are frequently evident." /]
6. PhotoApp
The last on the flip video editing software is the PhotoApp. This is the default photo and video gallery of iOS smartphones. This time you don't need to download it just to utilize its flipping capacity. If you're an iOS user, this is already a built-in app.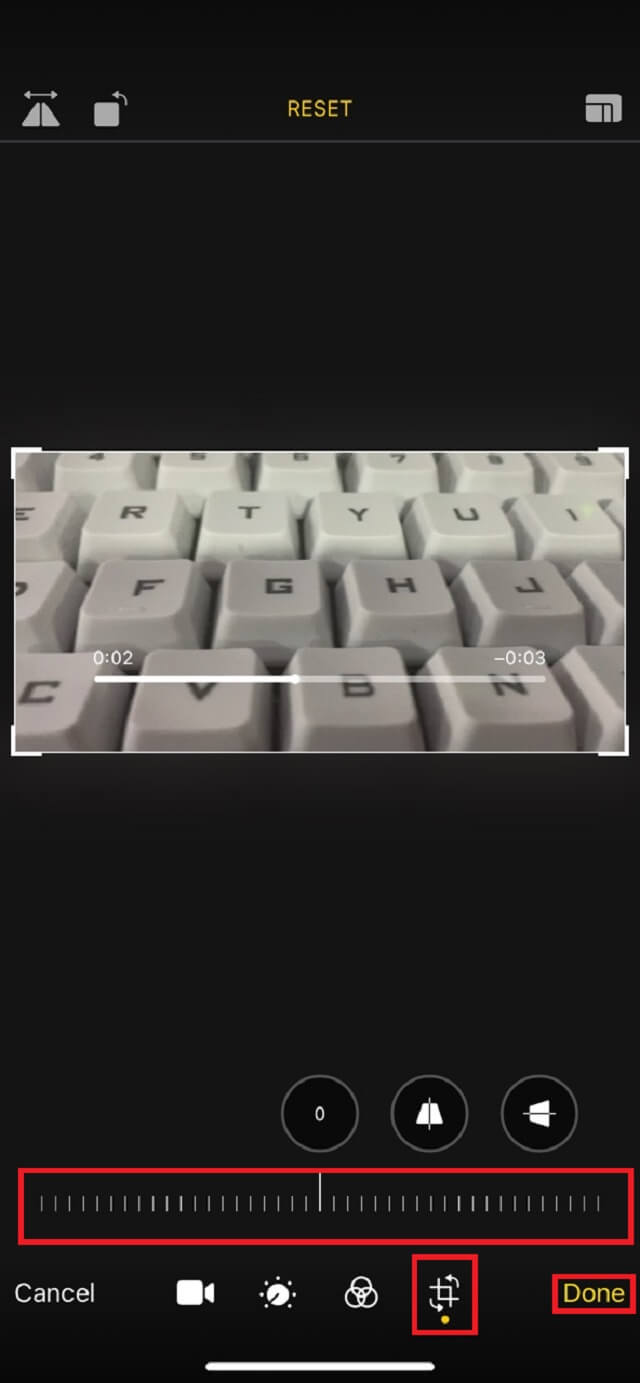 [pros-cons-1 pros-1="Readily available app for iPad, iPhone, and Mac." pros-2="Comprehensive buttons and settings." cons-1="Limited for Apple devices." /]
Part 2. Best Method to Mirror a Video Through AVAide Video Converter
AVAide Video Converter
Now, if you're still wondering what software can flip and rotate video with professional outputs. The best method to opt is AVAide Video Converter. This program offers tons of media tools to choose from. Format conversion, screen effects, and more. Most especially its video flipping feature. Navigate with its provided buttons that can easily rotate and mirror your videos horizontally and vertically. On top of that, it is completely supported by known operating systems including Windows, Linux, and Mac. Learn to use this whether you're a first-timer or common user.
Below are step-by-step procedures to easily navigate the flip video software. All you need is to be guided from start till the end.
Step 1First and foremost, you need to access the official website of AVAide Video Converter. Afterward, download it on your desktop or PC, then install it. Once accomplished, tap to open the Video Rotator button.
Step 2After that, select the videos from your file manager or media gallery. Attach them on the center panel to add the files for editing.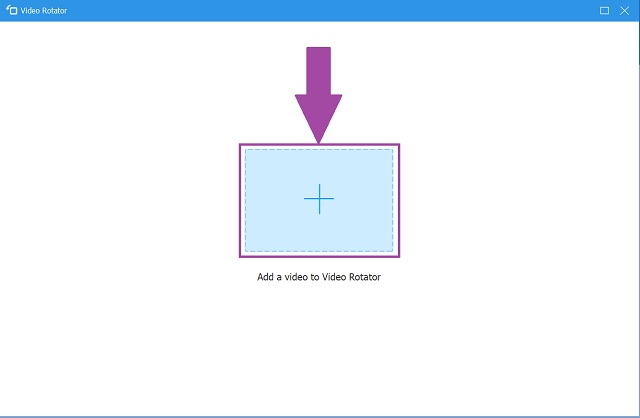 Step 3Next is to tap the given two (2) flipping buttons to mirror the video on the perspective you want to accomplish. Manipulate horizontally and vertically. Rotation buttons are also provided for display correction.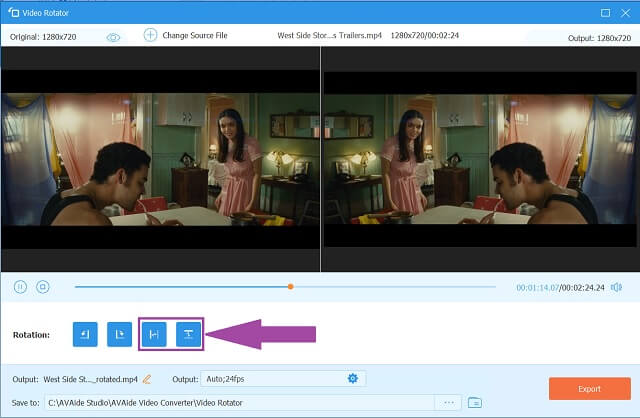 Step 4Once changes are made, find and tap the Export button. Look for the newly saved video files on the file folder you designated them.
[pros-cons-1 pros-1="Advanced acceleration technology." pros-2="Geared with basic and professional editing tools." pros-3="Suitable for popular operating systems." pros-4="User-friendly and straightforward interface." pros-5="Offers conversion features as well." cons-1="Limited features for free trial version. " /]
Part 3. FAQs of Flip Video Apps
What is video file flipping?
Flipping a video file is an editing process or adjustment to apply a mirror effect from the original video footage.
Can I use my computer to flip a video?
Yes, absolutely. However, it depends on what software you use to achieve the target results. Suggestively, AVAide Video Converter is the best flip video software to download and use. It's comprehensive and has numerous features to offer.
Is there a default way to flip a video on Windows?
VLC Media Player is a built-in video rotator and flipper. But this particular tool has limitations compared to other software.
The most comprehensive media converter to convert video & audio & DVD without quality loss.