In the rapidly evolving digital media world, video codecs play a vital role in enabling efficient compression and delivery of high-quality video content. AV1, also known as AOMedia Video 1, is one such codec that has gained significant attention in recent years. This post will discuss the specifications, compatibility, pros, and cons of the AV1 video codec and introduce some popular AV1 video converters.
Part 1. What Is AV1 Video Codec
AV1, also known as AOMedia Video 1, is a widely used open-source video codec that offers efficient compression and high-quality video encoding. It was developed by the Alliance for Open Media (AOMedia) and is specifically designed to provide better compression while maintaining excellent video quality. AV1 is gaining popularity as a versatile codec for various applications, including streaming video, video conferencing, and virtual reality.
The Key Specifications of AV1 Video Codec
AV1 employs advanced coding techniques, such as intra-frame coding, inter-frame coding, and transform coding, to achieve high compression efficiency. This results in smaller file sizes while maintaining excellent video quality.
AV1 supports up to 12-bit color depth, allowing for a broader range of colors and better visual representation. It also offers greater flexibility in color grading and post-processing.
AV1 supports resolutions ranging from SD to Ultra-HD (4K and 8K) and provides scalability for adaptive streaming. This enables content providers to reach a wider audience without compromising on quality.
AVI Compatibility
AV1 has gained widespread industry support since its release. Major browsers like Google Chrome, Mozilla Firefox, and Microsoft Edge now support it. Popular video platforms and streaming services, including YouTube, Netflix, and Twitch, have also adopted AV1 for delivering high-quality video content. Moreover, hardware support for AV1 decoding is being integrated into many devices, including smartphones, TVs, and media players.
Pros and Cons of AV1 Video Codec
AV1 offers better compression efficiency than previous codecs like H.264 and VP9. Content creators can deliver high-resolution videos at lower bitrates, resulting in faster streaming and reduced bandwidth consumption.
As an open-source and royalty-free codec, AV1 ensures widespread adoption without the burden of licensing fees. That encourages innovation and fosters collaboration among industry players, leading to rapid advancements in video compression technology. Moreover, AV1 can maintain superior video quality even at lower bitrates using sophisticated coding techniques.
However, AV1 encoding and decoding can be computationally intensive, requiring more processing than older codecs. That may pose challenges for devices with limited hardware capabilities, resulting in increased power consumption and reduced battery life. Although AV1 has gained significant industry support, its adoption is still early. It might take some time before AV1 becomes mainstream and widespread device compatibility is achieved.
Part 2. Top 5 AV1 Video Converters on Windows and Mac
To help you make the most out of AV1, we like to recommend five great AV1 video converters for Windows and Mac operating systems.
AVAide Video Converter
AVAide Video Converter supports over 300 video, audio, and DVD formats. It lets you convert AV1 videos and output high-definition files up to 1080p, 4K, 5K, or even 8K. As an AV1 video converter, it offers many commonly-used editing functions, including trim, crop, rotate, flip, merge, enhance, and more. It also enables you to freely compress the AV1 video. Compared to other AV1 video converting software, it can offer a faster conversion speed.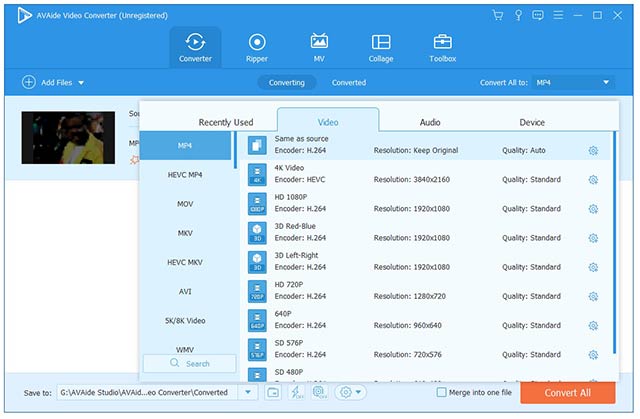 VLC Media Player
VLC Media Player is a popular multimedia player that also doubles as a video converter. It supports AV1 encoding and decoding, allowing you to convert your AV1 videos effortlessly.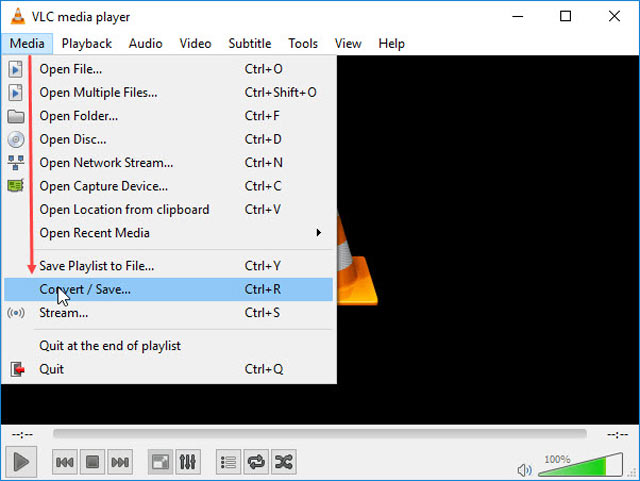 HandBrake
HandBrake is a free and open-source video transcoder known for its wide range of format support. It has recently added AV1 encoding capabilities, making it a popular choice for users looking to convert their videos to AV1 format.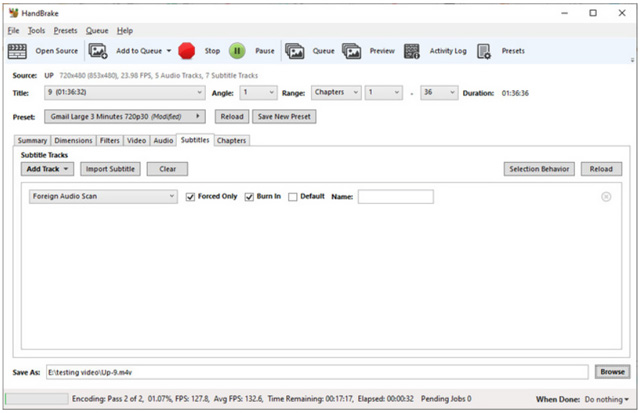 WinX Video Converter
WinX Video Converter is a user-friendly video conversion tool that supports AV1 as both input and output formats. It has an intuitive interface, making it a suitable choice for beginners.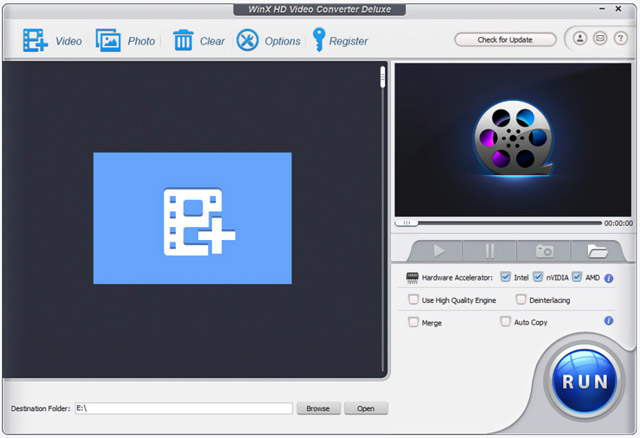 Any Video Converter
As the name suggests, Any Video Converter is an all-featured converting tool that supports a wide range of video formats, including AV1. It offers a straightforward interface with various customization options, both beginners and advanced users can use it to convert AV1 files.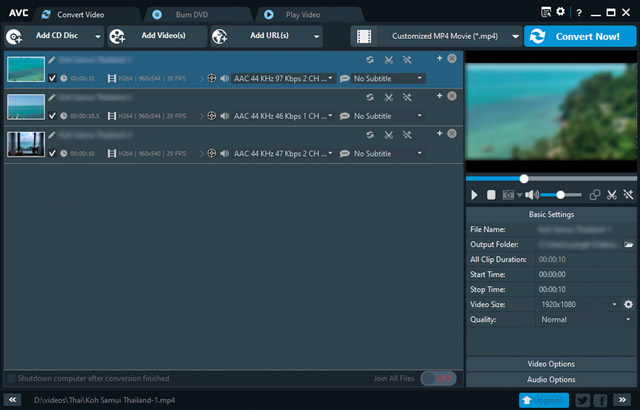 These are just a few examples of AV1 video converters available for Windows and Mac. Each converter has its own unique features and user interfaces, so it's recommended to try out a few and see which one suits your needs the best.
Part 3. Free Online AV1 to MP4 Converters
Due to the relatively new status, compatibility issues may arise when trying to play AV1 videos on various devices. This part will explore 3 free AV1 to MP4 converters online that help convert your AV1 files to MP4 or other compatible video formats.
Convertio
Convertio is a popular file converter online that supports various video formats, including AV1 and MP4. This converter boasts a simple drag-and-drop interface, allowing you to upload and convert AV1 videos effortlessly. Convertio supports various customization options, such as adjusting video resolution, quality, and frame rate. With its speed and efficiency, Convertio is a reliable option for converting AV1 videos to MP4.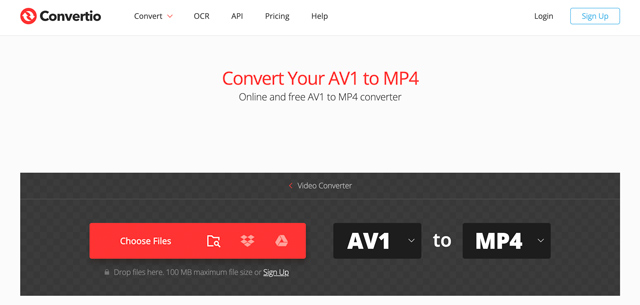 AnyConv
AnyConv is a reliable file conversion platform online with an AV1 to MP4 converter. By uploading your AV1 file to AnyConv, you can easily convert it to MP4 with just a few clicks. This online AV1 to MP4 converter also provides options to adjust video settings, like resolution, bitrate, and frame rate, allowing you to optimize your video based on your preferences. Moreover, AnyConv ensures the security and privacy of your files by automatically deleting them once the conversion process is complete.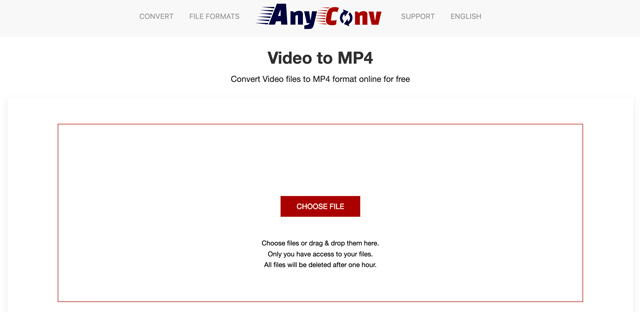 FreeConvert
FreeConvert is a video editing platform online with a powerful AV1 to MP4 conversion feature. Apart from its conversion capabilities, FreeConvert provides video editing options, including cropping, adding text, and applying filters. To convert an AV1 video to MP4 online using FreeConvert, you can either upload the file. The converted MP4 file can be saved to your preferred location or directly shared on social media platforms.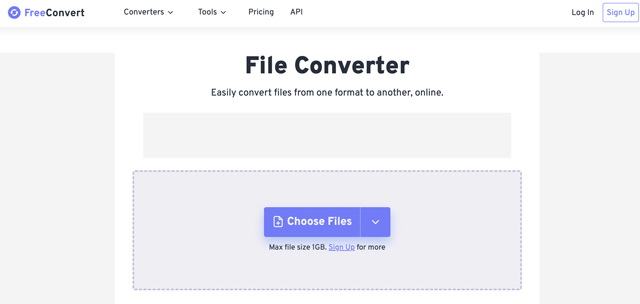 Part 4. FAQs of AV1 Video Converter
Question 1. Can QuickTime Player support AV1?
As of now, QuickTime Player does not support AV1 codec natively. QuickTime Player supports a variety of popular codecs like H.264, HEVC (H.265), MPEG-4, and others, but AV1 is not included in the list. But there are third-party plugins or software that can enable support for AV1 playback within QuickTime Player.
Question 2. Does Chrome support AV1?
Yes, AV1 is supported by Chrome. As mentioned above, AV1 is an open, royalty-free video coding format designed to provide high compression efficiency without compromising video quality. Chrome supports AV1 for video streaming on various platforms, including YouTube.
Question 3. How do I open AV1 video files on Windows 10?
To open AV1 videos on your Windows 10 computer, you can use a media player that supports the AV1 video codec. You can try popular media players like Blu-ray Player, VLC Media Player, or PotPlayer.
Conclusion
The transition to new video formats like AV1 can sometimes present challenges in terms of compatibility. AV1 is a video codec that provides efficient compression and high-quality video encoding. This post explains the AV1 video codec and lists some popular converters to make AV1 video conversations. With the help of these AV1 video converters above, you can easily convert AV1 videos to the more universally supported MP4 format.
Your complete video toolbox that supports 350+ formats for conversion in lossless quality.